Match Summary
Officials

England

Type

Sweden

Referee (-) - William E. Webb
x (-), Glasgow.

Linesmen - F.W. Chadwick, Leicester (red flag) and H.F. Parvin, Sussex (yellow flag).

Teams were presented to the Crown Prince of Sweden, Oscar Fredrik Wilhelm Olaf Gustaf Adolf.

The FIFA ruling of allowing a substitute to replace an injured player prior to the 44th minute, and a goalkeeper at any time, is in place.

Goal Attempts
Attempts on Target
Hit Bar/Post
Corner Kicks Won
Offside Calls Against
Fouls Conceded
Possession

England Team
Rank:

No official ranking system established;
ELO rating 3rd to 4th
Colours:
The 1946 home uniform - White collared jerseys, blue shorts, red socks
Capt:
George Hardwick, twelfth captaincy.
Manager:
Walter Winterbottom, 34 (31 March 1913), appointed as FA national director of coaching/team manager on 8 July 1946;
12th match, W 9 - D 2 - L 1 - F 47 - A 12.


Team chosen by Selection Committee headed by Arthur Drewry

following the Ireland match on 5 November in Liverpool.

England Lineup
Swift, Frank V.
33
26 December 1913
G
Manchester City FC
12

12

GA

2
Scott, Lawrence
30
23 April 1917
RB
12
0
3
Hardwick, George F.M.
27
2 February 1920
LB
12
0
4
Taylor, Philip H.
30
18 September 1917
RHB
Liverpool FC
3
0
5
Franklin, Cornelius
25
24 January 1922
CHB
12
0
6
Wright, William A.
23
6 February 1924
LHB
12
0
7
Finney, Thomas
25
5 April 1922
OR
10
8
8

Mortensen, Stanley H.
26
26 May 1921
IR
Blackpool FC
5
9
9
Lawton, Thomas
28
6 October 1919
CF
Notts County FC
20
21

10

Mannion, Wilfred

J.

29
16 May 1918
IL
Middlesbrough FC
12
8
11
Langton, Robert
29
8 September 1918
OL
7
1

unused substitute:

Harry Johnston (Blackpool FC).

team notes:

On the morning of this match, Finney replaced Stan Matthews at outside-right, as Langton took up the outside-left position. Matthews was suffering with a groin injury.
Tommy Lawton scored England's first penalty since the war to be converted.
2-3-5
Swift -
Scott, Hardwick -
Taylor, Franklin, Wright -
Finney, Mortensen, Lawton, Mannion, Langton.

Averages:

Age
27.7
Appearances/Goals
10.6
3.9

Sweden Team
Rank:

No official ranking system established;
ELO rating 11th
Colours:
Yellow jerseys with blue collars, blue shorts, blue socks with yellow hoops.
Capt:
Erik Nilsson
Manager:


Trainer:

George Sidney Raynor, 40 (13 January 1907)

Selection committee, headed by J. Rudolf E. Kock, 45 (29 June 1901)
Sweden Lineup
Lindberg, Torsten G.A.
30
14 April 1917
G
IFK Norrköping
6

11

GA

2
Nordahl, Knut E.A.
27
13 January 1920
RB
IFK Norrköping
10
1
3
Nilsson, Erik
31
6 August 1916
LB
Malmö FF
14
0
4
Andersson, Sune I.
26
22 February 1921
RHB
AIK Stockholm
6
1
5
Nordahl, Bertil
30
26 July 1917
CHB
Degerfors IF
7
0
6
Emanuelsson, Rune
24
8 October 1923
LHB
IFK Göteborg
7
0
7
Mårtensson, Malte H.
31
24 September 1916
OR
Halsingborgs IF
15
3
8
Gren, J. Gunnar
27
31 October 1920
IR
IFK Göteborg
28
18
9
Nordahl, N. Gunnar
26
19 October 1921
CF
IFK Norrköping
24
31

10

Liedholm, Nils E.
25
8 October 1922
IL
IFK Norrköping
7
5
11
Nilsson, Stellan
25
22 May 1922
OL
Malmö FF
11
4

unused substitutes:

not known

team notes:

Emanuelsson replaced Malmö FF's Kjell Rosén at left-half on 14 November. Nilsson replaced AIK Stockholm's Stig Nystrom at outside-left the day before the match.
The team trained at Chelsea FC's Stamford Bridge.
The Nordahl's were brothers.
Committee Chairman Pette Kock played against England in 1923.
2-3-5
Lindberg -
K.Nordahl, E.Nilsson -
Andersson, B.Nordahl, Emanuelsson -
Martensson, Gren, G.Nordahl, Liedholm, S.Nilsson.

Averages:

Age
27.5
Appearances/Goals
12.3
5.7
Match Report by Mike Payne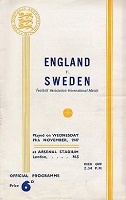 England dominated the first half of this match at Highbury and would have won by more goals had they not faded so badly after the interval to allow Sweden to come right back into the game.

England were quickly into their stride and after 13 minutes, brilliant work by Wilf Mannion set up their first goal. He dribbled out to the right before splitting the Swedish defence with a brilliant reverse pass which let in Stan Mortensen to score.

After 20 minutes, England added a second from the penalty spot. Mortensen burst through to take Tommy Lawton's headed pass but was brought down in the box. Lawton scored from the spot-kick.

Sweden then hit back and Gunnar Nordahl had scored after a free-kick had caught England badly positioned. This was only a momentary lapse by the home side and they were soon back on top. Lindberg made some fine saves but was powerless to stop Mortensen making it 3-1 after another pass by Lawton.

The midfield mastery of Mannion, Mortensen, Billy Wright and Phil Taylor was superb during the first half and, but for Lindberg's brilliance, especially in two saves from Mannion, England would have been in an unassailable position.

As it was, the second half was a much different story. The edge went from England's play and the half barely started when George Hardwick was desperately heading a shot off his goalline. Sweden were beginning to take control as England faded and they really put the pressure on when Gren scored from a penalty to make it 3-2.

For a while it seemed as though they might equalise but England withstood the pressure well and near the end a piece of sheer brilliance by Mortensen clinched the match. He picked up the ball and set off on a magnificent 40-yard run before ending it with a deadly left-foot shot.

After the break England were certainly made to think by the gutsy Swedish display.


Match Report by Norman Giller
Sweden, including the famous Nordahl brothers - Gunnar, Bertil and Knut - pulled back to 3-2 after England had powered into a three-goal lead. Stan Mortensen settled it with a classic goal to complete his hat-trick, beating three defenders in a run from the half-way line before firing in an unstoppable 20-yard shot. The game was billed as being for the unofficial championship of Europe at a time when the Swedes, coached by former Bury winger George Raynor, were rated one of the world's leading football nations. Stan Mortensen was in magnificent form and might have had four goals had he not been upended in the penalty area when shaping to shoot in the first-half. After England's bad recent record from spot-kicks, Tommy Lawton volunteered to take it and scored England's first goal from a penalty since the war. The newspapers ran a story before the match that the Swedes were on a course of pep-pills. Their coach George Raynor later confided that they were just sugar-based pills, but that they had a great psychological effect on his players. Most of the Swedes were amateurs, and that following summer they won the Olympic final in London with some delightful football. Gunnar Nordahl was an exceptional centre-forward, who along with Nils Lindholm later starred with AC Milan.

Source Notes
"SWEDEN TO SEND TEAM TO ENGLAND"
"F.A. Council meeting in London yesterday announced next football season's programme of international matches, which include a visit to England by Sweden, who for the first time in England, will play an international." - Tuesday, 11 February 1947, Birmingham Daily Gazette

TheFA.com
Svenskfotboll.se
Original newspaper reports
Rothman's Yearbooks
Mike Payne's England: The Complete Post-War Record (Breedon Books Publishing Company, Derby, U.K., 1993)
Norman Giller, Football Author
____________________

CG