Q from Alan Mitchell, location not given, 5 July 2004: Have just found the site (linked from "and Waddle steps up") and it's great! I have a question that I would like answering if possible please. When did England first wear their red change shirts, and against whom? I would think it would have been in the early 1930's, as they often played Germany and Austria (who also wore White) but I can find no info about this. Can you help?

A from PY: We do not know, although someday we hope to know and we think your speculation is probably correct. The problem is the F.A. does not keep official records of the colours worn in matches, and we have to rely on photographic evidence, which is difficult since England also wore blue shirts in the 1930s and red and blue show up similarly. Once we do know, if ever, the information will be posted on our site's uniform colours page. Sorry to disappoint you, but we're frustrated, too, by the lack of information available. We keep on reading, though, and hope springs eternal. Readers, do any of you know the answer to this?

Q from Steve Dymond, location not given, 29 November 2003: Please can you advise in what year did English football teams start having numbers on the back of their shirts and also when was the introduction of names added.

A from PY: We've had so many questions about shirt numbers that we've put up a page setting down everything you need to know--and more--about shirt numbers and names. You'll find the answers there.

Q from Colin Bonney, location not given, 11 September 2003: Who was the last Everton player to score a goal for England before Wayne Rooney?

A from CG: The answer, most surprisingly, is Martin Keown, scoring his first goal on his second appearance way back on 25th March 1992 in the 2-2 draw against Czechoslovakia in Prague (in that ghastly pale blue strip). Keown was the only Everton player to score for England after Gary Lineker's six at World Cup 1986.

Q from Linda Langham, location not given, 2 September 2003: Please could you confirm which shirt number Wayne Rooney has when playing for England. My son had one printed with 9 on it but his friends said that was wrong. I have tried checking on the net but have come up with 9, 18, 21 and 23 so far. Any help would be much appreciated.

A from PY: Don't pull out the sewing kit (or the credit card) yet.

England's players do not have shirt numbers permanently assigned to them. The players who start a match wear numbers 1 through 11. The substitutes wear numbers higher than 11. (An exception to this occurs at the World Cup and European Championship final tournaments, where competition regulations require the assignment of regular numbers to all squad members for the duration of the tournament.)

When a player has established himself as a regular in England's starting 11, however, he usually is given the same number. For example, David Beckham invariably wears number 7 when he plays for England, but someone else wears number 7 when Beckham is injured or suspended. Similarly, when Michael Owen starts for England, he invariably wears No. 10.

Wayne Rooney's shirt numbers in his five appearances to date were:

No. 23 as a substitute against Australia on 12 February 2003
No. 18 as a substitute against Liechtenstein on 29 March 2003
No. 9 as a starter against Turkey on 2 April 2003
No. 21 as a substitute against Serbia & Montenegro on 3 June 2003
No. 9 as a starter against Slovakia on 11 June 2003

Your son should tell his misinformed friends that when Wayne Rooney has started for England, he has worn No. 9, and that he is banking on Rooney becoming a regular starting player. Only when Rooney appears as a substitute has he worn another number, and the number he has worn as a substitute has been different each time. It therefore makes abundant sense to wear No. 9 on an England shirt bearing the name Rooney.

We note you did a remarkable research job on Rooney's England shirt numbers; you got them all!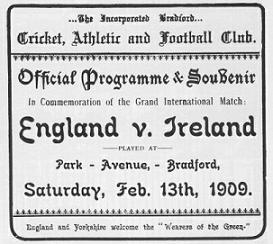 Comment from Pete Zemroch, Ellesmere Port, U.K., 6 August 2003: I have just seen your web page listing the venues of England matches outside London. I am afraid to say there is one glaring mistake. The England v Ireland match on 13 February 1909 was played at Park Avenue, the home of Bradford's premier club, and not Valley Parade, home of the upstarts from Manningham (see attached image of match programme). I trust you will correct this in due course. Up the Avenue.
Response from PY: We've posted your comment because it illustrates how mistakes gain an aura of authenticity merely through repetition and because we wish we had more readers willing to take the time to point out the errors that are inevitable in a project of this size. We're grateful to you for the correction, accompanied by proof, and happy to give Bradford's Park Avenue its proper due. We have now corrected five website pages on which the mistake appeared—the main chronological match results list, the British Championship match list, the England-Ireland results list, the match-by-match list of England captains and the venues list for England's home matches.

After we told you we would correct the error, you replied: "Don't worry - you're not the only one to make this mistake. It has appeared

in at least two England programmes in recent years. The Football Association blamed an inaccurate reference book in their library."

We prepared our match list when our website opened in April, 1999, and that is when the mistake first crept onto our pages. We then had far fewer sources, and we are only as good as our sources. We relied on erroneous venue listings for the 1909 Ireland match appearing in both Ron Hockings & Keir Radnedge's

Nations of Europe, vol. 1 (1993) and Jack Rollin's Rothmans Book of Football Records (1998). Later we obtained more sources but never went back to check our list of England home venues. Now we have checked them all, and the only other error we found was our misspelling of Whalley Ridge in Manchester, which we've also corrected. You will be glad to know that the Football Association website, perhaps as a result of your intervention, now has a list of the England team's home venues which includes Park Avenue in Bradford rather than Valley Parade. And the International Federation of Football History and Statistics' book of pre-war England match summaries, published in 2000, properly has Park Avenue as the venue for the 1909 Ireland match. But other books continue to repeat the error. For example, Andrew Mourant & Jack Rollin's The Essential History of England, published only last year, says Valley Parade was the venue.
Q from Gary Tennant, Dublin, Ireland, 29 July 2003: Do you know if the Dutch side is officially known in English as Holland or the Netherlands? If it is the Netherlands (which I believe is more accurate to describe the actual country), did it used to be Holland and change at some point? I'm wondering how many times England have officially played a Dutch team known as Holland and a Dutch team known as the Netherlands.
A from PY: The proper name for the country is the Netherlands (Nederland in Dutch) and that is the official name of the national team registered with FIFA. Holland is only a part of the Netherlands (now two provinces named North and South Holland), and to use "Holland" to refer to the entire country or the national side is technically incorrect. Yet the English persist in calling the entire country and the national team Holland. They are not alone. Mexican television match commentators refer to the team in Spanish as Hollanda. "Holland" is more common than "Netherlands" in the U.S.A. and
Canada, too.
In recognition of the widespread use of "Holland" in the English-speaking world, some Dutch websites, including football and even official trade and tourist sites, use "Holland" in their English-language versions while using "Nederland" in their Dutch version. Many Dutch citizens, particularly those who live in the provinces of North and South Holland, also sometimes call the country and the team Holland. Yet other Dutch citizens living outside these provinces regard the use of "Holland" to describe the country or the national side as an insult or at least a discourtesy.
The national side were never officially known as Holland at one point and as the Netherlands at another. We found nothing so indicating in the three football encyclopaedias we consulted. "Netherlands" was the correct designation throughout. The Dutch football association, the second oldest outside the British Isles, was founded in 1889 as the Nederlandsche Voetbalbond. Since then its name has only been changed by the addition in 1929 of "Koninklijke" ("Royal"), producing the name by which it is still known today, Koninklijke Nederlandsche Voetbalbond (KNVB). The team representing the country would always have had the same national designation as the country's football association.
Q from Nat Faulkner, location not given, 14 July 2003: The first World Cup finals match to finish 0-0 involved England, but who were they playing?
A from PY: There's a complete list of England's 50 World Cup final tournament matches posted elsewhere on this website and it would have been an easy matter to scroll down the list to find the first scoreless draw. But the answer is Brazil on 11 June 1958 at Nya Ullevi Stadion in Gothenburg, Sweden. Brazil, of course, went on to win World Cup 1958, and England--one of the tournament favourites until they lost three of their best players, Roger Byrne, Duncan Edwards and Tommy Taylor, in the Munich air crash the previous February--did well to hold them, the only team to take a point from them.

Scoreless draws, by the way, have become a regular feature of England's appearances at World Cup final tournaments. There have been seven more: Bulgaria in 1962, Uruguay in 1966, West Germany and Spain in 1982, Morocco in 1986, Holland in 1990 and Nigeria in 2002. That's a total of eight scoreless draws in 50 World Cup finals matches, roughly one in every six matches. That compares with England's overall total of 66 scoreless games in 803 matches, roughly one in every 12 matches.
Q from Micheál Ó Lupáin, location not given, 11 July 2003: Can you tell me the three Manchester United players who captained England on the same night?
A from PY: We know of only two instances in which three or more England players wore the captain's armband in the same match, and neither involved three Manchester United players, although one of them involved three Liverpool players.

The first occasion was the match against Morocco at World Cup 1986. Bryan Robson of Manchester United was the starting captain. He went off injured and Ray Wilkins, then of AC Milan (although formerly with Manchester United), took the armband. Wilkins was sent off, and Peter Shilton of Southampton FC took the armband.

The second occasion was the recent friendly against Serbia and Montenegro, when four players wore the captain's armband, including three Liverpool players. Michael Owen of Liverpool was the starting captain. A string of substitutions in the second half saw the armband go to Emile Heskey of Liverpool, Phil Neville of Manchester United and Jamie Carragher of Liverpool.

The Football Association only regards players who start the match wearing the armband as official England captains. It does not regard those who take over the armband mid-match because of injury or substitution as England captains. In fact, it has said it does not even keep records of those temporary armband wearers.
Q from Ian Forster. Nottingham, U.K., 9 July 2003: Nigel Clough played for England in 1992 wearing the number 14 shirt. Please could you tell me who England were playing and what was the final score? I was given the signed shirt as a present, although I cannot find out which game it was from.
A from PY: While your question may not be of general interest, we're posting it because it gives us the chance to talk about England's shirt numbers. England players starting a match wear numbers higher than 11 only when they are a squad member at one of the major final tournaments--the World Cup or the European Championship--where competition regulations require the assignment of numbers to all squad members for the duration of the tournament. In any match outside these final tournaments, England's custom has been to give the starting players numbers 1 through 11 and the substitutes numbers higher than 11. There has been some discussion at the Football Association about assigning numbers to squad members on a season-by-season basis, as many other national sides now do, but as yet the traditional practice remains unchanged.

Clough was a squad member at the European Championship final tournament in Sweden in 1992, but his assigned number for that tournament was 9, and, in any event, he did not see a minute's action in that tournament. Under England's custom, this means he must have worn the No. 14 shirt as a substitute. The only match in 1992 in which he played as a substitute was England's 2-2 draw with the Commonwealth of Independent States (C.I.S., the former U.S.S.R.) at Lenin Stadium in Moscow on 29 April 1992.

One of our website colleagues, Josh Benn, pulled his tape of this C.I.S. match and confirmed that Clough did in fact wear the No. 14 shirt when he replaced Alan Shearer in the second half. There is always the possibility that Clough wore No. 14 as an unused substitute in one of England's other matches in 1992, but your question stated that the shirt you have came from a 1992 match in which he played.

Postscript: Ian later told us he had corresponded with Nigel Clough, who confirmed that he had indeed worn the shirt against the C.I.S.
Q from Nat Faulkner, location not given, 8 July 2003: What year did England first play with numbers on the back of the shirt?
A from PY: England wore numbers on the back of their shirts for the first time in the 3-1 loss to Scotland at Hampden Park in Glasgow on 17 April 1937. It all went wrong after that except for a blip in 1966--World War II, the 1950 World Cup ... well, you know the rest.
Q from Brian Bailey, location not given, 7 July 2002: Who was the first England team manager to be sacked.
A from PY: It was Alf Ramsey, sacked in 1974. He became England's second manager in 1962 and the most successful England have had, leading the team to a World Cup championship in 1966 and to third place in the European Championship in 1968.

The Football Association has a history of treating long-serving England managers poorly. Walter Winterbottom, who became England's first manager in 1946, resigned in 1962 after 16 years in charge. The FA had passed over him for its general secretary post although he was plainly the best candidate for the job. Bobby Robson, who was appointed manager in 1982, decided he would resign following World Cup 1990 because the FA had refused to give him assurances that he would remain in the job after the World Cup. Robson accepted a managerial offer from PSV Eindhoven in Holland before taking England to the semi-finals and fourth place at the World Cup in Italy. It was England's second best World Cup performance, their best at a World Cup tournament played abroad, and it left the FA with egg all over its collective face.
Q from Peter Tennant, location not given, 6 July 2003: Which former England captain's middle name was Chelsea.?
A from PY: Bobby Moore's full name was Robert Frederick Chelsea Moore.
Q from Peter Tennant, location not given, 6 July 2003: Which former England manager was on Manchester United's books?
A from PY. Walter Winterbottom was a centre-half for Manchester United, signing on in the summer of 1936, but injury and World War II cut his playing career short. Although his Football League career ended due to a spinal injury in the 1937-38 season, he managed to make wartime guest appearances for Chelsea FC and played for the FA XI against the Royal Air Force XI at Luton on 6 June 1942. He was an unused reserve for England's wartime international against Scotland at Empire Stadium in Wembley on 10 October 1942. He was appointed national director of coaching with responsibility for the national team on the resumption of official play in 1946 and England team manager in May 1947.
Q from Chris Storey, location not given, England, 5 July 2003: I have full autographs for the England team from 13th May 1972 v West Germany. I was left this by my granddad so I am unable to name all the team. Could you please name the squad?
A from PY: England had lost to West Germany, 3-1, at Wembley two weeks earlier, on 29 April 1972, in the first leg of the 1972 European Championship quarterfinals, and the scoreless draw in the return match your grandfather attended at Berlin's Olympiastadion sealed their elimination short of the final tournament, which in those days consisted of only the semifinals and the final. Manager Alf Ramsey drew heavy criticism because he fielded a defensive 4-4-2 formation despite the formidable 3-1 deficit England faced after their home leg. It was the first of four England failures during the 1970's to qualify for the final tournaments of the two big competitions, the European Championship and the World Cup. And it marked the beginning of the end for Ramsey, who was sacked in April, 1974 following England's failure to qualify for the World Cup 1974 final tournament.

England's lineup on a night of pelting rain and vigorous tackling: Gordon Banks, Stoke City; Paul Madeley, Leeds United; Emlyn Hughes, Liverpool; Peter Storey, Arsenal; Roy McFarland, Derby County; Bobby Moore, West Ham United, captain; Alan Ball, Arsenal; Colin Bell, Manchester City; Martin Chivers, Tottenham Hotspur; Rodney Marsh, Queen's Park Rangers; Norman Hunter, Leeds United. Substitutes: Michael Summerbee, Manchester City, for Marsh; Martin Peters, Tottenham Hotspur, for Hunter.
Q from Mark Pickering, Wormley Herts., U.K., 2 July 2003: There seems to be some controversy among my friends and me as to whether Bobby Moore was ever knighted. Please can you resolve this question and if he was, then when was he?
A from PY: Bobby Moore, who died of cancer at 51 on 24 February 1993, received the Order of the British Empire (OBE) for services to the game in 1967, the year after he captained England to their only World Cup, but he was never knighted. No doubt he would have been knighted had he lived a few years longer. Football journalists and fans occasionally suggest he should be knighted posthumously, but we are not aware that the honour has ever been awarded after the recipient's death.

It is no wonder football fans differ over whether Moore was ever knighted. The media have sometimes converted wishful thinking into fact. We have in our files, for example, a BBC website story which purports to list English football figures who have received knighthoods, and it erroneously includes Moore's name.

It is too late to rectify the disgraceful failure to honour Moore appropriately during his lifetime, but making the player statue proposed for the new Wembley Stadium a remembrance of Moore would ameliorate this glaring omission.

An incomplete list of England national team figures who have received royal honours appears elsewhere on this website. If any readers have further information on these honours, please send it to us along with your source.