England Football Online
Under 23 Results
Page Last Updated 6 July 2022

Française
'U23' 18 vs. Hungary

previous senior match (14 days)
336 vs. Sweden


int

19




next senior match

(7 days)
337 vs. Northern Ireland

'U23' 20 vs. Scotland

Wednesday

,

11 November 1959




International Friendly Intermediate Match





England 2 France Espoirs 0

[0-0]




Roker Park Ground, Association Road, Monkwearmouth, Sunderland, county Durham




Kick-off (GMT): 7.15pm
Attendance:

'26,495';

(floodlit)

[0-0] Chris Crowe scores an 18yd free-kick disallowed:indirect

28


[0-0] Peter Dobing scores a 25yd free-kick disallowed:offside

33

[1-0] Joe Baker header 48
'Maurice Setters worked a slick free-kick move on the edge of the penalty area, and Baker positioned himself superbly to head the ball into the far corner.'

after

'Dobing feinted to take the free-kick'
(Herbin fouled Baker)
[2-0] Chris Crowe 63
'After Dobing's shot was blocked on the line, the ball came out to George Cohen, who pushed it to Crow, who cut past Chorda to hammer the ball behind the French 'keeper into the top far corner'

There is no Television or Radio coverage

"FRENCH ROCKED BY BAKER"
Daily Mirror
Officials

from Dublin, Republic of Ireland

England
FIFA ruling on substitutes
France
Referee


Jack Meighan

red flag

Linesmen

yellow flag

Thomas Barton
William A. O'Niell

England Intermediate Team
Rank:

No official ranking system established;
Colours:
The 1959 Bukta home uniform - White v-necked short-sleeved continental jerseys, blue shorts, red socks with white calf hoop.
Capt:

Maurice Setters
third, W 1 - D 1 - L 1 - F 4 - A 3.

Manager:
Ronald Greenwood, 38 (11 November 1921), appointed over the 1959 summer, also assistant manager of Arsenal FC;


third intermediate match, W 1 - D 1 - L 1 - F 4 - A 3.

trainer: Fred Ford
Team chosen by the Intermediate Selection Committee, headed by Frank Adams, on Monday, 2 November in London.
England Lineup

eight changes

from the previous U23 match

league position

(2 November)

Macedo, Eliot
21
262 days
22 February 1938
in Gibraltar
G
Fulham FC

(FL 6th)

4

3ᵍᵃ

2

Cohen, George R.
20
20 days
22 October 1939
RB
Fulham FC

(FL 6th)

2
0
72
3
McNeil, Michael
19
277 days
7 February 1940
RB
Middlesbrough FC

(FL2 5th)

1
0
4

Setters, Maurice E.
22
330 days
16 December 1936
RHB
West Bromwich Albion FC

(FL 14th)

11
0
73
5
Swan, Peter
23
34 days
8 October 1936
CHB
Sheffield Wednesday FC

(FL 13th)

1
0
74
6
Smith, John
20
311 days
4 January 1939
LHB
West Ham United FC

(FL 3rd)

1
0
75
7

Crowe, Christopher
20
153 days
11 June 1939
OR
Leeds United AFC

(FL 19th)

1
1
8
Dobing, Peter A.
20
345 days
1 December 1938
IR
Blackburn Rovers FC

(FL 4th)

2
0
9

Baker, Joseph H.
19
117 days
17 July 1940
CF
Hibernian FC, Scotland

(SL 11th)

3
1
76

10

Eastham, George E.
23
49 days
23 September 1936
IL
Newcastle United FC

(FL 18th)

1
0
77

11

Sydenham, John
20
57 days
15 September 1939
OL
Southampton FC

(FL3 3rd)

1
0
reserves:
Gordon Marshall (Hearts of Midlothian FC, Scotland

(SL TOP)

), Brian Miller (Burnley FC

(FL 7th)

), Fred Hill (Bolton Wanderers FC

(FL 11th)

).
team notes:
Maurice Setters was sent-off for West Bromwich Albion FC against Sheffield Wednesday FC in a league match. It was the selector's policy not to choose a player with such a recent expulsion. The committee ignored his misfortune as they did not want to prejudice the decision of the disciplinary committee.
Joe Baker was a doubt after injuring his shin in Hibernians match with St. Mirren on the Saturday.
The French FA requested that England not include Full Internationals.
For the first time, two English-born Scots are chosen - Joe Baker and Chris Crowe.
2-3-5
Macedo -
Cohen, McNeil -
Setters, Swan, Smith -
Crowe, Dobing, Baker, Eastham, Sydenham.

Averages:

Age
21 years 45 days
Appearances/Goals
2.5
0
France Intermediate Team
Rank:

No official ranking system established;
Colours:
blue jerseys and white shorts
Capt:
not known

Manage

r:
Henri Guérin, 38 (27 August 1921), also trainer of Stade Rennais UC
France Lineup
1
Clément, Yvon, injured off 78th min.
22
246 days
10 March 1937
G
Racing Club de Lens
2
Peyroche, Georges
22
288 days
27 January 1937
RB
AS Saint-Étienne Loire
3
Chorda, André
21
264 days
20 February 1938
LB
Olympique Gymnaste Club Nice
4
Cornu, Alain
22
334 days
12 December 1936
RHB
Olympique Gymnaste Club Nice
5
Herbin, Robert

J.

20
226 days
30 March 1939
CHB
AS Saint-Étienne Loire
6
Casolari, Georges
18
190 days
5 May 1941
LHB
AS Monaco
7
Bérard, Robert
19
320 days
26 December 1939
OR
Stade de Reims

8

Bonnel, Joseph
20
311 days
4 January 1939
IR
US Valenciennes
9
Goujon, Yvon
22
294 days
21 January 1937
CF
AS Saint-Étienne Loire
10
Alba, Jean-Pierre
21
229 days
27 March 1938
IL
Olympique Gymnaste Club Nice
11
Heutte, François
21
263 days
21 February 1938
OL
Racing Club de Paris
France Substitutes

coreline:

England 2 France 0

Tailandier, Jean, on 78th min. for Clement
21
293 days
22 January 1938
G
Racing Club de Paris

result:

England 2 France 0

unused substitutes:
not known
team notes:
There were four changes to the original announced team, two of them positional.
Casolari replaced Marseille's Régis Bruneton at left-half, because he could obtain leave from the army, and Bonel replaced the centre-forward Limoges' Paul Sauvage, who drops out because of injury and forced a forward-line reshuffle, Bonel will play at inside-right, Goujon moves into the centre from the outside-ride, which is now taken up by Bernard, from his original position at inside-right.
Clement went off in the 78th minute after suffering a finger injury.
2-3-5
Clément (Tailandier) -
Peyroche, Chorda -
Cornu, Herbin, Casolari -
Bérard, Bonnel, Goujon, Alba, Heutte

Averages:

(start)
(finish)
Age
21 years 170 days
21 years 141 days
Appearances/Goals
Match Report
by Ken Jones, Daily Mirror, Thursday, 12 November 1959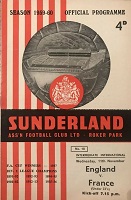 JOE BAKER, nineteen-year-old Hibs centre-forward who leads the full England attack against Ireland next Wednesday, crashed Young England into the lead three minutes after half-time under the Roker Park floodlights here [last] night. Skipper Maurice Setters worked a slick free-kick move on the edge of the French penalty area, and the Baker boy positioned himself superbly to head the ball into the far corner.
Baker had taken just five minutes to hit his way into the hearts of the the critical North-Eastern fans. He did it with a flashing header from a right-wing cross just after the start.
And for the most of the first half Baker was a force one-man attacking force.
His flashing feet sparked off most of England's moves, and three times his darting headers were only inches off the target. French danger man centre forward Yvon Goujon had shocked England's youngsters after only four minutes. His sparking run laid on a chance for left winger Francois Heutte, whose close-range shot had Tony Macedo diving desperately to punch away. Most of the French attacks came from the left wing, and Fulham's George Cohen was having a tough time trying to pin down the sparkling Huette. Right half Setters got England out of trouble with a great through ball to left winger John Sydenham. But the young Southampton star was having an unhappy international debut. Baker apart, there was little in England's attack to suggest that they would hit France hard and quickly.
Newcastle's inside left, George Eastham, sparkled in the first fifteen minutes but faded.
He came back after half an hour with a jinking run that took him past three men, but was then bundled off the ball. England were unlucky not to have gone ahead in the thirty-third minute. Blackburn inside-right [Peter] Dobing hammered home a twenty-five-yard free-kick, but it was ruled out by an offside decision. Baker was back in the picture again before the interval with a dazzling jump that powered the ball across the goalmouth with the French 'keeper beaten. Right winger Chris Crowe crashed England into a two-goal lead in the sixty-second minute. The Leeds man cut past full back Chorda to hammer the ball behind the French 'keeper into the top far corner. Twelve minutes from the end French goalkeeper Clement went off and Taillandur (Racing) took over.

Match Report
as appears in the F.A. Yearbook 1960-61 page 35
The most noteworthy feature was the masterly way in which Baker led the English forwards. Supported by hard-working colleagues, he was always a menace to the French defence, even when marked by two opponents. Setters, a tireless worker, also gave a polished display at right-half, though our defence had little trouble in keeping the French at bay. England would have scored more often it they had not over-schemed when close to goal. Baker netted the first, 2 minutes after the interval; Crowe, accepting a through-pass from right-back Cohen, added a second after 62 minutes.

European Cup
Second Round First Leg
Fk Crvena zvezda 1
Wolverhampton Wanderers 1


Stadion JNA, Beograd

(40,000)




Kostić ~

Deeley
Inter-Cities Fairs Cup
Semi-final Second Leg
Birmingham City 4
RU St. Gilloise 2
St. Andrews, Birmingham
(14,149)
Gordon (2), Larkin, Hooper (pen)
~
Janssens,
Diricx (pen)
Source Note
Official matchday programme
FA Yearbook 1960-61

Rothman's Yearbooks


Original newspaper reports
British Pathé
cg