"YOUNG ENGLAND SO FOOLISH!"
Daily Mirror
Officials
England
FIFA ruling on substitutes
Hungary
Referee

(black)


Maurice

Alexandre

Guigue


47 (4 August 1912), Arles, France

yellow flag

Linesmen

red flag

K. G. Hampson


Southport

E. J. Daniel


Liverpool

England Intermediate Team
Rank:

No official ranking system established;
Colours:
The 1959 Bukta home uniform - White v-necked short-sleeved continental jerseys, blue shorts, red socks with white calf hoop.
Capt:
Maurice Setters


second, W 0 - D 1 - L 1 - F 2 - A 3.

Manager:
Ronald Greenwood, 37 (11 November 1921), appointed over the 1959 summer, also assistant manager of Arsenal FC;


second intermediate match, W 0 - D 1 - L 1 - F 2 - A 3.

trainer: Fred Ford
Team chosen by the Intermediate Selection Committee, headed by Frank Adams, on Tuesday, 15 September.
England Lineup

seven changes

from the previous U23 match

league position

(15 September)

Macedo, Eliot
21
213 days
22 February 1938
in Gibraltar
G
Fulham FC

(FL 6th)

3

3ᵍᵃ

70
2
Cohen, George R.
19
336 days
22 October 1939
RB
Fulham FC

(FL 6th)

1
0
3
Allen, Anthony
19
300 days
27 November 1939
LB
Stoke City FC

(FL2 12th)

6
0
4
Setters, Maurice E.
22
281 days
16 December 1936
RHB
West Bromwich Albion FC

(FL 9th)

10
0
5
Scott, Melyvn Douglas
19
362 days
26 September 1939
CHB
Chelsea FC

(FL 16th)

4
0
final U23 app 58-59
6
McGuinness, Wilfred
21
333 days
25 October 1937
LHB
Manchester United FC

(FL 10th)

4
0
final U23 app 58-59
7
Brabrook, Peter
21
321 days
8 November 1937
OR
Chelsea FC

(FL 16th)

8
1

8

Greaves, James P.
19
215 days
20 February 1940
IR
Chelsea FC

(FL 16th)

9
7

=most goals

58-59

9

Pointer, Raymond
22
348 days
10 October 1936
CF
Burnley FC

(FL 4th)

2
2

10

Charlton, Robert
21
347 days
11 October 1937
IL
Manchester United FC

(FL 10th)

4
5
71

11

Holliday, Edwin
20
108 days
7 June 1939
OL
Middlesbrough FC

(FL2 2nd)

1
0
reserves:
Tony Knapp (Leicester City FC

(FL 15th)

), Jimmy Melia (Liverpool FC

(FL2 13th)

).
Alan Humphreys (Shrewsbury Town FC

(FL3 7th)

) was added two days later
team notes:
Goalkeeper Tony Macedo was a doubt to for this match after he received eight stitches to a cut above his eye in the league match against Fulham the previous Saturday.
2-3-5
Macedo -
Cohen, Allen -
Setters, Scott, McGuinness -
Brabrook, Greaves, Pointer, Charlton, Holliday.

Averages:

Age
21 years 55 days
Appearances/Goals
4.7
1.4

Hungary Intermediate Team
Rank:

No official ranking system established;
Colours:
Cherry red v-necked short-sleeved jerseys with HUNGARIA emblazoned across the front, white shorts, green socks
Capt:
not known
Selector:
not known
Hungary Lineup
1
Szentmihályi, Antal
20
102 days
13 June 1939
G
Vasas FC
2
Werner, Gyula
21
174 days
2 April 1938
RB
Diósgyőri VTK
3
Novák, Dezső
20
232 days
3 February 1939
LB
Szombathelyi Haladás VSE
4
Nagy, István
20
162 days
14 April 1939
RHB
Magyar Testgyakorlók Koöe Budapest
5
Orbán, Árpád
21
174 days
14 March 1938
CHB
Győri Vasas ETO
6
Solymosi, Ernő
19
94 days
21 June 1939
LHB
Diósgyőri VTK
7
Nemes, Gyula
21
174 days
14 March 1938
OR
RFC de Liège, Belgium

8

Kuharszki, Béla
19
147 days
29 April 1940
IR
Újpesti Dózsa SC
9
Monostori, Tivadar
24
30 days
24 August 1936
CF
Dorogi Bányász
10

Rákosi, Gyula
20
349 days
9 October 1938
IL
Ferencvárosi TC
11
Matesz, Imre. injured off 30th min.
22
163 days
25 March 1937
OL
Vasas FC
Hungary Substitutes
14
Deli, András, on 30th min. for Matesz
21
173 days
3 April 1938
OL
Tatabányai Bányász SC

result:

England 0 Hungary 1

unused substitutes:
J. Geley and I. Jeszensky, Kuharski
team notes:
Kuharszki and Nemes were originally named as reserves, but they took the places of L.Pal and L.Keglowich.
2-3-5
Szentmihályi -
Werner, Novák -
Nagy, Orbán, Solymosi -
Nemes, Kuharszki, Monostori, Rákosi, Matesz (Deli)

Averages:

(start)
(finish)
Age
21 years 36 days
21 years 2 days
Appearances/Goals
Match Report
by Bill Holden, Daily Mirror, Thursday, 24 September 1959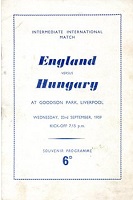 ENGLAND expected so much—in vain. And the Hungarian jinx still retain its hold on British Soccer. The Hungarians were unbeaten in their trips here since the war, with a win over England at Wembley and a draw with Scotland in Glasgow.
And now their Under-23 side is the first non-full international team to win over here. With so much to gain—places for them in the full England team wide open—only Chelsea's chirpy Jimmy Greaves showed anything like his normal form. It was painful to watch this England flop. The partisan Everton crowd was behind them all the way . . . ready tp roar their appreciation if the ball was booted in the direction of the Hungarian goal.
But it failed to inspire our youngsters, who just fell further away.
Occasionally there was a suggestion that wing halves Maurice Setters and Wilf McGuinness might whip the team into action. Unhappily, their drive had no lasting effect. Bobby Charlton, so often the goal-grabbing genius, seemed to have lost his golden touch. Greaves looked the only likely man in attack, followed by the new boy Eddie Holliday of Middlesbrough. This left winger should have another chance. But as an attacking power England just weren't in it.
The Hungarian forwards were no better and it was left half Solymoss who snapped their winner in the fifty-fifth minute.
Young England lost—and they cannot complain. The team just did not produce the skill that was expected of them. A foolish failure, for it will be a miracle if they are still together for the next Under-23 match against France in November.

Match Report
as appears in the F.A. Yearbook 1960-61 page 34
FOLLOWING creditable performances by the Under-23 team against Italy and West Germany during the close season, there was some justification for optimism in this opening match against Hungary but, instead, history repeated itself. Nearly six years previously the Hungarians had lowered England's colours for the first time in a Home International, and it happened once again with the Under-23 team. Hungary were lucky this time, however, and owed much to a superb defence. The rest of the team's play lacked the sparkle of their famous predecessors of 1953, and England were fortunate not to equalise in the second half. Holliday on the left-wing made a promising début; Cohen, Scott and McGuinness also did well. Rakosi scored the only goal.

Football League Representative Match


Irish League 0 Football League 5


Windsor Park, Belfast

(18,000)


Clough (5)

Football League Division Three


Bournemouth & Boscombe Athletic 4 Newport County 1


Dean Court, Bournemouth

(9,322)


Southren, Evans (2), Coxon ~ Herrity




Norwich City 2 Bury 0


Carrow Road, Norwich

(32,437)




Hill, Brennan

Reading 2 Accrington Stanley 0


Elm

Park, Reading

(13,174)




Lacey, Evans

Southampton 6 Shrewsbury Town 3


The Dell, Southampton

(19,172)




Reeves

(2), Mulgrew, Sydenham, Paine, O'Brien ~ Rowley, Starkey (2)
Town were without Alan Humphreys

Swindon Town 4 Wrexham 1


County Ground, Swindon

(10,232)


Richards, Gauld, Hoskins, Darcy ~ B.Evans

Football League Division Four


Chester 0 Oldham Athletic 0


Sealand Road, Chester

(4,059)

Crewe Alexandra 3 Carlisle United 0




Gresty Road, Crewe

(8,931)


Llewellyn (2), M.Jones

Crystal Palace 8 Watford 1


Selhurst Park, South Norwood

(21,938)


Roche (2), Colfar (2), Byrne (2), Noakes (pen), Gavin

~ Holton
Source Note
Official matchday programme
FA Yearbook 1960-61

Rothman's Yearbooks


Original newspaper reports
British Pathé
cg