"SPANIARDS SUNK BY A FOUR-GOAL BROADSIDE"
Daily Mirror
Officials

from France

England Party
FIFA ruling on substitutes
Spain

Referee

(black)
Maurice Alexandre Guige
43 (4 August 1912), Arles
"If conditions are dull a white ball is likely to be used for the start, and the new Wembley floodlights will be turned on for the last 10 minutes of the game, an innovation in international football."

"The teams were presented to the Lord Mayor of London."


Sir Cutbert Lowell Ackrord, 1st Baronet DL, JP




"The referee chose a white ball."

flame flag

Linesmen

orange flag

Robert Sautel
Marcel Lequesne
44 (31 January 1911)

, Oissel

England Team
Rank:

No official ranking system established;
ELO rating 6th
Colours:
The 1954 Umbro home uniform - White v-necked short-sleeved continental jerseys, blue shorts, black socks with white tops.


ninth, W 5 - D 1 - L 3 - F 25 - A 13.

⁴³
Capt:

Billy Wright³
57th W 33 - D 10 - L 14 - F 143 - A 88.⁹⁰

Manager:
Walter Winterbottom, 42 (31 March 1913), appointed as FA national director of coaching/team manager on 8 July 1946;


75th match, W 46 - D 14 - L 15 - F 217 - A 109

, one abandoned.¹³⁹
Trainer: Jimmy Trotter (Charlton Athletic FC)

Team chosen by Selection Committee, headed by Joe Mears, on Sunday, 27 November.

England Lineup

five changes

to the previous match

(Williams, McGarry, Matthews, Revie & Lofthouse)

league position

(27 November)

Baynham, Ronald L.
26
173 days
10 June 1929
G
Luton Town FC

(FL 7th)

3

2ᵍᵃ

final app 1955
2
Hall, Jeffrey J.
26
84 days
7 September 1929
RB
Birmingham City FC

(FL 10th)

4
0
3
Byrne, Roger W.
26
83 days
8 September 1929
LB
Manchester United FC

(FL 2nd)

17
0
4

Clayton, Ronald
21
117 days
5 August 1934
RHB
Blackburn Rovers FC

(FL2 7th)

2
0
5
Wright, William A.
31
297 days
6 February 1924
CHB
Wolverhampton Wanderers FC

(FL 9th)

72
3

most apps

1952-55

6
Dickinson, James

W.

30
220 days
24 April 1925
LHB
Portsmouth FC

(FL 15th)

44
0
7
Finney, Thomas
33
239 days
5 April 1922
OR
Preston North End FC

(FL 12th)

59
26


²

¹

12th penalty missed

(29th taken overall)

753

8

Atyeo, P. John W.
23
296 days
7 February 1932
IR
Bristol City FC

(FL2 TOP)

1
1
the fourth City player to represent England
9

Lofthouse, Nathaniel
30
95 days
27 August 1925
CF
Bolton Wanderers FC

(FL 6th)

29
27

10

Haynes, John N.
21
44 days
17 October 1934
IL
Fulham FC

(FL2 5th)

3
1
11

Perry, William A.
25
81 days
10 September 1930
in Johannesburg, South Africa
OL
Blackpool FC

(FL TOP)

2
2
unused substitutes:
Reg Matthews (Coventry City FC

(FL3S 9th)

), Peter Sillett (Chelsea FC

(FL 14th)

), Duncan Edwards and Tommy Taylor (Manchester United FC

(FL 2nd)

). Beddy Jezzard (Fulham FC

(FL2 5th)

) was placed on standby incase Lofthouse failed his fitness test.
team notes:
Billy Wright extends his record appearance tally, in his record 37th consecutive match.
John Atyeo becomes the twentieth post-war player to score on his debut (139th since 1873).
"The England team...received a heartening vote of confidence from the Football League last night. They were chosen en bloc to represent the League against the League of Ireland at Goodison Park next Wednesday."
penalty kick records:
Tom Finney's penalty was the first one missed for eight years, and the first to be missed at Wembley. It also ends a record successive run of seven penalty kicks scored.
records:
England win a record five matches in a row at Wembley for the first time, extending their record.
goalscoring records:
Dennis Wilshaw

ends the year as top goalscorer, scoring six goals across six matches, including one hattrick.

2-3-5
Baynham -
Hall, Byrne -
Clayton, Wright, Dickinson -
Finney, Atyeo, Lofthouse, Haynes, Perry.

Averages:

Age

27

years 325 days
Appearances/Goals

21.5

5.2

Winterbottom's XI after 75 matches
Williams (24) -
Ramsey (32), Byrne/Aston/Eckersley (17) -
Wright (72), Franklin (27), Dickinson (44) -
Matthews (29), Mortensen (25), Lofthouse (29), Mannion (26), Finney (59)
After 75 matches, Winterbottom has used 103 players, 126 on to teamsheets and 144 into his various parties.

Spain Team
Rank:

No official ranking system established;
ELO rating 10th to 13th
Colours:
Red collared buttoned jerseys, blue shorts, black socks with red/yellow/red hoop around the top.
Capt:
Joan Segarra
Manager:
Guillermo Eizaguirre Olmos, 46 (27 May 1909), team announced on Monday, 14 November 1955, finalised on 29 November.
Spain Lineup
Cedrún Ochandategui, Carmelo
24
359 days
6 December 1930
G
Athletic Club
5

9ᵍᵃ

2
Segarra Iracheta, Joan
28
15 days
15 November 1927
RB
FC Barcelona
9
0
3
Campanal
23
290 days
13 February 1932
LB
Sevilla FC
8
0
González del Río, Marcelino Vaquero
4
Mauri
21
218 days
26 April 1934
RHB
Athletic Club
4
0
Lauzirika, Mauricio Ugartemendia
5
Garay Vecino, Jesús
25
81 days
10 September 1930
CHB
Athletic Club
6
0
6
Maguregui Ibargutxi, José María
21
259 days
16 March 1934
LHB
Athletic Club
3
1
7

González Pérez, Miguel
28
217 days
27 April 1927
OR
Club Atlético de Madrid
6
1
8
Pérez-Payá Soler, José Luis
27
247 days
28 March 1928
IR
Real Madrid CF
2
0
final app
9

Arieta-Araunabeña Piedra, Eneko
22
101 days
21 August 1933
CF
Athletic Club
3
2
final app
10
Doménech Pinto, Manuel
29
361 days
4 December 1925
IL
Sevilla FC
3
0
final app
11
Collar Monterrubio, Enrique
21
28 days
2 November 1934
OL
Club Atlético de Madrid
3
1

unused substitute

s:
Goalkeeper:- Juan Bagur Coll (Real Sociedad); Full-back:- Gustavo Biosca Pagés (FC Barcelona); Half-backs:- José María Orúe Aranguren (Athletic Club), José Luis Artetxe Muguire (Athletic Club); Centre-forward:-Pahiño (Deportivo de La Coruña)

team note

s:
There was one change between the team announced on 14 November and that after practise on 29 November. Fernando Guillamón Rodríguez (Sevilla FC) was the original named right-back. He was replaced by the team captain, Segarra, who had also taken the responsibility off Campanal. Segarra was originally dropped, and only regained his place on the day of the match.
2-3-5
Cedrún -
Segarra, Campanel -
Mauri, Garay, Maguregui -
Miguel, Payá, Arieta, Doménech, Collar.

Averages

:

Age

25

years 0 days
Appearances/Goals

4.7

0.3
News
"Football history was made at Wembley yesterday, not because England beat Spain with fair comfort but because the last 15 minutes were played by floodlight. This is the first occasion either in international or League football on which lights have been used to complete an afternoon game which otherwise would have been abandoned. It emphasises the difference in views between the Football Association and the Football League on the question of floodlighting, for the Football League have set their faces against games either being played wholly or completely under artificial light." - Eric Stanger, Thursday, 1 December 1955, Yorkshire Post & Leeds Mercury.

Match Report
by Mike Payne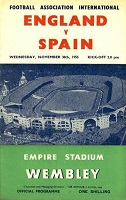 On a cold, morky November day, Wembley seems a million miles from the Spanish summer sunshine. Thus these two sides were meeting each other in far different circumstances to the match played in the sweltering heat of Madrid the previous May.

The scoreline does not reflect the pattern of play but it does emphasise that the team which takes its chances will win the day. Both sides produced some good football with Spain having a great deal of the possession. Unfortunately for them they lacked the ability to finish off the fine approach play.

England began at a brisk pace and after only seven minutes were awarded a penalty. A lovely through-ball by Johnny Haynes sent Tom Finney clear, but as the winger entered the penalty area he was fouled by a Spanish defender for an obvious spot-kick. The Preston player took the penalty himself but his kick was far too timid and Carmelo saved with ease. Luckily for England they did not have to wait too long for a goal to wipe out the memory of that penalty miss.

On 12 minutes, a splendid move involving Ronnie Clayton, Haynes, Nat Lofthouse and Finney ended with John Atyeo taking Bill Perry's touched pass to shoot home. Sixty seconds later, England scored again. This time the goal owed much to the long pass which was to dominate their style on the day. Haynes was the architect again, sending Atyeo away. Atyeo moved the ball on to Lofthouse who then found Bill Perry who scored with a good shot following a 30-yard run. Before half-time Perry hit the Spanish post with another good effort and England were well worth their 2-0 interval lead.

Spain saw plenty of the ball and in Magureghi they had a superb player urging them on. But always the tendency of the visitors to overdo the ball skills gave England and especially Billy Wright the chance to clear. The England captain was magnificent and must surely rank as one of the world's truly great players. His anticipation, tackling and heading were an inspiration to his colleagues. With Jeff Hall and Roger Byrne also having splendid matches, the home defence looked very secure.

The pattern continued throughout the second half with Spain having plenty of possession and England countering with the searching long pass and some lethal finishing. Before the hour was up. England had made the game safe. A slight slip by Garay gave Finney the chance to make ground before cutting inside and planting a lovely diagonal shot just inside the far post. As Finney went to shoot, a crunching Gonzalez tackle stopped him.

Shortly afterwards, and with half an hour to go England hit their fourth goal. Once again the Preston Plumber was the instigator of the attack as his pass found Clayton who centred from the right for Perry to head home perfectly.

Despite several shortcomings in their overall play, one could certainly not criticise the England finishing and all four goals had been expertly taken.

Spain continued to their great credit, to dominate the midfield with their short passing game and they deserved better when Arieta's shot hit a post. Then, only a desperate Jimmy Dickinson block prevented Miguel netting the rebound. The visitors did gain some consolation when in the 80th minute Arieta headed home a Miguel cross.

Match Report
by Norman Giller
The Wembley floodlights were switched on for the first time in an international match fifteen minutes from the end of a game in which Spain were always in the dark. Finney missed from the penalty spot in the fifth minute, but then made amends by laying on one goal and scoring another. John Atyeo, the schoolteacher from Bristol City, put the finishing touch to a magnificent seven-man passing movement in the fifteenth minute, and sixty seconds later South African-born Bill Perry scored the first of his two goals. Finney and Perry made it 4-0 in the second-half before the Spaniards snatched a consolation goal ten minutes from the end.

Match Report
by Glen Isherwood
In 1929 in Madrid Spain had been the first foreign team to beat England. In fact England had beaten them only once but that was by 7-1 at Highbury two years later. Their last meeting had been a 1-1 draw in Madrid just six months earlier. Spain had failed to qualify for the previous year's World Cup having been eliminated on the drawing of lots after surprisingly failing to beat Turkey.
England missed a penalty in the seventh minute. Finney was brought down by Campanal but his spot kick was weakly hit and comfortably saved by Carmelo. They had to wait only another five minutes, however, for a goal. A neat passing move ended with Clayton touching the ball on for John Atyeo to score. England scored again within a minute and again a fine passing move split open the Spanish defence. This time Lofthouse supplied the final pass for the in-rushing Bill Perry to drive the ball home.
England's third came in the second half. Tom Finney atoned for his penalty miss by speeding away down the wing, cutting in and shooting past the 'keeper as Campanal desperately tried to stop him. Perry headed his second shortly afterwards from a cross by Clayton and then Spain scored in the 81st minute when Arieta headed in from a Gonzalez centre.
Spain also failed to qualify for the 1958 World Cup, finishing runners-up to Scotland in their group, but they did record an emphatic 3-0 win over England in Madrid in 1960 before returning to Wembley later that year.

Match Report
as appears in the F.A. Yearbook 1956-57 pages 29-30
This took place at Wembley on November 30th, one of the dampest, foggiest days of the year. The thrilling start, however, soon made one forget the weather: in the first 12 minutes Finney had missed a penalty for a foul on himself, and Atyeo and Perry had scored good goals. Atyeo shot on the half-volley after cleverly pulling down Clayton's lobbed pass, while Perry ran on to a through-pass from Lofthouse. Spain then became he masters in midfield, but weak finishing spoilt all their fine inter-passing. Soon after the interval Finney scored an individualistic goal after beating two defenders: then Perry made it 4-0 with a header. Seventeen minutes from the end, the referee had to whistle for the floodlights to be switched on - this was a precedent for a full international match in their country. With the coming of the lights Arieta scored a consolation goal for Spain, but England thoroughly deserved their victory.

Source Notes
TheFA.com
Original newspaper reports
BDFutbol.com


The Complete Book of the British Charts

Rothman's Yearbooks




Mike Payne's England: The Complete Post-War Record


Norman Giller, Football Author
Glen Isherwood's Wembley: The Complete Record
British Pathé
cg