301 vs. Spain

previous senior match

(4 days)

340


344 vs. Spain






4.50 Captain Pugwash 5 The Long Way Home 5.30 All Your Own 5.55 News.
6 Football: Spain vs. England
7 Meeting Point 7.25 News 7.30 Perry Como Music Hall 8.10 Aren't We All?

Sunday

,

15 May 1960


End of season Tour of Europe Match

Spain 3 England 0

[1-0]




El Estadio Santiago Bernabéu, Avenue de Concha Espina, Hisponoamérica, Chamartín, Madrid, Comunidad de Madrid


Kick-off (CEST & BST): 5.00pm


Attendance: '50,000';
Both the FA Yearbook and Mike Payne's Complete Record state an attendance of 77,000, but there is no evidence to suggest it reached this high
unknown kicked off
[1-0] Joaquín Peirò 38
'Pereda started it with a ball across the field to Gento, who prodded it forward. Swan and Armfield slipped in a pool, and Peiro scored a simple goal..'

left-footed from 7yds

[2-0] Eulogio Martínez 79
'di Stéfano touched the ball to Pachin, who crossed it in for Martínez to hook in'..

right-footed from an acute angle


[3-0] Eulogio Martínez 85
'Alfredo di Stéfano made an opening before he passed to Martínez beat Wilson on corner of penalty area with a shrug and a swivel. Picking his target for a controlled right foot drive between Springett's outstretched right hand and the post.'
Second half only - Commentator: Kenneth Wolstenholme


"THIS WAS DEFEAT WITH HONOUR"
Daily Mirror
Officials from West Germany
Spain
FIFA ruling on substitutes

England Party

Referee

(black)
Albert Dusch
47 (6 December 1912), Kaiserslautern
Match announced by Spanish FA on 30 January 1959.

THE FACTS as reported in the Daily News...
Fouls—by England 19, by Spain 15. Corners—to England 7, to Spain 10. Off-side—by England 2, by Spain 4.
Shots—England 13: first half 9 second half 4 (Robson 3, Flowers 1,Brabrook 1, Haynes 1, Baker 1, Greaves 3, Charlton 3); Spain 17: first half 8, second half 9 (Segerra 2, Garay 1, Verges 1, Martínez 2, di Stéfano 3, Peiro 3, Gento 5).

Linesmen

Walter Treichel


Berlin

Alfred Ott


Rheinbrohl

Spain Team
Rank:

No official ranking system established;
ELO rating 8th to 6th
Colours:
Red crew-necked jerseys, blue shorts, black socks with red (yellow trim) tops
Capt:
Joan Segarra
Manager:
Helenio Herrera Gavilan, 50 (10 April 1910 in Buenos Aires, Argentina)
Team chosen by Selection Committee
Spain Lineup
Ramallets Simón, Antonio
35
319 days
1 July 1924
G
FC Barcelona
27

38ᵍᵃ

2

Pachín
21
139 days
28 December 1938
RB
Real Madrid CF
1
0
Perez Diaz, Enrique
5
Garay Vecino, Jesus
29
248 days
10 September 1930
CB
Athletic Club
23
1
3
Gràcia Royo, Sigfrido
28
49 days
27 March 1932
LB
FC Barcelona
6
0
4
Vergés Massa, Martin
26
68 days
8 March 1934
RHB
FC Barcelona
5
2
6
Segarra Iracheta, Joan
32
182 days
15 November 1927
LHB
FC Barcelona
20
0
7
Pereda Ruiz de Temiño, Jesús María

, off 44th min.

21
335 days
15 June 1938
OR
Sevilla FC
1
0
8

Martínez Ramiro, Eulogio
25
65 days
11 March 1935
in Asuncion, Paraguay
IR
FC Barcelona
4
5
also nine appearances and four goals for Paraguay 1954-55
9

Di Stéfano Laulhe, Alfredo Stéfano
33
316 days
4 July 1926
in Barracas, Argentina
CF
Real Madrid CF
18
15
also 6 apps/6 goals for Argentina 1947 & and 4 apps with Columbia 1949
10

Peirò Lucas, Joaquín
24
107 days
29 January 1936
IL
Club Atlético de Madrid
2
2
11

Gento Lopez, Francisco
26
207 days
21 October 1933
OL
Real Madrid CF
18
1
Spain Substitutes
Del Sol Cascajares, Luis, on 44th min. for Pereda
25
39 days
6 April 1935
M
Real Madrid CF
1
0
reserves:
Carmelo Cedrún (Athletic Club), Feliciano Rivilla & Enrique Collar (both Club Atlético de Madrid).
team notes:
FC Barcelona's inside-left Luis Saurez and left-half Enrique Gensan

a were injured in the run-up to the match and had to be left out.

3-2-5
Ramallets -
Pachín, Garay, Gracia -
Vergés, Segarra -
Pereda (Del Sol). Martínez, di Stéfano, Peiró, Gento.

Averages:

(start)
(finish)
Age

27

years 295 days


28

years 36 days
Appearances/Goals

11.4

2.1

England Team
Rank:

No official ranking system established;
ELO rating 9th
Colours:
The 1959 Bukta home shirt - White v-necked short-sleeved continental jerseys, white shorts, white socks (although some players appeared to have a hoop)


fifth match, W 1 - D 2 - L 2 - F 7 - A 10.

³⁵
Capt:

Johnny Haynes


first, W 0 - D 0 - L 1 - F 0 - A 3.

²²

Manager:
Walter Winterbottom, 47 (31 March 1913), appointed as FA national director of coaching/team manager on 8 July 1946;
114th match, W 63 - D 28 - L 23 - F 307 - A 165, one abandoned.¹³⁹

Trainer: Harold Shepherdson
The team chosen by the Selection Committee, headed by Harold Shentall, on Friday, 13 May, in Madrid.
England Lineup

two changes

from the previous match (Robson, Brabrook>Clayton, Douglas)

league position

(20 April)

Springett, Ronald

D.

24
298 days
22 July 1935
G
Sheffield Wednesday FC

(FL 4th)

4

8ᵍᵃ

2
Armfield, James C.
24
237 days
21 September 1935
RB
Blackpool FC

(FL 11th)

7
0
3
Wilson, Ramon
25
148 days
17 December 1934
LB
Huddersfield Town AFC

(FL2 7th)

3
0
4
Robson, Robert W.
27
87 days
18 February 1933
RHB
West Bromwich Albion FC

(FL 5th)

6
2
5
Swan, Peter
23
220 days
8 October 1936
CHB
Sheffield Wednesday FC

(FL 4th)

2
0
6
Flowers, Ronald
25
288 days
28 July 1934
LHB
Wolverhampton Wanderers FC

(FL TOP)

14
2
7
Brabrook, Peter
22
189 days
8 November 1937
OR
Chelsea FC

(FL 12th)

3
0

final app

1958-60

8
Haynes, John N.
25
211 days
17 October 1934
IR
Fulham FC

(FL 10th)

35
14
9
Baker, Joseph H.
19
303 days
17 July 1940
CF
Hibernian FC, Scotland

(SL2 7th)

4
1

10

Greaves, James P.
20
85 days
20 February 1940
IL
Chelsea FC

(FL 12th)

7
3
11
Charlton, Robert
22
217 days
11 October 1937
OL
Manchester United FC

(FL 8th)

17
13
reserves:
Alan Hodgkinson (Sheffield United FC

(FL2 5th)

), Don Howe (West Bromwich Albion FC

(FL 5th)

), Tony Knapp (Leicester City FC

(FL 13th)

), Ronnie Clayton & Bryan Douglas (Blackburn Rovers FC

(FL 17th)

), Denis Viollet (Manchester United FC

(FL 8th)

).
2-3-5
Springett -
Armfield, Wilson -
Robson, Swan, Flowers -
Brabrook, Haynes, Baker, Greaves, Charlton

Averages

:

Age

23

years 308 days
Appearances/Goals

9.3

3.2
Match Report
by Mike Payne
ENGLAND'S three matches in May continued with a visit to the magnificent Bernabeu Stadium in Madrid, home of Real Madrid, taking with them one of the youngest sides they have ever fielded. But they had the daunting task of facing one of the best international sides in the world. The ground was well short of the capacity but still held over 87,000 people at the start. They were soon passionately voicing their opinions, generating a cauldron of noise and a terrific atmosphere.

The Spaniards immediately showed their marvellous skills, attacking from the first whistle. But one thing that England never lacked is a combative spirit and they made Spain fight for every ball. Ron Flowers carried out the tactical plan of man-marking the irrepressible Di Stéfano, leaving Peter Swan the task of covering the central area. Swan did well against the probings of Peiro and Martínez and Flowers, Bobby Robson and especially Jimmy Armfield gave sterling service to the England cause.

Spain had most of the first half-possession and chances were created at regular intervals. In the 38th minute they scored the goal their play deserved. Pereda found Gento with a long cross-field pass. The winger made ground before splitting the England defence wide open with a wonderful pass which gave Peiro the chance to score, a chance he gleefully took.

Johnny Haynes, revelling in his new role of captain, gave Jimmy Greaves the best England chance of the first half. A glorious through ball sent Greaves away but the Chelsea player just overran it allowing Ramellets the chance to block. That opportunity had come just before Spain's goal and if Greaves had taken it, then maybe a different story would have been told. As it was, Peiro's goal was enough to give the Spanish their half-time lead.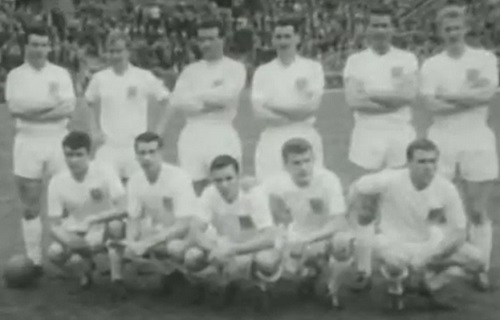 After the break, England continued to work hard and create some chances. With Haynes prompting well, they were still in there with a real chance of saving the game. Joe Baker almost forced an equaliser 15 minutes into the second half when he intercepted an attempted back-pass by Garay. Alas, he too, overran the ball and again Ramellets was able to save.

England then had another fine chance when a short corner was worked by Peter Brabrook and Armfield before the full-back put in a centre which Greaves headed over when it seemed easier for him to score. There were crucial misses by the visitors and they were to rue them, as with ten minutes to go, Spain scored decisive second goal.

A superb move involving De Stéfano, Peiro and Diaz ended with Diaz's cross finding Martínez. The number-eight controlled the ball well, moved to the left of goal and then drilled a shot past Ron Springett from a tight angle.

The crowd went wild with delight and Spain ended the match in full control as they turned on the style. They tormented the England defenders with some keep-ball passing movements and then rubbed salt into the wound by adding a third goal. Again Martínez was the scorer, showing clever skills and finishing with an arrogant strike inside the far post. Although the win was merited, that last goal did give a slightly flattering look to the scoreline.

Finally, a word of praise of Armfield. Faced with one of the world's fastest wingers in Gento, the full-back was rarely beaten for pace and had a tremendous game againstt the dangerous Spaniard.

Match Report
by Norman Giller
Johnny Haynes took over from the dropped Ronnie Clayton as captain. The rain in Spain was mainly on the pitch and England got bogged down in a midfield that was a mass of mud. Alfredo di Stéfano played a reluctant part in the Spanish victory. He wanted to save himself for Real Madrid's European Cup Final date with Eintracht Frankfurt at Hampden Park four days later. Alfredo had a long-running argument on the touchline with the Spanish coaches as he begged to come off, but was he persuaded to play on and help Martínez clinch victory with two goals in the last ten minutes. Di Stéfano and his colleagues Gento and del Sol then flew off to Glasgow, Lanarkshire to join the Real team that conjured one of the great performances of all time in their 7-3 victory over Eintracht. With Jimmy Armfield playing magnificently to control Gento, England gave as good as they got for the first hour, but one of the youngest teams ever picked by Walter Winterbottom and the selectors ran out of steam in the heavy conditions. Spain bossed the last third of the game, and tantalised and teased England with their keep-ball tactics before striking forward to snatch two goals in the last ten minutes.

Match Report
as appears in the F.A. Yearbook 1960-61 page 37
In the first match of the overseas tour England sprang a big surprise by dropping Clayton who had captained the side throughout the season. In his place at right-half Robson was recalled to the team after a lapse of two years — he previously played at inside-forward. Brabrook replaced Douglas at outside-right. The final score flattered the Spaniards, for, though they were the better team, a splendid rearguard action by England forced them to fight hard for their victory. The 77,000 spectators saw the home team take the lead midway through the first half but, though they pressed constantly, they were unable to increase it until the last 10 minutes when their clever inside-forward Martínez scored two brilliant goals. Joe Baker missed a good opportunity to equalise when the score was 1-0; Brabrook, Charlton, and Greaves seldom troubled the Spanish defence. Haynes, who was made captain, worked hard but many of his astute through-passes failed to create goal-scoring openings.

Source Notes
TheFA.com
Original newspaper reports
BDFutbol.com


The Complete Book of the British Charts

Rothman's Yearbooks




Mike Payne's England: The Complete Post-War Record


Norman Giller, Football Author
Youtube
cg