Match Summary
Officials

Wales

Type

England

Referee (-) - John A. Mowat
x (-), Rutherglen.

Linesmen - T.L. Davies, Ynyshir, and N.C. Taylor, Westbury

No substitutes permitted, as per UK ruling.

Goal Attempts
Attempts on Target
Hit Bar/Post
Corner Kicks Won
Offside Calls Against
Fouls Conceded
Possession

Wales Team
Rank:

No official ranking system established;
ELO rating 19th to 21st
Colours:
Made by Umbro - Red jerseys with white collars, white shorts with red side strip, red socks with white tops.
Capt:
Wally Barnes
Manager:
Trainer: Walter Robbins (Cardiff City FC)
Charles Leyfield, 37 (30 October 1911), appointed 4 October 1949.
Team chosen on Monday, 3 October 1949.
Wales Lineup
Sidlow, Cyril
31
26 November 1915
G
Liverpool FC

, England

7

15ᵍᵃ

2
Barnes, Wallace
29
16 January 1920
RB
Arsenal FC

, England

7
0
3
Sherwood, Alfred T.
25
13 November 1923
LB
Cardiff City FC
10
0
4
Paul, Roy
29
18 April 1920
RHB
Swansea Town FC
6
0
5
Jones, Thomas G.
32
12 October 1917
CHB
Everton FC

, England

15
0
6
Burgess, W.A. Ronald
32
9 April 1917
LHB
Tottenham Hotspur FC

, England

12
0
7
Griffiths, W. Malwyn
30
8 March 1919
OR
Leicester City FC

, England

4
1
8
Lucas, William H.
31
15 January 1918
IR
Swansea Town FC
6
0
9
Ford, Trevor
26
1 October 1923
CF
Aston Villa FC

, England

11
8

10

Scrine, Francis H.
24
9 January 1925
IL
Swansea Town FC
1
0
11
Edwards, George
28
2 December 1920
OL
Cardiff City FC

, England

11
2

reserve:

Billy Baker (Cardiff City FC).
2-3-5
Sidlow -
Barnes, Sherwood -
Paul, Jones, Burgess -
Griffiths, Lucas, Ford, Scrine, Edwards.

Averages:

Age
28.8
Appearances/Goals
8.2
0.9

England Team
Rank:

No official ranking system established;
ELO rating 5th to 4th
Colours:
The 1949 home uniform - White collared jerseys, blue shorts, black socks with white tops.
Capt:
Billy Wright, ninth captaincy
Manager:
Walter Winterbottom, 36 (31 March 1913), appointed as FA national director of coaching/team manager on 8 July 1946;
24th match, W 17 - D 3 - L 4 - F 79 - A 25.


Team chosen by Selection Committee headed by Arthur Drewry

on Saturday, 8 October 1949.

England Lineup
Williams, Bert F.
29
31 January 1920
G
Wolverhampton Wanderers FC
3

4ᵍᵃ

2
Mozley, Bert
26
21 September 1923
RB
Derby County FC
2
0
3
Aston, John
28
3 September 1921
LB
Manchester United FC
9
0
4
Wright, William A.

, injured off 37th min. Returned 46th min.

25
6 February 1924
RHB
/OL
Wolverhampton Wanderers FC
24
1
5
Franklin, Cornelius

, also injured carrying an injury.

27
24 January 1922
CHB
24
0
6
Dickinson, James W.
24
24 April 1925
LHB
Portsmouth FC
4
0
7
Finney, Thomas
27
5 April 1922
OR

/IL

20
14
8
Mortensen, Stanley H.
28
26 May 1921
IR/
RHB
Blackpool FC
13
15
9

Milburn, John E.T.
25
11 May 1924
CF
Newcastle United FC
5
6
the 44th

(seventh post-war) hattrick scored

10

Shackleton, Leonard F.
27
3 May 1922
IL

/IR

Sunderland AFC
3
0
11
Hancocks, John
30
30 April 1919
OL

/OR

Wolverhampton Wanderers FC
2
2

reserve:

Phil Taylor (Liverpool FC)

team notes:

Shortly before half-time, Billy Wright had been injured, he tore a thigh muscle.
Milburn's hat-trick is England's first in World Cup qualifying, and the 25th in the British Championships.
2-3-5
Williams -
Mozley, Aston -
Wright (Mortensen), Franklin, Dickinson -
Finney (Hancocks), Mortensen (Shackleton), Milburn, Shackleton (Finney), Hancocks (Wright).


notes:

"The withdrawal of Wright from right-half necessitated a series of changes, with Hancocks in his normal position on the right-wing partnered by Shackleton, and Finney, at inside-left, while Mortensen dropped back to right-half." - Monday, 17 October 1949, Western Daily Press.

Averages:

Age
26.9
Appearances/Goals
9.9
3.1
Match Report by Mike Payne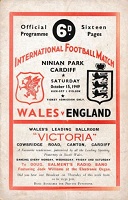 Anxious to get back to winning ways after their humiliating defeat by the Republic of Ireland the previous month, England went to Cardiff to face Wales in front of 61,000 passionate home supporters packed into Ninain Park.

A rousing version of Men of Harlech greeted the two teams and for the first 20 minutes Wales put the England defence under extreme pressure. Bert Mozley and John Aston both made slight errors but quickly recovered before any damage was done.

Neil Franklin and Bert Williams both had treatment after severe buffetings from the powerful Ford, and when Griffiths cut inside Aston to shoot just over, Wales scented victory. However, within the space of 12 hectic minutes, a breathtaking burst by England saw them take a 3-0 lead.

After 22 minutes Jackie Milburn, taking a pass from Billy Wright, brought Sidlow to a full-length save. From the resultant corner, taken by Tom Finney, the ball was brilliantly headed back by Milburn for Stan Mortensen to head into the net.

Seconds later, England were celebrating another goal. This time a clever move between Mortensen and Johnny Hancocks ended with Sidlow clawing away the winger's centre untidily. Finney quickly lobbed the ball back into the middle, where Milburn glided it into the net.

Almost at once it was 3-0. Milburn, who was looking better than any England number-nine since Tommy Lawton, strode through the hesitant Welsh defence to score after a well-timed pass from Len Shackleton. The crowd were well and truly silenced, and although territorially the scoreline was unrepresentative of the play, there was no disputing England's finishing power.

An early second-half injury to Wright upset England's rhythm and the skipper spent much of this half hobbling out on the left wing. This meant several positional changes for the visitors and, as a result, Wales had most of the play. They attacked for long spells. Burgess almost scored with a 30-yard blockbuster and Mozley cleared off the line from Ford.

Yet, amazingly, and ironically it was England who scored again.

Good work by Shackleton and Finney, (who cut out the over-elaboration to produce one of his best games), set up Milburn to once again beat Sidlow with a header. With Williams also now hobbling and only able to throw the ball, it seemed odds-on that Wales would score. But it was not until ten minutes from the end that they did. This time it was Griffiths who finally beat Williams after the goalkeeper had saved brilliantly from Ford.

It was unfortunate that Wright's injury has disrupted the England forward line as their first-half performance had shown considerable promise.

Match Report by Norman Giller
The four home countries had agreed to take part in the World Cup for the first time, and FIFA dictated that the Home Championship should be the qualifying stage for the finals in Brazil in the summer of 1950. The first two teams were to qualify, but Scotland announced that they would only go if they won the Home Championship.




This was the first ever World Cup qualifying match in which England or Wales had taken part. Jackie Milburn scored a spectacular hat-trick, and England won comfortably despite having Billy Wright struggling on the wing for most of the second-half with a torn thigh muscle. The game was virtually settled during an England blitz midway through the first-half when they scored three goals in twelve minutes. Milburn made it 4-0 when he completed his hat-trick to puncture an attempted revival by Wales, who had to be content with a late goal by Mal Griffiths after goalkeeper Bert Williams had saved brilliantly from Trevor Ford. Even though he was a virtual passenger for much of the second half, Wright continued to have an influence on the match with his quiet words of encouragement.


Source Notes
TheFA.com
Original newspaper reports
Official Matchday Programme
Rothman's Yearbooks
Mike Payne's England: The Complete Post-War Record (Breedon Books Publishing Company, Derby, U.K., 1993).
Clive Leatherdale's England's Quest For The World Cup (Methuen London Ltd, London, 1984).
Norman Giller, Football Author
Wales' Complete Who's Who since 1946 (Sutton Publishing Ltd, Stroud, U.K., 2004)
____________________

CG