Rank:

FIFA (27th May 2021) 4th
EFO ranking Group One (3rd)
ELO rating 7th
Colours:
The Nike 2020 away uniform

-

Mega blue and royal blue collared jersey and shorts. Abstract three-lions pattern throughout with challenge red sidestripes. Mega blue socks with a thin challenge red/sport royal blue hoop.
Capt:
Marcus Rashford ¹


only, W 1 - D 0 - L 0 - F 1 - A 0




Jordan Henderson

74:46

Manager:
Gareth Southgate, 50 (3 September 1970), appointed caretaker manager on 27 September 2016, appointed as permanent manager on 30 November 2016.


54th match, W 34 - D 10 - L 10 - F 111 - A 38

youngest BME captain

,

14th youngest

England

Lineup

115

1
Johnstone, Samuel L.
28
73 days
25 March 1993
G
West Bromwich Albion FC
1
0ᵍᵃ
1262
the 45th Albion player to represent England
2
Godfrey, Benjamin M.
23
142 days
15 January 1998
RB
Everton FC
2
0
final app 2021
3
Shaw, Luke P.H., off 75th min.
25
329 days
12 July 1995
LB
Manchester United FC
10
0
4
Phillips, Kalvin M., off half time
25
186 days
2 December 1995
LDM
Leeds United AFC
8
0
5
Mings, Tyrone

D.

28
85 days
13 March 1993
LCD
Aston Villa FC
10
0
6
White, Benjamin W.
23
241 days
8 October 1997
RCD
Brighton & Hove Albion FC
2
0
7
Sancho, Jadon M., off 65th min.
21
73 days
25 March 2000
RAM
Bsv Borussia 09 Dortmund, Germany
19
3
8
Ward-Prowse, James M.E., off 65th min.
26
217 days
1 November 1994
RDM
Southampton FC
8
1
9
Calvert-Lewin, Dominic N., off 82nd min.
24
82 days
16 March 1997
CF
Everton FC
9
4
10
Grealish, Jack P.
25
269 days
10 September 1995
AM
/RF
Aston Villa FC
7
0
11
Rashford, Marcus, off 75th min.

23


218 days
31 October 1997

LAM
/LF

Manchester United FC

41

11
³

96th penalty-kick scored

(130)

England Substitutes

16

Henderson, Jordan B., on half time for Phillips
30
354 days

17 June 1990

LDM
/LM

Liverpool FC

59

43
0
¹
16

35th penalty-kick missed

(131)

21
Rice, Declan, on 65th min.

(64:43)

for Ward-Prowse
22
143 days
14 January 1999
DM
West Ham United FC
17
15
1
2
19
Bellingham, Jude V.W., on 65th min.

(64:44)

for Sancho
17
342 days
29 June 2003
RM
Bsv Borussia 09 Dortmund, Germany
4
1
0
3

scoreline:

England 1 Romania 0
12
Trippier, Kieran J., on 75th min.

(74:49)

for Shaw
30
260 days
19 September 1990
LB
Club Atlético de Madrid, Spain
28
24
1
4
17
Lingard, Jesse E., on 75th min.

(74:51)

for Rashford
28
173 days
15 December 1996
LF
Manchester United FC
29
16
4
13
18
Watkins, Oliver G.A., on 82nd min.

(81:32)

for Calvert-Lewin
25
158 days
30 December 1995
CF
Aston Villa FC
3
0
1
3

result:

England 1 Romania 0

unused substitutes:

13-Jordan Pickford, 14-Conor Coady, 20-Harry Kane, 22-Aaron Ramsdale, 23-Dean Henderson.

team notes:

It has been over eighteen months since England were last awarded two penalty-kicks in the same match, vs. Bulgaria in September 2019. It has been fifty years since two were taken and one was missed, vs. Malta, May 1971.
Jack Grealish's great great grandfather,

Billy

Garraty, also played for England in 1903.

manager notes:

The last five fixtures against Romania have been managed by five different managers:- Robson (1985), Venables (1994), Hoddle (1998), Keegan (2000) and now Southgate.

records:

England last won eight friendly matches in a row in 1984-86 and 1963-64 (the record is twelve, 1908-23).
This is the first time that England have kept seven friendly clean sheets in a row.
This is England's first home victory over Romania, at the fifth attempt.
After twelve matches on the 6 June, this is England's first home match on this day.
Manager Gareth Southgate was an 81st minute substitute the last time England met Romania in the European Championship Finals 2000. He was an injured squad member for the meeting during the 1998 World Cup Finals.
4-2-3-1


4-3-3 after 65 minutes

Johnstone -
Godfrey, White, Mings, Shaw (Trippier) -
Ward-Prowse (Rice), Phillips (Henderson) -
Sancho (Bellingham), Grealish, Rashford (Lingard) -
Calvert-Lewin (Watkins).


notes: after 65 mins, Rice took a deep defensive role with Henderson and Bellingham either side of him, pushing Grealish and Rashford (Lingard) further up

Averages (Starting XI):

Age
25 years 44 days
Appearances/Goals

10.7

1.6
Rank:
FIFA (23rd May 2021)

43rd




EFO ranking

Group 9




ELO rating

50th

Colours:
Made by Joma - Yellow crew-necked jerseys with white collar, white shorts with blue/yellow/red side trim, yellow socks with white tops and blue/yellow/red trim.
Capt:
Vlad Chiricheş
Head Coach:
Mirel Matei Rădoi, 40 (21 March 1981), appointed 21 November 2019.
13th match, W 4 - D 2 - L 7 - F 20 - A 23
Romania Lineup
1
Niţă, Florin C.
33
338 days
3 July 1987
G
AC Sparta Praha, Czech Republic
6
0
24
Sorescu, Deian C., off 66th min.
23
281 days
29 August 1997
RB
SC FC Dinamo 1948 București
4
0
6
Chiricheș, Vlad I.
31
204 days
14 November 1989
RCD
US Sassuolo Calcio, Italy
64
0
5
Nedelcearu, Ionuţ, off 84th min.
25
42 days
25 April 1996
LCD
Athlitikí Énosis Konstadinoupóleos, Greece
16
2
22
Camora
34
208 days
10 November 1986
in Samora Correia, Portugal
LB
SC FC CFR 1907 Cluj
4
0
Malico Paulinho, Mario Jorge
18
Marin, Răzvan G.
24
14 days
23 May 1996
DM
Amsterdamsche FC Ajax, Netherlands
30
2
7
Alibec, Denis, off 66th min.
30
152 days
5 January 1991
RAM
Kayseri SK, Turkey
19
2
23
Stanciu, Nicolae C.
28
30 days
7 May 1993
RCM
SK Slavia Praha, Czech Republic
47
10
8
Cicâldău, Alexandru, off 80th min.
31
333 days
8 July 1997
LCM
Universitatea 1948 Craiova CS
14
2
17
Păun, Adrian C.A., off 80th min.
23
66 days
1 April 1995
LAM
SC FC FCSB
1
0
9
Ivan, Andrei V.
24


153 days

4 January 1997
CF
Universitatea 1948 Craiova CS

9


1

58th min. for a foul on Jack Grealish following another of his runs into the area.
Romania Substitutes

scoreline:

England 1 Romania 0
2
Căpuşă, Tiberiu I., on 66th min.

(65:15)

for Sorescu
23
61 days
6 April 1998
RB
FC Viitoral Constanţa
1
0
14
Hagi, Ianis, on 66th min.

(65:18)

for Alibec
22
227 days
22 October 1998
in İstanbul, Turkey
RAM
Rangers FC, Scotland
18
1
20
Budescu, Constantin V., on 80th min.

(79:05)

for Păun
32
110 days
16 February 1989
LAM
Damac FC, Saudi Arabia
16
5
25
Băluţă, Alexandru M., on 80th min

. (79:09)

for Cicâldău
27
266 days
13 September 1993
AM
Puskás Akadémia FC, Hungary
8
1
4
Rus, Adrian, on 84th min.

(83:07)

for Nedelcearu
25
80 days
18 March 1996
CD
MOL Fehérvár FC, Hungary
6
0

result:

England 1 Romania 0

unused substitutes:

3-Cristian Ganea, 10-Alexandru Maxim, 11-Olimpiu Moruţan, 12-Andrei Vlad, 16-Florin Iacob, 21-Darius Olaru.

team notes:

Ianis Hagi's father, Gheorghe, played for Romania against England on four occasions. He played in both matches of the 1985-86 World Cup preliminary competition, the 1994 friendly (in which he was the captain), and the 1998 World Cup Finals match.

records:

Romania were one of six countries to have beaten England more times than they had lost - unt

il tonight

4-1-4-1
Niţă -
Sorescu (Căpuşă), Chiricheș, Nedelcearu (Rus), Camora -
Marin -
Alibec (Hagi), Stanciu, Cicâldău (Băluţă), Păun (Budescu) -
Ivan

Averages (Starting XI):

Age
27 years 334 days
Appearances/Goals

19.5

1.7
Regular readers of my match reports, (both of you), will know by now that I am a Preston North End fan, so I was delighted to see goalkeeper Sam Johnstone win his first England cap. He and Jordan Pickford both had successful loan spells at Deepdale, and when they were there I said at the time that both these goalkeepers will go on to play for England. I'm proud to see my predictions come true as we, at North End, taught them all they know! In actual fact, a couple of early nervous moments by Johnstone, ended in the first corner of the game, but England scrambled the ball clear. All in all, it was a scrappy start for the home side as many more passes went backwards instead of forwards. When England did finally get forward Kelvin Phillips put in a shot that practically ended up in Sunderland.

On ten minutes the first clear chance of the match fell to Romania. A good break down the left saw a low cross and Razvan Marin shooting first-time, but Johnstone saved easily. A minute later, Jadon Sancho looked offside as he strode clear after latching on to a long pass, but his final shot was disappointing and flew wide. Then Jack Grealish won England's first corner, but as Tyrone Mings challenged for the cross he was penalised for a foul. England quickly won a second corner as their play started to improve. The ball was James Ward-Prowse, who found Grealish. This time the shot flew over the bar. With 17 minutes gone the pattern was still more negatively going backwards instead of pressing forward from England, and it must be said that can be so frustrating to watch. In one move, a promising attack position was suddenly turned into passes back, that ended up with Johnstone. Not what the crowd wanted to see. Marcus Rashford, made captain for this game, much to his delight, could never really find his feet at times, with poor control and getting caught in possession on a number of occasions. He was still a danger though to the Romanian defence and on 22 minutes a good run almost succeeded in getting through. Immediately Phillips found Sancho who teed the ball up for Ben Godfrey, but his shot went harmlessly wide. Just before the half-hour mark, Adrian Paun fired in a shot for Romania which Johnstone again saved well.

England's passing was slow and predictable, and Grealish was then fouled, not for the first time. "That's three times," he protested to the referee as he crashed to the ground again. From the free-kick a towering header from Dominic Calvert-Lewin, his first real contribution of the game, looped over the goalkeeper but crashed back off the crossbar. The best of England's attacks were coming down the left where Luke Shaw's pace was worrying the Romanian defenders. With eight minutes of the half to go Rashford went close and a minute later the best England move so far involving Grealish and Sancho ended with a fine shot by the latter, which also crashed back off the crossbar with the goalkeeper Florin Nita beaten. Ward-Prowse sent in a teasing free-kick just before the break which Calvert-Lewin headed over. The whistle had gone for a foul though, so if he had hit the target it wouldn't have counted. At the other end only a fine block by Johnstone stopped Deian as he had a clear shot at goal a minute before the break. Johnstone stuck out his right foot to block the shot and England cleared the danger. It had been a scrappy half, with no score and England only briefly threatened the Romanian goal.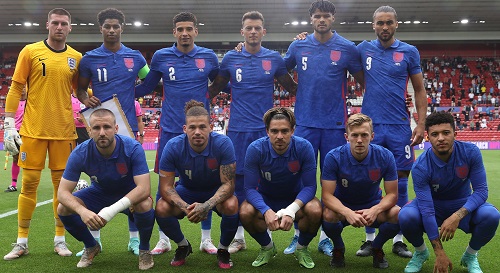 Jordan Henderson made a welcome return to the football field after his long injury worries, replacing Phillips at the start of the second-half. Two minutes after the restart, England so nearly went ahead. Grealish was fouled, yet again, and Ward-Prowse sent in another dangerous free-kick. Calvert-Lewin came roaring in, toe-ended the ball for what seemed a certain goal, but somehow the ball ended in the arms of Nita. Romania broke down the right to cause more danger for the England defenders and in another attack following a corner, Sorescu fizzed a shot just wide. England were not functioning on all cylinders, with Rashford's touch unusually poor. But it was end to end as attacks came at both ends, with a Romanian shot going wide and then when Grealish set up Rashford the skipper tried to dribble through a packed defence but was crowded out. On 58 minutes a bad foul on Shaw gave Ward-Prowse another free-kick. This time he went for goal himself but it produced an easy save from the goalkeeper. Both sides were definitely going for it a bit more this half and as a result the play was a little more exciting. A burst by Rashford in the 62nd minute looked promising for England but again the finish was nothing like the Rashford we know, as his weak final shot went wide.

Gareth Southgate then brought on Declan Rice and Jude Bellingham to shore up the midfield, although it was a surprise to see Ward-Prowse go off, as he had played well. However, on 67 minutes, Grealish made one of his characteristic runs down the left, and as he moved into the box a clumsy challenge from substitute Tiberiu Capusa brought him down again. Penalty! Rashford took the kick, tiptoed up to the ball and coolly slotted it into the net with goalkeeper not moving. Three minutes later, with Rashford now on the right, sending in a low cross which was well cut out by the keeper before Calvert-Lewin could pounce.

The next crucial moment of the match came after 74 minutes. A Romanian attack and shot was blocked, but the ball ran for Andrei Ivan who just had to score as he fired in a close range shot. But from nowhere, and summoning up all he learned at Deepdale, Johnstone made a wonderful save to somehow claw the ball away from danger. It really was one of the best saves I've ever seen as the equaliser looked a formality. But Johnstone was never going to give up his clean sheet easily, that's for sure.

On 77 minutes the chance came to sew the result up. Calvert-Lewin did well to keep possession but was clattered to the ground by Vlad Chiriches, who could have no argument that it was another penalty to England. It looked odds-on that Calvert-Lewin would take it with both Rashford and Ward-Prowse off the field by now, but Henderson 'pulled rank' on him, deciding he was the man for the job. He wasn't! Nita saved a weak kick quite easily and also blocked the follow up from Bellingham.

In the final ten minutes Calvert-Lewin went very close to another goal and then Bellingham couldn't believe it when his header looked only for the ball to strike Chiriches flying foot to deflect it wide. Grealish and substitute Ollie Watkins also came close whilst at the other end Johnstone made another fine save from a late Romanian effort. It was a frantic end to the game, not least when England conceded a free-kick on the edge of the box. The kick was blocked though and England again scraped the 1-0 win. In the end, that amazing save from a former PNE star, gave them a win they just about deserved. Oh, and did I tell you that Johnstone used to play for Preston?