Rank:

FIFA (25th July 2019) 4th
EFO ranking Group One (2nd)
ELO rating 9th
Colours:
The Nike 2018 home shirt

-

White v-necked jerseys

with red tri

m on collar, blue shorts, white socks.
Capt:
Harry Kane

¹⁸




19th, W 11 - D 4 - L 4 - F 40 - A 19


Harry Maguire 77th min.
Manager:
Gareth Southgate, 49 (3 September 1970), appointed caretaker manager on 27 September 2016, appointed as permanent manager on 30 November 2016.


36th match, W 20 - D 9 - L 7 - F 64 - A 28.

England Lineup
1
Pickford, Jordan L.

25


184 days
7 March 1994
G
Everton FC
20
18ᵍᵃ
the 185th player to reach the 20-app milestone
2
Trippier, Kieran J..

28


353 days
19 September 1990
RB
Club Atlético de Madrid, Spain
17
1

first player from Atlético to represent England

3
Rose, Daniel L.

29


67 days
2 July 1990
LB

Tottenham Hotspur FC

28

0


92nd min. after he brought down Nedyalkov next to the centre-circle.
4
Rice, Declan
20
236 days
14 January 1999
CM
West Ham United FC
4
0
5
Keane, Michael V.
26
239 days
11 January 1993
RCD

Everton FC

8

1

30th min. after he was late in a tackle with Marcelinho in the centre-circle
6
Maguire, J. Harry
26
186 days
5 March 1993
LCD
Manchester United FC
21

1
the 67th player from United to represent England
7

Sterling, Raheem S., off 71st min.
24
273 days
8 December 1994
in Kingston, Jamaica
RF
Manchester City FC
52
9
8
Henderson, Jordan B., off 67th min.
29
82 days
17 June 1990
RM
Liverpool FC
52
0
9
Kane, Harry E., off 77th min.
26
41 days
28 July 1993


CF



Tottenham Hotspur FC

40
25
⁸

the 89-90th penalty-kicks scored

(122-123)

the 86th player to reach the 40-app milestone



the 87th (50th post-war) hattrick scored

.

10

Barkley, Ross

25


276 days
5 December 1993
LM
Chelsea FC
30
4
the 122nd player to reach the 30-app milestone
11
Rashford, Marcus

21


311 days
31 October 1997
LF
Manchester United FC
33
7

England

Substitutes

scoreline:

England 3 Bulgaria 0
1243
18
Mount, Mason T., on 67th min.

(66:10)

for Henderson

20


240 days
10 January 1999
RM
Chelsea FC
1
0

the 48th player from Chelsea to represent England
21
Sancho, Jadon M., on 71st min.

(70:48)

for Sterling

19


166 days
25 March 2000
LF
Bsv Borussia 09 Dortmund, Germany
7
3
0
4

scoreline:

England 4 Bulgaria 0
19
Oxlade-Chamberlain, Alexander M.D., on 77th min.

(76:19)

for Kane
26
23 days
15 August 1993
RF
Liverpool FC
33
20
6
13

result:

England 4 Bulgaria 0

unused substitutes:
12-Trent Alexander-Arnold, 13-Tom Heaton, 14-Ben Chilwell, 15-Joe Gomez, 16-Tyrone Mings, 17-Harry Winks, 20-James Maddison, 22-Nick Pope, 23-Callum Wilson.

team note

s:
Alex Oxlade-Chamberlain's father, Mark Chamberlain, also played for England (1982-84).

record

s:
England have now gone 42 qualification matches (WC & EC) unbeaten (W33 D9).
Harry Kane's hattrick is the twelfth scored by an England captain. It is also the eighth occasion a player has scored a hattrick and then replaced. Kane himself has been replaced in both his hattricks.
Kane is the fifth player to score in three consecutive matches at the National Stadium, still two behind the record set by Wayne Rooney in 2014-15.
Manager Gareth Southgate first England start came against Bulgaria in March 1996. He also started against them twice in the 1998-99 European Championship qualifying campaign.
4-3-3
Pickford -
Trippier, Keane, Maguire, Rose -
Henderson (Mount), Rice, Barkley -
Sterling (Sancho), Kane (Oxlade-Chamberlain), Rashford

Averages

(Starting XI)

:

Age
25

years

338

days

Appearances/Goals

28.0

4.0

oldest starting XI in 2019-20
most experienced starting XI in 2019-20
Rank:

FIFA (25th July 2019)

60th


EFO ranking n/a


ELO rating

63rd to 65th

Colours:
Made by Joma - Red collared jerseys with green/white trim on collar/cuffs, white shorts, red socks.
Capt:
Ivelin Popov
Manager:
Krasimir Genchev Balakov, 53 (29 March 1966), appointed 14 May 2019.
third match, W 0 - D 0 - L 3 - F 3 - A 9.
Bulgaria Lineup
23
Iliev, Plamen I.
27
281 days
30 November 1991
G
PFC Ludogorets 1945 Razgrad
14
0
2
Popov, Strahil V.
29
7 days
31 August 1990
RB

Kasımpaşa

SK

, Turkey
27
0
5
Bodurov, Nikolay G., off 65th min.
33
100 days
30 May 1986
CD

PFC Central Sports Club of the Army

50

2


36th min. after he pulled back Marcus Rashford as they were on the attack

15
Bozhikov, Vasil G.
31
97 days
2 June 1988
CD
Šk Slovan Bratislava, Slovakia
24
1
14
Nedyalkov, Anton M.
26
130 days
30 April 1993
LB
PFC Ludogorets 1945 Razgrad
12
0
8
Sarmov, Georgi Z.
34
7 September 1985
DM
Chemnitzer Fc, Germany
14
0
18
Ivanov, Galin S., off 82nd min.
31
145 days
15 April 1988
RM
PFC Slavia Sofia
7
1
10
Popov, Ivelin I.
31
316 days
26 October 1987
RAM
FC Rostov, Russia
85
15
16
Malinov, Kristiyan A.
25
161 days
30 March 1994
LAM
PFC Central Sports Club of the Army
6
0
9
Farias, Wanderson C.
31
248 days
2 January 1988
in Cruzeiro do Oeste, Brazil
LM
PFC Ludogorets 1945 Razgrad
1
0
7
Marcelinho, off 67th min.
35
14 days
24 August 1984
in Manaacapuru, Brazil
CF
PFC Ludogorets 1945 Razgrad
8
2
Bulgaria Substitutes

scoreline:

England 3 Bulgaria 0
3
Dimitrov, Kristian T., on 65th min.

(64:06)

for Bodurov

22


192 days
27 February 1997
CD
PFC Botev Plovdiv
3
1
11
Despodov, Kiril V., on 67th min.

(66:32)

for Marcelinho

22


300 days
11 November 1986
CF
SK Sturm Graz, Austria
8
1

scoreline:

England 4 Bulgaria 0
19
Mladenov, Daniel V. on 82nd min

. (81:55)

for Ivanov

32


105 days
25 May 1987
F
SFC Etar Veliko Tarnovo
1
0

result:

England 4 Bulgaria 0

unused substitutes:
1-Hristo Ivanov, 4-Georgi Pashov, 6-Simeon Slavchev, 12-Bozhidor Kraev, 13-Martin Lukov, 17-Georgi Milanov, 20-Ivan Goranov, 21-Georgi Terziev, 22-Nikolay Dimitrov

record

s:
Bulgaria haven't won an away match in qualifying for the World Cup or the European Championship since June 2015 against Malta, drawing two and losing eight since then.
5(4-1)-4-1
Iliev -
S.Popov, Bodurov (Dimitrov), Bozhikov, Nedyalkov -
Sarmov -
G.Ivanov (Mladenov), I.Popov, Malinov, Wanderson -
Marcelinho (Despodov).

Averages

(Starting XI)

:

Age
30 years 238 days
Appearances/Goals

22.5

1.9

oldest opposition XI in 2019-20
most experienced opposition XI in 2019-20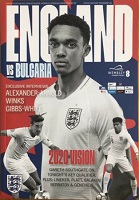 England's first match of the new football season proved to be a pretty easy exercise as they swept aside a poor challenge from Bulgaria. The visitors had little to offer in attack and came to try and keep England at bay more than anything else. Once England scored though, there was only going to be one outcome, it wasn't a perfect performance by England, but they did enough to keep their 100% record in this competition intact.





England were a little sloppy to begin with, not moving the ball quickly enough and going from side to side and backwards a bit too often for the fans liking. They had most of the possession throughout, although early on, the best two goal attempts fell to Bulgaria. Neither troubled Jordan Pickford though and as the game continued England gradually gained control. Raheem Sterling broke down the right and centred for Harry Kane to score, although unfortunately he had just strayed offside. The breakthrough everyone expected finally came in the 35th minute, as a direct result of a terrible blunder in the visiting defence. Goalkeeper Plamen Iliev took a short goal-kick, received it back and then tried to play it square to his left-back. It was poorly directed and Sterling, closing down, quickly won the ball and pulled it back from the bye-line. Kane was there and the ball nestled in the net for one of the easiest goals the England captain is likely to score, and this time it counted.





In the remaining ten minutes of the half, it was all England, although there was still an element of sloppiness and lack of urgency in their demeanour. Towards the very end of the half, a much more concerted passage of play saw the Bulgarian defence under extreme pressure. Kieran Trippier fired in one lovely cross, which Kane met, not so much with a header, but more of a shoulder. It was a good chance missed and if Kane had made any sort of decent contact with his head it surely would have been goal number two. Jordan Henderson hit a spectacular volley from Declan Rice's cross, what a goal that would have been had it hit the target, alas, it was a long way off-target! Ross Barkley then had another half-chance but the defender blocked his effort well. So, it was just the one goal at the interval and manager Gareth Southgate would almost certainly have a few words with his players to sharpen up everything they were doing.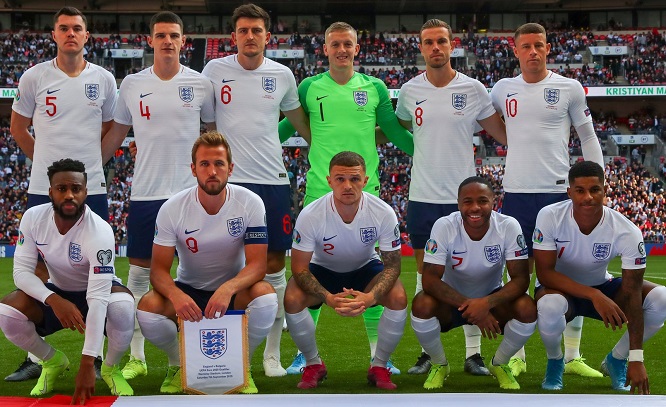 The second-half began with England being exposed down the left-hand side. The 48th minute saw Wanderson play a great one-two which left him coming in at an angle but clear on goal. Pickford stood his ground really well though and managed to turn his shot away for a corner. It was a warning for England, but they came back immediately with the perfect response. Marcus Rashford gained possession in his own half and ran hard and fast at the visiting defence. As he checked back in the penalty area, he completely fooled Nikolay Bodurov and the defender caught him as he fell, giving away a penalty. Kane stepped up to take the kick and hit the perfect penalty wide of the keeper.





That goal settled the result and for a while England were rampant. Rice was making some lovely interceptions in midfield and had a good second-half. The visiting defence had no answer to the pace and power of the England forwards, especially Sterling, who was very lively. It is superb to see the player showing all his Manchester City form at this higher level, his confidence has grown beyond belief over the past two years. In the 55th minute Sterling scored the goal his good play thoroughly deserved.





Rashford and Henderson had just previously almost created an opening, but when Rashford then robbed a defender of the ball to play Kane in on the left, the skipper returned the earlier compliment to play the ball across goal for Sterling to bundle it in from very close range. Sterling had done well to get behind a defender and the goal was well worked and a good one.





It was all England now, and it was a question of how many they might score. In this competition so far England had hit five goals in each of their previous games and when Rashford's cross almost found Kane again, the striker was only thwarted by an excellent clearance by a defender. Henderson was taken off to be replaced by a new cap, the success of the Premier season so far, Mason Mount. He was immediately into the game and fired well over the top with his first effort. Sterling was also replaced, to a standing ovation, with Jadon Sancho coming on in his place. It was a good time for Southgate to use these youngsters.





England were not finished and in the 72nd minute they gained another penalty. Kane bustled his way through challenges but just as he went to pull the trigger, Kristian Dimitrov just caught Kane's foot to bring him down. Kane was not going to let this opportunity for a hat-trick escape him and once again he demonstrated the art of taking a perfect spot-kick, sending Iliev the wrong way.





Trippier, Pickford and Harry Maguire almost contrived to give Bulgaria a way back into the match by making a hash of a clearance. It gave Bulgaria a free-kick and Ivelin Popov's kick had to be dealt with by Pickford, who made a good tip-over save. The goalkeeper hadn't had much to do, but when called upon he looked very sharp.





Could England keep the run going with another fifth goal? Well, no sadly, but they did come close, first when Danny Rose burst through to see his effort blocked, and then Rashford, with a glorious one-two, almost scored the goal of the game, only for Iliev to make a fine save.





And that was that, a good performance, but not a great one by England, but how can you grumble when you win 4-0. All the players had their moments with Kane, Sterling, Rashford and Rice the pick of the side. The visit of Kosovo, up next, will probably provide a much sterner test, but England can go into the game with plenty of confidence.