Rank:

FIFA (19 Sept 2019)

44th


EFO ranking n/a


ELO rating

6

3rd
Colours:
Made by Joma - White collared jerseys, green shorts, red socks.
Capt:
Ivelin Popov
Manager:
Krasimir Genchev Balakov, 53 (29 March 1966), appointed 14 May 2019.


sixth & final match, W 0 - D 1 - L 5 - F 4 - A 18 -

resigned on 18 October.
Bulgaria Lineup
23
Iliev, Plamen I.
27
319 days
30 November 1991
G
PFC Ludogorets 1945 Razgrad
16
0
4
Pashov, Georgi V.
29
225 days
4 March 1990
RB
FC Ararat-Armenia, Armenia
3
0
15
Terziev, Georgi I.
27
180 days
18 April 1992
CD
PFC Ludogorets 1945 Razgrad
12
0
8
Sarmov, Georgi Z., off half time
33
38 days
7 September 1985
DM
Chemnitzer Fc, Germany
15
0
21
Hadzhiev, Kamen G.
28
23 days
22 September 1991
CD
Puskás Akadémia FC, Hungary
1
0
3
Zanev, Petar D.
33
362 days
18 October 1985
LB
PFC Central Sports Club of the Army
41
0
11
Despodov, Kiril V.
22
338 days
11 November 1996
RM
SK Sturm Graz, Austria
10
1
10
Popov, Ivelin I.
31
354 days
26 October 1987
CM
FC Rostov, Russia
88
16
7
Kostadinov, Georgi G.
29
38 days
7 September 1990
CM
FC Arsenal Tula, Russia
21
3
9
Wanderson, off 76th min.
31
286 days
2 January 1988
in Cruzeiro do Oeste, Brazil
LM
PFC Ludogorets 1945 Razgrad
4
0
19
Isa, Ismail M., off 68th min.
30
111 days
26 June 1989
CF
PFC Cherno More
4
1
Bulgaria Substitutes

scoreline:

Bulgaria 0 England 4
12
Kraev, Bozhidor B., on half time for Sarmov
22
114 days
23 June 1997
AM
Gil Vicente FC, Portugal, on loan from Midtjylland, Denmark
12
2
18
Ivanov, Galin S, on 68

th min. (67:28)

for Isa
31
183 days
15 April 1988
CF
PFC Slavia Sofia
9
1

scoreline:

Bulgaria 0 England 5
16
Malinov, Kristiyan A, on 76th min.

(75:30)

for Wanderson
25
199 days
30 March 1994
M
PFC Central Sports Club of the Army
9
0

result:

Bulgaria 0 England 6

unused substitutes:
1-Hristo Ivanov, 2-Deyan Lozev, 5-Kristian Dimitriv, 6-Simeon Slavchev, 13-Nikolay Mihaylov, 14-Anton Nedyalkov, 17-Marcelinho, 20-Ivan Goranov, 22-Birsent Karagaren.
team notes:
substitute goalkeeper Nikolay Mihalov's father was Bulgaria's goalkeeper against England in March 1996
records:
Bulgaria suffered their heaviest ever home defeat in a European Championship/World Cup qualifier.
5-4-1


second half 4-4-2

Iliev -
Pashov, Terziev, Sarmov (Kraev), Hadzhiev, Zanev -
Despodov, Popov, Kostadinov, Wanderson (Malinov) -
Isa (Ivanov)


notes: Kraev replaced Sarmov in second half and dropped in behind Isa

Averages

(Starting XI)

:

Age
29

years

274

days

Appearances/Goals

19.5

1.9
Rank:

FIFA (19th Sept 2019) 4th
EFO ranking Group One (2nd)
ELO rating 12th
Colours:
The Nike 2018 away uniform - Red v-necked jerseys with a shadowed St. George's flag, white shorts, white socks.
Capt:
Harry Kane

²¹




22nd, W 13 - D 4 - L 5 - F 52 - A 24

.
Manager:
Gareth Southgate, 49 (3 September 1970), appointed caretaker manager on 27 September 2016, appointed as permanent manager on 30 November 2016.


39th match, W 22 - D 9 - L 8 - F 76 - A 33.

England Lineup
1
Pickford, Jordan L.
25
222 days
7 March 1994
G
Everton FC
23
23ᵍᵃ
2
Trippier, Kieran J..
29
26 days
19 September 1990
RB
Club Atlético de Madrid, Spain
19
1
3
Chilwell, Benjamin J.
22
298 days
21 December 1996
LB
Leicester City FC
9
0
4
Winks, Harry B.
23
255 days
2 February 1996
LM
Tottenham Hotspur FC
4
0

91

5
Mings, Tyrone

D.

26
215 days
13 March 1993
RCD
Aston Villa FC
1
0


1244

74th player from Villa to represent England
6
Maguire, J. Harry
26
224 days
5 March 1993
LCD
Manchester United FC
24
1
7

Sterling, Raheem S., off 73rd min.
24
311 days
8 December 1994
in Kingston, Jamaica
RF
Manchester City FC
55
12
8
Henderson, Jordan B.
29
120 days
17 June 1990
RM
Liverpool FC

55

0


4th min. for a sliding tackle on Hadzhiev 30 yds from the goal

(2:53).

S

USPENDED

9

Kane, Harry E.
26
79 days
28 July 1993
CF
Tottenham Hotspur FC
43
28
scored in 7 successive competitive matches
10

Barkley, Ross, off 73rd min.
25
314 days
5 December 1993
CM
Chelsea FC
33
6
final app 2013-19
11
Rashford, Marcus, off 76th min.
21
349 days
31 October 1997
LF
Manchester United FC
36
8

England

Substitutes

scoreline:

Bulgaria 0 England 5

20
Mount, Mason T., on 73rd min.

(72:06)

for Barkley
20
278 days
10 January 1999
AM
Chelsea FC
4
1
0
3
17
Sancho, Jadon M., on 73rd min

. (72:08)

for Sterling
19
204 days
25 March 2000
RF
Bsv Borussia 09 Dortmund, Germany
10
5
2
5
21
Wilson, Callum E.G., on 76th min.

(75:14)

for Rashford
27
230 days
27 February 1992
LF
AFC Bournemouth
4
1
1
3

result:

Bulgaria 0 England 6

unused substitutes:
12-Trent Alexander-Arnold, 13-Nick Pope, 14-Michael Keane, 15-Joe Gomez, 16-Declan Rice, 18-Fikayo Tomori, 19-Tammy Abraham, 22-Dean Henderson.
records:
England have faced Bulgaria without losing more times than they have any other opponent in their history

(P12, W8, D4, L0).


Harry Kane has scored in seven competitive matches in a row, equalling the record set by Wayne Rooney in September 2015.
Kane has now scored a record four goals against Bulgaria, overtaking the record set by Jermain Defoe in 2010.
Manager Gareth Southgate first England start came against Bulgaria in March 1996. He also started against them twice in the 1998-99 European Championship qualifying campaign.
4-3-3
Pickford -
Trippier, Mings, Maguire, Chilwell -
Henderson, Barkley (Mount), Winks -
Sterling (Sanco), Kane, Rashford (Wilson)

Averages

(Starting XI)

:

Age
25

years

253

days

Appearances/Goals

27.4

4.5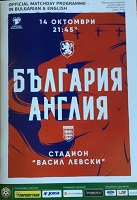 For the first time in my life I don't quite know how to start this latest England match report, suffice to say that the repercussions of the hideous chanting and moronic behaviour of some of the 'fans' present will reverberate for a very long time. This is 2019 for goodness sake, and we should not be seeing this sort of thing in this day and age, surely? UEFA need to make some tough decisions, it will not be easy to tackle the problem, but tackle it they must, and it goes further than that because society, too, needs to take stock and re-evaluate the whole question of racism. It is not just a football problem.





Right, let us now talk about the football match, as I'm sure we would all prefer to read about that, and after the defeat in the Czech Republic, England bounced back with as good a performance as any supporter could wish for.





The first incident of note came in the fourth minute when Jordan Henderson went in just a little bit too strong on Kamen Hadzhiev and was booked by the referee. That was largely forgotten just three minutes later though as Marcus Rashford scored the opening goal, and it was a beauty. Ross Barkley pass found him and the Manchester United youngster showed quick feet, a turn of pace and a lovely check back, that gave him the space to unleash a fierce shot into the far top corner. Hopefully that will lift his spirits after a poor start to his league season.





Bulgaria came back strongly and four minutes after the goal, Ivelin Popov was given far too much room, and his shot was goalbound but for a fine diving save by Jordan Pickford. The save was made all the better after the ball took a slight deflection off of Tyrone Mings. I must say, I thought Mings had a fine game on his International debut, as he grew in confidence throughout and his passing was crisp and accurate. The back four looked much more in control, although it must be said that Bulgaria had little to offer up front. Corners were won at both ends before a superb cross by Raheem Sterling only just eluded the lunge of Rashford in the 19th minute. A minute later though, England were two up.





This time a fine move down the right involving Henderson, Kieran Trippier and Sterling ended with the latter laying the ball perfectly on a plate for Barkley to score from close range. It was a very well worked goal and effectively won the game for England. The pressure continued and the possession was almost all England's. Mings, up with the attack, chipped a lovely ball into the middle, which just fell behind the attackers. On the 28 minute mark we saw the first of the hold-ups in play due to the very offensive chanting coming from a section of the Bulgarian fans. Prior to the match the England team warned everyone that they would not stand for it, and as the chanting could be clearly heard, the referee asked for a pause to assess the issue. A tannoy announcement made it clear that the rest of the game was in jeopardy if the chanting didn't stop, and the game eventually continued.





England found the perfect way to quell the toxic situation by scoring a third goal after 32 minutes of play. Harry Kane, out on the right, looked up, and floated a lovely cross in where Barkley roared in to cleverly glance the ball home. Another fine goal and England might then have had a penalty when Sterling was barged over from behind by Kiril Despodov, who had no intention of playing the ball, only the man.





Before the break there was more dreadful chanting directed at, and heard by, the England players, and once again, Gareth Southgate had to inform the officials, on and off the pitch, that it was not acceptable. Again the referee asked if the players wanted to go off, but as it was close to half-time they agreed to carry on. Meanwhile, a raft of the home crowd were then sent from the stand and seen leaving, not a minute too soon, sadly. On the restart, England promptly did what they do best and scored yet another goal. It was the fifth minute of added time when Kane was once again the goal-maker, passing across goal to give Sterling the simplest of tap-ins from three yards out.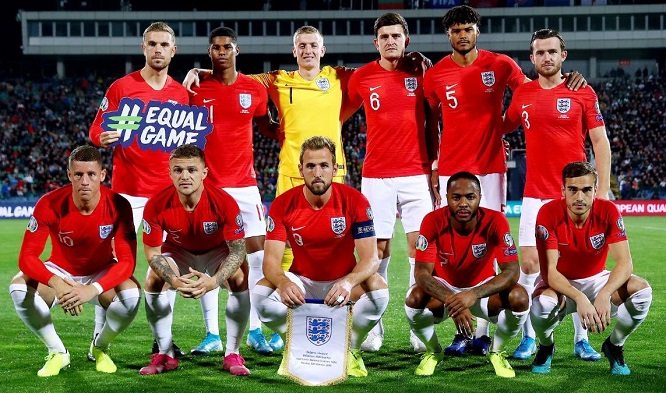 To be honest, in some ways it was a surprise to see the teams reappear after half-time, but after some intense conversations apparently, all the players and management were adamant that they should finish the game. Their correct attitude was that they mustn't let these morons in the stands win.





On 56 minutes Sterling almost scored again after a good move down the right found him down the middle. Unfortunately, he and Kane got in each other's way a little and Sterling scuffed his effort as a result. A minute later Henderson was prominent in another dangerous attack. Only a good save by Plamen Iliev stopped Sterling adding to the total. A minute after that it was Barkley's turn for a mix-up with Sterling, and another chance went begging. At the other end a rare attack saw a long-range effort from Petar Zanev well saved by Pickford. It was good to see such a confident performance by Mings, who slotted in very well with Harry Maguire. Harry Winks was also showing his best form with some really good work in midfield.





Possession was almost entirely England's in this half and it looked odds-on that Kane would score when right in front of goal he allowed Iliev to smother his shot when it seemed he must score. On 68 minutes a poor clearance by Pickford somehow found its way through to Kane just inside the Bulgarian half. A lovely pass from the skipper sent Sterling away again and this time he made no mistake, guiding the ball past the advancing goalkeeper. That heralded a chance for Southgate to bring on Jadon Sancho and Mason Mount for Sterling and Barkley, and both players were quickly into the action. Callum Wilson then replaced Rashford.





On 82 minutes a move involving Trippier and Henderson ended with the ball finding Kane again. This time the ace striker's shot scraped against the outside of the far post. It seemed the skipper would never score! Three minutes later, order was restored as Kane received the ball from Ben Chilwell and advanced forward before finally tucking it past the keeper. There was a look of relief on Kane's face, and why not. There was still time for Iliev to make two good saves, from Mount and from Sancho and right at the end Wilson had a chance but his shot struck the outside of the post.





From a football point of view this was an excellent performance from England, and there were some very good performances. From a non-football point of view it will certainly be a while before this game is forgotten. All credit to the England team and management though, as I think they handled a difficult situation with admirable restraint and dignity.