Rank:

FIFA (10 August 2017) 190t

h


EFO ranking n/a
ELO rating =161st to 162nd
Colours:
Made by Givova - Red collared jerseys with shadow diagonal stripes and white trim/cuffs, white shorts with red hem, red socks.
Capt:
André Schembri


Michael Mifsud

, 86th min.

Manager:
Pietro Ghedin, 64 (21 November 1962 in Scorzè, Italy)

. Previously appointed 5 July 1993-5 November 1995, re-appointed on 8 May 2012.




44th match, W 7 - D 4 - L 33 F ? A ?.




overall - 72nd match, W 11 - D 11 - L 50 - F - 42 - A 135.

Malta Lineup
1
Hogg, Andrew J.
32
183 days
2 March 1985
in Kingston-upon-Thames, England
G
Hibernians FC
55
0
4
Borg, Steve
29
109 days
15 May 1988
RB
Valletta FC
28
0
3
Magri, Samuel J.
23
155 days
30 March 1994
in Portsmouth, England
RCD
Ebsfleet United FC

, England

6
0
5
Agius, Andrei
31
20 days
12 August 1986
CD
Hibernians FC
68
1
13
Muscat, Zach
24
10 days
22 August 1993
LCD
US Arezzo

, Italy

23
1
19
Zerafa, Joseph, injured off 74th min.

(73:15).

29
93 days
31 May 1988
LB
Valletta FC
16
0
18
Kristensen, Bjorn
24
149 days
5 April 1993
RM
Hibernians FC
22
0

6

Fenech, Ryan, off 83rd min.
21
134 days
20 April 1986
CM
Balzan FC
46
1

21

Pisani, Steve
25
25 days
7 August 1992
LM
Floriana FC
9
0

10

Schembri, André, off 86th min.
31
97 days
27 May 1986
RF
Apollon Limassol

FC

, Cyprus

83
3

14

Farrugia, Jean Paul
25
164 days
21 March 1992
LF
FC Chiasso

, Switzerland

8
1

Malta

Substitutes

scoreline:

Malta 0 England 1
17
Camilleri, Ryan, on 74th min.

(73:20)

for Zerafa
29
102 days
22 May 1988
RB
Valletta FC
34
0
8
Fenech, Paul, on 83rd min.

(82.50)

for R. Fenech
30
255 days
20 December 1986
M
Balzan FC
40
1
9
Mifsud, Michael, on 86th min.

(85:45)

for Schembri
36
137 days
17 April 1981
F
Valletta FC
126
40
most apps
most gls

result:

Malta 0 England 4
unused substitutes:
2-Alex Muscat, 7-Clayton Failla, 11-Luke Gambin, 12-Henry Bonello, 16-Clyde Borg, 22-Michael Johnson.
5-3-2
Hogg -
S.Borg, Magri, Agius, Z.Muscat, Zerafa (Camilleri) -
Kristensen, R.Fenech (P.Fenech), Pisani -
Schembri (Mifsud), Farrugia

Averages

(Starting XI)

:

Age
27 years 6 days
Appearances/Goals

33.1

0.6
Rank:

FIFA (10 August 2017) 13th
EFO ranking Group 4
ELO rating 9th
Colours:
The Nike 2017 third uniform

-

Midnight blue v-necked jerseys

with black sleeves with black collared trim/side stripe, midnight blue shorts with black side trim, navy blue socks.
Capt:
Jordan Henderson
third, W 1 - D 2 - L 0 - F 6 - A 2.⁸
Manager:
Gareth Southgate, 46 (3 September 1970), appointed caretaker manager on 27 September 2016, appointed as permanent manager on 30 November 2016.


ninth match, W 4 - D 3 - L 2 - F 17 - A 8.

England Lineup
1

Hart,

C.

Joseph

J.

30
135 days
19 April 1987
G
West Ham United FC, on loan from Manchester City FC
72
47ᵍᵃ

the 42nd United player to represent England

2
Walker, Kyle A.
27
96 days
28 May 1990
RB
Manchester City FC
28
0

the 49th City player to represent England

3
Bertrand, Ryan D.
28
27 days
5 August 1989
LB
Southampton FC
15
1

100th England player to score a WC goal

4

Henderson, Jordan B.
27
76 days
17 June 1990
LDM
Liverpool FC
33
0
5
Cahill, Gary J.
31
256 days
19 December 1985
RCD
Chelsea FC
56
4
6
Jones, Philip A.
25
192 days
21 February 1992
LCD
Manchester United FC
22
0
7
Sterling, Raheem S., off half time
22
267 days
8 December 1994
in Kingston, Jamaica
LM
Manchester City FC
33
2
8
Livermore, Jake

C.L.

27
291 days
14 November 1989
RDM
West Bromwich Albion FC
4
0
9

Kane, Harry E.



24
35 days


28 July 1993


CF



Tottenham Hotspur FC
20
10


the 175th/176th player to reach the 20-app milestone




the 56th player to reach ten goals

10

Alli, Bamidele J., off 70th min.
21
143 days
11 April 1996
AM
Tottenham Hotspur FC
20
2

the 175th/176th player to reach the 20-app milestone

11
Oxlade-Chamberlain, Alexander M.D., off 76th min.
24
17 days
15 August 1993
RM
Liverpool FC
28
6

the 71st Liverpool player to represent England

England Substitutes
22

Rashford, Marcus, on half time for Sterling
19
305 days
31 October 1997
RM
Manchester United FC
10
2
1
8

scoreline:

Malta 0 England 1
21
Vardy, Jamie R., on 70th min.

(69:11)

for Alli

30


233 days
11 January 1987
CF
Leicester City FC
17
8
6
9
20
Welbeck, Daniel

N.T.M., on 76th

min. (75:56)

for Oxlade-Chamberlain
26
279 days

26 November 1990


F



Arsenal FC



35




25

15



10
the 90th goal to be scored by a substitute

result:

Malta 0 England 4
unused substitutes:
12-Chris Smalling, 13-Jack Butland, 14-Aaron Cresswell, 15-Michael Keane, 16-John Stones, 17-Nathaniel Chalobah, 18-Jermain Defoe, 19-Daniel Sturridge, 23-Tom Heaton.
team notes:
Alex Oxlade-Chamberlain's father, Mark Chamberlain, also played for England (1982-84).
records:
England have now gone 36 qualification matches unbeaten (W27 D9).
The 32nd goal scored by a substitute in qualification history.
Manager Gareth Southgate was a 57th minute substitute when England played Malta in a June 2000 friendly.
4-5-1
Hart -
Walker, Cahill, Jones, Bertrand -
Oxlade-Chamberlain (Welbeck), Livermore, Alli (Vardy), Henderson, Sterling (Rashford) -
Kane


notes: for most of the second half, played as 4-2-4 with Rashford and Welbeck joing upfront.

Averages

(Starting XI)

:

Age
26 years 141 days
Appearances/Goals

30.1

2.0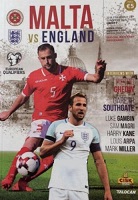 England's first international of the new season was another World Cup group match, this time in Malta. The minnows of the group put up a stubborn show, and England again struggled to break down a hard-working defence, but this time the visitors remained patient, and in the end ran out comfortable winners thanks to some late goals.

The match was similar to the last game, against Scotland, in as much as Malta sat back, kept ten men behind the ball and frustrated England, who, it has to be said, lacked ideas in breaking them down. The first half was difficult for the fans to watch as England dominated possession but lacked any sort of flair going forward. It could have been so different had Raheem Sterling reacted quicker to Harry Kane's pass into the box in the first minute. The winger could not get a shot away and the goalkeeper, Andrew Hogg, was quickly down to smother the Manchester City man's effort. A minute later and Malta attacked hard and Ryan Fenech shot over. That was to be Malta's only serious threat to the England goal as the visitors totally took over.

The Maltese players worked their socks off to try and stay in the game, closing England down and denying them any real space. The ball moved across from side to side but both Alex Oxlade-Chamberlain and Sterling seemed reluctant to go outside their markers. Instead, they wanted to come inside, where it was already congested, and only the runs of Kyle Walker offered hope.

England forced several corners, but we never score from corners do we, and Jordan Henderson's weak shot from one corner sort of summed up their apathy on that particular set piece. On 11 minutes Walker pulled the ball back for Henderson to cross to Dele Alli and the Spurs man shot over from a good position, but at least that was more promising. Ten minutes later, believe it or not, we scored from a corner, except that we didn't. Henderson's kick was headed home by Phil Jones but Kane was penalised for a foul, so the goal was disallowed.

Down the left-hand side, Ryan Bertrand was also seeing a lot of the ball. However, his first movement always seemed to be to turn inside and pass back to Gary Cahill or Jones. When he did find himself in a good position he also seemed reluctant to take the defender on the outside. To make matters worse England's crossing from either wing seldom beat the first defender, which made life easy for Malta's defenders and infuriated the England fans. At the other end though, Joe Hart was a virtual spectator as England dominated possession. You could not fault the workrate of Henderson, Jake Livermore or Alli but nothing was being created because the final ball into the danger zone was so poor. Right on half-time Oxlade-Chamberlain had a shot easily saved and one could understand the frustrations of some of the England fans as the players trooped off at the break to a chorus of boos.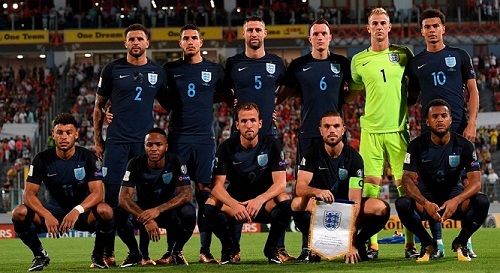 As the second-half began Malta continued with their terrific workrate and on 49 minutes Andre Schembri put a good effort just wide. England had brought on Marcus Rashford for the disappointing Sterling after the interval, in an effort to inject a bit of pace and strength to their attack, and he was soon in the action. Finally, on 53 minutes, England at last made a breakthrough. Oxlade-Chamberlain pulled the ball back for Livermore to chip the ball into the box. The defenders managed to clear but only as far as Alli, lurking on the edge of the box. He tried to work some space for a shot but then found Kane with a terrific pass that was just what the striker ordered. Kane thrashed his shot past the keeper and England were on their way at last. There was a collective sigh of relief from the England fans and a collective groan from the disappointed home supporters.

Four minutes later Steve Borg shot wide as Malta tried to hit back but England were now in control. Unlike in Scotland, there was no way that England would make the same mistake in letting the opposition back into the game and on the hour mark Kane hit a fine shot which Hogg parried away with some difficulty. With 20 minutes to go Jamie Vardy came on for Alli and on 73 minutes he so nearly converted a lovely cross from Rashford with a typical Vardy flick. Unfortunately it went wide, but another effort from Oxlade-Chamberlain signalled England's intent to settle the match. That shot also went wide and was Oxlade-Chamberlain's last involvement as he was then replaced by Danny Welbeck, but not until Rashford saw another good effort well saved by Hogg.

Malta had given their all but were now visibly tiring and after 85 minutes England finally wrapped up the points. Cahill received the ball just inside the Malta half and passed the ball square to Bertrand. The full-back had acres of space and decided to let fly from about 25 yards. The ball dipped and went under the diving goalkeeper's hands. Hogg might have done better but the goal sealed the points for England. I always imagined that if I had ever been lucky enough to score a goal for England I would have been up in the clouds with joy, not Bertrand, he showed no emotion whatsoever, not sure why, maybe he had his reasons?

England did not worry about that though and they continued to press home their superiority. A typical marauding run by Walker, aided by a delightful flick by the impressive Rashford, almost brought number three, and then Kane's fine cross should have been converted at the far post by Welbeck, but his touch wasn't decisive enough. However, the same two players combined a minute later, and this time Welbeck beat the goalkeeper to Kane's chipped pass to guide the ball up and over Hogg into the net for his 15th England goal. Three minutes into added time, a Malta player went down injured, but England and Rashford carried on and the Manchester United player found Kane with another excellent pass, and Tottenham's favourite son ended the match with a clinical finish for number four.

Some say 4-0 flattered England but I prefer to say that the scoreline reflected England's total dominance and the fact that three of the goals came late on was irrelevant. Job done.