"SLICK, RUTHLESS LIONS MUNCH ON MALTESERS" Daily Mirror
Officials

from Croatia

Malta

Squad

Type
England Squad
Referee

(yellow)


Igor Pajač
37 (30 September 1985), Zagreb,

FIFA-listed 2023.

0
Goal Attempts
16
0
Attempts on Target
8
Assistant Referees
0
Hit Bar/Post
0
Goran Pataki


42 (17 November 1980), Đakovo

Ivan Mihalj


31 (24 June 1991)

0
Corner Kicks Won
3
Fourth official
Patrik Kolarić

, 27 (29 June 1995), Čakovec







UEFA Delegate: Alexandru Deaconu

, Romania
UEFA Referee Observer: Jaroslav Dudl, Czech Republic
0
Offside Calls Against
0
10
Fouls Conceded
11
39%
Possession
61%
Video Assistant Officials
Duje Strukan


39 (16 May 1984), Split

Fran Jović, 38

Malta Team
Rank
FIFA (6 April 2023) 175th


EFO ranking

n/a




ELO rating

143rd

Colours
Made by E

rrea

- Red crew necked jerseys with Cross of St. John shadows with white front neck & side trim, white shorts with red side panel, red socks with white trim.
Captain
Steve Borg
Manager
Michele Marcolini
47 (2 October 1975 in Savona, Italy), appointed 15 December 2022.
P 4 - W 1 - D 0 - L 3 - F 2 - A 8.
Malta Lineup
1
Bonello, Henry
24
246 days
13 October 1998
GK
Ħamrun Spartans FC
47
0
13
Apap, Ferdinando
30
322 days
29 July 1992
RB
Hibernians FC
16
1

59th own goal scored for England

4
Borg, Steve
35
159 days
8 January 1988
CB
Ħamrun Spartans FC
74
3
22
Muscat, Zach
29
298 days
22 August 1993
LB
SC Farense,

Portugal

59
3
7
Mbong, Joseph

E.

25
336 days
15 July 1997
in Lagos, Nigeria
RWB
Ħamrun Spartans FC
47
2
19
Kristensen, Bjørn, off 60th min.
30
72 days
5 April 1993
RM

Hibernians FC

38

0

49th min. following a late foul on Jordan Henderson (48:20)
6
Guillaumier, Matthew, off half-time
25
68 days
9 April 1998
CM
Ħamrun Spartans FC
27
2
10
Teuma, Teddy
29
259 days
30 September 1993
in Toulon, France
LM
Royale Union SG, Begium
30
3
2
Attard, Cain, off 87th min.
28
279 days
10 September 1994
LWB
Birkirkara FC
17
2
9
Nwoko, Kyrian, off 60th min.
25
347 days
4 July 1997
RF
Santa Lucia FC, on loan from Floriana FC
25
4
11
Jones, Jodi Felice, off 77th min.
25
238 days
22 October 1997
in Bow, England
LF
Notts County FC,

England

7
0
Malta Substitutes

scoreline:

Malta 0 England 3

20
Yankam, Yannick, on half-time for Guillaumier
25
186 days
12 December 1997
CM
Birkirkara FC
4
1
17
Muscat, Nikolai, on 60th min.

(59:30)

for Nwoko
26
338 days
13 July 1996
RF
Gżira United FC
6
0
14
Satariano, Alexander, on 60th min.

(59:35)

for Kristiansen
21
235 days
25 October 2001
RM
Balzan FC
26
3
18
Degabriele, Jurgen, on 77th min.

(76:04)

for Jones
26
250 days
10 October 1996
LF
Hibernians FC
25
6

scoreline:

Malta 0 England 4

15
Corbalan, Juan Carlos, on 87th min.

(86:46)

for Attard
26
105 days
3 March 1997
LWB
Ħamrun Spartans FC
20
1

result:

Malta 0 England 4

unused substitutes:
3-Ryan Camenzuli, 5-Kurt Shaw, 8-Jake Grech, 12-Matthew Grech, 16-Matthias Debono, 21-Shaun Dimech

,

23-Jean Borg.
team notes:
Malta have only recorded one goal against England, at that was as a result of a David Carabott penalty kick in June 2000, the kick hit the post and went into the net after hitting Richard Wright's head.
Paul and Joseph Mbong are brothers.
3-5-2
Bonello -
Apap, Borg, Z.Muscat -
Mbong, Kristensen (Satariano), Guillaumier (Yankam), Teuma, Attard (Corbalan) -
Nwoko (N.Muskat), Jones (Degabriele)

Averages

(Starting XI)

:

Age
28 years 81 days
Appearances/Goals

35.2

1.8

England
Team
Rank
FIFA (6 April 2023)

5th


EFO ranking Group Two
ELO rating 6th to =5th
Colours
The Nike 2022 home jersey

-

White crew-necked jerseys

with dark to light blue

fury gradient sleeves, fury/void cuffs, blue fury shorts, white socks with fury/void thin hoop.
Captain
Harry Kane
Manager
Gareth Southgate, 52 (3 September 1970), appointed caretaker manager on 27 September 2016, appointed as permanent manager on 30 November 2016.

⁴⁸

most goals as captain

58th of 61 - W 35 - D 12 - L 11 - F 132 - A 48.

P 84th of 87 - W 52 - D 18 - L 14 - F 182 - A 58.

Harry Maguire

58:50

England

Lineup

four changes on the previous match

(Walker, Stones, Chilwell & Bellingham out)

league position (24th May)

1
Pickford, Jordan L.
29
101 days
7 March 1994
G
Everton FC

(PL 17th)

53
39ᵍᵃ
2
Trippier, Kieran J.
32
270 days
19 September 1990
RB
Newcastle United FC

(PL 3rd)

42
1
6
Maguire, J. Harry
30
103 days
5 March 1993
RCD
Manchester United FC

(PL 4th)

56
7
5
Guéhi, A.K. Marc-Israel
22
338 days
13 July 2000
in Abidjan, Côte d'Ivoire
LCD
Crystal Palace FC

(PL 11th)

4
0
3
Shaw, Luke P.H., off 60th min.
27
339 days
12 July 1995
LB
Manchester United FC

(PL 4th)

30
3

the 130th player to reach the 30-app milestone

10

Alexander-Arnold, Trent

J.

24
252 days
7 October 1998
RM
Liverpool FC

(PL 5th)

19
2
4

Rice, Declan
24
153 days
14 January 1999
CM
West Ham United FC

(PL 14th)

42
3
8
Henderson, Jordan B., off 60th min.
32
364 days
17 June 1990
LM
Liverpool FC

(PL 5th)

76
3
7

Saka, Bukayo A.T., injured off half-time
21
284 days
5 September 2001
RF
Arsenal FC

(PL RU)

27
8
9
Kane, Harry E., off 60th min.
29
323 days
28 July 1993
CF
Tottenham Hotspur FC

(PL 8th)

83
56

¹⁹

the 105th penalty-kick scored

(143)

11

Maddison, James D., off 70th min.
26
203 days
23 November 1996
LF
Leicester City FC

(PL 18th)

3
0
England Substitutes

scoreline:

Malta 0 England 3

20
Foden, Philip W., on half-time min. for Saka
23
19 days
28 May 2000
RF/M
Manchester City FC

(PL CHAMPIONS)

24
16
3
8
17
Mings, Tyrone

D.

, on 60th min.

(59:11)

for Shaw
30
95 days
13 March 1993
LB
Aston Villa FC

(PL 7th)

18
12
2
6
final app 2020-23
18
Rashford, Marcus, on 60th min.

(59:18)

for Henderson
25
228 days
31 October 1997
RF
Manchester United FC

(PL 4th)

52
22
15
30
23
Wilson, Callum E.G., on 60th min.

(59:22)

for Kane
31
109 days
27 February 1992


CF


Newcastle United FC

(PL 3rd)




7


1
2


5

the 106th penalty-kick scored

(144)

, is also


104th goal by a substitute (first penalty)

106

21
Eze, Eberechi O., on 70th min.

(69:02)

for Maddison
24
352 days
29 June 1998
LF
Crystal Palace FC

(PL 11th)

1
0

1273

the eighteenth Palace player to represent England

only app 2023
result: Malta 0 England 4
unused substitutes:
12-Kyle Walker, 13-Aaron Ramsdale, 14-John Stones, 15-Kalvin Phillips, 16-Jack Grealish, 19-Conor Gallagher, 22-Sam Johnstone.
team notes:
England's fortieth match to be played on a Friday.
The first European Championship qualification match between the two nations since 1971.
There are no Manchester City FC players in the starting XI for the first time since September 2001.
Bukayo Saka was injured

(33:05)

as Zach Muscat stretched for a ball in the penalty area. He received lengthy treatment and eventually returned to the field of play

(37:33)

and then was replaced at half-time.
Marcus Rashford is the 24th England player to have made his fortieth competitive appearance.
manager notes:
Gareth Southgate is the first England manager to to coach the side against Malta for a third match.
He has only fie

ld

ed an older team once, against Germany in March 2017 when they were on average, 27 years and 356 days old.
records:
For the twelfth time, England have been awarded two penalty-kicks in one match. For the third time, two different players have taken the kick (1956 & 2021) but the first time the two players have both converted successfully.
Fifty of Kane's 56 goals have now come from competitive play, fourteen more than second-place Wayne Rooney.
Manager Gareth Southgate was a 57th minute substitute when England played Malta in a June 2000 friendly.
4-3-3
Pickford -
Trippier, Maguire, Guéhi, Shaw (Mings) -
Alexander-Arnold, Rice, Henderson (Rashford) -
Saka (Foden), Kane (Wilson), Maddison (Eze)

Averages

(Starting XI)

:

Age
27 years 221 days
Appearances/Goals

39.5

7.4
Match Report
by Mike Payne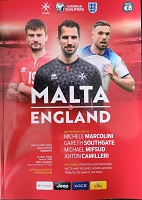 This was one of those International matches that has to be played, and the job has to be done, even though, the long, hard season just gone has taken its toll on players. As it turned out, the result was done and dusted by half-time.

After a slow start with England dominating possession, but not really going anywhere, the first opening came after six minutes when Trent Alexander-Arnold, playing in midfield, won a corner. From the kick the ball eventually found Harry Kane whose low shot was comfortably saved by Henry Bonello in the home goal. And just two minutes after that miss, England took the lead.

A lovely pass over the top by Alexander-Arnold for Bukayo Saka to run on to, saw the Arsenal player clear of the defender. He centred into the middle and the ball was heading for a tap-in by Kane, only for defender, Ferdinando Apap, to beat the striker to the ball and put the ball into his own net. That must have annoyed Kane because his eyes must have lit up at the thought of a 56th goal for his country. Saka shot over shortly after the goal and scrappy play was the order of the day for a while.

The England players looked a little rusty at times and first touches, normally so efficient at this level was evident by the number of times the ball ran away from the player. James Maddison was fouled on the edge of the box but his free-kick was easily saved. Another frustrating aspect of England's play was in the number of times the ball was passed backwards instead of forwards. Luke Shaw was particularly guilty of this, going backwards when he is perfectly capable of going past defenders.

On 28 minutes, however, the first really good pass forward sent Maddison away. He rode one challenge but the ball eventually squirted across towards Alexander-Armstrong, who curled a beautiful shot into the far top corner for goal number two. And just two minutes later, the ball ran to Declan Rice who fired in a shot which Bonello pushed away. Kane was first to react and as he went for the ball he was fouled by Matthew Guillaumier, and it was an easy decision for the referee to award England a penalty. Harry's eyes lit up again, and he cooly slotted home the spot-kick.

England were certainly not firing on all cylinders, but no-one could argue with a 3-0 scoreline. Saka was injured chasing a Kane through ball, but when the crosses did come in there were few players making up the ground to get into the box. The keeper did save another Saka effort just before the break and England went off at half-time, totally in command.

Saka was obviously feeling the effects of his knock in the first-half, and Phil Foden came on for him at the restart. Maddison didn't have the best start to the half as he failed to control another good pass from Alexander-Armstrong, and Maddison then overhit a pass forward which went out for a goal kick. A goalmouth scramble on 53 minutes also saw Maddison fail to add the finishing touch from close range.

England continued to push forward but there was no real conviction in their play, but to be fair it was very hot out there, and with a 3-0 lead, there was no need for any urgency. On 58 minutes Foden found Kane and the skipper's chip bobbled wide of the goal. That led to a raft of substitutions by both managers with Tyrone Mings (for Shaw), Marcus Rashford (for Jordan Henderson) and Callum Wilson coming on for Kane. Jordan Pickford's night consisted of nothing but acting as a sweeping defender as he spent more time out of his area than he did in it. With 67 minutes gone two good England attacks were blocked by determined defending, and it must be said that Malta did defend well in this half. Two minutes later Gareth Southgate sent on Eberechi Eze for his debut cap and he was soon in the action.

With just nine minutes to go Wilson's cross hits the hand of Steve Borg, and the referee went to the monitor on the touchline as the VAR judge told him to have a look at a suspected penalty. It was given but it was a very harsh decision. Harry Kane's eyes lit up again at the thought of another penalty, until he realised that he was now on the bench. So the honour fell to Wilson, and he despatched the spot-kick with the minimum of fuss.

Foden and Eze then had chances in the final five minutes but Malta successfully blocked both efforts, and then Wilson headed a Foden corner over the bar.

As a spectacle, in many ways this match was ruined by the half-time scoreline, and it can sometimes be a tough watch as an England fan, but the fact remains that the job was done, even though some of us would like a bit of 'Bazball' to be part of this England set-up. And I did have one other question, has Jordan Henderson had his hair dyed?

Still, onwards and upwards, with North Macedonia next up.


Source Notes
TheFA.com
BBC Sport
MFA
UEFA.com
Mike Payne - football historian and contributor
cg