Match Summary
Officials from Republic of Ireland

England B

Type

Belarus

Referee (black) - David McKeon
34 (3 February 1972), Dublin, Republic of Ireland;

Assistant referees - Marc Douglas, Louth, and David Wogan

Fourth official - Alan Wiley, 45 (27 May 1960), Burntwood, Staffordshire, England;
16
Goal Attempts
13
10
Attempts on Target
6
1
Hit Bar/Post
0
8
Corner Kicks Won
3
4
Offside Calls Against
7
-
Fouls Conceded
-
-
Possession
-

England B Team
Rank:

not applicable

Colours:
Red shirts with white trim, white shorts, red socks - The 2006 away uniform
Capt:
Michael Owen (Sol Campbell after 62 minutes)
Coach:
Sven-Göran Eriksson, 58, appointed head coach 31 October 2000, took post 12 January 2001,
1st 'B' match, W 0 - D 0 - L 1 - F 1 - A 2.
England B Lineup
1
James, David B., sub off 46th min.
35
1 August 1970
G
2
0 GA
2
Hargreaves, Owen L.
25
20 January 1981
D
FC Bayern Mönchen AG, Germany
1
0
3
Cole, Ashley
25
20 December 1980
D
1
0
4
Carrick, Michael
24
28 July 1981
M
Tottenham Hotspur FC
1
0
5
Carragher, James L.D.
28
28 January 1978
D
Liverpool FC
3
0
6
Campbell, Sulzeer J.
31
18 September 1974
D
2
0
7
Lennon, Aaron J.
19
16 April 1987
M
1
0
8
Jenas, Jermaine A., sub off 62nd min.
23
18 February 1983
M
1
1
9
Crouch, Peter J., sub off 79th min.
25
30 January 1981
F
1
0
10
Owen, Michael J., sub off 62nd min.
26
14 December 1979
F
Newcastle United FC
1
0
11
Downing, Stewart., sub off 79th min.
21
22 July 1984
M
Middlesbrough FC
1
0
England B Substitutes
13
Green, Robert P., on 46th min. for James - sub off 53rd min.
26
18 January 1980
G
1
1 GA
Green's B debut is cut short after only five minutes, after his goal-kick ruptures his groin. The ball bobbled to Kutuzov, he promptly placed the ball into an empty net.
22
Carson, Scott P., on 53rd min. for Green
20
3 September 1985
G
Liverpool FC
1
1 GA
16
Cole, Joseph J., on 62nd min. for Jenas
24
8 November 1981
M
1
0
19
Walcott, Theo J., on 62nd min. for Owen
17
16 March 1989
F
1
0
17
Defoe, Jermain C., on 79th min.
23
7 October 1982
F
1
0
15
Dawson, Michael R., on 79th min. for Downing
21
18 November 1983
D
1
0

unused substitutes:

12-Wayne Bridge, 14-Phil Neville, 18-Andrew Johnson.

4-4-2
James (Green (Carson)) -
Hargreaves, Carragher, Campbell, A Cole -
Lennon Carrick, Jenas (J Cole), Downing (Dawson) -
Crouch (Defoe), Owen (Walcott).

Averages (Starting XI):

Age
25.6
Appearances/Goals
1.4
0.1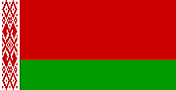 Belarus Team -
This was the Belarussian 'A' Team, who did not receive any caps because it is a 'B' international.
Rank:

not applicable

Colours:
made by Puma
White shirts, green shorts, white socks.
Capt:
Sergei Shtanyuk.
Coach:
Yuri Hennadiy Puntus

Юры Іосіфавіч Пунтус

, 45 (8 October 1960), appointed the Belarus national team coach, 24 February 2006.
Belarus Lineup
1
Zhevnor, Yury, sub off 46th min.
25
17 April 1981
G
FC Moskva, Russia
2
Kulchy, Aleksandr
32
1 November 1973
M
FC Tom' Tomsk, Russia
3
Lentsevich, Dmitry
22
20 June 1983
D
FC Torpedo Moskva, Russia
4


Omelyanchuk, Sergei
25
8 August 1980
D
FC Shinnik Yaroslavl, Russia
Omelyanchuk booked in the 72nd min. for Unsporting Behaviour for a foul on Aaron Lennon, and a duplicate booking for the same offense on Lennon a minute later meant he was sent off for two cautionable offences.
5
Shtanyuk, Sergei
32
13 August 1973
D
FC Metalurh Zaporizhzhya, Ukraine
Shtanyuk booked in the 65th min. for Unsporting Behaviour.
6
Korytko, Vladimir
26
6 July 1979
M
FC Metalurh Zaporizhzhya, Ukraine
7
Yurevich, Aleksandr, sub off 61st min.
26
8 August 1979
D
FC Shakhtyor Soligorsk
8
Bulyga, Vitaly, sub off 46th min.
26
12 January 1980
F
FC Krylia Sovetov Samara, Russia
9
Romashchenko, Maksim, sub off 74th min.
29
31 July 1976
M
FC Dinamo Moskva, Russia
Romashchenko booked in the 63rd min. for Unsporting Behaviour.
10
Kalachev, Timofei, sub off 80th min.
25
1 May 1981
M
FC Rostov, Russia
11
Kutuzov, Vitali, sub off 64th min.
26
20 March 1980
F
UC Sampdoria SpA, Italy
Shocking scenes as Robert Green collapses in agony while taking a goal-kick. The ball falls to Vitaly Kutuzov, who shoots into the open goal. - BBC Sport
Belarus Substitutes
12
Khomoutovsky, Vailsy, on 46th min. for Zhevnor
27
30 August 1978
G
FC Tom' Tomsk, Russia
15
Kornilenko, Sergei, on 46th min. for Bulyga
22
14 June 1983
F
FC Dnepr Dnepropetrovsk, Ukraine
13
Shahoika, Aleksandr, on 61st min. for Yurevich
25
27 July 1980
M

FK Gomel

16
Kontsevoy, Artem, on 64th min. for Kutuzov
23
20 May 1983
F

FC MTZ-RIPO Minsk

17
Kashevsky, Nikolai, on 74th min. for Romashchenko
25
5 October 1980
M

FC Krivbas Krivij Rih, Ukraine

14
Pankovets, Aliaksei, on 80th min. for Kalachev
25
18 April 1981
D

FK Gomel

unused substitutes:

22-Aleksandr Sulima;

4-3-3
Zhevnor (Khomoutovsky) -
Omelyanchuk, Lentsevich, Shtanyuk, Yurevich (Shahoika) -
Kulchy -
Korytko, Romashchenko (Kashevsky),
Kalachev (Pankovets) -
Kutuzov (Kontsevoy), Bulyga (Kornilenko)

Averages (Starting XI):

Age
26.7
Appearances/Goals
Match Report
England B lost to 10-man Belarus but their first World Cup warm-up game was marred by an injury that is set to rule out Robert Green for the finals. In the second half Green ruptured his groin making a save and when he took a goal-kick he collapsed, allowing Vitaly Kutuzov to sidefoot an equaliser. Sergey Omelianchuk was sent off but Sergey Kornilenko fired in the winner. Michael Owen had helped set up Jermaine Jenas' goal to give England the lead before he was replaced by Theo Walcott.

Walcott came on in the 61st minute and made an immediate impact, embarrassing the Belarus defence with his pace before he was unceremoniously upended. The Arsenal striker also troubled Yuri Zhevnov with a powerful volley.

Green, who came on at the start of the second half for David James, had had a nervy introduction when he spilled a Maksim Romashchenko free-kick after only two minutes. In making that save Green ruptured his groin and when he tried to take a goal-kick he collapsed in a heap, allowing Kutuzov to guide the ball into the empty net. The game was delayed for several minutes as Green was given treatment before the Norwich keeper was carried off. Green was replaced by Liverpool goalkeeper Scott Carson, who is now set to go to Germany. England never recovered from the bizarre nature of Belarus' equaliser.

Even when Omelianchuk was sent off for picking up a second yellow card, England were unable to capitalise on their one-man advantage. Kornilenko capitalised on England's uncertainty, weaving his way into the box before angling a shot past Carson. Before the game the focus had been on Owen's return to action, with the Newcastle striker continuing his recovery from a broken metatarsal. Owen might have given England an early lead but his shot was beaten away by Belarus goalkeeper Yuri Zhevnov.

While Owen was keen to prove his fitness, the likes of Aaron Lennon, Stewart Downing, Michael Carrick and Jenas were also hoping to impress, with the start of the World Cup only two weeks away. Downing delivered the free-kick that set up Jenas' goal and frequently linked well with Ashley Cole down the England left. On the other wing, Lennon's turn of speed was too much for Belarus defender Alexander Yurevich. Owen looked offside when Downing sent in the free-kick that led to England's goal but the infringement was missed by the match officials. And when the ball rebounded off the crossbar, Jenas was on hand to head the ball home.

Belarus had barely troubled the England in those opening 45 minutes but in the closing seconds of the half the visitors came close to equalising when Kutuzov hit the woodwork with a header.

Source Notes
TheFA.com
various Russian club websites
BBC Sport

____________________

CG