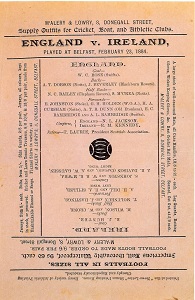 The annual meeting, under Association rules, between the representatives of the two countries, came off on Saturday, in the Ulster Ground, Belfast. The attendance was very heavy, a very fast and high class exposition of the game was witnessed. England won the toss, and elected to play down the hill. Scarcely had the sphere been started, than fine runs by Johnstone, C. Bambridge, and Cursham threw the home team on their defences, and though Hunter saved his charge very cleverly on several occasions, it was not long till a low swift shot from G. Johnstone scored the first goal for England. In a few minutes, E. C. Bambridge took the second, and ere the termination of a half Cursham put the ball through twice more. On the recommencement of play the visitors continued to act on the aggressive, and G. Johnstone, E. C. Bambridge, Cursham, and A. L. Bambridge were each instrumental in registering goals. In about the middle of this period, however, E. C. Bambridge's bad leg again gave way, and he was compelled to retire. After some capital play by Davison and Gaussen, Dill, M'Wha obtained the only point scored for Ireland, and when the referee's whistle announced the termination of the game, England were thus victorious by the substantial majority of eight goals to one.

Notts County, who had reached the F.A. Cup semi-finals for the second year in succession, defeated Aston Villa, 2-0 at Trent Bridge.
It was on 22 February 1884 that it was announced that the town of Tokar in Sudan had been surrendered by British forces to the slave trader, Osman Digna.