P 4 W 2 D 1 L 1 F 7:A 4
63% successful
1 clean sheet

Description
Yellow shirt with navy blue panel along shoulders, edged with thin red line, continuing onto navy blue outer sleeves. V-neck, edged with thin navy blue line, overlapping from left to right. Navy blue collar around back of neck, with English flag in middle, extending from one collarbone to the other. Yellow inner forearms, with abstract navy blue pattern and navy blue cuffs. Silver inner upper sleeves, continuing down each side down towards the hips, edged with navy blue line that continues beyond the silver panel. Embroidered emblem on left breast, with 'ENGLAND' in capitalised white lettering inside a navy blue panel above the emblem. Two embroidered navy blue concentric diamonds on right breast, with a registered trademark in navy blue, placed underneath the gap between the left point of each diamond. Navy blue number one, with a white border, on reverse and in centre of chest, in same font as outfield shirts. Surname in capitalised navy blue lettering, above number on reverse, in same font as the numbers. Match details embroidered in navy blue underneath number on chest in following format (not actual font):

ENGLAND

v

ARGENTINA

12·11·2005

Navy blue shorts, with yellow hem. Broad yellow stripe down top half of each seam, including waistband, bottom edge of stripe sloping diagonally towards the front. Seam bordered on each side by a thin red stripe, running full length on reverse, but ending on the front, slightly beyond the yellow stripe. Two embroidered white concentric diamonds on left thigh, directly beneath red stripe. White number, in the same font as on the shirt, above the Umbro logo on left thigh, but to the right of red stripe. Embroidered emblem on right thigh, with 'ENGLAND' in capitalised white lettering inside a navy blue panel above the emblem, directly beneath red stripe. Navy blue socks, with English flag extending all around the tops. Two large white concentric diamonds on calf.

Variations

Against Sweden, England had the 2002 FIFA WORLD CUP KOREA JAPAN logo embroidered onto the right sleeve.

Against Sweden, the font for the names, numbers and match details were the same as for the 2001 black goalkeeper's kit. The numbers did not have a white border and the surname on the reverse was in an arc.

For the last two games in which this kit was worn, the socks were replaced by the plain navy-blue pair that was included with the 2005 navy kit, with two large white concentric diamonds on the calf (thanks to Daniel Gellatley for spotting this).

The names of England's opponents, as they appeared in the match details, were ARGENTINA, SPAIN, SWEDEN and UKRAINE. England were named second against Spain and first in the other three fixtures.

Appearances

2 - Paul Robinson

1 - David James, David Seaman

Penalties Saved

1 - Paul Robinson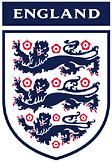 This rarely-used kit had a high-profile introduction in England's opening match of the 2002 World Cup (one of three goalkeeping outfits worn during the tournament), but it only appeared four times. Its second and third airings were over two years later, and its final appearance was a further year after that.
The preference for blue and black goalkeeping tops at this time led to the longevity of this kit as an occasional third-choice and it appeared alongside three successive outfield home kits.
The shirt in the photos above was issued to David Seaman for the game with Sweden. It appears here by kind permission of the National Football Shirt Collection (England Match Shirts), also part of the Neville Evans Collection (curator Simon Shakeshaft).
Matches in which England wore the 2002 Yellow Goalkeeper Uniform
Season 2001-02

x

World Cup Finals in Japan & Korea
791
2 June 2002 - England 1 Sweden 1 [1-0]
Saitama Sutajiamu Niimarumarunii, Saitama-shi (62,561)

David Seaman wore this uniform,

alongside England's 2001 white uniform

, against Sweden's blue shirts, white shorts and blue socks.

Season 2004-05
Friendlies
818
18 August 2004 - England 3 Ukraine 0 [1-0]
St James' Park, Newcastle-upon-Tyne (35,387)

David James wore this uniform,

alongside England's 2004 red uniform

, against Ukraine's all-blue kit.

823
17 November 2004 - Spain 1 England 0 [1-0]
Estadio Santiago Bernabéu, Madrid (48,000)

Paul Robinson wore this uniform with the 2005 navy-blue socks,

alongside England's 2003 all-white kit

, against Spain's red shirts, with blue shorts and socks.

Season 2005-06
834
12 November 2005 - Argentina 2 England 3 [1-1]
Stade de Genève, Switzerland (29,000)

Paul Robinson wore this uniform with the 2005 navy-blue socks,

alongside England's 2005 white uniform

, against Argentina's blue shirts

, white shorts and blue socks.

England's Record wearing the 2002 Yellow Goalkeeper Uniform
Type
P
W
D
L
F
A
GD
FTS
CS
FAv
AAv
Pts %
W/L
Home
1
1
0
0
3
0
+3
0
1
3.00
0.00
100.0
+1
Away
1
0
0
1
0
1
-1
1
0
0.00
1.00
00.0
-1
Neutral
2
1
1
0
4
3
+1
0
0
2.00
1.50
75.0
+1
Total
4
2
1
1
7
4
+3
1
1
1.750
1.00
62.5
+1

Paul Robinson's Record wearing the 2002 Yellow Goalkeeper Uniform
Type
P
W
D
L
F
A
GD
FTS
CS
FAv
AAv
Pts %
W/L
Away
1
0
0
1
0
1
-1
1
0
0.00
1.00
00.0
-1
Neutral
1
1
0
0
3
2
+1
0
0
3.00
2.00
100.0
+1
Total
2
1
0
1
3
3
=0
1
0
1.50
1.50
50.0
=0

David Seaman's Record wearing the 2002 Yellow Goalkeeper Uniform
Type
P
W
D
L
F
A
GD
FTS
CS
FAv
AAv
Pts %
W/L
Neutral
1
0
1
0
1
1
=0
0
0
1.00
1.00
50.0
=0
Total
1
0
1
0
1
1
=0
0
0
1.00
1.00
50.0
=0

David James' Record wearing the 2002 Yellow Goalkeeper Uniform
Type
P
W
D
L
F
A
GD
FTS
CS
FAv
AAv
Pts %
W/L
Home
1
1
0
0
3
0
+3
0
1
3.00
0.00
100.0
+1
Total
1
1
0
0
3
0
+3
0
1
3.00
0.00
100.0
+1

____________________

GI/BD/CG