P 3 W 1 D 1 L 1 F 4:A 4
50% successful
no clean sheets

Description
Yellow shirts with navy blue sleeves and collar trim, yellow padding on the forearm, white side panels, navy blue Umbro diamond and England crest. Navy blue shorts with yellow side panels/hem, yellow Umbro diamond and England crest. Navy blue socks with white trim.
Most Appearances

Clean Sheets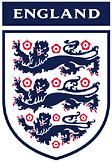 This rarely-used kit had a high-profile introduction in England's opening match of the 2002 World Cup (one of three goalkeeping outfits worn during the tournament), but it only appeared twice more. Its second airing was almost two and a half years later, and its final appearance was a further year after that.
The preference for blue and black goalkeeping jerseys at this time led to the longevity of this kit as an occasional third-choice and it appeared alongside three successive outfield home kits.
The jersey in the photos above was issued to David Seaman for the game with Sweden (right). It appears here by kind permission of the National Football Shirt Collection (England Match Shirts), also part of the Neville Evans Collection (curator Simon Shakeshaft). The World Cup logo was embroidered onto the right sleeve.
Matches in Which England Wore the 2002 Yellow Goalkeeper Uniform
Season 2001-02

x

World Cup Finals in Japan & Korea
791
2 June 2002 - England 1 Sweden 1 [1-0]
Saitama Sutajiamu Niimarumarunii, Saitama-shi (62,561)

David Seaman wore this uniform,

alongside England's 2001 white uniform

, against Sweden's blue shirts and white shorts.

Season 2004-05
Friendlies
823
17 November 2004 - Spain 1 England 0 [1-0]
Estadio Santiago Bernabéu, Madrid (48,000)

Paul Robinson wore this uniform,

alongside England's 2003 white uniform

, against Spain's red shirts and blue shorts.

Season 2005-06
834
12 November 2005 - Argentina 2 England 3 [1-1]
Stade de Genève, Switzerland (29,000)

Paul Robinson wore this uniform,

alongside England's 2005 white uniform

, against Argentina's blue shirts and white shorts.

England's Record wearing the 2002 Yellow Goalkeeper Uniform
Type
P
W
D
L
F
A
GD
FTS
CS
FAv
AAv
Pts %
W/L
Away
1
0
0
1
0
1
-1
1
0
0.00
1.00
00.0
-1
Neutral
2
1
1
0
4
3
+1
0
0
2.00
1.50
75.0
+1
Total
3
1
1
1
4
4
=0
1
0
1.667
1.667
50.0
=0

____________________

GI/BD/CG