Rank:
FIFA (12th August 2021)

27th




EFO ranking

Group Seven




ELO rating

29th

Colours:
Made by Nike - White collared jerseys with red/white collars/cuffs, red shorts with white sidetrim, white socks with red hoop.
Capt:
Robert Lewandowski
Manager:
Paulo Manuel Carvalho de Sousa, 51 (30 August 1970 in Viseu, Portugal), appointed 21 January 2021.
eleventh match, W 3 - D 5 - L 3 - F 26 - A 17

Poland

Lineup
1
Szczęsny, Wojciech T.
31
143 days
18 April 1990
G
Juventus FC, Italy
59
0
3
Dawidowicz, Paweł M.
26
172 days
20 March 1995
RB
Hellas Verona FC, Italy
6
0
15
Glik, Kamil J., off 80th min.
33
217 days
3 February 1988
CD

Benevento Calcio, Italy

88

6

after ht whistle following a melee as the teams were walking off the pitch
5
Bednarek, Jan K.
25
149 days
12 April 1996
LB
Southampton FC, England
35
1
10
Krychowiak, Grzegorz, off 68th min.
31
222 days
29 January 1990
DM

FC Krasnodar, Russia

84

5

60th min. for a lunge and an elbow barging into Jack Grealish again
7
Jóźwiak, Kamil J., off 80th min.
23
139 days
22 April 1998
RM
Derby County FC, England
19
2
8
Linetty, Karol
26
218 days
2 February 1995
RCM

Torino FC, Italy

37

5

79th min. for hacking at Harry Kane near the touchline
16
Moder, Jakub P.
22
154 days
7 April 1999
LCM
Brighton & Hove Albion FC, England
15
2
23
Puchacz, Tymoteusz, off 80th min.
22
228 days
23 January 1999
LM

1.FC Union Berlin, Germany

7

0

77th min. for sliding tackle from behind bringing down Raheem Sterling
14
Buksa, Adam, off 63rd min.
25
58 days
12 July 1996
RF
New England Revolution, United States
3
4
9
Lewandowski, Robert
33
18 days
21 August 1988
LF
FC Bayern München, Germany
125
72
mst apps
mst gls

Poland

Substitutes
11
Świderski, Karol, on 63rd min.

(62:31)

for Buksa
24
228 days
23 January 1997
RF
Panthessaloníkios Athlitikós Ómilos Konstantinopolitón FC, Greece
10
3
17

Szymański, Damian, on 68th min.

(67:30)

for Krychowiak
26
84 days
16 June 1995
CD
Athlitikí Énosis Konstadinoupóleos, Greece
6
1
90th+3rd min. for removing his shirt when celebrating his goal

scoreline:

Poland 0 England 1
6
Helik, Michał S., on 80th min.

(79:26)

for Glik
25
364 days
9 September 1995
CD
Barnsley FC, England
5
0
21
Frankowski, Przemysław, on 80th min.

(79:27)

for Jóźwiak
26
149 days
12 April 1995
RM
Le Racing Club de Lens, France
18
1
13
Rybus, Maciej, on 80th min.

(79:36)

for Puchacz
32
21 days
18 August 1989
RB
FC Lokomotiv Moskva, Russia
65
2

result:

Poland 1 England 1
unused substitutes:
2-Kamil Piątowski, 4-Tomasz Kędziora, 12-Łukasz Skorupski, 18-Nicola Zalewski, 19-Jakub Kamiński, 20-Bartosz Slisz, 22-Bartłomiej Drągowski.
records:
Poland have not been beaten at home in WC or EC qualification since March 2013.

Manager Paulo Sousa played for Portugal in friendly matches against England

in December 1995

and

April 1998

.
4(1-3)-4-2
Szczęsny -
Dawidowicz, Glik (Helik), Bednarek -
Krychowiak (Szymański) -
Jóźwiak (Frankowski), Linetty, Moder, Puchacz (Rybus) -
Buksa (Świderski), Lewandowski

Averages

(Starting XI)

:

Age
27 years 158 days
Appearances/Goals

43.5

8.8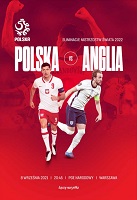 Right from the start of this latest World Cup Qualifier in Warsaw, it was obvious that Poland were going to try and muscle England out of their normal dominant stride. Some of the tackling was ferocious, but England gave as good as they got, although it seemed to me that they were penalised far more often than the Poles were. Indeed, Kalvin Phillips was booked in the first ten minutes when he inadvertently stood on Tymoteous Puchacz's toe. You would have thought the Pole had been shot from his reaction, but that is modern football for you, especially in these vital matches.

The hostile atmosphere on the pitch and in the stadium, not helped by the booing by some, of our National Anthem, and even louder booing of the "Taking the Knee", meant that it took a little while for England to settle. In the first ten minutes England were physically battered, but the referee was a little more lenient towards the home side. A nasty foul by Kamil Jozwiak on Jack Grealish was far worse than the Phillips misdemeanour.

It was all very stop start throughout the first 30 minutes, although Harry Kane was to the fore in one attack as in the 21st minute a great ball in was met by Kane's head, although he couldn't direct it at goal, and a defender easily cleared. There were a lot of niggly fouls going on with no-one daring to make the first mistake. Poland were making it hard for England by pressing them well, and slight defensive hesitancy just before the half-hour mark, allowed dangerman Robert Lewandowski to get a toe in, and he almost succeeded in lobbing over Jordan Pickford, but the goalkeeper managed to save the shot. There was so much pushing and shoving so far, and to be honest the referee looked a little out of his depth as the fouls persisted against the England players, mostly unpunished. Raheem Sterling, Kane and Grealish, particularly, took some fearful stick, and when John Stones went down injured it gave both teams the chance to have a blow from the fierce pace of the game.

England won a rare free-kick in the 39th minute, and that produced a corner, which was cleared. As the half came to a close though, England were pushing forward better, and attacking the Poland side with more determination. The half ended goalless but as the players left the field all hell broke loose as the tempers, already frayed, boiled over at something said or done. Harry Maguire was particularly incensed by something, and both he and Kamil Glik were booked at the end of the fracas. At the end of the half, I wrote in my notes, "I'll be surprised if this match ends with 11-a-side on the pitch!"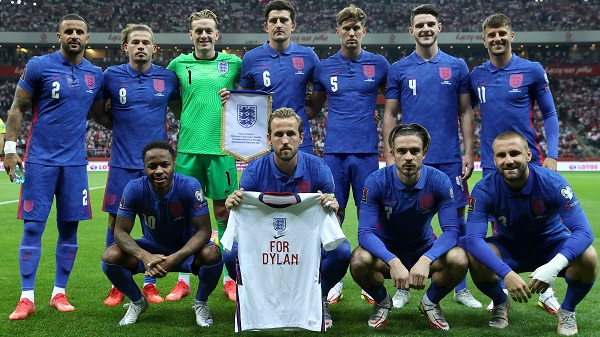 England made a good start to the second-half as a fine move down the left in the 47th minute, ended with Grealish shooting across goal and just missing the far post. Grealish was adamant that the ball had been deflected for a corner but the referee, again, was not interested. Sterling also made a good break, down the right, but not for the first time he was crowded out. But the signs were more positive from England, and after another run by Sterling fizzled out, a marauding run by Maguire set up Phillips, who fired in a shot from range. Goalkeeper Wojciech Szczesny saved comfortably.

The midfield of England, Declan Rice, Mason Mount and Phillips, were certainly getting through a lot of good work, and these three do so much that goes unnoticed. On 58 minutes a fine move down the left involving Luke Shaw, Mount and Grealish ended with Glik blocking the ball for a corner. That was cleared but as England came again, Grzegorz Krychowiak was booked for yet another foul on Grealish. It was about time! Three minutes later a Shaw free-kick was met by Maguire's head, and the ball rebounded off the foot of the far post, before being hacked away. A Linesman's flag went up though, so it probably wouldn't have counted. England were definitely stretching the Poles more this half, as the foul count grew, and it just needed an end product. The Poles started to make a series of substitutions as there were visible signs they were rattled. Yet another blatant shirt pull on Grealish went unpunished, but when Puchacz went down screaming at the linesman after a shoulder barge from Kyle Walker, the ref gave a free-kick! So frustrating to watch. It is all very well referees now deciding to let more contact go, surely they should still retain an element of protection when a foul is committed?

After 71 minutes, Lewandowski, fired in a shot at goal, which Pickford saved comfortably, and from his clearance, England took a deserved lead, and what a good goal it was. The move was developed in midfield and eventually the ball found Kane, thirty yards from goal. He looked up and hit a screamer that bent in the air and beat the goalkeeper all ends up. What would we do without 'our Arry'?

Grealish was then wrestled to the ground by Pawel Dawidowicz, how many times Grealish was fouled would be worth seeing! These roughhouse tactics continued but England were handling it well, and you couldn't help thinking that if they could just get one more goal then it would be all over. You tended to give up on the German referee after Karol Linetty scythed down Kane without punishment again. Then, suddenly, a lapse of concentration from Pickford, so nearly cost a goal, and had every England fan almost having a seizure! His clearance was charged down, and as the ball crept slowly towards the goal, one's heart was in one's mouth. Thankfully, Pickford raced back and managed to gather the ball off the line. Phew!

Poland were trying their hardest to get back into the match, but England's defence, excellent all through, were holding on. One brilliant piece of control by Lewandowski, ended with a shot curled just wide, and just as you thought England had weathered the storm, and we were into four minutes added on, the hosts found an equaliser.

A great turn by a Polish forward saw him completely deceive Walker and cross to the middle. Mount should have cleared further, but the ball came back and a shot was blocked by Phillips before the ball then found Lewandowski on the left of goal. As the class act he is, he produced the most exquisite of crosses to the far post where substitute Damian Szymanski rose above Shaw to power a header home. It was a fine goal, but cruel on England, who had battled so hard.

It was a surprise that Gareth Southgate did not use any substitutions, but as he said afterwards, England seemed in complete command until that last couple of minutes. And none of the players should be downhearted as we didn't lose, and this result hurts Poland far more than it does England. Southgate's team is still in pole position (if you will pardon the pun) to qualify at the top of the group.