Match Summary
Officials

from Netherlands

Type

Spain Squad

Referee

(black)


Danny Desmond Makkelie
35 (28 January 1983),

Willemstad, Curaçao,

FIFA-listed 2011.
11
Goal Attempts
11
6
Attempts on Target
4
Assistant Referees
0
Hit Bar/Post
0
Mario Diks


41 (26 July 1977)

Hessel Steegstra


40 (27 March 1978).

4
Corner Kicks Won
1
Fourth official
Rov van de Ven, 44 (19 September 1973)



Additional Assistant Referees - Bernie Raymond Blom

, 44 (21 February 1974), Gouda

and, and

Kamphius Jochem

, 34 (11 April 1986), Groningen

3
Offside Calls Against
3
15
Fouls Conceded
9
45%
Possession
55%

England Team
Rank:

FIFA (16 August 2018) 6th
EFO ranking Group One
ELO rating =10th to =12th
Colours:
The Nike 2018 home uniform

-

White v-necked jerseys

with red tri

m on collar, dark blue shorts, white socks.
Capt:
Harry Kane ¹²


12th, W 6 - D 2 - L 4 - F 21 - A 15

Manager:
Gareth Southgate, 48 (3 September 1970), appointed caretaker manager on 27 September 2016, appointed as permanent manager on 30 November 2016.


26th match, W 13 - D 7 - L 6 - F 40 - A 21.

statistically the worst England manager after 26 matches
England Lineup
1
Pickford, Jordan L.
24
185 days
7 March 1994
G
Everton FC
11
11ᵍᵃ
2
Trippier, Kieran J.
27
354 days
19 September 1990
RWB
Tottenham Hotspur FC
14
1
3

Shaw, Luke P.H., injured

(46:30)

, off 53rd min.

(52:38).

23
58 days
12 July 1995
LWB

Manchester United FC

8

0

41st min. after he tripped Carvajal with a late sliding tackle.
4
Gomez, Joseph D.
21
108 days
23 May 1997
LD
Liverpool FC
4
0
5
Stones, John
24
103 days
28 May 1994
CD

Manchester City FC

34

2


66th min. after he cleanly tackles the ball from Rodrigo outside the area.

6
Maguire, J. Harry
25
187 days
5 March 1993
RD
Leicester City FC
13
1
7
Lingard, Jesse E.
25
267 days
15 December 1992
LM
Manchester United FC
19
2
8
Henderson, Jordan B., off 64th min.
28
83 days
17 June 1990
RM

Liverpool FC

45

0


18th min. after he had brought down Marcos Alonso near halfway line.

9
Kane, Harry E.
25
42 days
28 July 1993
LF
Tottenham Hotspur FC
31
19
10

Rashford, Marcus, off 90th+4 min.
20
312 days
31 October 1997
RF
Manchester United FC
26
4

11

Alli, Bamidele J.
22
150 days
11 April 1996
CM
Tottenham Hotspur FC
31
3

England

Substitutes

scoreline:

England 1 Spain 2
15
Rose, Daniel L., on 53rd min.

(52:38)

for Shaw
28
68 days
2 July 1990
LWB

Tottenham Hotspur FC

24

16
0

8
93rd min. after a cynical trip on Daniel Carvajal on the touchline.
17
Dier, Eric J.E., on 64th min.

(63:19)

for Henderson
24
236 days
15 January 1994
M
Tottenham Hotspur FC
33
24
3
9
20
Welbeck, Daniel N.T.M., on 90th

+4

min

(93:05)

for Rashford
27
286 days
26 November 1990
RF
Arsenal FC
41
25
16
16

result:

England 1 Spain 2
unused substitutes:
12-Kyle Walker, 13-Jack Butland, 14-Trent Alexander-Arnold, 16-James Tarkowski, 18-Ruben Loftus-Cheek, 19-Fabian Delph, 21-Alex McCarthy, 22-Marcus Bettinelli.
records:
This is England's first competitive home defeat since Croatia in November 2007, a record run of 24 matches

b

eginning in October 2008.
England have also lost three matches in a row for first time since June 1988.

Manager Gareth Southgate played against Spain during Euro '96, when Luis Enrique was on the bench

.
3-5-2
Pickford -
Maguire, Stones, Gomez -
Trippier, Henderson (Dier), Alli, Lingard, Shaw (Rose) -
Rashford (Welbeck), Kane

Averages

(Starting XI)

:

Age
24

years

169

days

Appearances/Goals

21.5

2.8

Spain Team
Rank:

FIFA (16 August 2018)

9th


EFO ranking Group 3


ELO rating

4th

Colours:
Made by Adidas - Red v-necked jerseys with yellow, blue and red diamond right-sided graphic, yellow Adidas trim on shoulders, white shorts with yellow/red Adidas side trim, black socks with red/yellow Adidas trim.
Capt:
Sergio Ramos
Coach:
Luis Enrique Martínez GarcIacute;a, 48 (8 May 1970), appointed 9 July 2018,
first match, W 1 - D 0 - L 0 - F 2 - A 1.
Spain Lineup
1
de Gea Quintana, David
27
305 days
7 November 1990
G
Manchester United FC, England
34
0
2
Carvajal Ramos, Daniel
26
240 days
11 January 1992

RB

Real Madrid CF

19

0

83rd min. for constantly committing fouls.
4
Nacho
28
233 days
18 January 1990
CD
Real Madrid CF
20
1
15
Ramos

Garcia

, Sergio
32
162 days
30 March 1986
CD
Real Madrid CF
157
13
12
Alonso Mendoza, Marcos, off 87th min.
27
254 days
28 December 1990
LB
Chelsea FC, England
2
0
10
do Nascimento, Thiago Alcántara, off 80th min.
27
150 days
11 April 1991
in San Pietro Vernotico, Italy
RM
FC Bayern München, Germany
32
2
5
Busquets

Burgos,

Sergio
30
54 days
16 July 1988
CM
FC Barcelona
108
2
8

Ñíguez Esclápez, Saúl
23
291 days
21 November 1994
LM
Club Atlético de Madrid
11
1
9


Machado,

Rodrigo Moreno
27
186 days
6 March 1991
in Rio de Janeiro, Brazil
CF
Valencia CF
10
3
17
Aspas Juncal, Iago, off 68th min.
31
38 days
1 August 1987
LF
RC Celta de Vigo
14
6
22
Isco
26
140 days
21 April 1992
RF
Real Madrid CF
33
11
Spain Substitutes

scoreline:

England 1 Spain 2

20
Asensio Willemsen, Marco, on 68th min.

(67:53)

for Aspas
22
230 days
21 January 1996
LF
Real Madrid CF
16
0
19
Roberto Carnicer, Sergi, on 80th min.

(79:08)

for Thiago
26
213 days
7 February 1992
LM
FC Barcelona
4
1
6
Martínez Berridi, Iñigo, on 87th min.

(86:55)

for Alonso
27
114 days
17 May 1991
LB
Athletic Club
7
0

result:

England 1 Spain 2

unused substitutes:
3-Raúl Albiol, 7-Alvaro Morata, 11-Suso, 13-Kepa Arrizabalaga, 14-César Azpilcueta, 16-Rodri, 18-José Gayà, 21-Daniel Ceballos, 23-Pau López.
team notes:

Sergio Ramos is by far, the most experienced player to face England.

New manager Luis Enrique was on the bench for Spain against England and Gareth Southgate in Euro '96. He did start the friendly defeat in February 2001.
4-3-3
de Gea -
Carvajal, Nacho, Ramos, Alonso (Martínez) -
Thiago (Roberto), Busquets, Saúl -
Rodrigo, Aspas (Asensio), Isco

Averages

(Starting XI)

:

Age
28 years 56 days
Appearances/Goals

40.0

3.4

oldest opposition XI in 2018-19
Match Report

by Mike Payne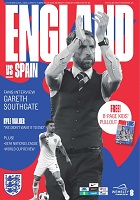 England began their challenge for the newly arranged European Nations League with a home game against a Spanish side that had struggled during the World Cup in Russia through the summer. England had had a good tournament in many ways, although the team had lost their previous two games and they didn't really want to lose three in a row. Spain came with a new manager and plenty of talent, and that was to test England to the full.

The match began at a high tempo and England started well. After just eleven minutes play they took a deserved lead, and what a fine goal it was. Harry Kane picked the ball up inside his own half and sprayed a delightful pass out to the left. Luke Shaw was galloping down the wing and hit a superb crossfield pass into the penalty area towards his Manchester United colleague Marcus Rashford. The young forward didn't hesitate and fired a fine goal past another United teammate David de Gea. It was an excellent goal, well worked, and the crowd were buzzing. However, the excitement lasted barely two minutes, and in that moment the game was probably won and lost.

Spain attacked down the right and this time Shaw was at fault as he dived in too early as Daniel Carvajal skipped past him and down the wing before passing to Machado Rodrigo. He pulled the ball back and there was Niguez Saul to blast the ball past Jordan Pickford. Harry Maguire's desperate lunge couldn't stop the player scoring and it was so infuriating that England conceded so quickly after going ahead. The goal led to a period of dominance from Spain who were quickly showing that they had more than recovered from their miserable World Cup. In Thiago Alcantara they had the game's best midfield player and he controlled proceedings for a while. The pressure from the visitors grew and on the half hour they completed the turnaround by taking the lead.

Kieran Trippier gave away a needless free-kick wide on the left, and when the ball was whipped into the penalty area by Thiago the England defenders stood like statues as Rodrigo nipped in to score with ease. It was a very poor goal to concede from England's point of view and this is something that is increasingly happening, giving away sloppy goals.

To be fair, England then hit back and a few minutes later Rashford headed what seemed a certain equaliser from Jesse Lingard's cross, only for de Gea to produce a wonder save to claw the ball away from goal. It was a magnificent save but if you want to be ultra-critical, then it has to be said that Rashford should have buried the golden chance.

The game continued with the high intensity from both sides but there were few clear opportunities in the remaining time before the break and Spain's lead was still intact as the half-time whistle sounded.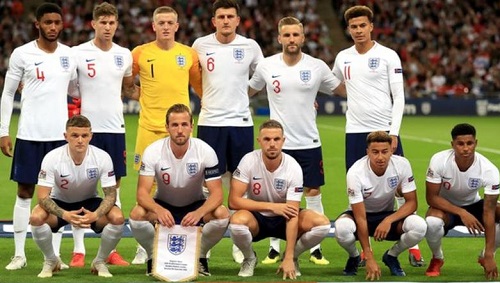 The game was set for a rousing second-half, but sadly that didn't happen, and it was largely down to a sickening incident two minutes after the restart. Shaw and Carvajal went for the same ball and collided leaving Shaw out cold. The medics all rushed on and the crowd fell silent as it looked a very serious injury to the full-back. Shaw had six minutes of treatment before being stretchered off and the player has certainly had his fair share of injuries over recent years, especially when with the England team. Understandably the players from both sides were visibly shaken by the incident and that was reflected in much of the remainder of the half.

England never really threatened and Spain, so comfortable in possession, strolled through the next half-hour without any alarms. It wasn't until the 80th minute that England created another worthwhile goal attempt. Once again Rashford was the man on the spot, and he really should have given de Gea no chance to save as he burst through on goal. Once more though, he fired too close to the keeper and de Gea was able to save with his leg.

I'm not sure if it is me, but when England play we never seem to have the rub of the green in too many games. A last gasp chance to equalise just about summed up what I'm saying.

The ball was lobbed into the middle where substitute Danny Welbeck was looking to make a challenge. Two Spanish defenders held him off, some say unfairly, as de Gea came to collect the high ball. As the goalkeeper clattered into Welbeck he dropped the ball. Welbeck reacted quickly and turned the loose ball over the line for what seemed a late equalising goal. It seemed a perfectly good goal too, there was no foul by Welbeck, and everyone in the stadium saw it as a legitimate goal, except for the one man that mattered, the referee! He gave the non-existent foul and the goal was ruled out. I have never been a fan of those extra officials behind the goals, and this was a perfect excuse to get rid of them once and for all. That official behind de Gea's goal was standing not three feet away from the incident, so how he saw a foul only he could tell us.

Overall Spain probably just about deserved the points, although it could be argued that England could and should have had a draw. Some players are still not firing on all cylinders after the long summer, and there was definitely an element of early season rustiness. Having said that, there were some positives to take from the game, although these silly defensive errors must be banished, especially against teams as good as Spain were. Their new manager was delighted by their all-round performance. Gareth Southgate, conversely, will have lots to ponder before the next few games.


Source Notes
TheFA.com
BBC Sport
RFEF


Mike Payne - football historian and contributor
cg