Rank:

FIFA (20 September 2018) 9th
EFO ranking Group 3
ELO rating 4th
Colours:
Made by Adidas - Red v-necked jerseys with yellow, blue and red diamond right-sided graphic, yellow Adidas trim on shoulders, royal blue shorts with yellow/red Adidas side trim, black socks with red/yellow Adidas trim.
Capt:
Sergio Ramos
Manager:
Luis Enrique Martínez García, 48 (8 May 1970), appointed 9 July 2018,
fourth match, W 3 - D 0 - L 1 - F 14 - A 5.
Spain Lineup
1
de Gea Quintana, David
27
342 days
7 November 1990
G
Manchester United FC, England
37
xᵍᵃ
2
Jonny
24
226 days
3 March 1994
RB
Wolverhampton Wanderers FC, England, on loan from Club Atlético de Madrid
2

0

75th min. after he had stood on Chilwell's ankle as he had kicked the ball away.
4
Nacho
28
270 days
18 January 1990
CD
Real Madrid CF
22
1
15

Ramos

Garcia

, Sergio
32
199 days
30 March 1986
CD
Real Madrid CF

160

16

64th min. after his side were not awarded a penalty following a Pickford tackle.
12
Alonso Mendoza, Marcos
27
291 days
28 December 1990
LB
Chelsea FC, England
3
0
10
do Nascimento, Thiago Alcântara
27
187 days
11 April 1991
in San Pietro Vernotico, Italy
RM
FC Bayern München, Germany
34
2
5
Busquets

Burgos,

Sergio
30
91 days
16 July 1988
CM
FC Barcelona
110
2
6
Ñíguez Esclápez, Saúl, off 57th min.
23
328 days
21 November 1994
LM
Club Atlético de Madrid
14
2

17

Aspas Juncal, Iago, off 57th min
31
75 days
1 August 1987
RF
RC Celta de Vigo
16
6
19

Machado,

Rodrigo M., off 72nd min.
27
223 days
6 March 1991
in Rio de Janeiro, Brazil
CF
Valencia C
13
4
20
Asensio Willemsen, Marco
22
267 days
21 January 1996
LF
Real Madrid CF
18
1

Spain

Substitutes

scoreline:

Spain 0 England 3
9

Alcácer Garcia, Francisco, on 57th min.

(56:01)

for Saúl
25
46 days
30 August 1993
F
BVB Borussia 09 Dortmund, Germany, on loan from FC Barcelona, Spain
15
9
22
Ceballos Fernández, Daniel, on 57th min.

(56:18)

for Iago Aspas
22
69 days
7 August 1996
CM
Real Madrid CF

3

0

87th min. after he brought down the sprinting Marcus Rashford on the halfway line.

scoreline:

Spain 1 England 3
7
Morata Martin, Alvaro B., on 72nd min. (71:59) for Rodrigo
25
357 days
23 October 1992
F
Real Madrid CF

25

13

after the final whistle for remonstrating with the referee for e

nding the

match.

result:

Spain 2 England 3

unused substitutes:
3-Raúl Albiol, 8-Koke, 11-Suso, 13-Kepa Arrizabalaga, 14-César AzpIlićueta, 16-Rodri,18-José Luis Gayà, 21-Marc Bartra, 23-Pau López.
team notes:

Sergio Ramos is again, by far, the most experienced player to face England.

records:

Spain were unbeaten in 38 competitive matches at home (Greece in June 2003), and had never before conceded three in the first half in a competitive matcher.

Manager Luis Enrique was on the bench for Spain against England and Gareth Southgate in Euro '96. He did start the friendly defeat in February 2001.
4-3-3
De Gea -
Jonny, Nacho, Ramos, Alonso -
Thiago, Busquets, Saúl (Alcácer) -
Aspas (Ceballos), Rodrigo (Morata), Asensio

Averages

(Starting XI)

:

Age
27 years 262 days
Appearances/Goals

39.0

3.0
Rank:

FIFA (20 Sept 2018) 6th
EFO ranking Group One
ELO rating 11th to 9th
Colours:
The Nike 2018 home shirt

-

White v-necked jerseys

with red tri

m on collar, white shorts, white socks.
Capt:
Harry Kane

¹²


14th, W 7 - D 3 - L 4 - F 24 - A 17

.

Manager:
Gareth Southgate, 48 (3 September 1970), appointed caretaker manager on 27 September 2016, appointed as permanent manager on 30 November 2016.


29th match, W 15 - D 8 - L 6 - F 44 - A 23.

England Lineup
1
Pickford, Jordan L.
24
222 days
7 March 1994
G
Everton FC
13
13ᵍᵃ
2
Trippier, Kieran J., off 85th min.
28
26 days
19 September 1990
RB
Tottenham Hotspur FC
16
1
3
Chilwell, Benjamin J.
21
252 days
21 December 1996
LB
Leicester City FC
3
0
4
Dier, Eric J.E.
24
298 days
15 January 1994
DM

Tottenham Hotspur FC

36

3

12th min. after he slid in dangerously on Sergio Ramos.
5
Gomez, Joseph D.
21
145 days
23 May 1997
LCD/
LWB
Liverpool FC
5
0
6
Maguire, J. Harry
25


224

days

5 March 1993
RCD

Leicester City FC

16

1

71st min. after his sliding tackle on Ceballos brought the player down.
7
Barkley, Ross, off 76th min.
24
314 days
5 December 1993
LM
Chelsea FC
24
2
8
Winks, Harry B., off 90th+1 min
22
255 days
2 February 1996
RM

Tottenham Hotspur FC

2

0

64th min. after protecting the referee from the Spanish players.
9
Kane, Harry E.
25
79 days
28 July 1993
RF
Tottenham Hotspur FC
34
19
10

Sterling, Raheem S.
23
311 days
8 December 1994
in Kingston, Jamaica
AM
Manchester City FC
46
4
his 2nd goal is the 500th qualification goal scored
11

Rashford, Marcus
20
349 days
31 October 1997
LF
Manchester United FC
29
6
England Substitutes

scoreline:

Spain 1 England 3

12
Walker, Kyle A., on 76th min.

(75:32)

for Barkley
28
140 days
28 May 1990
RWB
Manchester City FC
43
38
0
5
14
Alexander-Arnold, Trent

J.

, on 85th min.

(84:20)

for Trippier
20
8 days
7 October 1998
RB
Liverpool FC
4
3
0
1

88

16
Chalobah, Nathaniel N., on 90th

+1 min (90:13)

for Winks
23
307 days


12 December 1994
in Freetown, Sierra Leone
M


Watford FC
1
0

1237

his 0 mins makes him the least used player

only player from Sierra Leone




36th foreign-born player

fourth Watford player to represent England




first outfield player since John Barnes

(1987)

only app 2018

result:

Spain 2 England 3

unused substitutes:
13-Jack Butland, 15-Lewis Dunk, 17-Mason Mount, 18-James Maddison, 19-Jadon Sancho, 21-Marcus Bettinelli.
team notes:
As well as all the other records belonging to Chalobah, he is also the 25th player to have his England career ended under Southgate.

Manager Gareth Southgate played against Spain during Euro '96, when Luis Enrique was on the bench

.
4-3-3(1-2)


3-5-3 after 76 mins.

Pickford -
Trippier (Alexander-Arnold), Maguire, Gomez, Chilwell -
Winks (Chalobah), Dier, Barkley (Walker) -
Sterling -
Kane, Rashford.

Averages

(Starting XI)

:

Age
23

years

360

days

Appearances/Goals

20.4

3.0

youngest XI in 2018-19
youngest ever XI in NL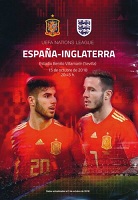 Wow, what a difference a couple of days make! England travelled to Spain in the knowledge that a defeat would be a disaster for their hopes in this European Nations League group. Judging by Spain's home record over the past years and our record in Spain, few would have expected the way things turned out, but goodness me what a night it was.

Spain began strongly, attacking England's young defenders from all angles, and in the first ten minutes there were a number of narrow squeaks. Kieran Trippier made one very timely interception and tackle on Jonny, the Spanish full-back, as he almost got through. Several corners were given away and from one Marcos Alonso's cross-shot hit Jordan Pickford on the head before flying clear. The keeper didn't know much about that one, but then England broke away and Raheem Sterling's cross to the near post was cleared as Harry Kane looked ready to pounce.





Eric Dier was unlucky when a firm (very firm) tackle on Spanish golden boy Sergio Ramos was penalised with a booking from the Polish referee. Dier certainly made his presence felt on Spain's skipper, but there was nothing wrong with the challenge. It was obvious that both sides were determined to grab the three points in this vital match, and the intensity was fierce, to say the least. It was great to see a large and very vocal crowd for this game, a bit different from the morgue-like experience in Croatia.





England gradually settled to their task, but on 16 minutes things changed dramatically as a wonderful counter-attack saw the visitors take the lead with a superb goal. Pickford found Kane just inside his own half with one of the keeper's trademark raking passes. Kane turned and spotted a run down the left by Marcus Rashford and fed him the ball. Rashford looked up and sent a through pass, played to perfection, into the path of Sterling. For a player who hadn't scored an England goal for a while, you would have thought there may be an element of indecision. But Sterling was having none of it, as he side-stepped a defender before drilling a fabulous shot into the far top corner, a goal reminiscent of Michael Owen's against Argentina all those years ago. The crowd were stunned, the England fans were stunned, and the Spanish players looked just a little bit shocked!





When England took the lead in the game against Spain at Wembley earlier in this tournament, they hit back immediately with an equaliser. Here they tried it again but Marco Asensio fired over with his shot. Meanwhile, Ross Barkley so nearly sent Sterling away again, but desperate defending stopped the move, and then Spain rallied to win another corner. England had to defend hard again as Spain tried to respond to the temerity of England scoring a goal against them. How dare they! Ben Chilwell, who had a magnificent game, did well to get the better of Iago Aspas, but almost all of the possession was Spain's and England had to concentrate as they defended their precious lead.

Then, in the 30th minute, another stunning goal by England completely flummoxed the Spanish crowd. Another fabulous clearance by Pickford found Kane battling with a defender. His hold-up play was superb, but his pass to Rashford was even better and this time the Manchester United striker made no mistake as he took his chance to bury his shot past his United teammate David de Gea. The England players celebrated wildly, and quite rightly. What an amazing half-hour it had been. Another classic counter-attack, executed to perfection, England were in dreamland!





Still Spain dominated possession, but who cared? The home side were more than stunned, they were flabbergasted! Their 'flabber' had never been more 'gasted' as Frankie Howerd would have said.





Eight minutes after the second goal the England fans erupted again, as unbelievably their heroes scored a third goal. After a bout of pressure on the Spanish goal the ball ran to Barkley just outside the Spain penalty area. He cleverly spotted Kane's intelligent run and chipped a sublime pass forward. Kane stretched to send the ball across goal and there was the jubilant Sterling to score yet another goal. London Buses!! Three shots, three goals, de Gea must have been fuming.





Not surprisingly, Spain then hit back and Alonso shot wide as they tried to find something before the break. A corner was cleared and another breakaway by England so nearly fashioned another goal as Barkley and Sterling combined. What a half, 3-0 up, and the whole of Spain totally deflated. That will teach the crowd to disrespect our National Anthem before the start!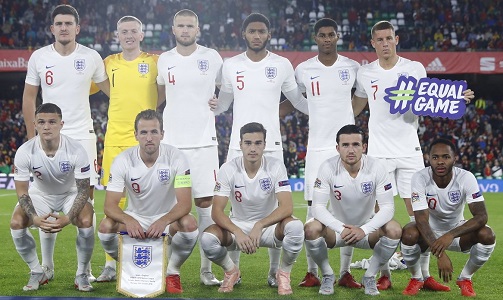 Of course, it was only half-time, and with England we have learned over the years that the game is not over until it's over. Sure enough, Spain came out with a renewed vigour. Urged on by their raucous fans they pushed England back, but the players dug in, showed a wonderful will to work and graft, and they repelled all that Spain threw at them. Spain sent on Francisco Alcacer in the 57th minute and within 60 seconds of coming on the ace goalscorer, currently on loan to Borussia Dortmund, pulled a goal back. England should have defended this better as first Pickford fumbled an easy catch to give away a corner and then from the kick, Kane and Barkley failed to stop Alcacer heading the ball at the near post. The ball looping up and over the goalkeeper to give Spain hope.





Five minutes later, on 63 minutes another incident involving Pickford was probably a turning point. Now, come on, let's face it, England rarely get the rub of the green from referees, but on this occasion the decision went their way. Pickford was pfaffing around with the ball at his feet, getting in a tangle and Rodrigo robbed him. As the two players tussled there was a definite pull of the Spaniard's shirt. Hearts in the mouth time, but the ref saw nothing wrong, and neither did the extra official behind the goalline, who was only a couple of yards away. Pickford ended the incident with a very good tackle to concede just a corner. Phew!





With 70 minutes gone, England's exertions were starting to tell, but the whole team stuck manfully to their task with Rashford, Kane and Sterling all doing their share of the defending needed.





Alonso shot wide, as did Alcacer, but Joe Gomez so nearly set up Rashford for what might have been a clincher. The pace of the game never let up, with ten minutes to go Pickford saved well from Alcacer again, and then Chilwell, magnificent throughout, so nearly set up Kane. A goal for Kane would have been the icing on the cake for England, but no-one can deny what a fine match the skipper had. Asensio had two good late chances, but blew them both, just as the signal went up from the 4th official that there would be seven minutes of added time. SEVEN MINUTES!!





Spain kept going, still believing they could save the match, but the young England Lions stayed remarkably cool under non-stop pressure. With just seconds to go Ramos headed a fine goal, but to all the England fans relief, the referee blew the final whistle before the kick-off could be taken. And that was it. A thrilling and brilliant England performance with every player putting in a superb shift to thoroughly deserve this huge win.





A final word, Spain had never before conceded three goals at home in a competitive match!. They have now!