Rank:

FIFA (7 June 2018) =12th
EFO ranking Group 3
ELO rating 4th
Colours:
The Nike 2018 away shirt - Red v-necked jerseys with a shadowed St. George's flag, red shorts, red socks.
Capt:
Harry Kane ¹²


8th, W 5 - D 2 - L 1 - F 17 - A 9.

Manager:
Gareth Southgate, 47 (3 September 1970), appointed caretaker manager on 27 September 2016, appointed as permanent manager on 30 November 2016.


22nd match, W 12 - D 7 - L 3 - F 36 - A 15.

England Lineup
1
Pickford, Jordan L.
24
118 days
7 March 1994
G
Everton FC
7
5ᵍᵃ
2
Walker, Kyle A., off 113th min.
28
36 days
28 May 1990
RD
Manchester City FC
38
0
6
Maguire, J. Harry
25
120 days
5 March 1993
CD
Leicester City FC
9
0
5
Stones, John
24
36 days
28 May 1994
LD
Manchester City FC
30
2
117th player to reach the 30-app milestone
12
Trippier, Kieran J.
27
287 days
19 September 1990
RWB
Tottenham Hotspur FC
10
0

7

Lingard, Jesse E.
25
200 days
15 December 1992
RAM

Manchester United FC

15

2



69th min. after he pulled back and stood on Carlos Sánchez foot.

8
Henderson, Jordan B.
28
16 days
17 June 1990
CM
Liverpool FC

42


0




56th min.after he flicked his head back into Mina, who was leaning his head into him

20

Alli, Bamidele J., off 81st min.
22
83 days
11 April 1996
LAM
Tottenham Hotspur FC
27
2
18
Young, Ashley

S.

, injured off 102nd min.
33
359 days
9 July 1985
LWB
Manchester United FC
37
7
9
Kane, Harry E.

24


340 days
28 July 1993

RF

Tottenham Hotspur FC
27
19




⁵

the 86th penalty-kick scored

(119)

Kane equals Lineker's WCF record of six goals
10
Sterling, Raheem S., off 88th min
23
207 days
8 December 1994
in Kingston, Jamaica
LF
Manchester City FC
41
2

England

Substitutes

scoreline:

England 1 Colombia 0
4
Dier, Eric J.E., on 81st min.

(80:16)

for Alli
24
173 days
15 January 1994
CM
Tottenham Hotspur FC
29
23
3
6
11
Vardy, Jamie R., on 88th min.

(87:52)

for Sterling
31
174 days
11 January 1987
RF
Leicester City FC
25
13
7
12

scoreline:

England 1 Colombia 1

3
Rose, Daniel L. on 102nd min. (101:40) for Young
28
1 dy
2 July 1990
LWB
Tottenham Hotspur FC
21
15
0
6

scoreline:

England 1 Colombia 1

AET sub

19
Rashford, Marcus, on 113th

(112:31)

for Walker
20
249 days
31 October 1997
LF
Manchester United FC
22
9
3
13

result:

England 1 Colombia 1
unused substitutes:
13-Jack Butland, 14-Danny Welbeck, 15-Gary Cahill, 16-Phil Jones, 21-Ruben Loftus-Cheek, 22-Trent Alexander-Arnold, 23-Nick Pope.
penalty notes:
This is only the second occasion that England have scored four penalty-kicks in a season. The first time since Geoff Hurst scored all four in 1968-69.
Manager Gareth Southgate was an unused sub against Colombia in the World Cup Finals match in June 1998.
3-5-2
Pickford -
Walker (Rashford), Maguire, Stones -
Trippier, Lingard, Henderson, Alli (Dier), Young (Rose) -
Kane, Sterling (Vardy).

Averages

(Starting XI)

:

Age
26 years 33 days
Appearances/Goals

25.9

3.0
Rank:

FIFA (7 June 2018)

16th


EFO ranking Group 2


ELO rating

10th

Colours:
Made by Adidas - Yellow jerseys with red/blue side chest panels and navy adidas shoulder trim, white shorts with navy adidas side trim, white socks with navy adidas trim.
Capt:
Radamel Falcao
Coach:
José Néstor Pékerman Krimen, 68 (3 September 1949 in Argentina), appointed January 2012.
77th match, W42 - D 20 - L 15 - F ? A ?
Colombia Lineup
1
Ospina Ramírez, David
29
310 days
31 August 1988
G
Arsenal FC, England
90
0
4
Arias Naranjo, Santiago, off 116th min.
26
175 days
13 January 1992
RB

Philips Sport Vereniging, Netherlands


45


0

52nd min. after he leapt in the air with Kane and elbowed him in the back.
13

Mina González, Yerry F.
23
287 days
23 September 1994
CD
FC Barcelona, Spain
15
6
23
Sánchez Mina, Davinson, off 61st min.
22
25 days
12 June 1996
CD
Tottenham Hotspur FC, England
13
0
17
Mojica Palacio, Johan A.
26
320 days
21 August 1991
LB
Girona FC, Spain
8
1
5
Barrios Terán, Wilmar E.
24
264 days
16 October 1993
RM

CA Boca Juniors, Argentina

13

0

41st min. after the VAR witnessed him hit Henderson's jaw with his head.
6
Sánchez Moreno, Carlos Alberto, off 79th min.
32
151 days
6 February 1986
CM
ACF Fiorentina, Italy

88

0

54th min. fter he climbed over the back of Harry Kane to bring him down.

P

ENALTY

16
Lerma Solís, Jefferson A.
23
255 days
25 October 1994
LM
Levante UD, Spain
9
0
11

Cuadrado Bello, Juan G.
30
42 days
26 May 1988
RAM
Juventus FC, Italy


74


8


118th min. after an unnecessary sliding tackle on Danny Rose on the touchline
9
García Zárate, Radamel Falcao
32
147 days
10 February 1986
CF
AC Monaco FC, France

77

30
most gls
63rd min. after he screamed at the referee for not punishing Maguire after he fell.
20
Quintero Paniagua, Juan Fernando, off 88th min.
25
170 days
18 January 1993
LAM
FC do Porto, Portugal
19
3
Colombia Substitutes

scoreline:

England 1 Colombia 0

7
Bacca Ahumada, Carlos A., on 61st min. for D.Sánchez
31
302 days
8 September 1986
F
AC Milan, Italy


48
14
64th min. after he elbowed John Stones after he had passed the ball to Walker
15
Uribe Villa, A.Mateus, on 79th min

. (78:02)

for C.Sánchez
27
108 days
21 March 1991
M
CF América SA de CV, Mexico
11
0
14
Muriel Fruto, Luis F., on 88th min.

(87:37)

for Quintero
27
82 days
16 April 1991
F
Sevilla FC, Spain
20
2

scoreline:

England 1 Colombia 1

AET sub

2
Zapata Valencia, Cristián E., on 116th min

. (115:15)

for Arias
31
280 days
30 September 1986
CD
AC Milan, Italy
56
2

result:

England 1 Colombia 1

unused substitutes:
3-Óscar Murillo, 8-Abel Aguilar, 12-Camilo Vargas, 18-Farid Díaz, 19-Miguel Borja, 21-José Izquierdo, 22-José Fernando Cuadrado.
Coach Joseé Pékerman was in charge of Argentina when they faced England in the dramatic friendly in November 2005.
4-3-2-1
Ospina -
Arias (Zapata), Mina, D.Sánchez (Bacca), Mojica -
Barrios, C.Sánchez (Uribe), Lerma -
Cuadrado, Quintero (Muriel) -
Falcoa

Averages

(Starting XI)

:

Age
27 years 31 days
Appearances/Goals

41.0

4.3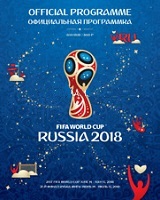 Where do I start? At last! England win a World Cup finals match on penalties! It should never have come to that but the England players showed huge character and resilience, under some of the worst provocation seen in an England international match. Justice was finally seen to be done, but boy did we, the fans, go through the ringer before the match was won.

Once again England began brightly and in the first 15 minutes they had the Colombians rattled with a series of good, positive attacks. On four minutes a free-kick was hacked away by the hard pressed Colombian defenders and then a great move down the right ended with a cross by Deli Alli, back in the side after injury. Harry Kane was at the far post but the cross was a fraction too high and Kane's header looped on to the top of the net. Already it was pretty obvious what sort of tactics Colombia were going to employ, falling down at the slightest contact from an England player, and then tackling very unfairly at times. They did have periods of possession but England held firm and Jordan Pickford only had one shot to save throughout the first half.

On 20 minutes came the game's first contentious incident. Raheem Sterling, lively throughout, and a Colombian defender went for a ball that was heading out, but a blatant two-handed push by the defender went totally unpunished when surely it had to be a penalty?

Colombia, a good team, if only they would learn to concentrate on their football instead of diving, fouling, arguing with every decision, and surrounding the referee on numerous occasions with their protests. Luckily England held their nerve and their tempers, but by goodness, it must have been hard for them. Harry Maguire, outstanding for England, so nearly had a chance only to be denied by a brilliant clearing header by the Spurs defender Davinson Sanchez. At this point, with half an hour gone, the game was delicately poised and fairly even.

Juan Fernando Quintero had a chance when England were caught out by a quick throw-in, but his shot went well wide. Kieran Trippier, an absolute star of this tournament, almost found Kane with a long ball before, on 38 minutes all hell broke loose. Kane was fouled on the edge of the box and once again the ref was surrounded by protesting Colombians. England, meanwhile, tried to set themselves up for the free-kick only for Wilmar Barrios to headbutt Jordan Henderson! It was so blatant and surely a red card? The referee 'didn't see it' but he obviously had a message on his ear-piece, alerting him to the foul, but for some unexplained reason Barrios got away with a yellow card. It was one of the worst decisions seen in this tournament so far. To make matters worse Barrios was to have several 'lives' in the second half too, and could easily have received a second yellow for bad fouls on at least three other occasions. It was so frustrating to watch. eventually, after what seemed like an hour of delaying tactics, Trippier curled the free-kick just wide.

Quintero saw a shot saved easily by Pickford before half-time and then Jesse Lingard had a chance when the ball bobbed up for a volley. He couldn't quite keep it down and it flew over. That was probably England's best chance of the half. There had been no really clear-cut chances at either end though and the half was dominated by the downright skulduggery of Colombia and the disciplined performance by England.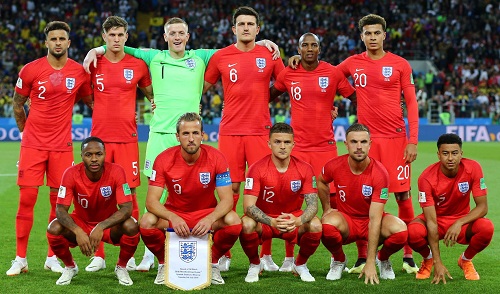 The referee had obviously had thoughts during the break and a few minutes after the restart he booked Santiago Arias for yet another foul on Kane. Sanchez again headed away as Maguire attacked and from the corner England took the lead. England prepared for another of their corner routines and as the centre came over, Kane ran round to try and get to it. But, instead, yet again he was wrestled to the floor with all the subtlety of a sledgehammer by Carlos Alberto Sanchez. Why do they do it? And right under the referee's nose too. This time he had no option but to give a penalty. Cue mass hysteria by the Colombians. How the referee didn't brandish a few red cards at that moment I don't know. It was awful. During the following four or five minutes of protest one of the Colombians purposely scuffed up the penalty spot for all he was worth. Again, where was the red card? One could only imagine that the VAR people must have gone home!

The coolest man on the pitch was Harry Kane, and eventually, after what seemed an age, he was able to put the ball down on the damaged spot. It made no difference and as David Ospina dived to his right, Kane struck the ball down the middle. Was there ever a more deserved goal in an England football match. Now all we had to do was hold on to our lead.

The shenanigans continued as Sanchez, Arias and Radamel Falcao were all booked, but the ref had obviously decided to punish every misdemeanour by now and both Henderson and Lingard also received yellow cards for fouls. The England fans were desperate for a second goal to put the game to bed but despite some good moves and near misses it wouldn't come. Falcao forced a good save from Pickford but apart from that the defenders, with Stones, Walker and Maguire outstanding on the night, held firm. Kane was fouled for the umpteenth time, Maguire headed over and Lingard went close with another effort. Barrios continued to push his luck with foul after foul and there was a scare for England on 81 minutes when substitute Eric Dier sold Walker short with a pass and Juan Cuadrado was left with a clear chance. Thankfully he shot over the bar from a great position. A warning for England though.

Jamie Vardy came on for Sterling and the board went up indicating five extra minutes. The England fans hearts were pounding and when a corner was awarded to Colombia in the 93rd minute we all feared the worse. Alas, those fears were realised when the giant Yerri Mina, who, to be fair, had a terrific game, headed down and the ball bounced high and over the despairing leap by Trippier on the line. What an absolute sickener that goal was, and so undeserved too.

Extra time was now a certainty and so it proved. I must confess that this reporter was so distraught that he wrote very little from then on. The first half of the added period saw England continue to defend well, but Colombia having the edge, and the second period saw England come back strongly, almost scoring with two fine efforts. First Danny Rose, on for Ashley Young, ran into the box, his shot beat Ospina but just cleared the far post. Oh, how I wish that had gone in. Then, with seconds left Dier missed a great chance with a free header which flew over. For the 1,000th time during the game I held my head in despair! Penalties, and we all know what that means in an England World Cup match. I must be honest with you as I couldn't watch the spot-kicks and went and made a cup of tea, strong tea! A few minutes later my daughter rang me to ask if I was okay? No, I said, until she told me we had won!!!!!!!!!!!!! YAAY!! I have since watched the penalties and Pickford's save was superb, Mateus Uribe's shot was magnificent and Eric the Dier, I take my hat off to you. GET IN!!

Right, calming down again, this was one of the most memorable matches I have ever reported on for England. Not always for the right reasons, but in the end justice was done and I have never felt more pleased for an England side who so deserved this victory. England had a lot of heroes on the night so well done to everyone involved, but please, against Sweden, score five early on again and save us all this heartache.
COME ON ENGLAND!