Match Summary
Officials

from Germany

England Squad

Type

Slovenia Squad

Referee

(pink)




Felix Zwayer




36, (19 May 1981), West Berlin, FIFA-listed 2012.

17
Goal Attempts
6
5
Attempts on Target
2
Assistant Referees
0
Hit Bar/Post
0
Thorsten Schiffner


42 (14 May 1975), Konstanz

Marco Achmüller
37 (17 October 1979), Bad Füssing
10
Corner Kicks Won
4
Fourth official
Christian Dingert


37 (14 July 1980), Lebecksmühle, FIFA-listed 2013.



UEFA Delegate - Petr Fousek, Czech Republic
Referee Observer - Guy Goethals, Belgium
3
Offside Calls Against
2
11
Fouls Conceded
17
65%
Possession
35%

England Team
Rank:

FIFA (14 Sept 2017) 15th
EFO ranking Group 4
ELO rating 9th
Colours:
The Nike 2016 home uniform

-

White v-necked jerseys with light blue sleeves

and ice blue collared tri

m/side stripe and white cuffs, white shorts with ice blue side trim, red socks.
Capt:
Harry Kane ⁴


third, W 1 - D 1 - L 1 - F 5 - A 5.

Manager:
Gareth Southgate, 47 (3 September 1970), appointed caretaker manager on 27 September 2016, appointed as permanent manager on 30 November 2016.


eleventh match, W 6 - D 3 - L 2 - F 20 - A 9.

England Lineup
1

Hart,

C.

Joseph

J.

30
169 days
19 April 1987
G
West Ham United FC, on loan from Manchester City FC
74
48ᵍᵃ
2

Walker, Kyle A.
27
130 days
28 May 1990
RB
Manchester City FC
30
0

the 115th/116th player to reach the 30-app milestone

3
Bertrand, Ryan D.
28
61 days
5 August 1989
LB
Southampton FC
17
1
4
Dier, Eric J.E.
23
263 days
15 January 1994
LDM
Tottenham Hotspur FC
21
3
5
Cahill, Gary J.
31
290 days
19 December 1985
RCD
Chelsea FC
58
4
6
Stones, John

23


130 days
28 May 1994
LCD
Manchester City FC
19
0

44th min.

after bringing down Miha Mevlja after he overran the ball.

7

Sterling, Raheem S., off 85th min.
22
301 days
8 December 1994
in Kingston, Jamaica
AM
Manchester City FC
35
2
8
Henderson, Jordan B.
27
110 days
17 June 1990
RDM
Liverpool FC
35
0
9
Kane, Harry E.
24
69 days
28 July 1993
CF
Tottenham Hotspur FC
22
11

the 600th goal scored at Wembley Stadium

10
Rashford, Marcus
19
339 days
31 October 1997
LAM
Manchester United FC
12
2

11

Oxlade-Chamberlain, Alexander M.D., off 63rd min.
24
51 days
15 August 1993
RAM
Liverpool FC
30
6

the 115th/116th player to reach the 30-app milestone

England

Substitutes
22
Lingard, Jesse E., on 63rd min.

(62:58)

for Oxlade-Chamberlain
24
294 days
15 December 1992
RM
Manchester United FC
5
3
0
2
16
Keane, Michael V., on 85th min.

(84:14)

for Sterling
24
267 days
11 January 1993
CD
Everton FC
3
2
0

the 67th Everton player to represent England

1

result:

England 1 Slovenia 0
unused substitutes:
12-Chris Smalling, 13-Jack Butland, 14-Kieran Trippier, 15-Harry Maguire, 17-Aaron Cresswell, 18-Jermain Defoe, 19-Jake Livermore, 20-Daniel Sturridge, 21-Harry Winks, 23-Jordan Pickford.
team notes:
Alex Oxlade-Chamberlain's father, Mark Chamberlain, also played for England (1982-84).

stadium records:

This is a record ninth consecutive World Cup victory at the Stadium, starting back in October 2012.

records

:
England qualify for the World Cup Finals with a game to spare.
England have now gone 38 qualification matches unbeaten (W29 D9).
They are also unbeaten in a record 24 competitive home matches (beginning October 2008).
Joe Hart has now appeared in 36 of England's 56 home matches at the National Stadium, equal with Wayne Rooney.
4-2-3-1
Hart -
Walker, Stones, Cahill, Bertrand -
Henderson, Dier -
Oxlade-Chamberlain (Lingard), Sterling (Keane), Rashford -
Kane

Averages

(Starting XI)

:

Age
25 years 275 days
Appearances/Goals

32.1

2.5

most experienced XI in 2017-18

Slovenia Team
Rank:

FIFA (14 Sept 2017) 55th
EFO ranking n/a
ELO rating

52nd

Colours:
Made by Nike - Upper dark green v-necked jerseys with Mount Triglav graphic above a light green netting pattern and dark green side stripe, light green shorts with dark green side stripe, light green socks.
Capt:
Boštjan Cesar
Manager:
Srečko Katanec, 54 (16 July 1963 in Yugoslavia), appointed 31 December 2012, took charge 4 January 2013.
41st match, W 16 - D 6 - L 19 -
Slovenia Lineup
1
Oblak, Jan
24
271 days
7 January 1993
G
Club Atlético de Madrid, Spain
17

10ᵍᵃ

23
Struna, Aljaž

27


62 days
4 August 1990
RB
US Città di Palermo, Italy

8

0

86th min. after he was pulling the shirt of Jesse Lingard and holding him back
17
Mevlja, Miha

27


115 days
12 June 1990
CD
FC Zenit, Russia

8

1

45th+1 min. after he brought down Marcus Rashford as he was sprinting past him.
5
Cesar, Boštjan

35


88 days
9 July 1982
CD
AC Chievo Verona, Italy
99
10
mst apps
13
Jokić, Bojan

31


141 days
17 May 1986
LB
FC Ufa, Russia
86
1
14
Bezjak, Roman, off 73rd min.

28


226 days
21 February 1989
RM
SV Darmstadt 1898, Germany
18
1
6
Krhin, Rene

27


137 days
21 May 1990
CM
FC de Nantes, France, on loan from Granada CF, Spain

34

2

38th min. for scraping down the back of Jordan Henderson's legs. S

USPENDED

18
Rotman, Rajko, off 79th min.

28


203 days
16 March 1989
CM
Göztepe SK, Turkey

11

0

51st min. after he brought down Sterling from behind, outside the centre-circle.
21
Verbič, Benjamin

23


312 days
27 November 1993
LM
FC København, Denmark
14
2
7
Iličić, Josip

29


249 days
29 January 1988
in Prijedor, Yugoslavia
AM
Atalanta Bergamasca Calcio, Italy
49
5
11
Šporar, Andraž, off 55th min.

23


220 days
27 Febraury 1994
CF
DSC Arminia Bielefeld, Germany, on loan from FC Basel 1893, Switzerland
4
0
Slovenia Substitutes
10
Birsa, Valter, on 55th min.

(54:48)

for Šporar

31


59 days
7 August 1986
M
AC Chievo Verona, Italy
88
7
96th min. for a late tackle on Henderson after he cleared the ball away. S

USPENDED.

19
Repas, Jan, on 73rd min.

(72:26)

for Bezjak

20


200 days
19 March 1997
M
Stade Malherbe Caen
2
0
9
Matavž, Tim, on 79th min.

(78:37)

for Rotman

28


265 days
13 January 1989
F
Stichting Betaald Voetbal Vitesse, Netherlands
34
10

result:

England 1 Slovenia 0

unused substitutes:
2-Nejc Skubic, 3-Mitja Viler, 4-Matija Širok, 8-Jasmin Kurtić, 12-Vid Belec, 15-Antonio Mlinar Delamea, 16-Jan Koprivec, 20-Damjan Bohar, 22-Amedej Vetrih.
team notes:
right-back Aljaž Struna is the younger brother of Andraž, who was a member of the 2014-15 campaign.
Coach Srečko Katanec played twice against England for Yugoslavia, in November 1986 and November 1987, scoring their only goal in the second match. He also managed FYR Macedonia in the 2006 matches against England.
4-4-1-1
Oblak -
Struna, Mevlja, Cesar, Jokić -
Bezjak (Repas), Krhin, Rotman (Matavž), Verbič -
Iličić -
Šporar (Birsa)

Averages

(Starting XI)

:

Age
27 years 352 days
Appearances/Goals

31.6

2.1
Match Report by Mike Payne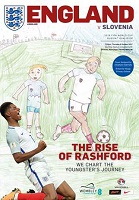 After some stuttering and unconvincing performances of late, England had more than the one task to achieve against Slovenia. The first, of course, was to gain the three points that would guarantee their passage to the World Cup finals in Russia next year. The second was to produce a more convincing display to satisfy the fans and pundits watching. In the end one out of the two was just about acceptable.

This was a game of few chances, and very little football that warmed the soul. England did begin brightly and both Marcus Rashford and Raheem Sterling looked lively as they attacked the box. In the first five minutes England forced several corners but created very little from them. Indeed, from one England corner, Slovenia actually broke away quickly and Joe Hart had to move swiftly off his line to stop Josip Illicic. In fact Hart did clip the forward's foot but the referee gave nothing. At the other end Harry Kane's first action saw him shoot at goal but Jan Oblak easily saved. On the quarter hour Kyle Walker's careless header almost led to an attack for the visitors but his fellow defenders managed to avert the danger.

The game had settled into a pattern of easy, unchallenged possession for England, and they passed the ball across the back four, and back to the goalkeeper on countless occasions. That is something that infuriates many in the crowd, who realise that patience is a virtue but hope against hope that someone will pass the ball forward occasionally. In our Premier League, the object of the exercise is to get the ball into the danger areas and work goalscoring opportunities. Why, therefore, do we not do that at International level?

On 19 minutes it was Slovenia who missed a golden chance as they broke away swiftly. A cross from the left was met by Andraz Sporar, and he really should have done better from a central position. Luckily for England he made no real contact and it was a let-off for the home side. Seven minutes later England had their best chance to date as Henderson cut into the box and tried to curl his shot around Oblak, but the keeper did well to turn the ball round a post for a corner. That was good to see from England's point of view, the first bit of positive play and it almost brought a goal.

At this point it was noted that England had 75% of the possession, but about 75% of that was in their own half! On 35 minutes Sterling was fouled on the edge of the box, a free-kick perfectly set up for either Kane or Rashford to take. But to everyone's amazement the kick was entrusted to Walker of all people. Needless to say the ball ended up in the crowd from his woeful kick. It is fair to say that it might be a while before he takes another kick from that sort of position. Before half-time, John Stones was booked for a late challenge and then Miha Mevlja also went into the referee's notebook after a cynical challenge on Rashford. The Manchester United youngster had been the one bright spark of a disappointing half for England and right on the whistle his dangerous near post cross was flicked just over by Gary Cahill. It was difficult to analyse England's performance during the break, each player had worked hard, each player had done their job, but something was missing, something to spark the crowd.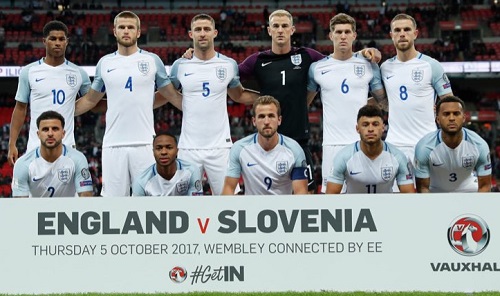 Two minutes after the restart a deep cross to the far post saw Bojan Jokic unmarked to head back towards goal for Slovenia. The ball struck Alex Oxlade-Chamberlain's arm as the ball landed, eventually, in Hart's arms. The game meandered along for a while with nothing to report and then on 59 minutes Walker, again, was at fault. Hart's throw out was not good but Walker's attempted header inside only found substitute Valter Birsa, and he could and should have done better with a clear chance. Four minutes later and England also had a clear chance to break the deadlock. Sterling gained possession on the halfway line and sprinted away. He passed the ball to Rashford on his left, but this time the young striker tried to be just a little too clever in trying to chip the keeper. Unfortunately there was not enough power in his chip and a defender had ample time to clear the danger.

Two minutes later though, England forged their best chance so far. Rashford's fine pass down the left sent Ryan Bertrand away and when the cross came in the ball deflected to the onrushing Sterling who seemed certain to score. He hit his shot well enough but somehow Bostjan Cesar managed to deflect the ball wide of goal. It was an amazing piece of defending and Sterling held his head in disbelief.

Jesse Lingard was then sent on for the ineffective and out of form Oxlade-Chamberlain, and the substitute was soon in the action. Rashford and Sterling then combined for Kane to shoot narrowly wide of the far post. These chances make it sound exciting but in between times there was a great deal of slow, across the park passing, and the game was anything but exciting. Stones, already booked, had an altercation with two Slovenian defenders, and the visitors had been organised and disciplined in their defending, largely frustrating England. With ten minutes left Lingard went close, and then Hart had to save well from another substitute Tim Matavz. Michael Keane came on for Sterling, in what was a strange substitution, from an attacking point of view, and following one England free-kick given in the Slovenia half, the ball went all the way back to Hart. There was an audible groan from the England fans when six minutes were shown to be added, but as it turned out those groans turned to cheers three minutes into that added time.

Walker tried a low shot, which was easily saved, but the goalkeeper's throw out was then intercepted by Walker and the Manchester City full-back finally managed his best piece of work with a terrific low cross to the near post. Kane, as ever, anticipated the move and nipped in front of the defender to toe-poke the ball home. Oblak managed to get something on the shot but not enough to prevent it trickling over the line for Kane's 11th goal in an England shirt. The goal gave England their right to visit Russia next summer and that is something that everyone will be pleased with. It goes without saying though that England will have to play much better than this if they want to do anything in the World Cup finals.


Source Notes
TheFA.com
BBC Sport
UEFA.com
NZS.si



Mike Payne - football historian and contributor
cg