Match Summary
Officials

from Turkey

England Squad

Type

Scotland Squad
Referee (yellow) -

Cüneyt Çakır




39 (23 November 1976), İstanbul, FIFA-listed 2006.

Assistant Referees - Bahattin Duran, 41 (26 September 1975), İstanbul and Tarik Ongun, 43 (3 February 1973), İstanbul.
Fourth official - Hüseyin Göçek, 40 (30 November 1976), İstanbul, FIFA-listed 2008.

UEFA Referee Observer - Matteo Simone Trefoloni, Italy
FIFA Match Commissioner - David Griffiths, Wales

Wreaths were laid, a minutes silence was observed and the last post played by Brian Rutt. Both teams wore black armbands bearing poppies.

4
Goal Attempts
9
3
Attempts on Target
2
0
Hit Bar/Post
0
4
Corner Kicks Won
3
2
Offside Calls Against
3
12
Fouls Conceded
18
64%
Possession
36%

England Team
Rank:

FIFA (20 October 2016) 12th
EFO ranking Group 4
ELO rating 11th
Colours:
The Nike 2016 home uniform

-

White v-necked jerseys with light blue sleeves and ice blue collared tri

m/side stripe and white cuffs, white shorts with ice blue side trim, red socks.
Capt:
Wayne Rooney
(

22nd & final

captaincy (1

4)

)
Caretaker Manager:
Gareth Southgate, 46 (3 September 1970), appointed caretaker manager on 27 September 2016.
third match, W 2 - D 1 - L 0 - F 5 - A 0.
England Lineup
1

Hart,

C.

Joseph

J.

29
206 days
19 April 1987
G
Torino FC, Italy,
on loan from Manchester City FC
67
44ᵍᵃ
2

Walker, Kyle A.
26
167 days
28 May 1990
RB
Tottenham Hotspur FC
23
0
3

Rose, Daniel L.
26
132 days
2 July 1990
LB
Tottenham Hotspur FC
11
0
4
Dier, Eric J.E.
22
301 days
15 January 1994
RDM
Tottenham Hotspur FC
14
2
5
Cahill, Gary J.
30
328 days
19 December 1985
RCD
Chelsea FC

51

4

20th min. after he pulled back James Forrest after losing the ball to him.

S

USPENDED

6
Stones, John
22
167 days
28 May 1994
LCD
Manchester City FC
14
0

7

Sterling, Raheem S.
21
339 days
8 December 1994
in Kingston, Jamaica
RAM
Manchester City FC
28
2

8

Henderson, Jordan B.
26
147 days
17 June 1990
LDM
Liverpool FC
31
1
9
Sturridge, Daniel A., off 75th min.
27
71 days
1 September 1989
CF
Liverpool FC
25
8
10

Rooney, Wayne M.
31
18 days
24 October 1985
AM

Manchester United FC

119

52
91st min. after he tripped up Leigh Griffiths in the England half.
most gls

11

Lallana, Adam D.
28
185 days
10 May 1988
LAM
Liverpool FC
28
2

200th England goal scored against Scotland

England

Substitutes

scoreline:

England 3 Scotland 0
19
Vardy, Jamie R., on 75th min.

(74:03) f

or Sturridge
29
305 days
11 January 1987
CF
Leicester City FC
13
6
4
7

result:

England 3 Scotland 0
unused substitutes:
12-Nathaniel Clyne, 13-Tom Heaton, 14-Theo Walcott, 15-Phil Jagielka, 16-Ryan Bertrand, 17-Andros Townsend, 18-Harry Kane, 20-Marcus Rashford, 21-Jack Wilshere, 22-Jesse Lingard, 23-Jordan Pickford.
team notes:
Wayne Rooney extends his tally as England outfield player with the most appearances. He also extends his record of playing in 36 of England's 52 home matches at the National Stadium.
stadium records:
This is the sixth consecutive World Cup victory at the Stadium, starting back in October 2012, beating the previous record of five set in 1966, 1976-80 and 2008-09.
records:
England have now gone 33 qualification matches unbeaten (W25 D8).
They are also unbeaten in a record 21 competitive home matches (beginning October 2008).
They have scored three or more goals in three consecutive games against Scotland for the first time.
Caretaker manager Gareth Southgate played against Scotland during Euro '96. In the two-legged play-off matches for a place in the 2000 European Championship Finals, Southgate was an unused substitute in the first match and started and finished the second match.
4-2-3-1
Hart -
Walker, Cahill, Stones, Rose -
Dier, Henderson -
Sterling, Rooney, Lallana -
Sturridge (Vardy)

Averages

(Starting XI)

:

Age
26 years 255 days
Appearances/Goals

37.4

6.2

most experienced starting XI in 2016-17

Scotland Team
Rank:

FIFA (20 October 2016) 57th
EFO ranking n/a
ELO rating 46th
Colours:
Made by Adidas - Pink crew necked jersey with black collar and shoulder panels with pink Adidas trim, black shorts with pink Adidas side trim and black socks with pink Adidas trim.
Capt:
Darren Fletcher
Manager:
Gordon David Strachan, 59 (9 February 1957), appointed manager 15 January 2013
33rd match, W 15 - D 6 - L 12 - F 46 - A 39.
Scotland Lineup
1
Gordon, Craig A.
33
316 days
31 December 1982
G
The Celtic FC
45
0
2
Anya, Ikecha, injured off 79th min.
28
288 days
28 January 1988
RB
Derby County FC, England
24
3
3
Wallace, Lee
29
102 days
1 August 1987
LB
Rangers FC
9
0
4
Berra, Christophe D.
31
285 days
31 January 1985
CD
Ipswich Town FC

, England

34
3
5
Hanley, Grant C.
25
357 days
20 November 1991
CD
Newcastle United FC, England
27
1
6
Forrest, James
25
127 days
7 July 1991
LAM
The Celtic FC
16
0
7
Fletcher, Darren B.
32
284 days
1 February 1984
RM
West Bromwich Albion FC, England
77
5
8
Brown, Scott
31
139 days
25 June 1985
LM
The Celtic FC
51
4
9
Griffiths, Leigh
26
83 days
20 August 1990
CF

The Celtic FC

10

0

56th min. after tripping up Danny Rose as he was about to sprint away
10
Snodgrass, Robert, off 82nd min.
29
65 days
7 September 1987
RAM
Hull City AFC, England
21
6
11
Morrison, James C., off 66th min.
30
170 days
25 May 1986
in Darlington, England
AM
West Bromwich Albion FC, England
42
3
Scotland Substitutes
scoreline: England 3 Scotland 0
17
McArthur, James, on 66th min.

(65:46)

for Morrison
29
35 days
7 October 1987
AM
Crystal Palace FC, England
27
3
23
Paterson, Callum, on 79th min.

(78:27)

for Anya
22
29 days
13 October 1994
in London, England
RB
Heart of Midlothian FC
5
0
20
Ritchie, Matthew T., on 82nd min.

(81:35)

for Snodgrass
27
62 days
10 September 1989
in Gosport, England
M
Newcastle United FC, England
14
3
result: England 3 Scotland 0
unused substitutes:
12-David Marshall, 13-Russell Martin, 14-Chris Martin, 15-Steve Naismith, 16-Steven Fletcher, 18-Barry Bannan, 19-Oliver Burke, 21-Jack Hamilton, 22-Stephen Kingsley.
team notes:
Ikecha Anya was injured in an innocuous challenge with Jamie Vardy on the six-yard line on 76:33. He collapsed shortly after and replaced after treatment.
Manager Gordon Strachan played four times against England, in 1980 and 1983-85.
4-5(2-3)-1
Gordon -
Anya (Paterson), Hanley, Berra, Wallace -
D.Fletcher, Brown -
Snodgrass (Ritchie), Morrison (McArthur), Forrest -
Griffiths

Averages

(Starting XI)

:

Age
29 years 171 days
Appearances/Goals

32.9

2.3
Match Report by Mike Payne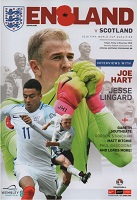 England were off to a sluggish start when Scotland came to Wembley for this World Cup qualifier, and they were almost made to pay when James Forrest should have done better with an early chance. Joe Hart easily saved that effort but England continued to look nervous, especially when Robert Snodgrass curled in a couple of wicked free-kicks in the first ten minutes. Surely they would have realised that Scotland would be really up for this match, but they were slow to react to the normal Scottish front-foot start. Gradually though, over the next ten minutes, England began to find their feet a little more.





Raheem Sterling was a livewire and when he went down in the box England appealed for a penalty but the excellent Turkish referee, quite rightly, was having none of it. Forrest did foul Sterling outside the box shortly afterwards and Wayne Rooney's free-kick was deflected for a corner, which was cleared. England were looking a little better by now but when they took the lead after 24 minutes, it was slightly against the general run of play. It was a good goal though as a surging run from Danny Rose saw his shot deflected and the ball ran free to his full-back partner, Kyle Walker. Walker fired in a terrific cross at just the right height and there was Daniel Sturridge to guide a perfect header wide of the helpless Craig Gordon in the Scottish goal. It was a goal out of the blue, and England's first real threatening foray forward.





Scotland were stunned but they came back strongly with Leigh Griffiths seeing his shot blocked by John Stones and then, from a corner, England left Grant Hanley completely unmarked and the big central defender held his head in his hands as his awful free header sailed high over the bar. That was a let-off for England and Hart made sure of his feelings to his fellow defenders over their lack of marking. Three minutes later Scotland had another golden chance. Stones thought he had been fouled but the referee waved play on and Griffiths had a clear run at goal with an unmarked Snodgrass to his left. Unfortunately for the Scots, Griffiths took the wrong option and shot at goal, giving Hart an easy save. Snodgrass was as angry with his teammate as Hart had been earlier with his!





Darren Fletcher shot over from 20 yards and the pressing game employed by Gordon Strachan's team was certainly putting pressure on Gary Cahill and Stones. But as the half drew to a close it was England who created chances, first when Rose was seemingly tripped by Snodgrass in the area, again with no response from the referee, and then when a fine move down the left ended when Rooney's pass inside was just kept out by desperate Scottish defending. Scotland had probably edged the half, but there was no finish in the final third and Hart was not stretched too often. England, meanwhile, had tried to carry out Gareth Southgate's pre-match wish for patience and composure, but several players were a little under par.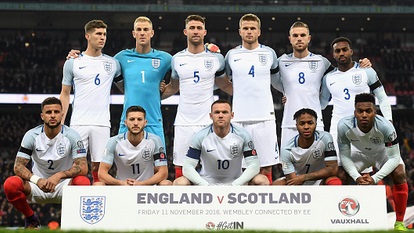 With Scotland 1-0 down, it was pretty obvious that the visitors would come out with all guns blazing, obvious that is to everyone except the England defenders, who again made a very lackadaisical start to the half. Forrest again had a fine chance but shot wide when he really should have found the target. That was a warning for England and after Stones somehow blocked Snodgrass's shot from close range it seemed only a matter of time before the equaliser arrived. The last thing the crowd expected at that point was for a second England goal, but that is exactly what happened.





Fifty minutes had gone when Sturridge found the marauding Rose down the left again and this time another fine cross came in, low and hard, and there was Adam Lallana to score with an even better header than Sturridge's earlier effort. It was a quality goal, and how ironic that Scotland conceded again after their impressive start to the half. The watchword was 'quality', and sadly that is what Scotland lack right now. The reaction of their players, and indeed the manager, said it all, "How could this be happening?"





James Morrison tried to bring Scotland back after he broke clear but again the finish wasn't there, and it was noticeable how heads had dropped amongst the pink-shirted invaders from across the border. (At this point, can I ask why England did not play in white shirts and blue shorts to Scotland's normal blue shirts and white shorts? What was the pink all about?)





I digress, two or three bookings peppered the next ten minutes as tempers just flared a little, with Griffiths and Cahill amongst the culprits. England were putting some good forward moves together and one of the best ended with Rooney's header being hacked away by Hanley. Both Walker and Rose were causing Scotland problems with their exciting running down the flanks and on the hour England sealed the points. This was a much more straightforward goal as Rooney's corner was glanced home with his head by Cahill. From England's point of view it was a well-taken goal, but from Scotland's it was poor defending.





The game was really open by now, with England looking dangerous every time they came forward, and it was nearly 4-0 when Sturridge and Jordan Henderson combined. Then Walker almost broke through before, on 69 minutes, Sterling missed an absolute sitter. Great play by Henderson and Lallana saw the ball whipped across the box and somehow Sterling managed to turn the ball over the bar from one yard out!





The last 20 minutes saw England comfortably play out time without exerting themselves too much. By now they were completely in control and Scotland had nothing left, whilst a series of substitutions did nothing to change the game. There were some good individual displays by England although, once again, they were far from firing on all cylinders. Lallana and the two full-backs were the pick of the side, with Rose very effective down the left. There is still much work to do, but Gareth Southgate can certainly enjoy this win and feel satisfied with his role so far. From Scotland's point of view, Gordon Strachan will probably rue the decision not to play Nicola Sturgeon in his attack!




Source Notes
TheFA.com
BBC Sport
Scottish FA


Mike Payne - football historian and contributor
cg