Match Summary
Officials

from Spain

England Squad

Type

Slovakia Squad

Referee (sky blue) - Carlos Velasco

Carballo


45 (16 March 1971), Madrid, FIFA-listed 2008.

Assistant Referees - Roberto Alonso Fernandez, 39 (18 September 1976) and Juan Carlos Yuste Jiménez, 40 (25 September 1975).
Fourth official - Antonio Damato, 43 (15 August 1972), Barletta.





Additional assistant referees - Jesús Gil

Manzano

, 32 (4 February 1984) Don Benito, and Carlos Del Cerro Grande, 40 (13 March 1976) Madrid.
Reserve Official - Elenito Di Liberatore, 43 (17 Jánuary 1973), Italy.
29
Goal Attempts
4
The most ECF shots by England since Euro 1980
5
Attempts on Target
2
0
Hit Bar/Post
0
11
Corner Kicks Won
0
1
Offside Calls Against
1
12
Fouls Conceded
7
61%
Possession
39%

England Team
Rank:

FIFA (2 June 2016) 11th
EFO ranking Group 4
ELO rating 8th
Colours:
The Nike 2016 away uniform

-

Red v-necked jerseys with crimson sleeves with royal blue collared trim/

side stripe, red shorts with royal blue side trim, blue socks.
Capt:
Gary Cahill
(fourth (5) captaincy).
Wayne Rooney, 56th min.
Manager:
Roy Hodgson, 68 (9 August 1947), appointed 1 May 2012,
55th match, W 33 - D 15 - L 7 - F 108 - A 42.
England Lineup
1

Hart,

C.

Joseph

J.

29
62 days
19 April 1987
G
Manchester City FC
62
42ᵍᵃ
12
Clyne, Nathaniel E.
25
76 days
5 April 1991
RB
Liverpool FC
13
0
6
Smalling, Christopher

L.

26
211 days
22 November 1989
CD
Manchester United FC
28
1
5
Cahill, Gary J.
30
184 days
19 December 1985
CD
Chelsea FC
46
3
21
Bertrand, Ryan D.
26
320 days
5 August 1989
LB
Southampton FC

9

0



52nd min.

after pulling down Peter Pekarík as he himself fell to the ground.

14
Henderson, Jordan B.
26
3 days
17 June 1990
RM
Liverpool FC
27
0
17
Dier, Eric J.E.
22
157 days
15 January 1994
CM
Tottenham Hotspur FC
10
2
18
Wilshere, Jack A.G., off 56th min.
24
171 days
1 January 1992
LM
Arsenal FC
33
2
8
Lallana, Adam D., off 60th min.
28
41 days
10 May 1988
RF
Liverpool FC
26
0
11
Vardy, Jamie R.
29
161 days
11 January 1987
CF
Leicester City FC
10
4
15
Sturridge, Daniel A., off 76th min.
26
293 days
1 September 1989
LF
Liverpool FC
20
6

(

1

)

the 173rd player to reach the 20-app milestone
England Substitutes
10
Rooney, Wayne M., on 56th min.

(55:37)

for Wilshere
30
240 days
24 October 1985
LM
Manchester United FC
114
105
51

(

6

)

9
most gls
20
Alli, Bamidele J., on 60th min.

(59:59)

for Lallana
20
70 days
11 April 1996
RM
Tottenham Hotspur FC
11
6
1
5
9
Kane, Harry E., on 76th min.

(75:24)

for Sturridge
22
328 days
28 July 1993
CF
Tottenham Hotspur FC
15
10
5

(1)
5

result:

England 0

Slovakia 0
unused substitutes:
2-Kyle Walker, 3-Danny Rose, 4-James Milner, 7-Raheem Sterling, 9-Harry Kane, 13-Fraser Forster, 16-John Stones, 19-Ross Barkley, 22-Marcus Rashford, 23-Tom Heaton.
team notes:
Gary Cahill is the tenth different England captain used at the European Championship Finals.
records:
First scoreless draw since June 2015.
4-3-3
Hart -
Clyne, Smalling, Cahill, Bertrand -
Henderson, Dier, Wilshere (Rooney) -
Lallana (Alli), Vardy, Sturridge (Kane).

Averages

(Starting XI)

:

Age
26 years 320 days
Appearances/Goals

25.8

1.6

oldest starting XI in 2015-16

Slovakia Team
Rank:

FIFA (2 June 2016) 24th
EFO ranking n/a
ELO rating 26th to 24th
Colours:
Made by Puma - White crew-necked jerseys with tonal striping and broad blue sleeve stripe/cuffs, white shorts with turquoise side trim, white socks with turquoise tops.
Capt:
Martin Škrtel
Manager:
Ján Kozák, 62 (17 April 1954), appointed 2 July 2013.
33rd match, W 19 - D 8 - L 6 - F 50 - A 27.
Slovakia Lineup
23
Kozáčik, Matúš
32
176 days
27 December 1983
G
FC Viktoria Plzeň

, Czech Republic

20

15ᵍᵃ

2
Pekarík, Peter

29


234 days
30 October 1986
RB
Hertha, Berliner SC von 1892, Germany
70
2
3
Škrtel, Martin

31


188 days
15 December 1984
CD
Liverpool FC

, England

84
5
4
Ďurica, Ján

34


193 days
10 December 1981
CD
FC Lokomotiv Moskva

, Russia

83
4
15
Hubočan, Tomáš

30


277 days
17 September 1985
LB
FC Dinamo Moskva

, Russia

46
0

20

Mak, R�bert

25


104 days
8 March 1991
RM
Panthessalonikios Athlitikos Omilos Konstantinoupoliton, Greece
30
7
19
Kucka, Juraj

29


115 days
26 February 1987
CRM
AC Milan

, Italy

50
5
22
Pečovský, Viktor

, off 67th min.

33


27 days
24 May 1983
DM
MŠk Žilina

34

1



24th min.

for tripping Jamie Vardy from behind as he was sprinting away.

17
Hamík, Marek
28
329 days
27 July 1987
CLM
SSC Napoli

, Italy

90
19

7

Weiss, Vladimír

, off 78th min.

26


203 days
30 November 1989
LM
Al-Gharafa

, Qatar

55
5
8
Duda, Ondrej

, off 57th min.

21


198 days
5 December 1994
CF
Legia Warszawa SA, Poland
14
2
Slovakia Substitutes
18
Švento, Dušan, on 57th min.

(56:49)

for Duda

30


324 days
1 August 1985
LB
1.FC Köln 01/07

, Germany

42
1
5
Gyömbér, Norbert, on 67th min.

(66:02)

for Pečovský

23


353 days
3 July 1992
CD
AS Roma

, Italy, on loan from Calcio Catania, Italy

14
0
14
Škriniar, Milan, on 78th min.

(77:50)

for Weiss

21


130 days
11 February 1995
CD
UC Sampdoria, Italy
3
0

result:

England 0

Slovakia 0
unused substitutes:
1-Ján Mucha, 5-Norbert Gyomber, 6-Ján Greguš, 9-Stanislav Šesták, 10-Miroslav Stoch, 11-Adam Nemec, 12-Ján Novota, 13-Patrik Hrošovský, 16-Kornel Saláta, 21-Michal Ďuriš.
records:
Slovakia's first Major Tournament clean sheet in seven games.
Coach Ján Kozak played for Czechoslovakia against England in the November 1978 friendly defeat.
Vladimír Weiss' father, also Vladimír, played for Czechoslovakia, as a substitute,

in the March 1990 friendly defeat

.
4-5-1
Kozáčik -
Pekarík, Škrtel, Ďurica, Hubočan -
Mak, Kucka, Pečovský (Gyömbér), Hamík, Weiss (Škriniar) -
Duda (Švento).

Averages

(Starting XI)

:

Age
29 years 155 days
Appearances/Goals

52.4

4.5

oldest opposing XI in 2015-16
Match Report by Mike Payne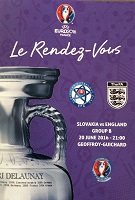 Before the game one or two people questioned the wisdom of manager Roy Hodgson's team changes for this final group match against Slovakia. And it must be said that any momentum gained from the win over Wales was probably lost because of those changes. Having said that, rarely has an England team enjoyed so much possession and domination as they did in this game, with only the finishing ruining what could have been a clever decision by the coach.





England were soon on the front foot and when Nathaniel Clyne burst down the right and crossed into the box Jamie Vardy stuck out a leg to deflect the ball over the bar. The pattern of the match was set after just ten minutes with England probing and passing the ball from side to side trying to draw out a Slovakia side who kept all eleven players back for the whole 90 minutes. What England needed to do was to try and unlock that defensive set up. Half-chances came and went as Vardy almost sent Daniel Sturridge in, Adam Lallana dragged a left-foot shot wide from a good position, and then a fine move involving Jack Wilshere and Lallana set up Jordan Henderson, but his shot was deflected wide, one of many shots deflected by desperate lunges.

The first clear chance fell to Vardy in the 17th minute. Henderson fine long pass sent Vardy away Leicester-like. The striker easily out-paced Martin Skrtel but the final shot was straight at goalkeeper Matus Kozacik, although credit to the goalkeeper who got down quickly as Vardy roared in. How many times did we see Vardy tuck those chances away in the season just ended. If that chance had been taken we would probably have seen a much different game.





England made some promising breaks with passes from Wilshere, and runs from Clyne, who was doing his best to outshine Kyle Walker at right-back. Indeed, good pressure was coming from England, but once again that final ball was not forthcoming. On 33 minutes another fine run by Clyne this time ended with a fine pull-back to Lallana. The Liverpool midfield player hit the ball well enough but at a height that made it easy for Kozacik to parry the ball away. England's build up was a little ponderous but with Slovakia content with just sitting back to wait for the next attack England had to show some invention. This led to some lackadaisical moments from England as too many players opted for the easy pass. But they were all working hard and Eric Dier and Henderson were lively throughout the first-half. On 44 minutes another good move ended with the ball dropping for Henderson to hit a fierce volley. Again, though a defender deflected the ball away with a desperate block. Joe Hart had not had a save to make and the defenders were doing their job well but at half-time Hodgson needed to talk to his forwards.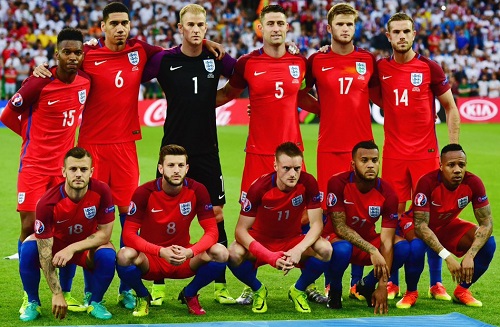 After the restart the same pattern soon developed, only this time it seemed that Slovakia had brought on all their squad players to bolster their defence such was their defending in numbers game! Wilshere and Sturridge's deft flicks were not coming off and Ryan Bertrand was booked as the frustration of it all began to show. On 52 minutes Hart and Chris Smalling almost presented Slovakia with an unlikely goal. Smalling tried to chest the ball to Hart but sold him short and luckily for England the Slovakian player couldn't quite get a firm enough touch on the loose ball and England scrambled it away. They then went straight down the other end and only a block by Kozacik stopped Clyne from scoring. Hart then had to save from Vladimir Weiss before England again took control.





On 56 minutes Wayne Rooney was sent on for the ineffective Wilshere and he ballooned his first three touches out of play! It was all too easy for Slovakia to defend against and Hodgson decided to bring on Deli Alli for Lallana, who was nowhere near as effective as in his previous two appearances. Alli's first touch on 61 minutes so nearly brought the goal England craved. He met a cross at the far post and Skrtel somehow managed to deflect the ball off the line and over with his outstretched foot, after the goalkeeper was beaten.





Dier was England's best player on the night and he tried hard to find the gaps as he strode forward purposely. He shot wide with one good effort but was always ready to start another move, winning the ball back and feeding his fellow midfield players and forwards. Sturridge was coming deeper and deeper to escape the shackles of some tight marking and Vardy hardly had a touch in this half. To be fair to him, he was never given a decent pass. Clyne stopped trying to beat his full-back, as he had done well in the first-half, and then on 73 minutes a lovely chipped pass forward from Dier came over Sturridge's left shoulder to give him a great chance. Sadly the striker missed the ball when the goal gaped. It was almost Sturridge's last 'touch' as he was soon replaced by Harry Kane.





Other chances came and went as Henderson saw another shot deflected and then Rooney scuffed a shot wide. Kane couldn't quite reach Henderson's cross with his head and the game finally petered out after Alli shot over and Kozacik managed to waste precious minutes every time he gained possession. The five minutes added was not a true reflection of what should have been added.





This was a disappointing performance by England, although to be fair to them they absolutely dominated possession and but for some poor finishing would have won at a canter. At least they are safely through to the next stage and hopefully, when we play against sides in the knockout stages they will want to win as well, unlike Slovakia, and maybe, just maybe that might open the way for England. Sooner or later these many chances are all going to go in.


Source Notes
TheFA.com
BBC Sport
UEFA.com


Mike Payne - football historian and contributor
cg