Officials

from Italy

Russia Squad

Type

England Squad
Referee (sky blue) - Nicola Rizzoli
44 (5 October 1971), Bologna, FIFA-listed 2007.

Assistant Referees - Elenito

Giovanni

Di Liberatore, 43, (17 January 1973), Teramo and Mauro Tonolini, 43 (30 March 1973), Milano.
Fourth official - Anastasios Sidiropoulos, 36 (9 August 1979), Greece

Additional assistant referees - Daniele Orsato, 40 (23 November 1975), vicenza, and Antonio Damato, 43 (15 August 1972), Barletta.
Reserve official - Damianos Efthymiadis, Pieria, Greece.
6
Goal Attempts
16
2
Attempts on Target
6
0
Hit Bar/Post
1
4
Corner Kicks Won
6
2
Offside Calls Against
6
16
Fouls Conceded
9
48%
Possession
52%
Rank:

FIFA (2 June 2016) 29th
EFO ranking n/a
ELO rating 29th to 25th
Colours:
Made by Adidas - Burgundy v-necked jerseys with gold Adidas side stripe/cuffs, burgundy shorts with gold Adidas side stripe, white socks with red tops.
Capt:

Vasily Berezutskiy

Manager:
Leonid Viktorovićh Slutsky, 45 (4 May 1971), appointed 7 August 2015. Also coach of CSKA.
11th match, W 6 - D 2 - L 3 - F 22 - A 12.
Russia Lineup
1
Akinfeev, Igor V.
30
64 days
8 April 1986
G
PFC Tsentralnyi Sportivnyi Klub Armii Moskva
87
62ᵍᵃ
21
Shchennikov, Georgi M.
25
45 days
27 April 1991
LB
PFC Tsentralnyi Sportivnyi Klub Armii Moskva

9

0

72nd min. for a foul on Alli, after he was nutmegged, and then obstructed Alli's path
3
Smolnikov, Igor

A.

27
308 days
8 August 1988
RB
FC Zenit Saint Petersburg
15
0
4

Ignashevićh

,

Sergei

N.
36
333 days
14 July 1979
CD
PFC Tsentralnyi Sportivnyi Klub Armii Moskva
117
8
The last 70's player to face England
14

Berezutskiy

,

Vasily

V.
33
357 days
20 June 1982
CD
PFC Tsentralnyi Sportivnyi Klub Armii Moskva
97
5
13
Golovin, Aleksandr S., off 77th min.
30
12 days
30 May 1996
RDM
PFC Tsentralnyi Sportivnyi Klub Armii Moskva
6
2
5
Neustädter, Roman

P., off 80th min.

28
114 days
18 February 1988
in Dnipro, Ukraine
LDM
FC Gelsenkirchen-Schalke 04

, Germany

2
0

10

Smolov, Fedor M., off 85th min.
26
123 days
9 February 1990
RM
FC Kuban Krasnodar
15
5
17
Shatov, Oleg A.
25
318 days
29 July 1990
AM
FC Zenit Saint Petersburg
24
2
9
Kokorin, Aleksandr A.
24
84 days
19 March 1991
LM
FC Zenit Saint Petersburg
39
12
22
Dzyuba, Artem S.
27
294 days
22 August 1988
CF
FC Zenit Saint Petersburg
19
9
Russia Substitutes

scoreline:

Russia 0 England 1

15
Shirokov, Roman

N., on 77th min.

(76:28)

for Golovin
34
341 days
6 July 1981
RDM
PFC Tsentralnyi Sportivnyi Klub Armii Moskva
54
13
8
Glushakov, Denis B., on 80th min.

(79:05)

for Neustadter
29
136 days
27 January 1987
CM
FC Spartak Moskva
44
4
11
Mamayev, Pavel K., on 85th min.

(84:21)

for Smolov
27
268 days
17 September 1988
DM
FC Kuban Krasnodar
13
0

result:

Russia 1 England 1

unused substitutes:
2-Roman Shishkin, 6-Aleksei Berzutski, 7-Artur Yusupov, 12-Yuri Lodygin, 16-Guilherme, 18-Oleg Ivanov, 19-Aleksandr Samedov, 20-Dmitri Torbinski, 23-Dmitri Kombarov.
team notes:
Berezutski's goal was Russia's latest ever in normal time in a Euro finals game.
4-2-3-1
Akinfeev -
Schennikov, Berezutskiy, Ignashevićh, Smolnikov -
Golovin (Shirokov), Neustädter (Glushakov) -
Kokorin, Shatov, Smolov (Mamayev) -
Dzyuba.

Averages

(Starting XI)

:

Age
27 years 354 days
Appearances/Goals

39.1

3.8
Rank:

FIFA (2 June 2016) 11th
EFO ranking Group 4
ELO rating 8th
Colours:
The Nike 2016 home uniform

-

White v-necked jerseys with light blue sleeves and ice blue collared tri

m/side stripe and white cuffs, white shorts with ice blue side trim, red socks.
Capt:
Wayne Rooney
(17th

(22)

captaincy (1

3)

)
Gary Cahill, 77th min.

(76:47)

Manager:
Roy Hodgson, 68 (9 August 1947), appointed 1 May 2012,
53rd match, W 32 - D 14 - L 7 - F 106 - A 41.
England Lineup
1

Hart,

C.

Joseph

J.

29
53 days
19 April 1987
G
Manchester City FC
60
41ᵍᵃ
the 39th player to reach this milestone
2
Walker, Kyle A.
26
14 days
28 May 1990
RB
Tottenham Hotspur FC
17
0
5
Cahill, Gary J.
30
175 days
19 December 1985
CD
Chelsea FC

44

3


62nd min.

after he clipped Dzyuba's leg in the centre as he attempted to sprint away.
6
Smalling, Christopher

L.

26


202 days
22 November 1989
CD
Manchester United FC
26
1
3
Rose, Daniel L.
25
345 days
2 July 1990
LB
Tottenham Hotspur FC
5
0
20
Alli, Bamidele J.
20
61 days
11 April 1996
RM
Tottenham Hotspur FC
9
1
17
Dier, Eric J.E.

22


148 days
15 January 1994
CM
Tottenham Hotspur FC
8
2

England's 29th successful direct free-kick

10

Rooney, Wayne M., off 78th min.
30
231 days
24 October 1985
LM
Manchester United FC
112

51

most gls
8
Lallana, Adam D.
28
32 days
10 May 1988
RF
Liverpool FC
24
0

9

Kane, Harry E.
22
319 days
28 July 1993
CF
Tottenham Hotspur FC
13
5
7
Sterling, Raheem S., off 87th min.
21
186 days
8 December 1994
in Kingston, Jamaica
LF
Manchester City FC
24
2
England Substitutes

scoreline:

Russia 0 England 1

18
Wilshere, Jack A.G., on 78th min.

(77:01)

for Rooney

24


163 days
1 January 1992
DM
Arsenal FC
32
22
2
10
4
Milner, James P., off 87th min.

(86:19)

for Sterling

30


159 days
4 January 1986
RM
Liverpool FC
61
37
1
24

result:

Russia 1 England 1

unused substitutes:
11-Jamie Vardy, 12-Nathaniel Clyne, 13-Fraser Forster, 14-Jordan Henderson, 15-Daniel Sturridge, 16-John Stones, 19-Ross Barkley, 21-Ryan Bertrand, 22-Marcus Rashford, 23-Tom Heaton.

record

s:
England have never won their opening European Championship Finals group match, on this, their ninth attempt.
Eric Dier's free-kick was the first scored in a Finals match since Beckham's in 2006 and only their third in a Finals Tournament. He is also the eighth Tottenham player to score at a major tournament for England, more than any other club's players.
This is the hundredth match in which England have recorded a 1-1 draw.
4-3-3
Hart -
Walker, Cahill, Smalling, Rose -
Alli, Dier, Rooney (Wilshere) -
Lallana, Kane, Sterling (Milner).

Averages

(Starting XI)

:

Age
25 years 294 days
Appearances/Goals
31.1
5.9
second youngest Finals team since 2002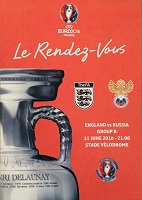 I suppose we should all be used to our England football team putting us through every emotion during a game by now, but it doesn't get any easier that is for sure. Once again, an otherwise excellent performance was ruined by a late, late goal conceded, that cost us a vital, and deserved, win.





Roy Hodgson sprang a couple of selection surprises for the opening match of the Euro 2016 tournament, but from the first whistle his team certainly showed a lot of attacking purpose. A nod down by Adam Lallana in the third minute reached Deli Alli, but he shot wide. At the other end Russia attacked down the right and some desperate defending was needed to scramble the ball away. The early signs showed that both defences looked a little vulnerable, but with England having the edge in attack. On seven minutes great passing by Wayne Rooney to Kyle Walker, and then Lallana was given a fine chance. He hit his shot well but straight at goalkeeper Igor Akinfeev who elected to punch the ball clear. After just ten minutes the pattern of the game was developing with the pace fast and furious, and England pushing forward atery opportunity.





Rooney's slightly controversial role as a midfield general was working well and he was conducting the 'orchestra' with some sublime passing, bringing in both full-backs with precision. Walker was having a lively game down the right and he combined well with Eric Dier to win a corner. Harry Kane's cross was met by Chris Smalling but again the header was straight at the keeper. Not sure why Kane takes all the corners, surely he would be much better utilised in the penalty box? The Spurs striker then tried an ambitious long-range effort that sailed well over the crossbar. At the other end a free-kick was met by an unchallenged Sergei Ignashevich, but once again the header was straight at Joe Hart.





On 17 minutes Danny Rose and Raheem Sterling combined but there was no-one on the end of Rose's excellent cross into the middle. Rose then fluffed another chance of a cross but with 22 minutes gone Lallana really should have opened the scoring. Fine play down the right set him up, unmarked, and with a clear shot at goal from ten yards out. Unfortunately for England he dragged his shot wide of the left-hand post. The England pressure continued and Sterling was put through and only a fine saving tackle by Igor Smolnikov stopped him getting a shot away. Surely it was only a matter of time before one of these chances would be converted? Kane did put the ball in the net on one occasion but was well offside. Both sides were guilty of wasting excellent goal potential positions, especially England, but the pace was fast and the match was end to end, making it a good spectacle.





Just after the half-hour Rooney almost set up Alli, and then the skipper made a fabulous attempt from another good right-wing move. The ball was controlled and volleyed by Rooney but again it was too close to Akinfeev, who again was able to two-fist it away. Then, Kane's cross just needed a touch from someone, anyone, before, on 41 minutes, Rose zipped a cross into the box and again there was no touch from an England player that would have converted the chance. England could so easily have been three or four goals to the good by now but at half-time, somehow, the struggling Russians were still in it, and that was worrying.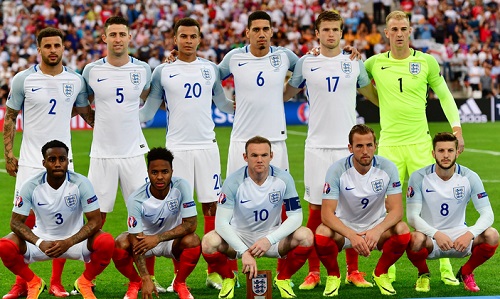 The start to the second half was not what England wanted as Russia kept possession well and put them on the back foot a little. But after the first ten minutes the play was more and more in the Russian half. Two England free-kicks came to nothing, although Rooney's shot looped on to the top of the net. At the other end a couple of Russian corners were cleared and from another a header was sent wide. Gary Cahill was the first player booked, ironic really, after some of the earlier Russian challenges. On 63 minutes Russia's first clear chance as Fedor Smolov flashes a shot just wide with Hart groping. At this point Russia were winning too many of the loose balls and both Lallana and Walker were not having the same impact as in the first half. Then on 71 minutes England livened up again and Rooney had yet another clear chance. After good play down the left, a cross was cleared but only to Rooney roaring into the area. He placed his shot carefully but Akinfeev dived full length to somehow get a hand to the ball and direct it up and out via the crossbar. Although Lallana had another go from the rebound the flag was already up for offside against him. Oh, if only Rooney had smashed it instead of placed it!





Three minutes later though that miss was forgotten as England won another free-kick, this time centrally and right on the edge of the box. Kane, Rooney and Dier stood over the ball and England caught everyone out, including their own fans, when it was Dier who stepped up to power a fine shot past Akinfeev. The supporters erupted with delight and soon Kane was having another shot blocked as England sensed the kill. Hodgson then made a slightly curious decision by replacing the outstanding Rooney with Jack Wilshere, but the Arsenal man soon got into the game and was unlucky with a couple of passes that only just missed their intended target. James Milner then came on for Sterling and England looked comfortable in trying to see the game out.





Three minutes of added time started to tick down and in the second of those, disaster! The Russians had shown little idea by way of attacks, apart from aiming balls into the big men in the box. England had dealt with these well, but after clearing another corner the ball ran to Georgiy Shchennikov who clipped a tantalising cross to the middle. With Chris Smalling and Cahill out of position it was easy for Vaseli Berezutskiy to outjump Rose and power a header back across goal towards the far post. Sadly for England the ball dropped perfectly, over Hart, and into the far corner. What a disappointment it was, and sad to say, more crowd trouble was triggered with the England supporters under attack from marauding Russian fans. The lack of stewarding was very noticeable, something the authorities need to look at perhaps.





So the game ended on a downward note, but England had played well, and there were many good things about their play that should be honed, improved on and taken on to the next match, the vital all-British affair with Wales. The fat lady is not singing yet, so onwards and upwards please.