Match Summary
Officials

from Hungary

England Squad

Type

Estonia Squad
Referee (red) - István Vad
36 (30 May 1979), FIFA listed 2007.

Assistant Referees - István Albert

, 35

(17 January 1980), and

Laszlo Viszokai, 34 (16 May 1981).
Fourth official - Zsolt Varga, 41 (16 December 1973).

Additional Assistant Referees - Sandor Ando-Szabo

, 36 (17 August 1979) and

Jozsef Erdos, 38 (12 July 1977).
UEFA Referee Observer - Morgan Norman, Sweden.
UEFA Delegate - Charles Schaack, Luxembourg.


26
Goal Attempts
9
9
Attempts on Target
0
0
Hit Bar/Post
0
10
Corner Kicks Won
3
1
Offside Calls Against
0
8
Fouls Conceded
14
63%
Possession
37%

England Team
Rank:

FIFA (1 October 2015) 10th
EFO ranking Group 3
ELO rating 7th
Colours:
The Nike 2014 home uniform

-

White v-necked jerseys with shadowed pinstripes and silvery white trim, white shor

ts with silvery white trim, white socks.
Capt:
Gary Cahill
(f

irst

(5) captaincy)
Manager:
Roy Hodgson, 68 (9 August 1947), appointed 1 May 2012,
44th match, W 26 - D 13 - L 5 - F 91 - A 32.
the fiftieth post-war captain
England Lineup
1

Hart,

C.

Joseph

J.

28
173 days
19 April 1987
G
Manchester City FC
55
37ᵍᵃ
2
Clyne, Nathaniel E.
24
187 days
5 April 1991
RB
Liverpool FC
8
0
3
Bertrand, Ryan D.
26
65 days
5 August 1989
LB
Southampton FC
5
0
4
Milner, James P.
29
278 days
4 January 1986
CM
Liverpool FC
57
1
5
Cahill, Gary J.
29
294 days
19 December 1985
CD
Chelsea FC
38
3
6
Smalling, Christopher

L.

25
321 days
22 November 1989
CD
Manchester United FC
20
0

the 168th player to reach the 20-app milestone

7
Walcott, Theo J., off 83rd min.
26
207 days
16 March 1989
RF
Arsenal FC
42
8
8
Barkley, Ross, off 88th min.
21
308 days
5 December 1993
RM
Everton FC
16
1
9
Sterling, Raheem S.
20
305 days
8 December 1994
in Kingston, Jamaica
LF
Manchester City FC
18
2

10

Kane, Harry E.
22
73 days
28 July 1993
CF
Tottenham Hotspur FC
5
3
11
Lallana, Adam D., off 73rd min.
27
152 days
10 May 1988
LM
Liverpool FC
16
0
England Substitutes
scoreline: England 1 Estonia 0
15
Oxlade-Chamberlain, Alexander M.D., on 73rd min

(72:08)

for Lallana
22
55 days
15 August 1993
LM
Arsenal FC
23
12
4
11
19
Vardy, Jamie R., on 83rd min.

(82:12)

for Walcott
28
271 days
11 January 1987
RF
Leicester City FC
3
1
0
2
scoreline: England 2 Estonia 0
20
Alli, Bamidele J., on 88th min

(87:09)

for Barkley
19
181 days
11 April 1996
RM
Tottenham Hotspur FC
1
0

1210

the 74th Hotspur player to represent England
result: England 2 Estonia 0
unused substitutes:
12-Kyle Walker, 13-Jack Butland, 14-Phil Jones, 16-Phil Jagielka, 17-Andros Townsend, 18-Jonjo Shelvey, 21-Kieron Gibbs, 22-Tom Heaton.
team notes:
Alex Oxlade-Chamberlain's father, Mark Chamberlain, also played for England (1982-84).

records:

England have now gone 28 qualification matches unbeaten (W21 D7), victorious in their last twelve.
They are also unbeaten in nineteen competitive home matches, their best form since the 20 in 1984-96.
Jamie Vardy is the ninetieth different England player to feature at the National Stadium.
Deli Alli is the 25th player to make his England debut as a substitute at the National Stadium.
Manager Roy Hodgson had managed Switzerland against Estonia in the World Cup qualification matches on August 1992 and November 1993 (6-0 and 4-0).
4-3-3
Hart -
Clyne, Cahill, Smalling, Bertrand -
Barkley (Alli), Milner, Lallana (Oxlade-Chamberlain) -
Walcott (Vardy), Kane, Sterling.

Averages

(Starting XI)

:

Age
25 years 282 days
Appearances/Goals

25.5

1.5

Estonia Team
Rank:

FIFA (1 October 2015) 87th
EFO ranking n/a
ELO rating 92nd to 93rd
Colours:
Made by Nike - Blue collared jerseys with white collars/cuffs, black shorts, blue socks;
Capt:
Ragnar Klavan
Manager:
Karl Magnus Pehrsson,

39

(25 May 1976 in Sweden), appointed 5 December 2013,
21st match, W 8 - D 4 - L 9 - F - A .
Estonia Lineup
1
Aksalu, Mihkel
30
336 days
7 November 1984
G
Seinäjoen Jalkapallokerho, Finland
19
0
23
Teniste, Taijo
27
251 days
31 January 1988
RB
Sogndal IL Fotball, Norway
41
0
15
Klavan, Ragnar
29
344 days
30 October 1985
CD
FC Augsburg 1907, Germany
106
3
17
Jääger, Enar
30
325 days
18 November 1984
CD
Valeranga Fotbal, Norway
116
0
3
Pikk, Artur
22
218 days
5 March 1993
LB
FC Levadia

7

0


73rd minute for tripping Walcott as he was sprinting towards the penalty area.

19
Kallaste, Ken, off 88th min.
27
39 days
31 August 1988
RM
Nõmme Kalju FC
19
0
6
Dmitrijev, Aleksandr, off 70th min.
33
233 days
18 February 1982
RCM
FC Infonet
94
0
18
Mets, Karol
22
146 days
16 May 1993
LCM
Viking Stavanger, Norway
20
0

10

Zenjov, Sergei
26
172 days
20 April 1989
LM
Gabala FK, Azerbaijan
47
9
9
Purje, Ats, off 70th min.
30
67 days
3 August 1985
F
Nõmme Kalju FC
53
7
14
Vassiljev, Konstantin
31
54 days
16 August 1984
F
Jagiellonia Bialystok, Poland
82
20
Estonia Substitutes
scoreline: England 1 Estonia 0
7
Puri, Sander, on 70th min.

(69:01)

for Purje
27
155 days
7 May 1988
F
Sligo Rovers FC, Republic of Ireland
60
3
2
Lindpere, Joel, on 70th min.

(69:16)

for Dmitrijev,
33
4 days
5 October 1981
AM
Nõmme Kalju FC
103
7
scoreline: England 2 Estonia 0
13
Luts, Siim, on 88th min

. (87:17)

for Kallaste
26
211 days
12 March 1989
M
FC Levadia
23
1
result: England 2 Estonia 0
unused substitutes:
4-Alo Barengrub, 5-Markus

J�rgenson

, 8-Maksim Gussev, 11-Ingemar Teever, 12-Marko Meerits, 16-Ilja Antonov, 20-Gert Kams, 21-Nikita Baranov, 22-Pavel Londak.
4-4-2
Aksaku -
Teniste, Jaager, Klavan, Pikk -
Kallaste (Luts), Dmitrijev (Lindpere), Mets, Zenjov -
Purje (Puri), Vassiljev

Averages

(Starting XI)

:

Age
28 years 167 days
Appearances/Goals

54.91

3.5

=most experienced opposing XI in 2015-16
Match Report by Mike Payne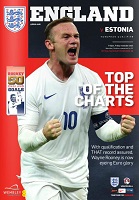 England approached their final European Championship group matches with a determined attitude to try and keep their 100% record intact. The match against Estonia at Wembley proved a fairly comfortable win in the end. The visitors were well-drilled and organised and their experienced players revelled in the atmosphere of our premier stadium. For England it was a case of how to break them down to score. Once they did that it was pretty much a done deal.

England forced several early corners and from one Gary Cahill knockdown, Theo Walcott hit a first-time volley that goalkeeper Mihkel Aksalu did well to see, let alone save. Then on 12 minutes good work by the lively Adam Lallana set up the marauding Ross Barkley, who burst into the box, but then lost his footing at the wrong moment. There was suspicion of a nudge but that was waved away by the referee. Two minutes later and a Ryan Bertrand cross was pushed out by Aksalu straight to Barkley. The midfield player's instant shot was on target, but again it was saved by the keeper.

England were dominating possession and Joe Hart was restricted to a few back passes as Estonia showed no inclination to attack. Instead the visitors relied on an organised defence that frustrated England's attackers. England's task was to find a way round this problem. Their approach play was good but there was not enough telling passes to stretch Estonia. Their attacks continued though as Lallana had a low shot deflected over the bar, and then Cahill headed wide from a corner. A rare venture to the other end saw James Milner block a shot by Taijo Teniste and then Konstantin Vassiljev put in a fine cross which Chris Smalling did exceptionally well to deflect over his own crossbar.

As the half progressed England began to find a little more space as Barkley and Lallana continued to impress. Harry Kane almost broke through on 35 minutes and then Walcott shot hust wide four minutes later. Walcott tried again two minutes after that and so nearly opened the scoring, but once again his shot flew wide. Finally, in the last minute of the half England scored the goal their play had deserved. Good play down the left involving Smalling, Raheem Sterling and Bertrand saw the ball eventually find Barkley. This time the midfielder did find that elusive incisive pass. Walcott delayed his run to perfection as Barkley's superb delivery found the Arsenal man in behind the Estonia back four. Before the goalkeeper or defenders could react, Walcott cleverly guided the ball into the net. It was a splendid goal and the half ended with England in a commanding position.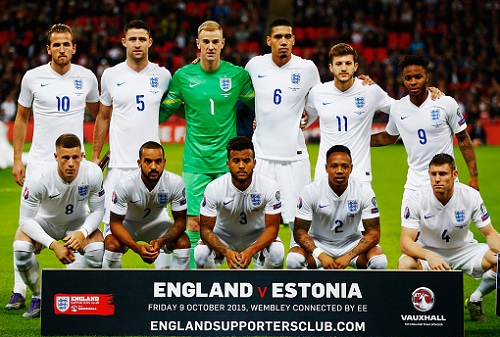 The pattern of play did not change after the restart as England pushed forward to try and seal the match. Sterling hit a shot just too high and then on 50 minutes and excellent free-kick routine almost brought a second goal. Milner squared the ball to Lallana and his fierce shot again brought the best out of Aksalu. Kane followed up but Estonia cleared the loose ball away from danger. Four minutes later brilliant play by Barkley so nearly brought the goal of the campaign so far. He jinked his way past two defenders with some nifty footwork but then fired his shot just the wrong side of the far post.

Another fingertip save stopped Barkley once more but with five minutes to go England settled the result with another good goal. After all the intricate passing and possession that had gone before, England resorted to route one for this goal, but it was no less effective. Hart's long kick was headed on by Kane to the ever-willing Jamie Vardy, a substitute on for Walcott. Vardy raced clear down the left and hit the perfect low cross into the path of Sterling who rammed home number two.

Dele Alli of Spurs, came on for a debut, replacing man of the match Barkley, and England coasted through the remaining minutes to record yet another victory in the group matches. The 'Perfect Ten' match was now the target when England visit Lithuania in three days time.


Source Notes
TheFA.com
BBC Sport
RateTheRef.com


Mike Payne - football historian and contributor
cg