658 vs. Republic of Ireland
659 vs. Netherlands ~ 660 vs. Egypt
661 vs. Belgium
662
663 vs. West Germany ~ 664 vs. Italy

Sunday, 1 July 1990
World Cup 1990 Finals Second Phase Quarter-Final, match four

Cameroon 2 England 3 [0-1]
2-2 after ninety minutes


Stadio San Paolo, Fuorigrotta, Napoli, Campania, Italy


Attendance: 55,205 tickets sold;

Kick-off:

9.00pm local time, 8.00pm BST


Live on BBC One (UK) -

Commentator: Barry Davies

and Trevor Brooking. Also live on ITV (UK) -

Commentator: Brian Moore and Ron Atkinson

England - David Platt (header 25), Gary Lineker (penalty 83 82:56, penalty 105

+1

105:25)
Cameroon - Emmanuel Kunde (penalty 62), Eugène Ekeke (shot 66 64:57).
Match Summary
Cameroon Squad
England Squad
Results 1985-1990
Cameroon - Benjamin Massing (28), Thomas Nkono (105 104:50), Roger Miller (119 118:59)
England - Stuart Pearce (70 69:48)

Cameroon kicked-off. Cameroon kicked off ET. 124 minutes (46:31 & 45:46) (16:30 & 15:33).
Match Summary
Cameroon

Type

England

Referee (black) - Edgardo Codesal Méndez
38 (2 June 1951), Mexico, FIFA listed x.

Linesmen - Jassim Mandi Abdulrahm, Bahrain and Vincent Mauro, USA

Fourth official - x

Goal Attempts
Attempts on Target
Hit Bar/Post
Corner Kicks Won
Offside Calls Against
Fouls Conceded
Possession

Cameroon Team
Rank:

No official ranking;
EFO ranking
ELO rating 32nd to 33rd
Colours:
Made by Adidas - Pale green collared v-necked jerseys with white Adidas trim/collar/shoulder/underarm panels, red shorts with white Adidas trim, yellow socks with green Adidas trim.
Capt:
Stephen Tataw
Manager:
Valery Kuzmich Nepomniachy,

46 (7 August 1943), appointed 1988.

Cameroon Lineup
16
Nkono, Thomas
33
20 July 1956
G
RCD Español de Barcelona SAD

, Spain

Massing cautioned in the 27th minute for a foul, he had kicked the back of Gary Lineker's legs a minute previously. Suspended.
14
Tataw, Stephen Eta
27
31 March 1963
D
Tonerre KC Yaoundé
13
Pagal, Jean-Claude
25
15 September 1964
D
La Roche VF

, France

4
Massing, Benjamin
28
20 June 1962
D
US Créteil-Lusitanos Football, France
Massing cautioned in the 27th minute for a foul, he had kicked the back of Gary Lineker's legs a minute previously. Suspended.
5
Ebwellé Ndingué, Bertin
27
11 September 1962
D
Tonerre KC Yaoundé
6
Kundé, Emmanuel J.
33
15 July 1956
D
Prévoyance Yaoundé
Kunde's 61st minute penalty resulted from Paul Gascoigne attempting to tackle Roger Miller in the area, but only bringing him down.
7
Omam Biyik, François
24
21 May 1966
F
Stade Lavallois Mayenne FC
15
Libiih, Thomas
22
17 November 1967
D
Tonerre KC Yaoundé

20

Makanaky, Cyrille T.
25
28 June 1965
M
Sporting Toulon Var
10
Mfédé, Louis-Paul, off 63rd min.
28
26 February 1962
M
Canon Kpakum Yaoundé
21
Maboang Kessack, Emmanuel, off 46th min
21
27 November 1968
F
RC Bafoussam
Cameroon Substitutes
9
Mooh Miller, A.Roger, on 46th min. for Maboang Kessack
38
20 May 1952
F
JS Saint-Pierroise

, Réunion

Massing cautioned in the 27th minute for a foul, he had kicked the back of Gary Lineker's legs a minute previously. Suspended.
11
Ekeke, Ebelle, on 63rd min.

(62:03)

for Mfede
30
30 May 1960
F
US Valenciennes

, French

unused substitutes:

team notes:

Cameroon are the first African nation to reach the World Cup Finals quarter-final stage.
formation
formation -

Averages (Starting XI):

Age
tbc
Appearances/Goals
tbc
tbc

England Team
Rank:

No official ranking;
EFO ranking
ELO rating 4th to 3rd
Colours:
The 1990 Umbro home uniform - White collared jersey with shadowed diamonds and navy collar/cuff, navy shorts with white panel and red triangle, white socks with navy tops.
Capt:
Terry Butcher, sixth captaincy.
Peter Shilton 74th min.
Manager:
Robert W. Robson,

57

(18 February 1933), appointed 7 July 1982,
93rd match, W 47 - D 29 - L 17 - F 152 - A 57.
England Lineup
1
Shilton, Peter

L.

40
18 September 1949
G
Derby County FC
123

77

GA

12
Parker, Paul A.
26
4 April 1964
RB
Queen's Park Rangers FC
9
0
3
Pearce, Stuart
28
24 April 1962
LB
Nottingham Forest FC
29
1
Pearce cautioned in the 71st minute for a foul, after Makanaky got the ball first at the halfway line. He followed thro' with a late tackle.
14
Wright, Mark
26
1 August 1963
CD
Derby County FC
28
1
5
Walker, Desmond
CB
Nottingham Forest FC
23
6
Butcher, Terence I., off 74th min.
31
28 December 1958
born in Singapore
CD
Rangers FC

, Scotland

76
3
17
Platt, David A.
24
10 June 1966
M
Aston Villa FC
9
2
8
Waddle, Christopher
x
Olympique Marseille

, France

57
19
Gascoigne, Paul J.
23
27 May 1967
M
Tottenham Hotspur FC
16
2
10
Lineker, Gary W.
29
30 November 1960
CF
Tottenham Hotspur FC
56
34
Lineker's 83rd minute penalty resulted from Massing bringing down Lineker

(81:53)

as he sprinted onto the ball as it ran into the penalty area.
His 106th minute penalty resulted from Nkono bringing down Lineker as he knocked the ball past him.
11
Barnes, John C.B., off 46th min.
x
Liverpool FC
58
England Substitutes
9
Beardsley, Peter, on 46th min. for Barnes
Liverpool FC
43
20
Steven, Trevor M., on 74th min.

(73:45)

for Butcher
26
21 September 1963
M
Rangers FC

, Scotland

27
3

unused substitutes:

substitutes

team notes:

Peter Shilton extends his tally both as England record appearance holder and world record appearance holder, and already the oldest goalkeeper to face a penalty kick, he extends this record (40 yrs 286 dys)
3-5-2
Shilton -
Butcher, Walker, Pearce -
Parker, Wright, Waddle, Platt, Gascoigne -
Lineker, Barnes (Beardlsey)
From 74th minute;
4-4-2
Shilton -
Parker, Walker, Wright, Pearce -
Steven, Platt, Gascoigne, Waddle -
Lineker, Beardlsey

Averages (Starting XI):

Age
tbc
Appearances/Goals
tbc
tbc
Match Report by Mike Payne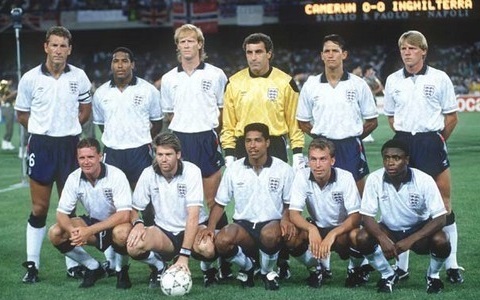 Match Report by Norman Giller
Gary Lineker scored two goals from the penalty spot not only to put England into the World Cup semi-finals but also to rescue them from one of the most humiliating defeats in their history. The harsh truth is that for long periods Cameroon played England off the park in a dramatic duel that was draining both physically and emotionally, and only a mixture of enormous luck and true grit pulled England through. It was thirty-eight-year-old Roger Milla who wrote himself into World Cup folklore against England. The silken skills of substitute Milla were released into the match at the start of the second-half with Cameroon unlucky to be trailing 1-0 to an excellent goal that had been burgled by David Platt. Paul Gascoigne was helping out in an overworked defence when he collided with Milla and conceded a penalty in the sixty-first minute which was converted by Emmanuel Kunde. Four minutes later Milla drew defenders towards him before threading a pass through to substitute Eugene Ekeke. He sprinted clear, and then almost casually flicked the ball into the net past Shilton. With six minutes to go, Gary Lineker spun in the penalty area and was brought down by Thomas Libiih. Lineker himself scored from the spot to breathe life back into England. There was a fresh crisis for England when Mark Wright was cut and badly dazed as he headed the back of Milla's head. He was treated for a jagged gash on his forehead, and then bravely played on through extra time with a huge plaster protecting a wound that later needed seven stitches. In the fourteenth minute of extra time Gascoigne pushed a perfect pass through to Lineker, whose promising run towards goal was halted when goalkeeper Thomas Nkono pulled him down. Lineker shot his penalty on a straight line into the net. England had won a memorable match, and created history by becoming the first English team to reach a World Cup semi-final on foreign soil.

Source Notes
Louis-Paul Mfédé died on 10 June 2013

TheFA.com
Original newspaper reports
PlanetWorldCup
Rothman's Yearbooks
Mike Payne's England: The Complete Post-War Record (Breedon Books Publishing Company, Derby, U.K., 1993)
Norman Giller, Football Author
____________________

CG