Match Summary
England

Type

Yugoslavia

Referee (black) - Dieter Pauly
x (-).

Linesmen - Marcus Merk and K.H. Tritschler

Reserve official - K.E. Crabbe, Suffolk,

Teams presented to Sir Stanley Matthews, C.B.E. ex-England winger.

This match was preceded by an Old England side vs. Old Scotland.

England were originally due to play Netherlands, but this was called off on government advice due to a threat of hooliganism.

Goal Attempts
Attempts on Target
Hit Bar/Post
Corner Kicks Won
Offside Calls Against
Fouls Conceded
Possession

England Team
Rank:

No official ranking;
EFO ranking
ELO rating 7th
Colours:
The 1987 Umbro home uniform - White crew-necked buttoned jersey with shadow diamonds, navy collar and red/navy/white cuffs, navy shorts, with white seams and red trim, white socks with navy/red Umbro diamond trim.
Capt:
Bryan Robson, 58th captaincy
Manager:
Robert W. Robson,

56

(18 February 1933), appointed 7 July 1982,
83rd match, W 41 - D 26 - L 16 - F 138 - A 49.
England Lineup
1
Shilton, Peter

L.

, off 46th min.
40
18 September 1949
G
Derby County FC
113

70ᵍᵃ

most apps 1989
2
Parker, Paul A.
25
4 April 1964
RB
Queen's Park Rangers FC
4
0
3
Pearce, Stuart, off 46th min.
27
24 April 1962
LB
Nottingham Forest FC
19
0
4
Thomas, Michael L., off 67th min.
22
24 August 1967
RCM
Arsenal FC
2
0
final app

1988-89

5
Walker, Desmond

S.

24
26 November 1965
RCD
Nottingham Forest FC
13
0
6
Butcher, Terence I.
30
28 December 1958
in Alexandra Park, Singapore
LCD
Rangers FC

, Scotland

67
3
7
Robson, Bryan, off 77th min.
32
11 January 1957
LCM
Manchester United FC
82
26
8
Rocastle, David C., off 67th min.
22
2 May 1967
RM
Arsenal FC
10
0
9
Bull, Steven

G.

24
28 March 1965
LF
Wolverhampton Wanderers FC
3
1

10

Lineker, Gary W.
29
30 November 1960
RF
Tottenham Hotspur FC
46
29
11
Waddle, Christopher

R.

28
14 December 1960
LM
Olympique de Marseille, France
48
6
England Substitutes

scoreline:

England 1 Yugoslavia 1
13
Beasant, David J.W., on 46th min. for Shilton
30
20 March 1959
GK
Chelsea FC
2
0

0

ᵍᵃ

2
final app 1989

1020

14
Dorigo, Anthony R., on 46th min. for Pearce
23
347 days
31 December 1965
LB
Chelsea FC
1
0
12
Platt, David A., on 67th min. for Rocastle
23
10 June 1966
RM
Aston Villa FC
2
0
0
2
15
Hodge, Stephen B., on 67th min. for Thomas
27
25 October 1962
RCM
Nottingham Forest FC
18
13
0
5

scoreline:

England 2 Yugoslavia 1
17
McMahon, Stephen, on 77th min. for Robson
28
20 August 1961
LCM
Liverpool FC
9
7
0
2

result:

England 2 Yugoslavia 1

unused substitutes:

16-Gary Stevens, 18-Peter Beardsley, 19-Mike Phelan.

substitute notes:

Peter Shilton breaks his own records again in being the oldest and most experienced player to be replaced by a substitute.
Bryan Robson has now been replaced by a substitute in sixteen matches, equal with Chris Waddle.
Tony Dorigo is the 53rd player to make his England debut as a substitute.
Five substitutes are used in an England match for the second time.

records:

England have now gone a record 21 matches unbeaten at Wembley Stadium.
It was the first England goal in over 5½ hours.
Bryan Robson's 38th-second goal is the quickest at a major Wembley match, in this, their one hundredth Wembley win.
4-4-2
Shilton (Beasant) -
Parker, Walker, Butcher, Pearce (Dorigo) -
Rocastle (Platt), Thomas (Hodge), Robson (McMahon), Waddle -
Lineker, Bull.

Averages:

Age
-
Appearances/Goals
-
-

Yugoslavia Team
Rank:

No official ranking;
EFO ranking
ELO rating 8th to 9th
Colours:
Made by Adidas - Blue v-necked collared jerseys with white Adidas trim/collar/cuffs/shoulder panel, white shorts with red Adidas trim, red socks with white Adidas trim.
Capt:
Safet Sušić
Manager:
Ivića Osim, 48 (6 May 1941), appointed in 1986.
32nd match
Yugoslavia Lineup
1
Ivković, Tomislav
29
11 August 1960
G
Sporting Clube de Portugal

, Portugal

23

27ᵍᵃ

2
Stanojković, Vujadin
26
10 September 1963
RB
Fk Partizan
15
1
3
Spasić, Predrag, off 82nd min.
22
13 May 1965
RCD
Fk Partizan
15
1
4
Brnović, Dragoljub, off 77th min.
26
2 November 1963
LB
FC de Metz

, France

17
1
5
Hadžibegić, Faruk
32
7 October 1957
CD
FC Sochaux-Montbéliard

, France

42
6
6
Vuli

ć

, Zoran
28
4 October 1961
LCD
RC Deportivo Mallorca SAD

, Spain

12
0
7
Škoro, Haris
27
2 September 1962
AM
Torino FC

, Italy

15
4

final app

1985-89

8
Sušić, Safet, off 77th min.
34
13 April 1955
LM
Paris Saint-Germain FC

, France

44
12
9
Mihajlovi

ć

, Radmilo
25
19 November 1964
CF
FC Bayern München eV

, West Germany

6
1

final app

1986-89

10

Stojkovi

ć, Dragan

24
3 March 1965
RM
Fk Crvena Zvezda
30
7
11
Savevski, Toni
26
14 June 1963
DM
Athlitikί Énosis Konstantinoupόleos FC, Greece
2
0

final app

1988-89

Yugoslavia Substitutes

scoreline:

England 2 Yugoslavia 1
14
Prosinečki, Robert, on 77th min. for

Sušić

20
12 January 1969
in Schwenningen, West Germany
LM
Fk Crvena Zvezda
5
1
13

Panadić

, Andrej, on 77th min. for Brnović
20
9 March 1969
RCD
Gnk Dinamo Zagreb
3
0

final app

1989

15
Petrić, Gordan, on 82nd min. for Spasić
20
30 July 1969
LB
Fk Partizan
2
0

result:

England 2 Yugoslavia 1

unused substitutes:

12-Fahrudin

Omerović

, 16-Davor Šuker.

team notes:

Although this was Toni Saveski's final appearance for the Yugoslavian team, he will appear again on the international scene, with FYR Macedonia in 1994-2000.
5-4(1-2-1)-1
Ivković -
Stanojković, Spasić (Petrić), Hadžibegić, Vulić, Brnović (

Panadić

) -
Savevski -
Stojkovi

ć, Sušić

(Prosinečki) -
Škoro -
Mihajlović


notes: when Panadić replaced Brnović, he took up Spasić' position on the right, with Spasić going left, until he was replaced by Petrić

Averages:

Age
-
Appearances/Goals
-
-
Match Report by Mike Payne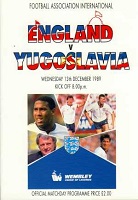 Continuing their build up for the World Cup, England took on a very good Yugoslavia side at Wembley and produced another encouraging win. Once again, though, they owed an enormous amount to their skipper Bryan Robson. The Manchester United star already held the record for the fastest goal scored in a World Cup finals match and, here, after only 38 seconds, he netted another quick one in near-record time.

As often happens Gary Lineker was fouled in England's first attack. Chris Waddle took the free-kick and ball cleared the static defence for Robson to head powerfully past the stunned Ivković in the Yugoslav goal. The visitors had been caught cold and not since Jackie Milburn's 45-second goal for Newcastle against Manchester City in the 1955 FA Cup Final had Wembley seen such an explosive start.

Manager Bobby Robson had brought several fringe players in to give them some experience and also the chance for them to make an impact. They were soon learning a great deal about football at this level as the Yugoslavian side came back strongly from their early set-back. Stojković, a very talented player, showed all his skill and in the 18th minute it was he who made the visitor's equalizer. After a Steve Bull shot had been blocked, Stojković gained possession and found Škoro. The England defenders backed off as Škoro ran at them and the winger punished them by hitting a splendid shot from 22 yards which beat the diving Peter Shilton. It was a fine goal and now it was England's turn to be stunned.

With Michael Thomas and David Rocastle finding it difficult to come to terms with this higher grade of football it was left to Robson to hold the midfield together. He did so brilliantly and certainly was an inspiration to the junior members of the side.

The second half was fairly even, but England edged themselves back in front again after 68 minutes. Paul Parker made another of several fine runs from his deep position, exchanged passes with Lineker and then put over a dangerous cross. The ball was flicked on by Bull and there was the irrepressible Robson to drive a left-foot shot home. No wonder the skipper received a standing ovation as he left the field after 75 minutes.

Stuart Pearce was booked as he, too, found the going difficult against this talented side but, thanks to Robson's influence and scoring power, England were able to hold on to their lead and record a very good result.

Match Report by Glen Isherwood
England had beaten Yugoslavia at Wembley and in Belgrade to qualify for the previous year's European Championship, and like England they had qualified for the following year's World Cup without defeat.

After three goalless matches, England scored after 38 seconds. It was the quickest international goal ever scored at Wembley. From Waddle's free-kick, Bryan Robson's header went under the 'keeper. Robson had scored England's fastest ever World Cup goal in 1982.

The visitors equalised in the 18th minute, Haris Skoro took a pass from Susic and beat Shilton from 25 yards. It was the first goal in England's net in seven Wembley matches. For the second match in succession, Beasant replaced Shilton at half-time. England restored their lead in the 71st minute. Parker played a one-two with Lineker and crossed. Bull back-heeled it into the path of Robson, who drove it into the corner for his second.

Yugoslavia never played England again.

Match Report by Norman Giller
Bryan Robson scored the fastest England goal ever witnessed at Wembley when he headed in a Chris Waddle free-kick after just thirty-eight seconds. It ended more than five hours' of goalless football by England and set up what was their 100th win at Wembley. Skoro equalised for Yugoslavia with a snap shot in a rare attack in the seventeenth minute, and it was Robson who struck the winning goal in the sixty-seventh minute after Paul Parker had made an enterprising break down the right wing. Bobby Robson continued his experiments, sending on Dave Beasant, Tony Dorigo, David Platt, Steve McMahon and Steve Hodge as substitutes, the first time England had ever sent on five subs.

Source Notes
TheFA.com
Reprezentacija.rs
Original newspaper reports
Official Teamsheet
Rothman's Yearbooks
Mike Payne's England: The Complete Post-War Record (Breedon Books Publishing Company, Derby, U.K., 1993)
Norman Giller, Football Author
Italia1990
____________________

CG