England Football Online

Results 1970-1975
Page Last Updated 27 January 2022
Československo
471 vs. Czechoslovakia


486


next match

(21 days)


487 vs. Portugal

495 vs. Czechoslovakia







8.0 World Heavyweight Championship George Foreman vs. Muhammed Ali 9.0 News
9.25 Second Time Around
9.55 Sportsnight 10.50 Midweek Report 11.30 News

Wednesday

,

30 October 1974




UEFA/FSJ V Prvenstvo Evrope u Fudbalu Group One Qualification Match







England 3 Czechoslovakia 0

[

0-0]




Wembley Stadium, Wembley, Brent, Greater London


Kick-off (GMT): 7,45pm




Attendance: 83,858/86,000


Mick Channon kicked off



[0-0] Frank Worthington header from corner hits post

9

[0-0] Ján Pívarník 35-yard shot strikes bar
[1-0] Mick Channon header 72
headed unchallenged towards the far post from 8yds following a Dave Thomas cross from the right
[2-0] Colin Bell 79
slid on the greasy surface to sweep the ball in from 13yds following a left-sided thro' ball from Mick Channon
[3-0] Colin Bell header 81
headed in from 7yds a left-side Mick Channon cross, injuring himself.
Ivan Pekárik 42

highlights on Sportsnight commentator: Barry Davies


"DON PULLS THE MASTER SWITCH!" Daily Mirror
England Squad

Team Records

Czechoslovakia

Referee


Michel Kitabdjian


44 (7 May 1930), Nice.

Goal Attempts
Attempts on Target
Hit Bar/Post
Linesmen
Corner Kicks Won
E. Edleplace
Raymond Jules Maurice Poncin


48 (23 December 1925), Calais

Offside Calls Against
Teams presented to HRH The Duke of Kent, F.A. President.

Fouls Conceded
Possession

England Team
Rank:

No official ranking;
EFO ranking
ELO rating 5th
Colours:
The 1974 Admiral home uniform - White collared jerseys with red/blue sleeve trim and red/blue trimmed collar/cuffs, blue shorts with red/white side stripes, white socks with red/blue tops.


first match, W 1 - D 0 - L 0 - F 3 - A 0.

⁴⁴
Capt:
Emlyn Hughes


8th, W 4 - D 3 - L 1 - F 12 - A 7

.

²³

Manager:
Donald G. Revie, 47 (10 July 1927), appointed 4 July 1974.


first match, W 1 - D 0 - L 0 - F 3 - A 0.

²⁹
England Lineup


(three changes to last match)

Clemence, Raymond N.
26
86 days
5 August 1948
G
Liverpool FC
6

4ᵍᵃ

Madeley, Paul E.
30
40 days
20 September 1944
RB
Leeds United AFC
17
1
Hughes, Emlyn W.
27
63 days
28 August 1947
LB
Liverpool FC
37
1
Dobson, J. Martin, off 64th min.
26
258 days
14 February 1948
RM
Everton FC
5
0

the 43rd Everton player to represent England

final app 1974
Watson, David V.
28
25 days
5 October 1946
RCD
Sunderland AFC
7
0
Hunter, Norman
31
1 day
29 October 1943
LCD
Leeds United AFC
28
2
final app 1965-74
Bell, Colin
28
246 days
26 February 1946
CM
Manchester City FC
40
7

the sixteenth player to reach this milestone




Channon, Michael R.
25
336 days
28 November 1948
LF
Southampton FC
20
8

the 61st player to reach this milestone

Worthington, Frank S., off 64th min.
25
341 days
23 November 1948
CF
Leicester City FC
7
2
Keegan, J. Kevin
23
258 days
14 February 1951
RF
Liverpool FC
9
2

900

Francis, Gerald C.J.
22
328 days
6 December 1951
LM
Queen's Park Rangers FC
1
0

the fifth Ranger to represent England

England Substitutes
Brooking, Trevor D., on 64th min. for Dobson
26
28 days
2 October 1948
RM
West Ham United FC
6
5
0
1

901

Thomas, David

, on 64th min. for Worthington

24
25 days
5 October 1950
CF
Queen's Park Rangers FC
1
0

the sixth Ranger to represent England

result: England 3 Czechoslovakia 0
unused substitutes:
12-Kevin Beattie, 13-Peter Shilton, 15-Alec Lindsay.
substitute notes:
Dave Thomas is the seventh England player to make his first appearance as a substitute, the fourth in a competitive fixture.
records:
Of the four England managers to have played at Wembley, only Revie and Mercer kept a clean sheet at their first Wembley appearance.
4-3-3
Clemence -
Madeley, Watson, Hunter, Hughes -
Dobson (Brooking), Bell, Francis -
Keegan, Worthington (Thomas), Channon.

Averages: (start)
(finish)

Age
26 years 348 days
26 years 205 days
Appearances/Goals
16.1
1.8

Czechoslovakia Team
Rank:

No official ranking;
EFO ranking
ELO rating 15th to 13th
Colours:
Red crew-necked jerseys, white shorts, blue socks.
Capt:
Ján Pívarník
Manager:
Václav Ježek, 51 (1 October 1923), appointed 1972.
Czechoslovakia Lineup
1
Viktor, Ivo
32
162 days
21 May 1942
G

FC Dukla Prague

45
0
2

Varadín, Vojtech

26
33 days
27 September 1948
LB
FC Spartak Trnava
3
0
3
Čapkovič, Jozef, off 64th min.
26
292 days
11 January 1948
LCD
SK Slovan Bratislava
3
0
4
Ondruš, Anton
24
217 days
27 March 1950
RCD
SK Slovan Bratislava
8
1
5
Pívarník, Ján
26
351 days
13 November 1947
RB
SK Slovan Bratislava
22
1
6
Gajdůšek, Miroslav
23
40 days
20 September 1951
LM
FC Dukla Prague
9
0
7
Bičovský, Přemysl, off 70th min.

24
73 days
18 August 1950
RM
Sklo Union Teplice
17
5

8

Švehlík, Ján
24
286 days
17 January 1950
CF
SK Slovan Bratislava
5
2
9
Pekárik, Ivan
22
207 days
6 April 1952
CM
SK Slovan Bratislava
7
1
42nd min. for handling the ball
10
Masný, Marián
24
78 days
13 August 1950
RF
SK Slovan Bratislava
3
1
11
Stratil, Pavel
29
196 days
17 April 1945
LF
Sklo Union Teplice
19
2
Czechoslovakia Substitutes
12

Vojáček, Rostislav, on 64th min. for Čapkovič

25
249 days
23 February 1949
CD
FC Banik Ostrava
4
0
16

Kuna, Ladislav, on 70th min. for Bičovský

27
210 days
3 April 1947
RM
FC Spartak Trnava
47
9
result: England 3 Czechoslovakia 0
unused substitutes:
14-Karol Dobias, 15-Zdenek Nehoda, 22-Alexander Vencel.
team notes:
Ivan Pekárik will die prematurely at the age of 28 years to acute leukemia, on 28 July 1980.
4-3-3
Viktor -
Pivarník, Ondruš, Čapkovič (Vojáček), Varadín -
Bičovský (Kuna), Pekárik, Gajdúšek -
Masný, Švehlík, Stratil

Averages: (start)
(finish)

Age
25 years 343 days
26 years 53 days
Appearances/Goals
12.8
1.2
Match Report by Mike Payne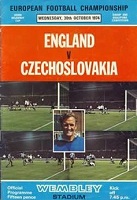 A new manager, a new strip and a new challenge as England set off on their European Championship quest with a convincing victory over Czechoslovakia. Don Revie has been given the reins after Joe Mercer's cameo role and his first move was to give England a new outfit. Still white shirts and blue shorts, but each with a red, white and blue stripe down the sides. Very bright and a marketing man's dream!

As for the game, England took a long time to settle it after missing several good chances early on. Three times in the opening 15 minutes the home side should have scored. Mike Channon, twice, and Frank Worthington both missed from good positions and all too often the frustrations built up as the Czech's doggedly held out. Channon's two effort's were bad misses as he headed and then volleyed over the bar from close in after being set up by lovely crosses from Worthington. Worthington himself then went close when his header hit the upright after a corner by Emlyn Hughes. Even then, Channon might have scored from the rebound.

The match could and should have been all over by half-time, but as it was England had to wait until the 65th minute to finally reach a turning point. Revie made a double substitution, bringing on Dave Thomas and Trevor Brooking, and it proved a master-stroke.



Immediately the pair made their presence felt and within five minutes, Thomas made the first goal. The winger soon started to give his marker Varadín problems, and one run down the right ended with the defender tripping the England man. Thomas took the free-kick himself and floated the ball in for Channon to atone for his earlier misses by leaping high to head past Viktor.

That goal was just the lift England badly needed at that stage and within ten minutes of the opening goal they had another to celebrate. A break by the ever-willing Channon ended with a superb diagonal cross which Kevin Keegan dummied cleverly, allowing Bell to come in with a beautifully guided low shot. Almost at once it was 3-0. Again the Bell-Channon combination did the trick, first when Bell sent Channon galloping down the left, and then when Channon's cross came over for Bell to follow up at high speed to head home a magnificent goal.

Bell had gained his reward in his best game for England so far, and with the solid Dave Watson and the promising Gerry Francis also giving fine displays then it all augered well for the future. Needless to say, Revie could barely hide his delight, and neither could the crowd.

Match Report by Norman Giller
Don Revie boldly opened his career as England manager by making a double substitution in the seventieth minute of this European championship qualifier. Revie sent on Dave Thomas and Trevor Brooking for Frank Worthington and Martin Dobson, and it was Thomas who created the first goal when his cross was headed in by Mike Channon. Two more goals followed in the next nine minutes. Channon found Bell with a superb diagonal pass, and he steered it into the net with a well placed shot. Then the inspired Channon crossed the ball for Bell to head in the third goal that sent choruses of 'Land of Hope and Glory' thundering around Wembley for an England team newly decked out in jerseys with red and blue shoulder stripes. The Admiral was in command, and there was huge criticism of the way England had sold their image to a sportswear company that had their name 'Admiral' splashed across the tracksuits.

Match Report by Glen Isherwood
Czechosloavkia had prevented England from scoring in their only previous Wembley appearance in 1966. England had beaten them in the 1970 World Cup in Guadalajara and 1973 had seen a 1-1 draw in Prague. They had reached the semi-finals of the first European Championship in 1960, but, like England, had failed to qualify for the recent World Cup, finishing runners-up in their qualifying group to Scotland. This was the opening match in Group One and England's first under new manager, Don Revie.
England, in their new red, white and blue kit, created several chances, but the Czechs held out until a cross from substitute Thomas was met with a superb header from Mike Channon. Viktor was rooted to the spot as the ball flew past him. Eight minutes later, Channon split the Czech defence and Colin Bell stretched to stab the ball past Viktor for the second. Within three minutes, Channon had crossed for Bell to rise above the defence and score again. After holding out for so long the Czechs had crumbled.
Following such a convincing victory, it was difficult to believe that Czechoslovakia would go on to win the European Championship, two years later after beating England 2-1 in the return in Bratislava, the following year. In the final, they beat West Germany, the reigning World and European Champions, on penalties in Belgrade. Yet Scotland, once again, prevented them from qualifying for the World Cup, in 1978. Later that year, the European Champions returned to Wembley.

Match Report
as appears in the F.A. Yearbook 1975-76, page 40
England made a flying start in their bid to be Champions of Europe for the first time. Czechoslovakia were well and truly outplayed although for 70 frustrating minutes it looked as if the 1973-74 story of total ascendancy without goals would be repeated.
In spite of incessant pressure on the Czech goal, a none-too-safe goalkeeper, and, at times, shaky defence, it seemed that the all-important first goal would elude our forwards. Before a crowd of 82,00 and wearing the new strip, the experienced campaigners of the home country outmatched their opponents in speed, skill and attacking flair. In mid-field, Bell was having an outstanding game with new cap Francis providing plenty of action up front. Channon saw two chances just miss in the opening quarter of an hour while at the other end the Czechs in one rare break-away clipped the top of the bar from a shot by Pivarnik.
In a thrilling climax to the match England scored three times without reply. The spate of goals was preceded by a double substitution, when Worthington and Dobson were replaced by Thomas and Brooking. Thomas's pace down the right wing spread panic in the Czech defence and it was from a centre by the Q.P.R. winger that Channon opened the scoring with a well-judged header on the blind side of the defence.
With ten minutes to go Channon sent a magnificent diagonal pass through the middle which Bell met in full flight, steering the ball wide of Viktor in the Czech goal. This Manchester City player's anticipation and split-second timing were a feature of the game. Bell headed England's third goal a minute later as he again found himself in the right spot to head Channon's cross from the left flank.


Source Notes
TheFA.com
UEFA.com
Original newspaper reports
Official matchday programme
The Complete Book of the British Charts

Rothman's Yearbooks


Mike Payne's England: The Complete Post-War Record


Norman Giller, Football Author


Glen Isherwood's Wembley Records
Rudé právo
cg