"THE AMBULANCE MAN'S WEMBLEY"
Daily
Herald
Officials

from Scotland

England
UK ruling on substitutes
Wales

Referee




Hugh Philips


35 (4 April 1921), Wishaw, Lanarkshire
"THE MATCH WAS CARRIED OFF ON A STRETCHER.


"It was ten men against eleven for 62 minutes. It was nine men against eleven for eight minutes. It as ten against ten for the last 29 minutes. But without Kelsey in goal it was an unfair contest for 78 minutes."

- The Daily Herald, Thursday, 15 November 1956

flame flag

Linesmen

orange flag

John McNiven


Stonehouse

H.G. Rutherford


Edinburgh

England Team
Rank:

No official ranking system established;
ELO rating 4th
Colours:
The 1954 Umbro home uniform - White v-necked short-sleeved continental jerseys, blue shorts, black socks with white tops.


15th, W 8 - D 4 - L 3 - F 39 - A 19.

⁴³
Capt:

Billy Wright³
64th W 37 - D 13 - L 14 - F 160 - A 95.⁹⁰

Manager:
Walter Winterbottom, 43 (31 March 1913), appointed as FA national director of coaching/team manager on 8 July 1946;
82nd match,

W

fifty

- D 17 - L 15 - F 234 - A 116

, one abandoned.¹³⁹
Trainer: Bill Moore (Aston Villa)

Team chosen by Selection Committee, headed by Joe Mears, on Monday, 5 November

England Lineup

five changes

to the previous match

(R.Matthews, Edwards, Revie, Taylor & Wilshaw out)

league position

(5 November)

Ditchburn, Edwin G.
35
21 days
24 October 1921
G
Tottenham Hotspur FC

(FL 2nd)

4

7ᵍᵃ

2
Hall, Jeffrey

J.

27
68 days

7 September 1929

RB
Birmingham City FC

(FL 6th)

11
0
3
Byrne, Roger W.
27
67 days
8 September 1929
LB
Manchester United FC

(FL TOP)

24
0
4
Clayton, Ronald
22
101 days
5 August 1934
RHB
Blackburn Rovers FC

(FL2 15th)

8
0
5
Wright, William A.
32
282 days
6 February 1924
CHB
Wolverhampton Wanderers FC

(FL 8th)

79
3

most apps

1952-56

6
Dickinson, James

W.

31
204 days
24 April 1925
LHB
Portsmouth FC

(FL 20th)

46
0
7

Matthews, Stanley
41
287 days
1 February 1915
OR
Blackpool FC

(FL 3rd)

49
10
oldest outfield player
757
8

Brooks, John
24
327 days
23 December 1931
IR
Tottenham Hotspur FC

(FL 2nd)

1
1

the 24th Hotspur player to represent England

9

Finney, Thomas
34
223 days
5 April 1922
CF
Preston North End FC

(FL 9th)

61
27
10

Haynes, John N.
22
28 days
17 October 1934
IL
Fulham FC

(FL2 9th)

9
5
11
Grainger, Colin, injured off 61st min.
23
157 days
10 June 1933
OL
Sheffield United FC

(FL2 6th)

6
3
reserve:
originally Jimmy Dickinson (Portsmouth FC

(FL 20th)

). He was replaced with Tony Marchi (Tottenham Hotspur FC

(FL 2nd)

).
team notes:
Duncan Edwards (Manchester United FC

(FL TOP)

) was the original named left-half. An injury meant his place going to Dickinson on Monday, 13th.
Colin Grainger twisted his leg and broke his right ankle and was carried off in the 61st minute.
Billy Wright extends his record appearance tally, in his record 44th consecutive match.
pre-match notes:
The England players beat Arsenal FC by a solitary Johnny Brooks goal in a practise match at Arsenal Stadium, Highbury, on Tuesday 13th. The players then watched a re-run of their victory over Brazil before an early evening show at one of the theatres.
records:
England win a record seventh match in a row at Wembley, extending their tally. It also beats a record sequence of seven matches unbeaten at the stadium, beating the previous record created in 1953.
It is Walter Winterbottom's tenth victory at the Empire Stadium.
Johnny Brooks is the 142nd England player to score on his debut.
The team trained at Hendon on the Monday, and at Highbury on the Tuesday.
2-5-3
Ditchburn -
Hall, Byrne -
Clayton, Wright, Dickinson -
Matthews, Brooks, Finney, Haynes, Grainger.

Averages:

Age

29

years 130 days
Appearances/Goals

27.1

4.2

Wales Team
Rank:

No official ranking system established;
ELO rating 30th
Colours:
Made by Umbro - Red continental jerseys with white collars/cuffs, white shorts with red side stripe, red socks with white tops.
Capt:
Alf Sherwood
Manager:
James Patrick Murphy, 46 (8 August 1910), appointed 18 October 1956.
Team chosen by Selection Committee on Monday, 5 November
Wales Lineup
Kelsey, A. John, injured 12th min. off 16th min.
26
361 days
19 November 1929
G

/OL

Arsenal FC

, England

11

21ᵍᵃ

2/
Sherwood, Alfred T.
33
1 day
13 November 1923
RB/G
Newport County FC
41
0
took Kelsey's numberless jersey after 16 min
final app

1947-56

3
Hopkins, Melvyn
22
7 days
7 November 1934
LB
Tottenham Hotspur FC

, England

3
0
4
Harrington, Alan C.
22
363 days
17 November 1933
RHB
/RB
Cardiff City FC
3
0
5
Daniel, W. Raymond
28
12 days
2 November 1928
CHB
Sunderland AFC

, England

19
0
6
Sullivan, Derrick
26
96 days
10 August 1930
LHB
Cardiff City FC
8
0
7
Medwin, Terence C.
24
50 days
25 September 1932
OR
Tottenham Hotspur FC

, England

5
1
8
Charles, Melvyn, injured off 43rd min.
21
184 days
14 May 1935
IR/
RHB
Swansea Town FC
5
0
9

Charles, W. John
24
323 days
27 December 1931
CF
Leeds United AFC

, England

19
11
10

Allchurch, Ivor J.
26
334 days
16 December 1929
IL
Swansea Town FC
27
8
11
Jones, Clifford W.
21
281 days
7 February 1935
OL

/IR

Swansea Town FC
7
1
reserve:
Derek Tapscott (Arsenal FC, England)
team notes:
Jack Kelsey was injured in a collision with Tom Finney in the twelfth minute and was stretchered off the field after receiving attention for four minutes. Alf Sherwood deputised. Mel Charles was taken to the dressing room in the 42nd minute after receiving a blow by the ball in the stomach by Johnny Haynes.
Both players returned to the field shortly in the second-half. Kelsey at outside-left, and Mel Charles as an ineffective right-half. Kelsey was off again in the 61st minute, alongside Grainger.
The Welsh team were training in Byfleet in the build-up to this match.
2-3-5
Kelsey (Sherwood) -
Sherwood (Harrington), Hopkins -
Harrington (M.Charles), Daniel, Sullivan -
Medwin, M.Charles (Jones), J.Charles, Allchurch, Jones (Kelsey)


notes: When Kelsey was injured, Sherwood replaced him in goal, with Harrington and M.Charles each dropping back a position. WHen Kelsey did return, he did so as an outside-left

Averages

:

Age

25

years 118 days
Appearances/Goals

13.5

1.8
Match Report
by Mike Payne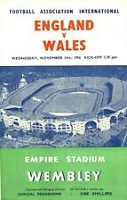 ENGLAND'S recent good run at Wembley was stretched to seven consecutive victories after they beat Wales by three goals to one. The match was far from memorable though and was too often interrupted by a succession of injuries.

Wales began in their usual fervent fashion as the awesome J. Charles was soon showing his power. After only eight minutes they produced a shock by taking the lead. An infringement by Roger Byrne gave Allchurch the chance to send a free-kick to the far post from a position just outside the right-hand edge of the penalty area. The kick was perfectly judged and it was met by the incoming J. Charles who outjumped the defenders to head firmly past Ted Ditchburn's despairing left hand.

The Welsh supporters were delighted but their joy was soon replaced by concern as Jack Kelsey was injured diving at Tom Finney's feet. The goalkeeper was badly hurt and had to be stretchered off. Sherwood went in goal and immediately impressed with some confident handling. However, the rhythm of the game was upset and England, although not convincingly, began to take control.

With tenacious defending though the Welsh held on to their lead with Daniel holding Finney expertly and Hopkins outstanding at full-back. Finney was struggling in his new roll of a ball playing centre-forward and even when Mel Charles had to go off for treatment five minutes from the break` England could still find no way past the resolute defending of the Welsh.

Indeed, Wales almost snatched another goal on a couple of breakaway occasions and Ronnie Clayton was very fortunate to see his foul on Allchurch only produce a free-kick just outside the box when a penalty looked likely. John Charles almost broke through again, only for Billy Wright to make a brilliant saving tackle.

England, meanwhile, came very close when first Finney headed a Colin Grainger cross against a post, and then Grainger himself hit the same post with a header from a Stan Matthews cross. The Welshmen in the 95,000 crowd kept cheering their players on and their team miraculously held out until half-time. After the break M. Charles returned fully fit to the fray and took up a position on the left wing to provide, perhaps, a nuisance to the England defenders. Unfortunately, it was not to be and the goalkeeper soon hobbled off again, this time for good.

The pressure increased from England and in seven minutes after half-time they forged a lead they were not to lose. First, a corner by Grainger on the left was headed back across the goal by Finney and Johnny Haynes was on hand to hit a low, hard left-foot volley past Sherwood to equalise.

Shortly afterwards England took the lead when an excellent passing movement between Haynes, Clayton, Matthews and Johnny Brooks ended with the latter latching on to a rebound off a defender to hit home an angled shot wide of the unfortunate Sherwood.

Ironically, Grainger then had to leave the field injured, thus making the sides level in numbers again, but then Haynes began to hobble too. This did not seem to stop England from retaining control though and, with Wright now stifling the threat from John Charles, there was little danger from the Welsh attack.

Brooks was enjoying much more freedom now and with 15 minutes left he and Matthews set up goal number three. Combining at a short corner, the ball ran for Matthews to centre from the right. In came Finney to delicately flick the ball wide of Sherwood to score the decisive goal.

The game was now well and truly over and the feeling was left that the injuries had had a bad effect on the pattern of the match. Also there was a question-mark over Finney as the new centre-forward as his ball-playing style seemed a little lost as the natural tendency of the wingers to cross the ball did not suit such a tactical move.

Match Report
by Norman Giller
This Home Championship match was wrecked by an injury to Welsh goalkeeper Jack Kelsey, who was carried off after being knocked out diving at the feet of Tom Finney. The incident came while the Welsh supporters were celebrating an eighth minute goal from John Charles, who rose above Billy Wright's challenge to head in an Ivor Allchurch corner. Right-back Alf Sherwood took over in the Welsh goal, and from then on England were dominant despite the stirring efforts of John Charles to turn the tide. Second-half goals from Johnny Haynes, debutant Johnny Brooks and the versatile Tom Finney at centre-forward gave England an undistinguished victory. This was England's seventh successive win at Wembley. The subject of whether substitutes should be allowed was again a major talking point. Wales started full of fire and were obviously going to give England a difficult afternoon, but then the injury to goalkeeper Jack Kelsey robbed them of their rhythm. They also had Mel Charles as a hobbling passenger for much of the match, and we were handicapped by injuries to Colin Grainger and Johnny Haynes. It would have made sense to at least allow substitute goalkeepers, but the powers-that-be refused to follow the lead of the Continental clubs who were using substitutes more and more. It would be another nine years before they at last saw sense and allowed substitutes.

Match Report
by Glen Isherwood
Wales had beaten England 2-1 at Ninian Park the previous year, their first victory over England since the war. They had only won once at Wembley, during war-time England had already drawn 1-1 with Northern Ireland at Windsor Park, while Wales had drawn 2-2 with Scotland at Ninian Park. All four teams had shared the previous season's British Championship, but England were aiming for a record sixth successive title. Defeat would eliminate Wales, as in their previous two visits.
The visitors were ahead after only eight minutes. An inch-perfect free-kick from Allchurch was headed in by John Charles. Four minutes later, however, they seemed destined to lose their lead when their goalkeeper Kelsey was injured diving at the feet of Finney. Sherwood went in goal. Somehow they managed to hold their lead until half-time. Kelsey came out for the second half for a short while but Sherwood stayed in goal.
Inevitably, England scored. Just after half-time a corner from Grainger was headed on by Finney for Johnny Haynes to volley the equaliser. Johnny Brooks put England in front from a rebound. Then, with half an hour left, England were reduced to ten men when Grainger went off with an injured ankle. The Welsh were still disadvantaged, though, and finally the ageless Matthews crossed for Tom Finney to score the third.
Yet again England and Scotland decided the British Championship. Wales did not return to Wembley until 1960 and they would not beat England again until 1977.

Match Report

as appears in the F.A. Yearbook 1957-58 page 32
In a game marred by injuries England gained a somewhat hollow victory over Wales before 90,000 spectators at Wembley on November 14th. John Charles headed a perfect goal for Wales in the eighth minute, but five minutes later Kelsey, the Welsh goalkeeper, was hurt as he went down to the feet of Finney, and Sherwood took his place for the remainder of the match. Wales held their lead until the interval, but second-half goals by Haynes, Brooks, and Finney soon placed England on top, even though Grainger also had to leave the field with a leg injury. Altogether an ill-fated International.

Annual Inter City Cup


Glasgow 2 Sheffield 2


Shawfield Park, Glasgow

(15,000)
Ring, Craig

~

Quixall

(2)


Friendly match:
Newcastle United 5 Partick Thistle 0
Source Notes
TheFA.com
Original newspaper reports
The Complete Book of the British Charts
Wales' Complete Who's Who since 1946
Glen Isherwood's Wembley: The Complete Record

Rothman's Yearbooks




Mike Payne's England: The Complete Post-War Record


Norman Giller, Football Author


Drew Herbertson, Scottish F.A. Historian


British Pathé
cg