"Bravo! These are the boys England need!"
Daily Herald
Officials
England
FIFA ruling on substitutes
Yugoslavia

Referee


José Da Costa Vieira
47 (13 February 1908), Porto, Portugal
Linesmen
R. Speake


Manchester

Kenneth C. Hesketh


Prestwich

England B Team
Rank:

No official ranking system established;
Colours:
the 1954 Umbro home uniform - White v-necked short-sleeved continental jerseys, blue shorts, black socks with white tops.
Capt:
Joe Kennedy


second, W 1 - D 0 - L 1 - F 6 - A 8.

³

Manager

:
Walter Winterbottom, 42 (31 March 1913), appointed as FA national director of coaching/team manager on 8 July 1946;


eleventh B match, W 7 - D 4 - L 0 - F 32 - A 6.

Trainer: Laurie Barnett (Manchester City FC)
Teams chosen by the Intermediate Selection Committee, headed by Frank Adams, on Wednesday evening, 12 October, following the FA XI match with the RAF XI.
England B Lineup

seven changes

to the previous B match

(Langley, Wheeler, Atyeo & Haynes remain)

league position

(12 October)

12
Baynham, Ronald L.
26
131 days
10 June 1929
G
Luton Town FC

(FL 10th)

1

1ᵍᵃ

112
only B app 1955
113
2
McGhee, Thomas
26
162 days
10 May 1929
RB
Portsmouth FC

(FL 8th)

1
0
only B app 1955
3
Langley, E. James
26
254 days
7 February 1929
LB
Brighton & Hove Albion FC

(FL3S 5th)

2
0
4
Wheeler, John E.
27
85 days
26 July 1928
RHB
Bolton Wanderers FC

(FL 6th)

4
0
5
Kennedy, Joseph P.
30
338 days
15 November 1925
CHB
West Bromwich Albion FC

(FL 2nd)

2
0
114
6
Clayton, Ronald
21
75 days
5 August 1934
LHB
Blackburn Rovers FC

(FL2 14th)

1
0
115
7

Groves, Victor G.
22
348 days
5 November 1932
OR
Leyton Orient FC

(FL3S 4th)

1
0
only B app 1955
8

Atyeo, P. John W.
23
254 days
7 February 1932
IR
Bristol City FC

(FL2 4th)

2
1
9

Jezzard, Bedford A.G.
25
277 days
15 January 1929
CF
Fulham FC

(FL2 TOP)

3
6
mst B goals 1954-55
final B app 1954-55
10

Haynes, John N.
21
2 days
17 October 1934
IL
Fulham FC

(FL2 TOP)

5
0
=mst B apps 1954-55
116
11

Perry, William
25
39 days
10 September 1930
in Johannesburg, South Africa
OL
Blackpool FC

(FL TOP)

1
2

unused substitutes:

Reg Matthews (Coventry City FC

(FL3S 10th)

), Ken Barnes (Manchester City FC

(FL 13th)

) and Geoff Bradford (Bristol Rovers FC

(FL2 5th)

). Ray King (Port Vale FC

(FL2 3rd)

) replaced Matthews on Monday, 17th.

team notes:

The B team trained against and lost (1-4) the senior side under floodlights on Monday, 17th, at the Cliff Ground, Broughton in Manchester, in which Joe Kennedy twisted his ankle a few minutes in.
On Tuesday, they trained with the Manchester United FC side, the practise match resulted in a 6-0 defeat.
With some doubt over Joe Kennedy's fitness, Derek Ufton (Charlton Athletic FC

(FL 5th)

) was placed on standby
2-3-5
Baynham -
McGhee, Langley -
Wheeler, Kennedy, Clayton -
Groves, Atyeo, Jezzard, Haynes, Perry.

Averages:

Age
25 years 80 days
Appearances/Goals
2.0
0.3

Yugoslavia
B Team
Rank:
No official ranking system established;
Colours:
Light blue jerseys, white shorts
Capt:
Manager:
Dragomir Tošić, 45 (8 November 1909)
Yugoslavia Lineup
Stojanović, Slavko
25
140 days
1 June 1930
G
Fk Partizan
2
Stipić, Mladen
nk
not known
RB
Fk Sarajevo
3
Biogradlić, Ibrahim
24
225 days
8 March 1931
LB
Fk Sarajevo
4
Popović, Vladimir
20
216 days
17 March 1935
RHB
Fk Crvena Zvezda
5
Juričko, Zdravko
26
204 days
29 March 1929
CHB

Fk BSK Borča

6
Pajević, Božidar
28
300 days
23 December 1927
LHB
Fk Partizan
7
Antić, Sava
25
232 days
1 March 1930
OR
OFk

Beograd

8
Čonč, Vladimir
27
279 days
13 January 1928
IR
nk Dinamo Zagreb
9
Lipošinović, Luka
21
160 days
12 May 1933
CF
nk Dinamo Zagreb
10

Prljincević, Zoran
23
265 days
27 January 1932
IL
FK Radnički
11
Tasić, Lazar
24
197 days
5 April 1931
OL
Fk Crvena Zvezda
unused substitutes:
Srboljub Krivokuca (Fk Crvena zvezda)
2-3-5
Stojanović -
Stipić, Biogradlić -
Popović, Juričko, Pajević -
Antić, Čonč, Lipošinović, Prljincević, Tasić.

Averages:

Age
24 years 332 days¹⁰
Appearances/Goals
Match Report
by Clifford Webb

, Daily Herald, Thursday, 20 October 1955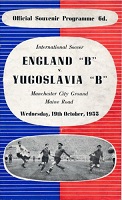 THE "B" stands for the Boys England need Theirs was a fine, heart-warming performance at Maine-road, Manchester, last night, when they were really hammered home their superiority over a tough, skilful, swift moving Jugoslav team.
Remembering that their opponents' reputation is second to none among the "B" teams of Europe, this win was certainly something to get steamed up about. It emphasised once again the superlative Soccer quality of Johnny Haynes, who was just as much the guiding genius in attack as he had been against Denmark's under-23s. It also put his Fulham team-mate, Bedford Jezzard, once again on the international map; and marked down Bristol City's John Atyeo as the kind of goal-getter who should find a place in England's senior side. Quite a night, in fact, for the boys of the Second Division.
A two goal lead at half-time was no more than we deserved, even if the icy blasts did blow in England's favour. In fact, it was the kind of gusty wind that what was of no permanent value. You just didn't know when it was coming. We went in front after 29 minutes through John Atyeo, who swivelled with amazing agility, for one so heftily built, to hook a volley past the goalkeeper. The chance came from a Vic Groves corner-kick, and it was Bill Perry who glanced the ball with his head in Atyeo's line of fire. Twelve minutes later Jezzard smashed home a beauty from beyond the corner of the penalty box, after Haynes had touched the ball on with perfect precision. Between times we had seen much bright, speedy football from both sides; and, believe me, England found their rivals no easy meat.
There was no lack of enthusiasm for the tackle about this Continental side. They made our boys fight for every ball and brought the best out of England's half-back line.
I thought Joe Kennedy handled the mid-field raids of Amcic and Conc with magnificently cool efficiency. On either side of him Johnny Wheeler and Ron Clayton worked tirelessly; and all three made up adequately for some of the deficiencies at full-back, where both Tommy McGhee and Jim Langley occasionally got tied up against the speedy Jugoslav wingers.
But no doubt about it, the boys who gave the top-notch outlook to the England attack were Haynes and Atyeo. Their performances spelled high hopes for the future in that their contrasting styles were blended to near perfection. Haynes roamed ceaselessly to find the ball in the open space and set his line alight with canny passes. Atyeo teamed up with Jezzard in a double spearhead, and was in fact, because of the tremendous power and speed of his goalward rushes, often more of a menace than the centre-forward. The Jugoslavs had obviously heard all about the estimated monetary value of Vic Groves and the danger thrusts of Bill Perry. Their backs close-marked both flank men and cut down their usefulness of a result. But they paid for this over-concentration with scanty midfield coverage.
Goalkeeper Baynham came well out of some goal-front scrambles in the second half, and was agile and sure in his handling of anything in the air. The Jugoslav attack, fairly subdued before the interval, came much more into the swim in the second half; but some of their better moves were ruined by sky-high shooting. Outside-right Lipusinovic, who scored four goals against Germany "B" recently, was always a potential source of danger, but Clayton continued to back up Langley with fine appraisal of the more difficult situations.
I must say I took an extremely good view of the Blackburn left-half last night.
Midway through the second half came the electric burst from England that really settled the Europeans. Two goals in less than half a minute. It was enough to rock any visiting side. Johnny Haynes was right in it again. He weaved out to the left before turning with agile skill to cross a ball that Jezzard headed expertly just inside the post. Straight from the restart Groves inside to flick a ball on to Perry, and Blackpool's South African cracked it smartly home. Jugoslavia hit back with a picture goal from inside-left Prljicevic, but before the finish Perry scored a fifth goal for England after Jezzard had crossed the ball from near the right-corner flag.

Match Report
as appears in the F.A. Yearbook 1956-57 page 28
Yugoslavia's 'B' team came to play this match at Manchester (Maine Road) on October 19th with a big reputation, having previously beaten Germany 'B' by 8-0. But England's young forwards gave a most encouraging display, and a 2-0 lead at half-time was thoroughly deserved. Wing-halves Clayton and Wheeler helped England well on top in the second half, and it was clear from this match that our full international team had plenty of good reserve material available if and when it was required. The scorers were Atyeo, Jezzard (2), and Perry (2).

Source Notes
Official matchday programme




Rothman's Yearbooks




Original newspaper reports
cg