Match Summary
Officials from Scotland

Northern Ireland Party
England Party
Referee
Charles Edward Faultless
x (-), Glasgow.
Linesmen
James Fenton
Paisley
Alexander C. Brown
Glasgow

Northern Ireland Team
Rank:

No official ranking system established;
ELO rating 46th
Colours:
Green continental jerseys with white v-neck collar/cuffs, white shorts, blue socks with white tops.
Capt:
Alf McMichael
Manager:
Trainer: G.Morgan (Linfield FAC)
Peter Dermot Doherty, 41 (5 June 1913), appointed October 1951, also manager at Doncaster Rovers FC since June 1949.
eleventh match, W 1 - D - 2 - L 8 - F 10 - A 29.


Team selected on Tuesday, 21 September 1954.

Northern Ireland Lineup
Uprichard, W. Norman M.
26
20 April 1928
G
Portsmouth FC

, England

8

19ᵍᵃ

2
Montgomery, Frank J.
nk
not known
RB
Coleraine FC
1
0
3
McMichael, Alfred
27
1 October 1927
LB
Newcastle United FC

, England

16
0
4
Blanchflower, R. Dennis
28
10 February 1926
RHB
Aston Villa FC

, England

14
0
5
Dickson, William
31
15 March 1923
CHB
Arsenal FC

, England

12
0
6
Peacock, Robert
26
29 September 1928
LHB
The Celtic, Scotland
4
0
7
Bingham, William L.
23
5 August 1931
OR
Sunderland AFC

, England

12
0
8
Blanchflower, John
21
7 March 1933
IR
Manchester United FC

, England

2
0
9
Simpson, William J.
24
12 December 1929
CF
Rangers FC

, Scotland

5
2

10

McIlroy, James
22
25 October 1931
IL
Burnley FC, England
10
0
11
McParland, Peter J.
20
25 April 1934
OL
Aston Villa FC, England
2
2

reserve:

Terry McCavana (Coleraine FC).

team notes:

Due to an ankle injury, right-back Len Graham (Doncaster Rovers FC) was replaced by Montgomery on Tuesday, 28 September. Billy McAdam (Manchester City FC) was the original named centre-forward was hospitalised, his place going to Simpson on Wednesday, 29.
Prior to the match, the Irish team were set up in Newcastle.
Manager Peter Doherty played for Ireland against England on seven separate occasions from 1935 until 1947, scoring one in 1947.
Danny and Jackie Blanchflower are brothers.
2-3-5
Uprichard -
Montgomery, McMichael -
D.Blanchflower, Dickson, Peacock -
Bingham, J.Blanchflower, Simpson, McIlroy, McParland.

Averages:

Age
24.8
Appearances/Goals
7.8
0.3

England Team
Rank:

No official ranking system established;
ELO rating 7th to 5th
Colours:
The 1949 home uniform - White collared short-sleeved jerseys, blue shorts, red socks.
Capt:
Billy Wright, 47th captaincy
Manager:


Trainer: Jimmy Trotter (Charlton Athletic FC)

Walter Winterbottom, 41 (31 March 1913), appointed as FA national director of coaching/team manager on 8 July 1946;


65th match, W 40 - D 13 - L 12 - F 189 - A 95

, one abandoned. Team chosen by Selection Committee, headed by Harold Shentall, on Sunday, 26 September 1954.
England Lineup

74

Wood, Raymond E.
23
11 June 1931
G
Manchester United FC
1

0ᵍᵃ

734

735

2
Foulkes, William A.
22
5 January 1932
RB
Manchester United FC
1
0
3
Byrne, Roger W.
25
8 September 1929
LB
Manchester United FC
7
0

736

3
Wheeler, John E.
26
26 July 1928
RHB
Bolton Wanderers FC
1
0
5
Wright, William A.
30
6 February 1924
CHB
62
3

737

6
Barlow, Raymond J.
28
17 August 1926
LHB
West Bromwich Albion FC
1
0
7
Matthews, Stanley
39
1 February 1915
OR
Blackpool FC
39
10

738

8
Revie, Donald G.
27
10 July 1927
IR
Manchester City FC
1
1
9
Lofthouse, Nathaniel
29
27 August 1925
CF
Bolton Wanderers FC
22
23

739

10
Haynes, John N.
19
17 October 1934
IL
Fulham FC
1
1

740

11
Pilkington, Brian
21
12 February 1933
OL
Burnley FC
1
0

reserve:

Bill Slater (Wolverhampton Wanderers FC)

team notes:

Prior to the match, the England party had practice matches at Maine Road and Anfield (see below), before leaving for Ireland on Wednesday, 29 September.
Tom Finney (Preston North End FC) was the original named outside-left, because of fibrositis, his place went to Pilkington on Monday, 27 September.
Billy Wright extends his record appearance tally, but this is still the most inexperienced side that has been fielded since against Austria in November 1951. Seven debutants is the most since the nine started the first post-war match, against Ireland.
Not since the match against Switzerland in December 1948 have two players scored on their debut.
2-3-5
Wood -
Foulkes, Byrne -
Wheeler, Wright, Barlow -
Matthews, Revie, Lofthouse, Haynes, Pilkington.

Averages:

Age
26.3
Appearances/Goals
12.5
3.3
Match Report by Mike Payne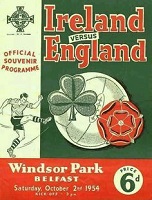 England, home from a crushing defeat by Hungary and failure in the World Cup, travelled across the Irish Sea for their match against Northern Ireland. The result followed the usual pattern of previous clashes between the two sides with England, once again, coming out on top. Every game they have played in Ireland since 1927, apart from a solitary draw in 1952, had ended the same way and the fixture now had a monotonous ring about it. With all the problems of the summer now hopefully behind them, England were now looking to begin a new era.

With seven new caps in the side they were hoping to open their season with an encouraging performance. Alas, what followed proved to be an anti-climax as England produced a mediocre display.

There had been lots of words both written and spoken since the summer all suggesting ideas and tactics that England could use to climb back up the football tree. Indeed, get-togethers had been arranged in both Manchester and Liverpool during last week to emphasise the concern everyone felt for improving the side.

But all the talking came to nothing as Northern Ireland pinned England back for long periods. It, in fact, took England 75 minutes to produce a worthwhile moment.

Ireland were not convincing or strong enough and despite all their possession they showed little up front. They missed their chance of victory mainly in the 20-minute spell leading up to half-time. Simpson was put through by Jackie Blanchflower and, with England standing vainly appealing for offside, the centre-forward missed a golden chance, shooting tamely at Ray Wood.

Then, two minutes before the break, Simpson missed another opening when he headed Bingham's centre straight at Wood's body when it seemed easier to score. Surely, Ireland would have gone on to win had they taken either of those two fine chances?

Immediately after half-time, Ray Wood became the hero for England when he did well to save efforts from McIlroy, Jackie Blanchflower and McParland. Showing anticipation and agility, the goalkeeper did all that was asked of him on his debut.

Billy Wright, Ray Barlow and Wood all showed up well in this period with Wright outstanding in his new role of centre-half. He was rarely beaten, both in the air and on the ground and showed true world class. He was the shining beacon in the dullest of dull games.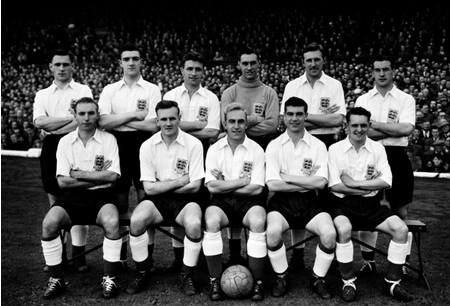 The other new players all struggled for England, Johnny Wheeler, Bill Foulkes and Roger Byrne all looked vulnerable and Don Revie and Johnny Haynes often failed in their passing.

Despite the criticism of this England performance they did have the satisfaction of the win. This came thanks to a couple of minutes of inspired play a quarter of an hour from the end.

Stanley Matthews, who had began to wander in search of the ball, set up the first goal. Picking it up in the inside-left channel, he found Brian Pilkington with a good pass. The winger's touch gave Haynes the chance to at last get in a defence-splitting pass which found Revie. Haynes then did well to move into a position to receive Revie's return pass before side-stepping a defender and shooting past Uprichard.

Within seconds it was 2-0. Wright again sent Matthews free and swift passing between Matthews, Revie, Lofthouse and Haynes ended with Revie firmly shooting the second goal.

So, amazingly, England had transformed the match with their only moments of worthwhile football. It failed, however, to hide all the problems that the team must face up to. The referee was Mr Faultless of Scotland! Oh for an England performance of the same name.

Match Report by Norman Giller
Don Revie and Johnny Haynes got their first taste of international football together and scored a goal each. There were five other new caps in a team that had been completely re-modelled following the quarter-final exit from the World Cup finals: Ray Wood, Bill Foulkes, Johnny Wheeler, Ray Barlow and Brian Pilkington, who played in place of the injured Tom Finney. Foulkes, Wheeler, Barlow and Pilkington were not capped again after this victory. The Irish worked desperately hard in a bid for their first victory over England since 1927, but the wind was knocked out of them by two goals inside two minutes late in the second half. Haynes exchanged a one-two pass with Revie before shooting wide of Portsmouth goalkeeper Norman Uprichard. Within a minute it was 2-0, Revie running on to a pass from Haynes and steering the ball low into the net. Haynes was just nineteen, and he already looked an assured and confident player who could hit accurate forty yard passes with either foot. But the powers-that-be decided he was too young to trust with the role of midfield general, and he was dropped along with Don Revie and six other players.

....elsewhere on this day
Football League Division One:
Aston Villa 0 Huddersfield Town 0
Burnley 2 Sheffield United 1
Cardiff City 4 Newcastle United 2
Chelsea 3 West Bromwich Albion 3
Leicester City 3 Arsenal 3
Manchester City 1 Everton 0
Preston North End 1 Portsmouth 1
Sheffield Wednesday 2 Blackpool 1
Sunderland 1 Bolton Wanderers 1
Tottenham Hotspur 1 Charlton Athletic 4
Wolverhampton Wanderers 4 Manchester United 2
Football League Division One table:
West Bromwich Albion
P 11
16pts
Manchester City
P 11
16pts
Sunderland
P 11
15pts
Chelsea
P 12
15pts
Preston North End
P 11
14pts
Wolverhampton Wanderers
P 11
14pts
Manchester United
P 11
14pts
Everton
P 11
13pts
Bolton Wanderers
P 11
13pts
Portsmouth
P 11
12pts
Cardiff City
P 11
12pts
Newcastle United
P 11
11pts
Huddersfield Town
P 11
11pts
Charlton Athletic
P 11
10pts
Arsenal
P 11
9pts
Burnley
P 11
9pts
Leicester City
P 11
8pts
Aston Villa
P 11
8pts
Sheffield Wednesday
P 11
7pts
Blackpool
P 11
6pts
Tottenham Hotspur
P 11
6pts
Sheffield United
P 12
5pts
The

Top Twenty UK Music Chart by New Musical Express
On Friday, 15 November 1952, The New Musical Express published the first ever singles chart in the UK. However, nearly two years later, when England beat Northern Ireland, Frank Sinatra's Three Coins In The Fountain was the best selling single. When the chart of Friday, 1 October 1954 was published, the first to contain twenty records, there were three surviving songs from the last chart when England played:-
1.
(=)
Three Coins In A Fountain

- Frank Sinatra (Capitol)

10.
The Story Of Tina - Al Martino (Capitol)
2.
(6)
Smile

- Nat 'King' Cole (Capitol)

12.
(=)
The Story Of Tina - Ronnie Harris (Capitol)
3.
(2)
Cara Mia

- David Whitfield with Mantovani & His Orchestra (Decca)

13.
(11)
West Of Zanzibar - Anthony Steel & The Radio Revellers (Polygon)
4.
(3)
My Friend

- Frankie Laine (Philips)

14.
(8)
Idle Gossip - Perry Como (HMV)
5.
(4)
Hold My Hand

- Don Cornell (Vogue)

15.
If I Give My Heart To You - Doris Day With The Mellomen (Philips)
6.
(5)
Little Things Mean A Lot

- Kity Kallen (Brunswick)

16.
Sh-Boom - Crew Cuts (Mercury)
7.
(=)

Gilly Gilly Ossenfeffer Katzenellen Bogen By The Sea

- Max Bygraves (HMV)

17.
(re)
Wanted - Al Martino (Capitol)
8.
(10)
Secret Love

- Doris Day (Philips)

18.
(re)
Wanted - Perry Como (HMV)
9.
(9)
The Black Hills Of Dakota

- Doris Day (Philips)

19.
(re)

Rachmaninoff's 18th Variation On A Theme By Paganini

- Winifred Atwell

(Philips)

10.
Sway - Dean Martin (Capitol)
20.
If I Give My Heart To You - Joan Regan (Decca)

♪Most weeks at number one when England played:


Doris Day and Frankie Laine five, Guy Mitchell two, Al Martino, Lita Roza, Stargazers and David Whitfield one each

Source Notes
"ENGLAND TEAM TO GET WEEK'S LEAGUE OPPOSITION.
"Manchester City and Liverpool have been chosen as the guinea-pigs to test England's team before the first international of the season—Ireland v. England in Belfast on October 2.
So begins a new era in our approach to international football. The selected players will be together for a whole week before the game; and there will be four practice sessions, with the two League clubs supplying the opposition at Maine-road and Anfield. That, at least, will be an improvement on the old business of rushing boys over to Ireland on the Thursday night for one brief get-together—with no opposition—on the Friday. The practice games will not necessarily be straightforward 90-minute affairs. But the opportunity to try out a variety of moves will be fully utilised." - Clifford Webb, The Daily Herald, Monday, 6 September 1954.

"MATTHEWS MISSES FIRST PRACTICE
"Stanley Matthews, the Blackpool outside-right, was absent from the England team's practice at Maine-road, Manchester, to-day―the first of two training spells in preparation for the international against Ireland on Saturday. Mr. Walter Winterbottom, the F.A. team manager, said that Matthews was having treatment for a slight injury, but would definitely take part in the second practice, against Liverpool at Anfield to-morrow. To-day, a team of Manchester City players provided the opposition to the England side. The practice was divided into two periods of 20 minutes each, the first a warming-up spell, and the second an all-out effort. The England backs tried out a defensive plan against corner kicks, in which the understanding between the Manchester United trio, Wood, Foulkes and Byrne was clearly evident." - Lancashire Evening Post, Tuesday, 28 September 1954.

"The England team were beaten 3-1 by Liverpool in a 35-minute practice match at Anfield yesterday. On Tuesday the national side were held to a 2-2 draw by Manchester City at Maine-road. The result of the trial, which began in heavy rain, could not have worried Walter Winterbottom however. Before it began he replied to criticisms of the side's performance on Tuesday, saying: 'It is nonsense to judge the potential of a side, or even individual players, on a training game. I must emphasise that these are games to enable players to get the feel of each other's ways. It gives them an opportunity to play as a team against different opposition, to work out moves and devise ways of overcoming weaknesses. The result hardly has any bearing on the matter. Players, far from impressive at practice often play fine games under the stimulus of match conditions.' Matthews, who missed Tuesday's training because of a slight thigh injury played in the eleven, which was:—Wood; Slater, Byrne; Wheeler, Wright, Barlow; Matthews, Revie, Lofthouse, Haynes, Pilkington.
Foulkes, the Manchester United full-back, was originally selected to play in the practice but he received a slight knock at Maine Road, and it was decided not to risk him yesterday. Salter came into the side. Winterbottom said that Foulkes was certain to be fit to play in Belfast." - The Birmingham Post, Thursday, 30 September 1954.

TheFA.com
Original newspaper reports
British Path�
Rothman's Yearbooks
Mike Payne's England: The Complete Post-War Record (Breedon Books Publishing Company, Derby, U.K., 1993)
Northern Ireland's Footballing Greats
Norman Giller, Football Author
officialcharts.com singles chart
Drew Herbertson, Scottish FA historian
____________________

CG