Match Summary
Officials

England

Type

Switzerland

Referee (-) - Karel Louis van der Meer
43 (29 July 1905), Den Haag, Netherlands.

Linesmen - N.W. Hillier, Northampton, Engand (flame flag) and L.A.M. Mackay, Fulham, England (yellow flag).
Teams presented to the Guest of Honour, the Swiss Prime Minister, Eduard von Steiger.



The FIFA ruling of allowing a substitute to replace an injured player prior to the 44th minute, and a goalkeeper at any time, is in place.

Goal Attempts
Attempts on Target
Hit Bar/Post
Corner Kicks Won
Offside Calls Against
Fouls Conceded
Possession

England Team
Rank:

No official ranking system established;
ELO rating 2nd
Colours:
The 1946 home uniform - White collared jerseys, blue shorts, black socks with white tops.
Capt:
Billy Wright, third captaincy
Manager:
Walter Winterbottom, 35 (31 March 1913), appointed as FA national director of coaching/team manager on 8 July 1946;
18th match, W 14 - D 3 - L 1 - F 66 - A 14.


Team chosen by Selection Committee headed by Arthur Drewry on Friday, 19 November 1948 in Sheffield.

England Lineup
Ditchburn, Edwin G.
27
24 October 1921
G
Tottenham Hotspur FC
1

0

GA

2
Ramsey, Alfred E.
28
22 January 1920
RB
Southampton FC
1
0
3
Aston, John
27
3 September 1921
LB
Manchester United FC
3
0
4
Wright, William A.
24
6 February 1924
RHB
18
0
5
Franklin, Cornelius
26
24 January 1922
CHB
18
0
6
Cockburn, Henry
27
14 September 1921
LHB
8
0
7
Matthews, Stanley
33
1 February 1915
OR
Blackpool FC
29
10
8
Rowley, John F.
30
7 October 1918
IR
Manchester United FC
1
1
9
Milburn, John E.T., injured his ankle, 85th min.
24
11 May 1924
CF
Newcastle United FC
3
2
10
Haines, John T.W.
28
24 April 1920
IL
West Bromwich Albion FC
1
2
11
Hancocks, John
29
30 April 1919
OL
Wolverhampton Wanderers FC
1
2

unused substitutes:

George Swindin and Don Roper (both Arsenal FC), who had replaced Rowley;

team notes:

Tom Finney (Blackpool FC) withdrew from the team on Tuesday, 23 November, after failing to recover from a pulled thigh muscle. Hancocks, an outside-right, was drafted in as his surprise replacement a day later. Then original reserve Rowley then replaced the injured Stan Mortensen at inside-right on Tuesday, 30 November, Mortensen was suffering with an ankle injury.
The England team were set-up in Brighton prior to this match, training at the Goldstone Ground in Hove.
There was still a doubt this match would still take place because of the persistant fog. A third date of Wednesday, 8 December was prepared, in case this match did not take place.
In opening the scoring, Jack Haines becomes the 125th player to score on his debut.
2-3-5
Ditchburn -
Ramsey, Aston -
Wright, Franklin, Cockburn -
Matthews, Rowley, Milburn, Haines, Hancocks.

Averages:

Age
27.5
Appearances/Goals
7.6
1.0

Switzerland Team
Rank:

No official ranking system established;
ELO rating 23rd
Colours:
Red jerseys with lace-up collars, white shorts, black socks with red/white horizontal striped tops.
Capt:
Lauro Amad˛
Manager:
Team chosen by Technical Commission, led by Karl Rappan, 43 (26 September 1905 in Austria), on Thursday, 25 November 1948.
26th match, W 6 - D 7 - L 13 - F 48 - A - 69.
Switzerland Lineup
Corrodi, Eugenio
26
2 July 1922
G
FC Lugano
7

27

GA

2
Gyger, Rudolf
28
16 April 1920
RB
FC Cantonal
16
0
3
Bocquet, Roger
27
19 April 1921
LB
Lausanne-Sports
15
1
4
Lanz, Bernard
nk
not known
RHB
Lausanne-Sports
2
1
5
Eggimann, Olivier
29
28 January 1919
CHB
Lausanne-Sports
14
0
6
Lusenti, Gerhard
27
24 April 1921
LHB
AC Bellinzona
7
2
7
Bickel, Alfred
30
12 May 1918
OR
Grasshopper Club
56
10
8
Amad˛, Lauro
36
3 March 1912
IR
Grasshopper Club
53
21
9
Tamini, Jean
28
9 December 1919
CF
Servette FC
10
2

10

Bader, RenÚ
26
7 August 1922
IL
FC Basel
2
0
11
Fatton, Jacques
22
19 December 1925
OL
Servette FC
15
8

unused substitutes:

Jucker Fritz, Willy Steffen, Andre Neury, Rene Maillard, August Ibach.

team notes:

Steffen was the orginal-named left-back. Whether is was down to the 24-hour delay, the original Swiss line-up was shuffled about and replacements brought in. Bocquet, the original left-half, became the left-back, Lusenti, the right-half, went to the left, with Lanz coming in to take up the right-half position. Bader was a straight-forward replacement for Friedlaender at inside-left, who was injured the previous weekend.
This is the most experienced opposition England have faced post-war, so far, in what appears to be the youngest post-war side faced (based on the ten known players).
2-3-5
Corrodi -
Gyger, Bocquet -
Lanz, Eggimann, Lusenti -
Bickel,

Amad˛

, Tamini, Bader, Fatton

Averages:

Age
25.4
Appearances/Goals
17.9
4.1
Match Report by

Mike Payne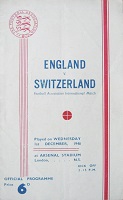 This match, postponed from the previous day because of dense fog, saw the defeat of yet another European challenge to England's unbeaten home record against Continental sides. In fact, Switzerland were annihilated!

Before the kick-off, several question marks had been put against an unfamiliar England line-up. Six changes had been made from the previous match but all of the newcomers came out of the game well. Ted Ditchburn had little to do, but Alf Ramsey looked perfectly at home in his first appearance. Johnny Hancocks was a success and Jack Rowley moved smoothly and dangerous.

The biggest success of the new boys, though, was John Haines. England still searching for a replacement for Wilf Mannion, seemed to have found an answer at inside-left made a very impressive debut, showing plenty of imagination and flair.

Despite the fact that all these new players did well, it was the magic of the irrepressible Stanley Matthews that once again stood out. The mercurial winger enjoyed the freedom of Highbury as he ran the poor Swiss defenders ragged. Everytime he received the ball he left a trail of wreckage behind him with his superb artistry.

Ramsey cleared early on from his goal-line, but after that it was virtual one-way traffic. After five minutes, England opened the scoring when Jackie Milburn robbed Bader in the area and crossed for Haines to head home.

After 25 minutes of continuous pressure, Matthews waltzed towards the middle and sent in a low cross from which Hancocks scored with a good shot. A minute later, Haines headed in a Hancocks corner as the whole Swiss defence stood and watched.

The second half opened with Switzerland traying vainly to fight back. Tamini, Bickel and Fatton all made gallant efforts but England soon regained control and scored further goals to increase their lead. Rowley produced a thunderbolt from outside the box before Hancocks, from a cross by Matthews, and finally Milburn ended the contest in style. Switzerland had no answer to England's power and especially could do nothing to stop Matthews and Hancocks.

Match Report by Norman Giller
Jack Haines and Johnny Hancocks both scored two goals in their international debuts, but the goal that had the Highbury crowd roaring came from another debutant, Manchester United's Jack Rowley. He showed why he was rated to have one of the hardest shots in the game with a left foot drive that bulleted into the net from thirty-five yards. Haines, who scored both his goals in the first half, never got another chance of a after collecting an injury with West Bromwich Albion. There were also debuts for Tottenham team-mates Ted Ditchburn and Alf Ramsey. Both gave sound performances in an England defence that was rarely troubled by a Swiss team that lacked its usual clockwork precision and never looked like repeating their victory of 1947. The game was postponed twenty-four hours because of persistent fog, and this explains why there were only 35,000 at Highbury to watch a confident performance by England. Jack Rowley's goal was hailed as a masterpiece. Billy Wright played the ball through to him and everybody thought he had lost control when he slipped over. But while down on one knee he took his measure and as he got up crashed in a shot from thirty-five yards that had 'goal' written all over it from the moment it left his boot.


Source Notes
"ENGLAND v. SWITZERLAND MATCH POSTPONED
"In the Highbury area this morning the fog was the worst of the week. At 10.45 a.m. Mr. Tom Whittaker, Arsenal manager, reported visibility on ground as nil. The F.A. and Swiss officials were then conferring at F.A. offices. Just before 11 o'clock, the Football Association announced that the match would be postponed until to-morrow, provided the weather conditions are suitable. Tickets for the match, already issued, will be available for tomorrow." - Wednesday, 1 December 1948, Gloucestershire Echo.

"Persisting thick fog at Highbury caused the England v Switzerland soccer international to be postponed until tomorrow. The fogbound area was now stated to spread in a great semi-circle over Eastern England bounded by a line running from Lem (Yorks), southwards through Nottingham, Birmingham, Abingdon (Berks), Farnborough (Hants), Croydon, and up to Felixstowe." - Wednesday, 1 December 1948, The Citizen

TheFA.com
Original newspaper reports
Rothman's Yearbooks
Mike Payne's England: The Complete Post-War Record (Breedon Books Publishing Company, Derby, U.K., 1993)
Norman Giller, Football Author
____________________

CG