Match Summary
Officials

from Japan

England Squad

Type

Costa Rica Squad

Referee

(light blue)


Hiroyuki Kimura
36 (30 January 1982), Chiba, FIFA-listed 2014.
10
Goal Attempts
8
6
Attempts on Target
3
Assistant Referees
0
Hit Bar/Post
0
Akane Yagi
Jun Milhara


36 (16 June 1981), Shimane

9
Corner Kicks Won
1
Fourth official
Yusuke Araki


32 (2 May 1986), Tokyo.

2
Offside Calls Against
2
8
Fouls Conceded
14
62.7%
Possession
37.3%

England Team
Rank:

FIFA (7 June 2018) =12th
EFO ranking Group 3
ELO rating 7th
Colours:
The Nike 2018 away uniform - Red v-necked jerseys with a shadowed St. George's flag, white shorts, red socks.
Capt:
Jordan Henderson
sixth, W 4 - D 2 - L 0 - F 11 - A 3.⁸


Gary Cahill

63:42

Manager:
Gareth Southgate, 47 (3 September 1970), appointed caretaker manager on 27 September 2016, appointed as permanent manager on 30 November 2016.


eighteenth match, W 10 - D 6 - L 2 - F 27 - A 11.

England Lineup
13
Butland, Jack, off 65th min.
25
28 days
10 March 1993
G
Stoke City FC
8
4ᵍᵃ
16
Jones, Philip A.
26
106 days
21 February 1992
RD
Manchester United FC
25
0
5
Stones, John, off 65th min.
24
10 days
28 May 1994
CD
Manchester City FC
26
0
6
Maguire, J. Harry
25
33 days
5 March 1993
LD
Leicester City FC
5
0

85

22
Alexander-Arnold, Trent

J.

, off 64th min.
19
243 days
7 October 1998
RWB
Liverpool FC
1
0

1233

the 74th Liverpool player to represent England

21

Loftus-Cheek, Ruben I., off 79th min.
22
135 days
23 January 1996
RAM
Chelsea FC
4
0
8
Henderson, Jordan B., off 64th min.
27
355 days
17 June 1990
CM
Liverpool FC
39
0

17

Delph, Fabian
28
198 days
21 November 1989
LAM
Manchester City FC
11
0
3
Rose, Daniel L.
27
340 days
2 July 1990
LWB
Tottenham Hotspur FC
18
0
19

Rashford, Marcus
20
219 days
31 October 1997
RF
Manchester United FC
19
3

11

Vardy, Jamie R., off 61st min.
31
147 days
11 January 1987
LF
Leicester City FC
22
7

England

Substitutes

scoreline:

England 1 Costa Rica 0
14
Welbeck, Daniel

N.T.M., on 61st min

. (60:14)

for Vardy
27
193 days

26 November 1990

CLM

Arsenal FC
39
25
16
14
the 91st goal to be scored by a substitute
the twentieth player to have scored two goals as a substitute
20

Alli, Bamidele J., on 64th min.

(63:38)

for Henderson
22
57 days
11 April 1996
LF
Tottenham Hotspur FC
25
17
2
8
12
Trippier, Kieran J., on 64th min.

(63:44)

for Alexander-Arnold
27
261 days
19 September 1990
RWB
Tottenham Hotspur FC
7
6
0
1
112
23
Pope, Nicholas

D.

, on 65th min.

(64:02)

for Butland
26
54 days
14 April 1992
GK
Burnley FC
1
0ᵍᵃ
1234

the 29th Burnley player to represent England

15

Cahill, Gary J., on 65th min.

(64:07)

for Stones
32
170 days
19 December 1985

CD

Chelsea FC
60
56
5

4
the fortieth player to reach the 40-app milestone

scoreline:

England 2 Costa Rica 0
7
Lingard, Jesse E., on 79th min.

(78:21)

for Loftus-Cheek
25
174 days
15 December 1992
RAM
Manchester United FC
12
6
1
6

result:

England 2 Costa Rica 0
unused substitutes:
1-Jordan Pickford, 2-Kyle Walker, 4-Eric Dier, 9-Harry Kane, 10-Raheem Sterling, 18-Ashley Young, 24-Tom Heaton, 25-Adam Lallana, 26-Jake Livermore.
3-5-2
Butland (Pope) -
Jones, Stones (Cahill), Maguire -
Alexander-Arnold (Trippier), Loftus-Cheek (Lingard), Henderson (Alli), Delph, Rose -
Vardy (Welbeck), Rashford

Averages

(Starting XI)

:

Age

25

years 138 days
Appearances/Goals

16.2

0.8

Costa Rica Team
Rank:

FIFA (7 June 2018)

23rd


EFO ranking n/a


ELO rating

26th

Colours:
Made by New Balance - White round-collared jerseys with black collar and black/white halved sleeve panels, black shorts, white socks.
Capt:
Keylor Navas
Coach:
Óscar Antonio Ramírez Hernández, 53 (8 December 1964), appointed 20 August 2015.
Costa Rica Lineup
1
Navas Gamboa, Keylor A.
31
174 days
15 December 1986
G
Real Madrid CF, Spain
80
0
19
Waston Manley, Kendall J.
30
157 days
1 January 1988
RD
Vancouver Whitecaps FC, Canada
26
3
3
González Castro, Giancarlo
30
119 days
8 February 1988
CD
Bologna FC 1909, Italy

69

2

68th min. for complaining about the free-kick after Matarrita tripped Loftus-Cheek.
15
Calvo Quesada, Francisco J.
25
334 days
8 July 1992
LD
Minnesota United FC, United States
37
4
16
Gamboa Luna, Cristian E.

,




off 72nd min.

28
226 days
24 October 1989
RM
The Celtic FC, Scotland
67
3
5
Borges Mora, Celso
30
11 days
27 May 1988
CM
RC Deportivo La Coruña, Spain
110
21
20
Guzmán

Pérez

, David A.

, off




69th min.

28
109 days
18 February 1990
CM
Portland Timbers, United States
42
0
8
Oviedo Jiménez, Bryan J., off
60th min.
28
109 days
18 February 1990
LM
Sunderland AFC, England
43
1
12
Campbell Samuels, Joel N.
26
346 days
26 June 1992
RAM
Arsenal FC, England
78
15
11
Vanegas Ulloa, Johan A.

, off




61st min.

29
192 days
27 November 1988
LAM
Minnesota United FC, United States
46
10
21
Ureña Porras, Marco D.
28
33 days
5 March 1990
CF
Los Angeles FC, United States
63
15
Costa Rica Substitutes

scoreline:

England 1 Costa Rica 0

22
Matarrita Ulate, Rónald A., on 60th min.

(59:35)

for Oviedo
23
333 days
9 July 1994
LB
New York City FC, United States

23

2

68th min. after he tripped Loftus-Cheek as he was running towards the penalty area.
7
Bolaños Navarro, Christian, on 61st min.

(60:20)

for Venegas
34
21 days
17 May 1984
AM
Deportivo Saprissa
80
6
17
Tejeda Valverde, Yeltsin I., on 69th min.

(68:33)

for Guzmán
26
21 days
17 March 1992
DM
FC Lausanne-Sport, Switzerland
50
0
4
Smith

Quirós

, Ian R., on 72nd min

. (71:21)

for Gamboa
20
32 days
6 March 1998
LB
IFK Norrköping, Sweden
3
0

result:

England 2 Costa Rica 0

unused substitutes:
2-Johnny Acosta, 6-

Óscar

Duarte, 9-Daniel Colindres, 10-Bryan Ruiz, 13-Rodney Wallace, 14-Randell Azofeifa, 18-Patrick Pemberton, 23-Leonel Moreira, 24-David

Ramírez

.

3-4-3(2-1)
Navas -
Waston, González, Calvo -
Gamboa (Smith), Borges, Guzmán (Tejeda), Oviedo (Matarrita) -
Campbell, Venegas (Bolaños) -
Ureña.

Averages

(Starting XI)

:

Age

28

years 305 days
Appearances/Goals

60.1

6.7
Match Report by Mike Payne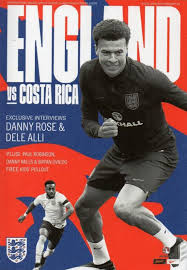 This very interesting and entertaining international friendly ended England's build-up to the World Cup Finals in Russia on a high as they played very well to secure a 2-0 win. The match was played in Leeds, at Elland Road, and this could be a forerunner of things to come if the proposed sale of Wembley Stadium goes ahead. Certainly the atmosphere was electric and the crowd really got behind their team, not something that always happens at Wembley.

The match began with England on the front foot and they were soon winning a corner. Marcus Rashford, right from the kick-off, showed some of the natural ability that earned him an England call-up in the first part of his fledgling career. For the first time in ages he really looked as though he was enjoying his football, and the Costa Rican defenders didn't quite know how to handle his pace and his skill. In the 8th minute Rashford won a corner and from it the ball went just over from Phil Jones's header, which scraped the bar and the goalkeeper's hand to give England another corner. This came to nothing but England continued with the aggressive opening and they were rewarded by a fine goal in the 13th minute.

A quick inter-passing move involving Reuben Loftus-Cheek and Rashford ended with the Manchester United player trying his luck from range. England players have been reluctant to try long range shots over recent internationals, but not this time. Rashford hit an absolute gem of a shot which dipped into the top far corner with the goalkeeper completely perplexed.

England were totally in command at this point and they dominated possession. Gareth Southgate had particularly asked for a non-European referee for this game and the Japanese official did baffle players with some of his decisions, notably when Loftus-Cheek was penalised for no apparent reason! Still, England continued to shine, with Danny Rose down the left, and Fabian Delph in midfield getting through a lot of good work. Rashford combined with that pair in one good move down the left, and then on 20 minutes Jamie Vardy saw a shot well smothered by the Real Madrid goalkeeper Keylor Navas, after the ball had been headed across goal to him. Four minutes later another good move, this time down the right side, saw Jones have a shot which deflected into the keeper's hands. Rashford was playing really well and twice he shut down defenders to good effect. But then, on 27 minutes, Costa Rica fashioned a chance of their own.

England lost concentration at a throw-in and the ball dropped to Johan Vanegas, who cut inside and unleashed a good shot aimed at the far post. Jack Butland, who had had little to do up to that point, dived well to his left to tip the ball around the post. That was a reminder to England to stay alert at all times.

England remained in control however, and more good play from Rashford won them a free-kick. Challenges on the goalkeeper were a no no, for the referee though and England were pulled up for the most innocuous of challenges. Another brilliant pass from Rashford put Jordan Henderson away but his cross was just over-hit as Vardy came in. England's dominance had deserved more than the one goal and they must somehow find a way of killing teams off when they have them at their mercy.

Debutant Trent Alexander-Arnold, was having an impressive first game and one lovely cross was only just deflected for a corner as the England front players attacked the ball. As the half drew to a close the beleaguered visiting defenders were showing some desperation at the back and they only just managed to head away another Alexander-Arnold cross, before Rashford made another fine run only to be stopped when almost through. Delph, Loftus-Cheek and especially Rashford had been the pick of the players as the half-time whistle blew. The 1-0 scoreline had hardly reflected England's dominance.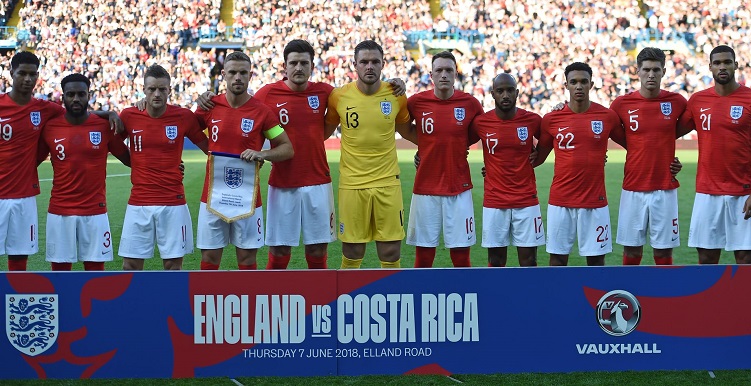 England began the second-half, again on the front foot, but a shot by Marco Urena had to be dealt with by the alert Butland. On 56 minutes only a fine save by Navas prevented a second goal. Henderson was twice involved, first with a fine pass to Vardy, and then, as the ball was half cleared, he followed up to fire in a fierce shot which Navas somehow deflected away for a corner. Harry Maguire then also had a chance and his header was kicked off the line by Bryan Oviedo. Understandably perhaps, remembering what a fast pace had been shown thus far, both teams showed signs of flagging around the hour mark and England allowed Christian Gamboa far too much room for a shot. Luckily he fired it over the bar.

The next five minutes saw England make five substitutions with Danny Welbeck coming on for Vardy and then Henderson, Alexander-Arnold, Butland and Stones were replaced by Deli Alli, Kieran Trippier, Nick Pope (for his first cap), and Gary Cahill. Costa Rica also made changes and for a while England's earlier give and go excellence had faded somewhat, with the give there but not the go. But any uncertainty was ended with a second goal for England on 76 minutes. It was a good move too, with Rashford and Alli combining for the latter to aim a cross-shot at the far post. Actually it turned into more of a cross but it landed perfectly for Welbeck to race in and head home from close range.

England effectively won the match with that second goal, and they saw the rest of the game out with some comfort. Delph was now playing the anchor role in midfield, and performing very well. With six minutes to go fine play down the right by England saw Trippier, Rashford and Delph combine to give Phil Jones a chance, but the defender's final shot was deflected into the keeper's arms. Pope confidently saved from Ronald Matarrita at his near post and Urena fired another shot wide. It was token attempts though as the game was won. The crowd were impressed with England's display and the players can certainly go to Russia with every confidence of doing well. Only time will tell, but everyone will be wishing them good luck, and that goes without saying. And if players like Marcus Rashford can play as well as he did against Costa Rica, then who knows? Man of the Match? No contest!


Source Notes
TheFA.com
BBC Sport

Mike Payne - football historian and contributor
cg