Finals Squad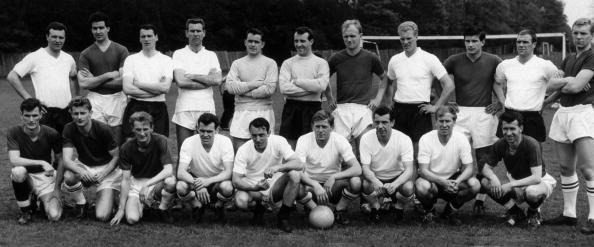 FIFA set a deadline of April 10 1962 for preliminary lists of forty players to be submitted. England's selectors produced theirs, two days early. Following England's defeat by Scotland at Hampden Park, the squad was whittled down to 22 names on April 15, with the following 18 excluded: Tony Macedo, Fulham; John Angus, Burnley; Shay Brennan (who later played for the Republic of Ireland), Manchester United; Ron Henry, Tottenham Hotspur; Mick McNeil, Middlesbrough; Tony Kay, Sheffield Wednesday; Tony Knapp, Southampton; Brian Miller, Burnley; Bobby Moore, West Ham United; Alan Mullery, Fulham; Jimmy Bloomfield, Birmingham City; Alan Finney, Sheffield Wednesday; Fred Hill, Bolton Wanderers; Jimmy Melia, Liverpool; Terry Paine, Southampton; Ray Pointer, Burnley; Bobby Smith, Tottenham Hotspur; and Peter Thompson, Preston North End.
Of the 22 selected, Leicester City's uncapped goalkeeper, Gordon Banks and the West Bromwich Albion striker, Derek Kevan (who had scored twice at the 1958 tournament), were to remain at home on reserve, whilst the Burnley skipper and uncapped Footballer of the Year, Jimmy Adamson, was to go to Chile as Walter Winterbottom's assistant manager.
On 7 May, the uncapped Bobby Moore, one of the 18 excluded, was reinstated and when the final list was submitted to FIFA, two days after Moore's debut in Lima, Banks' name was omitted, leaving only Kevan as a stay-at-home reserve.
No. Name
Age
Pos
Club
Starts
Subs
Total
Goals
Capts

1.

Springett, Ronald

D.G.

26
G
Sheffield Wednesday FC
21
30ᵍᵃ

2.

Armfield, James

C.

26
RB
Blackpool FC
25
0

3.

Wilson, Ramon
27
LB
Huddersfield Town AFC
11
0

4.

Robson, Robert

W.

29
M
West Bromwich Albion FC
20
4

5.

Swan, Peter
25
CD
Sheffield Wednesday FC
19
0

6.

Flowers, Ronald
27
CD
Wolverhampton Wanderers FC
32
7

7.

Connelly, John

M.

23
F
Burnley FC
8
3

8.

Greaves, James

P.

22
F
Tottenham Hotspur FC
18
19

9.

Hitchens, Gerald

A.

27
F
FC Internazionale Milano

, Italy

5
4

10.

Haynes, John

N.

27
M
Fulham FC
52
18

11.

Charlton, Robert
24
F
Manchester United FC
35
24

12.

Hodgkinson, Alan
25
G
Sheffield United FC
5
5ᵍᵃ

13.

Kevan, Derek

T.

*
27
F
West Bromwich Albion
14
8

14.

Anderson, Stanley
29
M
Sunderland AFC
2
0

15.

Norman, Maurice
28
CD
Tottenham Hotspur FC
1
0

16.

Moore, Robert

F.C.

21
M
West Ham United FC
1
0

17.

Douglas, Bryan
28
F
Blackburn Rovers FC
29
8

18.

Hunt, Roger
23
F
Liverpool FC
1
1

19.

Peacock, Alan
24
F
Middlesbrough FC
0
0
0
0
0

20.

Eastham, George

E.

25
F
Arsenal FC
0
0
0
0
0

21.

Howe, Donald
26
RB
West Bromwich Albion FC
23
0

22.

Adamson, James*
33
M
Burnley FC
0
0
0
0
0