Rank:

FIFA (21st May 2003) 7th
EFO ranking


ELO rating 6th to 5th
Colours:
The 2003 home shirt - White collared shadow hooped jerseys with white collar/cuffs trimmed with navy, red v-neck/panel thinning down sleeves, white shorts with red thinning side panel and blue hem, white socks with navy hoop.
Capt:
Michael Owen, sixth captaincy
Head Coach:
Sven-Göran Eriksson

, 55 (5 February 1948), appointed 30 October 2000, took post 12 January 2001,


29th match, W 16 - D 9 - L 4 - F 55 - A 27.
England Lineup
1
James, David

B.

32
1 August 1970
G

West Ham United FC

16
11 GA
2
Mills, Daniel

J.

, off 43rd min.

26
18 May 1977
RB
Leeds United AFC
17
0
3
Cole, Ashley
22
20 December 1980
LB
Arsenal FC
19
0
4
Gerrard, Steven

G.

23
30 May 1980
RM
Liverpool FC
18
3
5
Upson, Matthew

J.

24
18 April 1979
CD
Birmingham City FC
3
0
6
Southgate, Gareth
32
3 September 1970
CD
Middlesbrough FC
55
2
7
Lampard, Frank

J.

24
20 June 1978
LM

Chelsea FC

11
0
8
Scholes, Paul
28
16 November 1974
CM
Manchester United FC
57
13
9
Rooney, Wayne

M.

, off 57th min.

17
24 October 1985
F
Everton FC
5
0
10

Owen, Michael

J.

23
179 days
14 December 1979
F
Liverpool FC
50
22

Penalty a

warded after Marian Zemen brought Owen down near the penalty spot, with minimal contact.
11
Neville, Philip

J.

26
21 January 1977
DM

/RB

Manchester United FC
40
0
England Substitutes
16
Hargreaves, Owen

L.

, on 43rd min. for Mills

22
20 January 1981


born in Canada

M
FC Bayern München eV, Germany
13
0
18
Vassell, Darius

C.

, on 57th min. for Rooney

22
13 June 1980
F
Aston Villa FC
14
4

unused substitutes:

12-Wayne Bridge, 13-Paul Robinson, 14-John Terry, 15-Joe Cole, 17-Emile Heskey.

team notes:

England's first visit to Middlesbrough's Riverside Stadium, and the first time in Middlesbrough since 1937.
Michael Owen become's the youngest England player to reach fifty appearances. His penalty was the ninth successive converted kick scored, extending the record.

4-1-3-2
(4-4-2 second half)

James -
Mills (Neville), Southgate, Upson, Cole -
Neville (Gerrard) -
Gerrard (Hargreaves), Scholes, Lampard -
Rooney (Vassell), Owen.
When Mills came off, Gerrard was restored to the base of the midfield diamond, Hargreaves came off the bench on the right and Neville took Mills' place at full-back.

Averages (Starting XI):

Age
25.2
Appearances/Goals
26.5
3.5
Rank:

FIFA (21st May 2003) 53rd
EFO ranking


ELO rating 48th to 49th
Colours:
Made by Nike - Blue crew necked jerseys with collars/cuffs and white thinning side panels, blue shorts, blue socks topped with a single white vertical stripe.
Capt:
Igor Demo
Manager:
Ladislav Jurkemik

, 49 (20 July 1963),

appointed December 2001,


16th match, W 5 - D 3 - L 8 - F 24 - A 25.
Slovakia Lineup
1
König, Miroslav
31
1 June 1972
G

FC Zürich, Switzerland

38

GA

2
Petrás, Martin
23
2 November 1979
RB

AC Sparta Praha, Czech Republic

12
-
3

Hanek, Michal

22
18 September 1980
LB

FC Dinamo Moskva, Russia

4
-
Hanek cautioned in the 62nd minute for Unsporting Behaviour.
4
Zeman, Marián
28
7 July 1974
M

SBV Vitesse, Netherlands

27
-
5
Zábavník, Radoslav
22
16 September 1980
CD

MŠK Zilina

2
-
6
Demo, Igor

, off 55th min.

27
18 September 1975
CD

Borussia VfL 1900 Mönchengladbach eV, Germany

19
-
7
Labant, Vladimír

, off 39th min.

29
8 June 1974
M

AC Sparta Praha, Czech Republic

25
-
8
Vittek, Róbert
21
1 April 1982
M

ŠK Slovan Bratislava

17
-
Vittek cautioned in the 63rd minute for Dissent. Hargreaves is chopped down on the right hand side of the penalty area - Vittek is booked for protesting.
9
Michalík, Rastilav
29
14 January 1974
F

AC Sparta Praha, Czech Republic

11
-
10
Janočko, Vladim

í

r
26
2 December 1976
F

FK Austria MAGNA Wien, Austria

30
-
11
Németh, Szilárd, off 75th min.
25
8 August 1977
M

Middlesbrough FC, England

39
-
Slovakia Substitutes
14

Debnár, Ondre

j, on 39th min. for Labant
30
18 June 1972
D

FC Artmedia Petrzalka

4
-
Debn

á

r cautioned in the 89th minute for Unsporting Behaviour. Debnar cynically takes down Vassell on the halfway line as England break.
15
Mint

á

l, Marek, on 55th min. for Demo
25
2 September 1977
M
MŠK Zilina
12
-
17
Reiter, Ľubomír

, on 75th min. for Németh

28
3 December 1974
F

SK Sigma Olomouc, Czech Republic

15
-

unused substitutes:

12-Branislav Rzeszoto, 13-Miroslav Karhan, 16-Karol Kisel, 18-Jozef Kozlej.

team notes:

Coach Ladislav Jurkemik played against England as a Czechoslovkia player in October 1975, November 1978, as well as the 1982 World Cup Finals.
Vladimír J

anočko's opening direct free-kick was the 22nd conceded by England.

4-4-2

König -
Hanek, Zeman, Petras, Labant (Debnár) -
Janocko, Demo (Mintál), Zábavník, Michalik -
Vittek, Németh (Reiter).

Averages (Starting XI):

Age
25.8
Appearances/Goals
20.4
-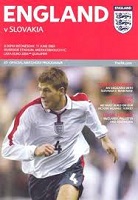 England go a goal down before roaring back to get a vital three points against Slovakia. Skipper Michael Owen is the hero, scoring both goals in the 2-1 win.

Just think, where would we be without Michael Owen? Then again, it doesn't bear thinking about. Not for the first time tonight, Michael was England's saviour, firing both goals to give England a win that had seemed improbable after a disjointed first half display had seen England fall a goal behind.

In bright sunshine and with reports coming in that Macedonia were leading Turkey 2-1 at half-time, everything seemed set fair at kick-off. The Middlesbrough crowd created a fantastic atmosphere and England responded with a swift opening.

Within the first minute, Gerrard slid through a perfectly weighted ball for Owen to stride onto. The skipper powered forward and, from a position very similar to the one he had scored from against Brazil in the World Cup, he fired in an effort that Konig only just managed to keep out.

In attack, you sensed that the all Merseyside combination of Owen and Rooney had the potential to cause pandemonium in the Slovakian defence while, in the midfield, a couple of sumptuous tackles from Steven Gerrard helped to set an urgent tone for his team-mates.

But, as the game settled, so did Slovakia. David James was forced into a fine block on fourteen minutes after Vittek had somehow got far too much space behind England's backline to arrow in a volley.

With England struggling to find any defensive cohesion, Slovakia worked a couple of promising situations for themselves but their finishing was not of the same standard as their approach play.

As it turned out, their opening goal came not so much from a shot as from a cross. Janocko curled in one of those angled free-kicks that cause havoc for a defence. As it bent towards the goal, a cluster of players vied to get a touch but, in the event, it eluded everyone, including David James, and spun into the far corner of the net.

At that stage, England were rocked back on their heels and it could have been far worse. A swift Slovak breakaway tore right through the heart of the England defence and it looked for all the world as though they would get their second when the ball fell to an unmarked Igor Demo on the edge of the area. His dragged shot was poor to say the least.

Nemeth too, on his home ground, found a remarkably clear opportunity to get one of the most treasured goals of his career. Fortunately, he found the side rather than the back of his net.

Though Owen was himself finding space and opportunities as the other end, Sven must have been hoping to get his side into the break with only a one-goal disadvantage.

Even before the break, though, the England coach took decisive action by withdrawing Danny Mills, and reverting to a conventional four in the midfield with Hargreaves on the right flank and Gerrard moving inside to replace Phil Neville who dropped to full back. Things were not going to plan and Sven could see that.

The second half was an entirely different story. England's lethargy seeped away, replaced by a maelstrom of attacking intent. Where there was discord previously there was now rhythm.

Inspired by the positive support swilling around the Riverside, England came out brightly and, after his wonderful slaloming run, Steven Gerrard would have brought the house down had his reverse chip gone under, rather than over, the bar.

Sven also threw on the hero from the Turkey match, Darius Vassell, for a little more pace upfront and suddenly England were on a roll.

Ever the man to sense an opportunity, Michael Owen knew this was the time to go for it. Picking up the ball on the hour, he wriggled past three defenders and was heading for goal when he was sandwiched by two Slovakian defenders. The referee had no hesitation in pointing to spot and Michael had no hesitation in dispatching the resulting penalty.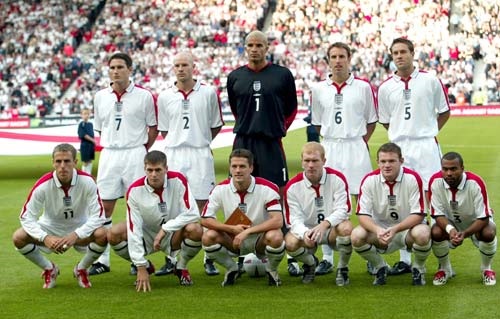 He showed amazing coolness and confidence in waiting for Konig to commit himself before rolling the ball past him. The boy has nerves of steel.

England did not take their foot off the pedal. Petras looked to be all over Southgate from a corner but referee Stark refused to award a second penalty so soon after the first. Then Frank Lampard went agonisingly close after he'd manoeuvred an excellent position for himself inside the box.

The same player then had the ball in the net, only to see his close range tap-in on 67 minutes strangely disallowed for offside.

England were at their incisive best and the Slovaks simply couldn't cope. And, when Gerrard cut inside on 72 minutes to chip a silky cross onto Owen's head, you just knew it had to go in. Michael hung in the air before flashing his header past Konig at his near post.

The goal machine now has 22 strikes from his 50 international caps.

It was quite a comeback tonight and Sven's tactical substitutions played a significant part. Hargreaves' introduction allowed the inspirational Steven Gerrard to affect the game to a far greater degree by moving into the centre while Slovakia had no answer to Darius Vassell's raw pace. The Villa man is becoming quite the super-sub.

The victory could even have been by a greater margin. Owen hit the bar while both Gerrard and Hargreaves were unable to convert clear one-on-ones at the death. The three points, though, was the only statistic worth noting.

There has been a lot of talk about Michael Owen this week. The captaincy, the records, this being his fiftieth cap all combined to make him the player around which the match revolved. And how Michael rose to the occasion.

Stripping away the hype, Sven said this of his star striker: "I never take Michael Owen for granted. When you have him, you will always score goals."

In terms of qualification for Portugal, it looks increasingly inevitable that everything will hinge on that massive game in Turkey in October. It's a comforting thought to know that Michael Owen will be on our side. - Daniel Freedman, TheFA.com