P 63 W 37 D 13 L 23 F 118:A 54
69% successful
27 clean sheets


Description
Yellow long-sleeved shirts with wing collars and two yellow buttons, with black double-stripe sleeve trim, black cuffs, yellow Admiral logo on right breast and emblem on left breast. Red number one on the reverse in the same font as the outfield shirt numbers. Black shorts with yellow double-stripe side trim and yellow Admiral logo on left thigh. Black socks with yellow double-stripe trim.
Variations

Ray Clemence did not wear the Three Lions emblem in Cyprus in 1975, and, in 1976, against both Scotland (at Hampden) and Finland (at Wembley).
Jimmy Rimmer wore a black number against Italy in 1976 in New York, when he only played for the first 45 minutes.
Joe Corrigan wore number 13 against Italy for his second-half appearance in New York in 1976.
From the 1978 British Championship onwards, a different font was used for the number on the goalkeeper's shirt, to (eventually) match all those of the outfield shirts (the number one had a 'flick' at the top of it). It was also changed from red to black.
Ray Clemence wore number 12 against Northern Ireland and Scotland in 1978.
Peter Shilton wore blue tracksuit trousers with a red stripe in the middle of white seams, and with the black socks over the top of them, against Czechoslovakia in 1978.
From the 1979 British Championship onwards, the number was switched back to red.
Ray Clemence wore number 13 for his second-half appearance against Austria in 1979.
From the 1980 European Championship finals, and for the remaining games that this shirt was worn, the number was switched back to black.
Peter Shilton wore number 13 against Italy in 1980.
The Admiral logos were removed from the shirts and shorts for the duration of the 1980 European Championship final tournament in Italy, although Peter Shilton wore a shirt and shorts displaying the Admiral logo against the host nation.
For the last five games in which this kit was worn, the Admiral logos changed to red, white and blue.

Appearances

47 - Ray Clemence

12 - Peter Shilton

5 - Joe Corrigan

1 - Jimmy Rimmer

Clemence appeared in 13 British Championship fixtures (6 against Scotland), 12 European Championship qualifiers and 9 World Cup qualifiers. He also played in two matches at the 1980 European Championship final tournament in this kit.
Shilton played in 3 British Championship fixtures, 2 European Championship qualifiers and 2 World Cup qualifiers. He also appeared against Italy in the 1980 European Championship final tournament in this kit.
Corrigan played in 4 British Championship fixtures (including against Scotland in 1981) in this kit, and went on to win 9 caps, after making his international debut as a half-time substitute for Rimmer.
Rimmer appeared in it for just 45 minutes in his one and only England international.

Clean Sheets

21 - Ray Clemence

4 - Peter Shilton

2.5 - Joe Corrigan

England did not concede a goal in their first six matches under Don Revie.

Corrigan completed a second-half clean sheet on his international debut as a substitute against Italy in 1976.

Penalties Conceded

5 - Ray Clemence

2 - Joe Corrigan, Peter Shilton

Penalties Saved

1 - Ray Clemence

Clemence had already conceded Spain's equaliser in the 1980 European Championship, to half-time substitute, Dani, who stopped in his run-up to fool Clemence, who then dived the wrong way. When Dani repeated the trick, eight minutes later, the referee deemed it illegal and ordered a retake. This time, he omitted the stop and sent the ball towards the opposite corner and Clemence caught the ball.

When Don Revie became England's manager in 1974, Peter Shilton had twenty caps to his name, whilst Ray Clemence had just five.
The car crash that had ended Gordon Banks' career in 1972, had led to Sir Alf Ramsey using Shilton as his first-choice 'keeper. Shilton was at fault for the Polish goal at Wembley that resulted in England failing to qualify for the 1974 World Cup, but when Joe Mercer became England's caretaker-manager at the end of the 1973-74 season he used Shilton for the three British Championship fixtures, plus the friendly against Argentina. Then, for the European tour, he selected Clemence, fresh from winning the FA Cup with Liverpool, for all three games.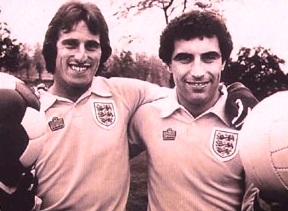 By the time of Revie's first game, four months later, in their smart new Admiral kit, Shilton was on the verge of being transferred from Leicester City to Stoke City, and Clemence became Revie's choice. Shilton was performing well for Stoke, but only made one international appearance, against Cyprus at Wembley, in Revie's first two seasons in charge.
The game against Scotland, at Hampden Park, in 1976, was the final straw for Shilton and England's eventual record appearance holder told Revie that he would not play for England again. Clemence made a huge clanger in the game, conceding Scotland's winner through his legs, whilst Shilton watched from the bench for the tenth successive international.
Revie brought in Manchester City's Joe Corrigan and Arsenal's Jimmy Rimmer for the American Bicentennial Tournament. Both played against Italy, in New York, and whilst Rimmer conceded two goals in the first half and never played again for England, Corrigan kept a clean sheet in the second half and made a strong claim to be Clemence's reserve. However, by the beginning of the following season, Revie had persuaded Shilton to rejoin the squad, although he did not play for England again until the first two matches of the 1977 British Championship, as Clemence was given a rest from the exertions of winning the European Cup, and narrowly missing out on the 'treble'. Revie reinforced Shilton's claims, even though Stoke had just been relegated by stating that, "England are very lucky to have two world-class goalkeepers and I must say there is nothing between them as far as picking them is concerned."
Clemence was undoubtedly number one at this stage, and even when Revie quit the manager's job and Ron Greenwood took over, he still looked secure. Shilton made two more appearances at the end of the 1977-78 season. He was now with the League Champions, Nottingham Forest and performing heroics in goal as his club went on a record-breaking 42-match unbeaten run. Clemence, meanwhile had won the European Cup again, with Liverpool.
In 1979, it was Shilton that had to miss out on the British Championship, because he had won the European Cup, with Forest. This allowed Corrigan to make a rare appearance, a situation that repeated itself, twelve months later, as Forest retained their European title. Clemence was to win his third European Cup, a year on, in 1981. By this time, Greenwood really could not choose between the two men and he began a policy of alternating them. Clemence appeared to be the more agile of the two, but Shilton was better positionally. At the European Championships in Italy, in 1980, Clemence played in the first and last games, whilst Shilton played in the crucial game against the hosts, when England were eliminated from the competition.
Corrigan still appeared in the occasional game, such as both games in the reduced 1981 British Championship, when Clemence was away winning the European Cup again in his last match for Liverpool, and Shilton was absent for personal reasons. He returned in the 1981-82 season as England lurched towards qualification for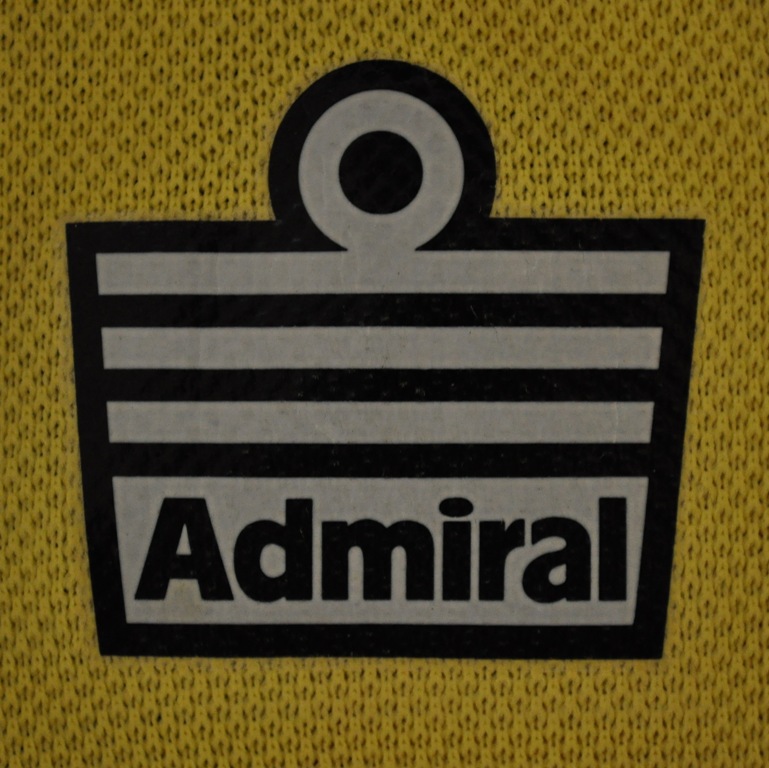 the World Cup, in Spain, and after seven years, a new goalkeeping kit, at last, emerged.
Clemence now had 57 caps, whilst Shilton had 34.
The shirts at the top of the page were issued to (left to right): Joe Corrigan, Phil Parkes (England's substitute goalkeeper for the Football Association of Wales Centenary match at Wrexham in 1976) and Corrigan again, for the 1980 European Championship in Italy. Together they illustrate the three basic variations in the Admiral logo during the first six years in which the shirt was worn. The first shows the regular yellow logo, worn in the majority of games, the second is the rarer white plastic version (also right in close-up) and the third, with no logo at all. We are grateful to Simon Shakeshaft, curator of the National Football Shirt Collection at England Match Shirts, which is part of the Neville Evans Collection, for sharing the pictures with us. Views of the reverse of the shirt can be seen at the bottom of the page.
The Changing Face of the 1974 Yellow Goalkeeper Uniform
Peter Shilton lines up against Czechoslovakia on November 29th, 1978 at Wembley.
The bitterly cold night and bone-dry pitch prompted him to wear tracksuit trousers.
Ray Clemence demands a two-man defensive wall, against Scotland at Wembley, on May 26th, 1979.
Ray Clemence stands for the National Anthem, before defending England's goal against Spain, on June 18th, 1980, in Naples. Kit manufacturers were not allowed to display their logos in the European Championship tournament. However, a keen eye may just spot that Clemence was wearing an Umbro t-shirt underneath!
'Big Joe' Corrigan displays Admiral's new red, white and blue logo in the Wembley clash with Scotland on May 23rd, 1981.

Matches in which England wore the 1974 Yellow Goalkeeper Uniform
Season 1974-75

x

European Championship Preliminaries
486
30 October 1974 -
England 3 Czechoslovakia 0 [0-0]
Wembley Stadium, Wembley (83,858/86,000)

Ray Clemence wore this uniform,

alongside England's 1974 white uniform

, against Czechoslovakia's red shirts, white shorts

and

blue socks.

487
20 November 1974 - England 0 Portugal 0 [0-0]
Wembley Stadium, Wembley (84,461/85,700)

Ray Clemence wore this uniform,

alongside England's 1974 white uniform

, against Portugal's red shirts, white shorts

and

green socks.

Friendly
488
12 March 1975 - England 2 West Germany 0 [1-0]
Wembley Stadium, Wembley (100,000)

Ray Clemence wore this uniform,

alongside England's 1974 white uniform

, against West Germany's green shirts, white shorts

and green socks

.

European Championship Preliminaries
489
16 April 1975 - England 5 Cyprus 0 [2-0]
Wembley Stadium, Wembley (68,000/245)

Peter Shilton wore this uniform,

alongside England's 1974 white uniform

, against Cyprus' blue shirts, white shorts

and blue socks

.

490
11 May 1975 - Cyprus 0 England 1 [0-1]
Tsirion Athletic Centre, Limassol (15,708 to 21,000)

Ray Clemence

wore this uniform,

alongside England's 1974 white uniform

, against Cyprus' blue shirts, white shorts

and blue socks

.

British Championships
491
17 May 1975 - Northern Ireland 0 England 0 [0-0]
Windsor Park, Belfast (36,500)

Ray Clemence wore this uniform,

alongside England's 1974 white uniform

, against Northern Ireland's green shirts, white shorts

and green socks

.

492
21 May 1975 - England 2 Wales 2 [1-0]
Wembley Stadium, Wembley (53,000)

Ray Clemence wore this uniform,

alongside England's 1974 white uniform

, against Wales' red shirts, white shorts

and red socks

.

493
24 May 1975 - England 5 Scotland 1 [3-1]
Wembley Stadium, Wembley (98,241)

Ray Clemence wore this uniform,

alongside England's 1974 white uniform

, against Scotland's blue shirts, white shorts

and

red socks.

Season 1975-76
Friendly
494
3 September 1975 -
Switzerland 1 England 2 [1-2]
Sankt Jakob Stadium, Basel (25,000)

Ray Clemence wore this uniform,

alongside England's 1974 white uniform

, against Switzerland's red shirts, with white shorts and socks.

European Championship Preliminaries
495
30 October 1975 -
Czechoslovakia 2 England 1 [1-1]


Štadión Tehelné pole, Bratislava

(45,000/50,651)

Ray Clemence wore this uniform,

alongside England's 1974 white uniform

, against Czechoslovakia's red shirts, white shorts

and

blue socks.

496
19 November 1975 - Portugal 1 England 1 [1-1]
Estádio José Alvalade, Lisboa (13,912)

Ray Clemence wore this uniform,

alongside England's 1974 white uniform

, against Portugal's red shirts, white shorts

and

green socks.

Welsh F.A. 100th Anniversary Match

497
24 March 1976 - Wales 1 England 2 [0-0]
Racecourse Ground, Wrexham (20,927)

Ray Clemence wore this uniform,

alongside England's 1974 white uniform

, against Wales'

all-red kit.

British Championships
498
8 May 1976 - Wales 0 England 1 [0-0]
Ninian Park, Cardiff (24,592)

Ray Clemence wore this uniform,

alongside England's 1974 white uniform

, against

Wales'

all-red kit

.

499
11 May 1976 - England 4 Northern Ireland 0 [2-0]
Wembley Stadium, Wembley (50,000)

Ray Clemence wore this uniform,

alongside England's 1974 white uniform

, against Northern Ireland's green shirts, white shorts

and green socks

.

500
15 May 1976 - Scotland 2 England 1 [1-1]
Hampden Park, Glasgow (85,165)

Ray Clemence wore this uniform,

alongside England's 1974 white uniform

, against Scotland's blue shirts, white shorts

and

red socks.

USA Bicentennial Cup
502
28 May 1976 - England 3 Italy 2 [0-2]
Yankee Stadium, New York City (40,650)

Jimmy Rimmer and Joe Corrigan wore this uniform,

alongside England's 1974 white uniform

, against Italy's blue shirts, white shorts

and blue socks

.

World Cup Preliminary
503
13 June 1976 - Finland 1 England 4 [1-2]
Olympiastadion, Helsinki (24,336)

Ray Clemence wore this uniform,

alongside England's 1976 red uniform

, against Finland's white shirts, blue shorts

and white socks

.

Season 1976-77
Friendly
504
8 September 1976 -
England 1 Republic of Ireland 1 [1-0]
Wembley Stadium, Wembley (51,000/52,000)

Ray Clemence wore this uniform,

alongside England's 1974 white uniform

, against Republic of Ireland's

green shirts, white shorts and green socks

.

World Cup Preliminaries
505
13 October 1976 - England 2 Finland 1 [1-0]
Wembley Stadium, Wembley (92,000/98,000)

Ray Clemence wore this uniform,

alongside England's 1974 white uniform

, against Finland's

blue shirts, white shorts and blue socks

.

506
17 November 1976 - Italy 2 England 0 [1-0]
Stadio Olimpico, Roma (70,718)

Ray Clemence wore this uniform,

alongside England's 1974 white uniform

, against Italy's

blue shirts, white shorts and blue socks

.

World Cup Preliminary
508
30 March 1977 - England 5 Luxembourg 0 [1-0]
Wembley Stadium, Wembley (81,718)

Ray Clemence wore this uniform,

alongside England's 1974 white uniform

, against Luxembourg's red shirts, white shorts

and blue socks

.

British Championships
509
28 May 1977 - Northern Ireland 1 England 2 [1-1]
Windsor Park, Belfast (35,000)

Peter Shilton wore this uniform,

alongside England's 1974 white uniform

, against

Northern Ireland's green shirts, white shorts and green socks

.

510
31 May 1977 - England 0 Wales 1 [0-1]
Wembley Stadium, Wembley (48,000)

Peter Shilton wore this uniform,

alongside England's 1974 white uniform

, against

Wales'

all-red kit

.

511
4 June 1977 - England 1 Scotland 2 [0-1]
Wembley Stadium, Wembley (98,103)
Ray Clemence

wore this uniform,

alongside England's 1974 white uniform

, against

Scotland's blue shirts, white shorts and

red socks

.
Tour of South America
513
12 June 1977 - Argentina 1 England 1 [1-1]
Estadio Camilo Cichero, Buenos Aires (60,000)
Ray Clemence

wore this uniform,

alongside England's 1976 red uniform

, against Argentina's light-blue and white striped shirts, black shorts and white socks.
514
15 June 1977 - Uruguay 0 England 0 [0-0]
Estadio Centenario, Montevideo (25,000/30,000)
Ray Clemence

wore this uniform,

alongside England's 1976 red uniform

, against Uruguay's light-blue shirts, black shorts and white socks.
Season 1977-78

x

Friendly
515
7 September 1977 -
England 0 Switzerland 0 [0-0]
Wembley Stadium, Wembley (42,000)
Ray Clemence

wore this uniform,

alongside England's 1974 white uniform

, against Switzerland's red shirts, white shorts and red socks.
World Cup Preliminaries
516
12 October 1977 -
Luxembourg 0 England 2 [0-1]
Stade Municipal, Stad Lëtzebuerg (10,621/11,000)
Ray Clemence

wore this uniform,

alongside England's 1974 white uniform

, against

Luxembourg's red shirts, white shorts and blue socks

.

517
16 November 1977 - England 2 Italy 0 [1-0]
Wembley Stadium, Wembley (92,500)

Ray Clemence wore this uniform,

alongside England's 1974 white uniform

, against Italy's

blue shirts, white shorts and blue socks

.

Friendly
518
22 February 1978 -
West Germany 2 England 1 [0-1]
Olympiastadion, München (77,850/78,000)
Ray Clemence

wore this uniform,

alongside England's 1976 red uniform

, against West Germany's white shirts, black shorts and white socks.
British Championships
520
13 May 1978 - Wales 1 England 3 [0-1]
Ninian Park, Cardiff (17,698)

Peter Shilton wore this uniform,

alongside England's 1974 white uniform

, against

Wales'

all-red kit

.

521
16 May 1978 - England 1 Northern Ireland 0 [1-0]
Wembley Stadium, Wembley (50,000)

Ray Clemence wore this uniform,

alongside England's 1974 white uniform

, against

Northern Ireland's green shirts, white shorts and green socks

.

522
20 May 1978 - Scotland 0 England 1 [0-0]
Hampden Park, Glasgow (88,319)

Ray Clemence wore this uniform,

alongside England's 1974 white uniform

, against

Scotland's blue shirts, white shorts and

red socks

.
Friendly
523
24 May 1978 - England 4 Hungary 1 [3-0]
Wembley Stadium, Wembley (74,000)

Peter Shilton wore this uniform,

alongside England's 1974 white uniform

, against Hungary's red shirts, white shorts

and green socks

.

Season 1978-79
European Championship Preliminaries
524
20 September 1978 - Denmark 3 England 4 [2-2]
Idrćtsparken, Křbenhavn (47,600)

Ray Clemence wore this uniform,

alongside England's 1974 white uniform

, against Denmark's red shirts, white shorts

and red socks

.

525
25 October 1978 -
Republic of Ireland 1 England 1 [1-0]
Lansdowne Road, Dublin (48,613)

Ray Clemence wore this uniform,

alongside England's 1974 white uniform

, against

Republic of Ireland's green shirts, white shorts and green socks

.

Friendly
526
29 November 1978 -
England 1 Czechoslovakia 0 [0-0]
Wembley Stadium, Wembley (92,000)

Peter Shilton wore this uniform,

alongside England's 1974 white uniform

, against

Czechoslovakia's red shirts, white shorts and

blue socks.

European Championship Preliminary
527
7 February 1979 -
England 4 Northern Ireland 0 [1-0]
Wembley Stadium, Wembley (91,224)

Ray Clemence wore this uniform,

alongside England's 1974 white uniform

, against

Northern Ireland's green shirts, white shorts and green socks

.

British Championships
528
19 May 1979 -
Northern Ireland 0 England 2 [0-2]
Windsor Park, Belfast (35,000)

Ray Clemence wore this uniform,

alongside England's 1974 white uniform

, against

Northern Ireland's green shirts, white shorts and green socks

.

529
23 May 1979 - England 0 Wales 0 [0-0]
Wembley Stadium, Wembley (70,220)

Joe Corrigan wore this uniform,

alongside England's 1974 white uniform

, against

Wales'

all-red kit

.

530
26 May 1979 - England 3 Scotland 1 [1-1]
Wembley Stadium, Wembley (98,000)

Ray Clemence wore this uniform,

alongside England's 1974 white uniform

, against

Scotland's blue shirts, white shorts and

red socks

.
European Championship Preliminary
531
6 June 1979 - Bulgaria 0 England 3 [0-1]
Natsionalen Stadion Vasil Levski, Sofija (31,322)

Ray Clemence wore this uniform,

alongside England's 1976 red uniform

(with white socks), against Bulgaria's white shirts, green shorts

and red socks

.

Friendly
533
13 June 1979 - Austria 4 England 3 [3-1]
Praterstadion, Wien (31,000/60,000)

Peter Shilton and Ray Clemence wore this uniform,

alongside England's 1976 red uniform

, against Austria's white shirts, with black shorts and socks.

Season 1979-80
European Championship Preliminaries
534
12 September 1979 - England 1 Denmark 0 [1-0]
Wembley Stadium, Wembley (88,000 to 90,000)

Ray Clemence wore this uniform,

alongside England's 1974 white uniform

, against

D

enmark's red shirts, white shorts and red socks

.

535
17 October 1979 -
Northern Ireland 1 England 5 [0-2]
Windsor Park, Belfast (17,755/25,000)

Peter Shilton wore this uniform,

alongside England's 1974 white uniform

, against

Northern Ireland's green shirts, white shorts and green socks

.

536
22 November 1979 - England 2 Bulgaria 0 [1-0]
Wembley Stadium, Wembley (71,491 to 85,621)

Ray Clemence wore this uniform,

alongside England's 1974 white uniform

(with red socks), against Bulgaria's red shirts, green shorts

and white socks

.

537
6 February 1980 -
England 2 Republic of Ireland 0 [1-0]
Wembley Stadium, Wembley (90,299/91,043)

Ray Clemence wore this uniform,

alongside England's 1974 white uniform

, against

Republic of Ireland's green shirts, white shorts and green socks

.

Friendlies
538
26 March 1980 - Spain 0 England 2 [0-1]
Nou Estadi del Futbol Club Barcelona, Barcelona (50,000)

Peter Shilton wore this uniform,

alongside England's 1974 white uniform

, against Spain's red shirts, blue shorts

and black socks

.

539
13 May 1980 - England 3 Argentina 1 [1-0]
Wembley Stadium, Wembley (92,000)

Ray Clemence

wore this uniform,

alongside England's 1980 white uniform

, against Argentina's light-blue and white striped shirts, with black shorts and socks.

British Championships
540
17 May 1980 - Wales 4 England 1 [2-1]
Racecourse Ground, Wrexham (24,236)

Ray Clemence

wore this uniform,

alongside England's 1980 white uniform

, against Wales' red shirts (with white sleeves), white shorts

and red socks

.

541
20 May 1980 - England 1 Northern Ireland 1 [0-0]
Wembley Stadium, Wembley (33,676)

Joe Corrigan wore this uniform,

alongside England's 1980 white uniform

, against

Northern Ireland's green shirts, white shorts and green socks

.

542
24 May 1980 - Scotland 0 England 2 [0-1]
Hampden Park, Glasgow (85,000/88,000)

Ray Clemence wore this uniform,

alongside England's 1980 white uniform

, against

Scotland's blue shirts, white shorts and

red socks

.
European Championship Finals in Italy
544
12 June 1980 - Belgium 1 England 1 [0-1]
Stadio Comunale di Torino, Torino (15,186/200)

Ray Clemence wore this uniform,

alongside England's 1980 white uniform

, against Belgium's red shirts, black shorts and yellow socks.

545
15 June 1980 - England 0 Italy 1 [0-1]
Stadio Comunale di Torino, Torino (56,649/59,649)

Peter Shilton wore this uniform,

alongside England's 1980 white uniform

, against

Italy's blue shirts, white shorts and blue socks

.

546
18 June 1980 - Spain 1 England 2 [0-1]
Stadio San Paolo, Napoli (14,440 to 15,000)

Ray Clemence wore this uniform,

alongside England's 1980 white uniform

, against

Spain's red shirts, blue shorts and black socks

.

Season 1980-81
World Cup Preliminaries
547
10 September 1980 - England 4 Norway 0 [1-0]
Wembley Stadium, Wembley (48,200)

Peter Shilton wore this uniform,

alongside England's 1980 white uniform

, against Norway's red shirts, white shorts

and blue socks

.

549
19 November 1980 -
England 2 Switzerland 1 [2-0]
Wembley Stadium, Wembley (70,000)

Peter Shilton wore this uniform,

alongside England's 1980 white uniform

, against

Switzerland's red shirts, white shorts and red socks.
Friendly
550
25 March 1981 - England 1 Spain 2 [1-2]
Wembley Stadium, Wembley (71,840)

Ray Clemence wore this uniform,

alongside England's 1980 white uniform

(all-white), against

Spain's red shirts, blue shorts and black socks

.

British Championships
553
20 May 1981 - England 0 Wales 0 [0-0]
Wembley Stadium, Wembley (34,280)

Joe Corrigan wore this uniform,

alongside England's 1980 white uniform

, against

Wales' red shirts (with white sleeves), white shorts and red socks

.

554
23 May 1981 - England 0 Scotland 1 [0-0]
Wembley Stadium, Wembley (90,000)

Joe Corrigan wore this uniform,

alongside England's 1980 white uniform

, against

Scotland's blue shirts, white shorts and

red socks

.
World Cup Preliminaries/England Summer Tour
555
30 May 1981 - Switzerland 2 England 1 [2-0]
Sankt Jakob Stadium, Basel (40,000)

Ray Clemence wore this uniform,

alongside England's 1980 white uniform

, against

Switzerland's red shirts, white shorts and red socks.
556
6 June 1981 - Hungary 1 England 3 [1-1]
Népstadion, Budapest (62,000 to 70,000)

Ray Clemence wore this uniform,

alongside England's 1980 white uniform

, against

Hungary's red shirts, white shorts and green socks

.

Season 1981-82
World Cup Preliminary
557
9 September 1981 - Norway 2 England 1 [2-1]
Ullevĺl Stadion, Oslo (28,000/500)

Ray Clemence wore this uniform,

alongside England's 1980 white uniform

, against

Norway's red shirts, white shorts and blue socks

.

Other Matches in which England wore the 1974 Black Shorts and Socks
Season 1977-78

x

Friendlies
519
19 April 1978 - England 1 Brazil 1 [0-1]
Wembley Stadium, Wembley (92,500)
Joe Corrigan wore the 1976 blue shirt, alongside England's 1976 red uniform

,

against Brazil's yellow shirts and light-blue shorts and white socks.
Season 1978-79
532
10 June 1979 - Sweden 0 England 0 [0-0]


Råsunda Fotbollstadion, Stockholm

(35,691)

Peter Shilton wore

the 1976 blue shirt

,

alongside England's 1976 red uniform

, against Sweden's yellow shirts, blue shorts

and yellow socks

.

Season 1979-80
543
31 May 1980 - Australia 1 England 2 [0-2]
Sydney Cricket Ground, Sydney (30,000/c.45,000)

Joe Corrigan wore

the 1976 blue shirt

,

alongside England's 1980 white uniform

, against Australia's gold shirts, green shorts

and white socks

.

Season 1980-81

x

World Cup Preliminaries
548
15 October 1980 - Romania 2 England 1 [1-0]
Stadionul 23 August, Bucureşti (75,000/80,000)

Ray Clemence wore the 1980 green shirt, alongside England's 1980 white uniform (all white), against Romania's yellow shirts, with blue shorts and socks.

551
29 April 1981 - England 0 Romania 0 [0-0]
Wembley Stadium, Wembley (62,500)

Peter Shilton wore

the 1981 blue shirt

,

alongside England's 1976 red uniform

, against Romania's

yellow shirts, blue shorts and yellow socks

.

Friendly
552
12 May 1981 - England 0 Brazil 1 [0-1]
Wembley Stadium, Wembley (75,000)

Ray Clemence wore

the 1981 blue shirt

,

alongside England's 1976 red uniform

, against Brazil's yellow shirts, light blue shorts

and

white socks.

Other Match in which England Wore the 1974 Black Socks
Season 1981-82

England's Record wearing the 1974 Yellow Goalkeeper Uniform
Type
P
W
D
L
F
A
GD
FTS
CS
FAv
AAv
Pts %
W/L
Home
30
19
7
14
61
16
+45
6
17
2.033
0.533
75.0
+5
Away
30
16
5
9
51
34
+17
4
10
1.70
1.133
61.7
+7
Neutral
3
2
1
0
6
4
+2
0
0
2.000
1.333
83.3
+2
Total
63
37
13
23
118
54
+64
10
27
1.873
0.857
69.0
+14

Ray Clemence's Record wearing the 1974 Yellow Goalkeeper Uniform
Type
P
W
D
L
F
A
GD
FTS
CS
FAv
AAv
Pts %
W/L
Home
20
14
4
2
44
11
+33
2
12
2.20
0.550
80.0
+12
Away
24.50
12
5
8
38
27
+11
3
9
1.551
1.102
58.0
+4
Neutral
2
1
1
0
3
2
+1
0
0
1.50
1.00
75.0
+1
Total
46.50
27
10
10
85
40
+45
5
21
1.828
0.860
68.8
+17

Peter Shilton's Record wearing the 1974 Yellow Goalkeeper Uniform
Type
P
W
D
L
F
A
GD
FTS
CS
FAv
AAv
Pts %
W/L
Home
6
5
0
1
16
3
+13
1
3
2.667
0.50
83.3
+4
Away
5.50
4
0
2
13
7
+6
1
1
2.364
1.273
72.7
+2
Total
11.50
9
0
3
29
10
+19
2
4
2.522
0.870
78.3
+6

Joe Corrigan's Record wearing the 1974 Yellow Goalkeeper Uniform
Type
P
W
D
L
F
A
GD
FTS
CS
FAv
AAv
Pts %
W/L
Home
4
0
3
1
1
2
-1
3
2
0.250
0.50
25.0
-1
Neutral
0.50
1
0
0
3
0
+3
0
0.50
6.00
0.00
100.0
+1
Total
4.50
1
3
1
4
2
+2
3
2.50
0.889
0.444
55.6
=0

Jimmy Rimmer's Record wearing the 1974 Yellow Goalkeeper Uniform
Type
P
W
D
L
F
A
GD
FTS
CS
FAv
AAv
Pts %
W/L
Neutral
0.50
1
0
0
0
2
-2
0.50
0
0.00
4.00
100.0
+1
Total
0.50
1
0
0
0
2
-2
0.50
0
0.00
4.00
100.0
+1

Five shirts showing different number styles. England wore red numbers from 1974-78, black from 1978-79, red from 1979-80 and then black from 1980-81 (though poor quality video evidence can be a little misleading, surprisingly making red look like black from a distance). The font changed in 1978 from the more rounded style (first left).

____________________

GI/BD/CG