Rank:

FIFA (7 February 2019) 5th
EFO ranking Group One (2nd)
ELO rating =7th to 5th
Colours:
The Nike 2018 home shirt

-

White v-necked jerseys with red tri

m on collar, blue shorts, white socks.
Capt:
Harry Kane
(16th captaincy, 14)
Manager:
Gareth Southgate, 48 (3 September 1970), appointed caretaker manager on 27 September 2016, appointed as permanent manager on 30 November 2016.
32nd match, W 18 - D 8 - L 6 - F 54 - A 24.
England Lineup
1
Pickford, Jordan L.
25
15 dys
7 March 1994
G
Everton FC
16
14

GA

the 75th EC clean sheet and the 125th in all qualification matches.
2
Walker, Kyle A.
28
298 dys
28 May 1990
RB
Manchester City FC
45
0
3
Chilwell, Benjamin J.
22
91 dys
21 December 1996
LB
Leicester City FC
6
0
4
Dier, Eric J.E., injured off 17th min.

(injured 9:46)

25
66 dys
15 January 1994
CM
Tottenham Hotspur FC
39
3

1

5
Keane, Michael V.
26
70 dys
11 January 1993
CD
Everton FC
6
0
6
Maguire, J. Harry

26


17 dys
5 March 1993
CD
Leicester City FC
17
1
7
Sancho, Jadon M.
18
362 dys
25 March 2000
RF
BSV Borussia 09 eV Dortmund, Germany
4
0
8
Henderson, Jordan B.
28
278 dys
17 June 1990
R/C/LM
Liverpool FC
49
1
9
Kane, Harry E.
25
237 dys
28 July 1993
CF
Tottenham Hotspur FC
36
21
6

1

England's 120th penalty kick awarded




Kane's sixth conversion-in-a-row equals Flowers

10

Alli, Bamidele

J.

, off 63rd min.
22
345 dys
11 April 1996
LM
Tottenham Hotspur FC
34
3
11

Sterling, Raheem S., off 70th min.
24
104 dys
8 December 1994
in Kingston, Jamaica
LF
Manchester City FC
48
7

Sterling's first hattrick, England's 86th.

England

Substitutes
18
Barkley, Ross, on 17th min

. (16:14)

for Dier

25


107 dys
5 December 1993
RM
Chelsea FC
26
11
2
15

scoreline:

England 3 Czech Republic 0

1241

16
Rice, Declan, on 63rd min.

(62.30)

for Alli

20


67 dys
14 January 1999
CM
West Ham United FC
1
0

43rd West Ham player to represent England

scoreline:

England 4 Czech Republic 0

1242

20


Hudson-Odoi, Callum J., on 70th min.

(69:19)

for Sterling


18
135 dys
7 November 2000
F


Chelsea FC
1


0


youngest competitive debutant since 1955
two under 18's for first time since 1881

47th Chelsea player to represent England

result:

England 5 Czech Republic 0

unused substitutes:

12-Kieran Tripper, 13-Tom Heaton, 14-Danny Rose, 15-James Tarkowski, 17-James Ward-Prowse, 19-Callum Wilson, 21-Jack Butland.

team notes:

Declan Rice becomes the first player since Jack Reynolds in 1891 to first play for Ireland.

records:

Sterling's first goal was the fiftieth scored under the Southgate reign. His second was England's 300th competitve goal at home.
England have now gone forty qualification matches (WC & EC) unbeaten (W31 D9).

Manager Gareth Southgate was an unsused substitute when Czech Republic visited in November 1998.
4-3-3
Pickford -
Walker, Keane, Maguire, Chilwell -
Henderson, Dier (Barkley), Alli (Rice)-
Sancho, Kane, Sterling (Hudson-Odoi)


notes: When Barkley replaced Dier, he went to the right, with Henderson going into the centre. When Rice came on, he went to the centre and Henderson then went to the left.

Averages (Starting XI):

Age
24

years

338

days

Appearances/Goals

27.3

2.8
Rank:

FIFA (7 February 2019)

44th


EFO ranking n/a


ELO rating

37th

Colours:
Made by Puma - Red crew-necked jerseys with blue trim and a lion's head graphic on the front, white shorts, red socks.
Capt:
Vladimír Darida, until 67th min. No player took the armband after this
Manager:
Jaroslav Šilhavý, 57 (3 November 1961), appointed 18 September 2018
fifth match, W 3 - D 0 - L 2 - F 4 - A 7
Czech Republic Lineup
23
Pavlenka, Jiří
26
342 dys
14 April 1992
G
Sv Werder Bremen von 1899 eV, Germany
9
11

GA

2
Kadeřábek, Pavel
26
331 dys
25 April 1992
RB
TSG 1899 Hoffenheim eV, Germany
37
3
Kadeřábek cautioned in the 45th+1 min for a foul, after he brought down Sterling as he danced into the area. Penalty awarded.
3
Čelůstka, Ondřej
29
277 dys
18 June 1989
CD
Antalyaspor, Turkey
9
1
6
Kalas, Tomáš
25
304 dys
22 May 1993
CD
Bristol City FC, England, on loan from Chelsea FC, England
19
2
tenth EC own goal for England

(51st)

22
Novák, Filip
28
269 dys
26 June 1990
LB
Trabzonspor, Turkey
20
1
15
Souček, Tomáš
24
23 dys
27 February 1995
DRM
Sk Slavia Praha
17
2
11
Pavelka, David
27
308 dys
18 May 1991
DLM
Kasımpaşa SK, Turkey
19
0
4
Gebre Selassie, Theodor
32
88 dys
24 December 1986
RM
Sv Werder Bremen von 1899 eV, Germany
53
3
8
Darida, Vladimír, off 67th min
28
226 dys
8 August 1990
AM
Hertha, Berliner SC eV, Germany
54
4
14
Jankto, Jakub, off 46th min.
23
62 dys
19 January 1996
LM
UC Sampdoria SpA, Italy, on loan from Udinese Calcio SpA, Italy
18
2
19
Schick, Patrik, off 82nd min.
23
57 dys
24 January 1996
CF/LF
AS Roma SpA, Italy
15
5
Schick cautioned in the 53rd min for unsporting behaviour, after he prevented Pickford's clearance.
Czech Republic Substitutes

scoreline:

England 2 Czech Republic 0
20
Vydra, Matĕj, on 46th min. for Jankto
26
325 dys
1 May 1992
RF
Burnley FC, England
25
5

scoreline:

England 3 Czech Republic 0
12
Masopust, Lukáš, on 67th min.

(66:48)

for Darida
26
38 dys
12 February 1993
AM
Sk Slavia Praha
2
0

scoreline:

England 4 Czech Republic 0
21
Škoda, Milan, on 82nd min.

(81:27)

for Schick
33
65 dys
16 January 1986
CF
Sk Slavia Praha
19
4

result:

England 5 Czech Republic 0

unused substitutes:

1-Ondřej Kolář, 5-Vladimír Coufal, 7-Jaromír Zmrhal, 9-Bořek Dočkal (injured), 10-Martin Frýdek, 13-Alex Král, 16-Tomáš Koubek, 17-Marek Suchý, 18-Ondřej Kúdela.
4-5-1
(4-4-2 second half)
Pavlenka -
Kadeřábek, Kalas, Čelůstka, Novák -
Gebre Selassie, Pavelka, Darida (Masopust), Souček, Jankto (Vydra) -
Schick (Škoda)


notes: Vydra joined Schick up front in the second half.

Averages (Starting XI):

Age
27 years 10 days
Appearances/Goals

23.6

2.1

least experienced XI in 2018-19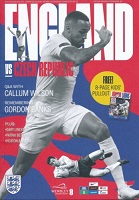 For the first International of the year, Gareth Southgate's squad reflected the exciting talent at his disposal for this opening European Championships match in a tournament due in 2020. There was a little caution with the inclusion of Jordan Henderson and Eric Dier to bolster the midfield, but, in general, it was a bold and attacking selection by the manager. It paid off handsomely with a thoroughly dominant performance and five goals.





In a cautious opening, England had a 'good look' at their opponents, but the first significant moment came when Dier suffered an injury. It was bad enough to force him off after just 17 minutes, and Southgate replaced him by bringing on Ross Barclay. At this time England were looking solid but the first effort on goal came from the visitors six minutes later. It was a speculative shot by Vladimir Darida which flew high and wide, and within a minute England broke down the right and took the lead. So far, Jaydon Sancho had looked lively but was giving the ball away too much, but this time he raced onto a wonderful pass from Harry Kane, inside the full-back, hit a first-time cross into the middle, and there was Raheem Sterling stretching to guide the ball home from close range. The keeper had no chance and Sterling continued what he has been doing all season for Manchester City.





Deli Alli, back in the side after injury, was lively over the next ten minutes and England were already in control. Sancho almost sent Henderson free, but the Liverpool man was offside, and then two near misses for England with just over five minutes of the half remaining, first from Sancho, and then from Harry Maguire almost doubled the lead. Both efforts missed the target, but it wasn't long before England did double their lead.





On 43 minutes. Barclay, increasingly influential, set up Kane, but his shot was blocked away for a corner. From the kick the ball was worked to Sterling and the forward burst between two defenders before crashing to the ground. Pavel Kaderabeck was penalised for a foul, and England had a penalty. Kaderabeck was yellow carded, but it was one of those incidents that some referees would give and some wouldn't. This referee had no hesitation and Harry Kane smashed the spot-kick home. The goalkeeper, Jiri Pavlenka, got a strong hand to Kane's kick, but the power of the shot was just too much for him.





So, 2-0 at the break, and England in complete control. Ben Chilwell and Kyle Walker were trying to get forward in support of the attack and Barclay was taking full advantage of his opportunity with some powerful runs. Michael Keane and Maguire looked composed at the back against a weak Czech attack, and Jordan Pickford had not been troubled.





Not surprisingly, the Czechs came out after the break, determined to make an impact. Matej Vydra was sent on as substitute for the ineffective Jakub Jankto at the start of the half and for ten minutes they pushed forward at every opportunity creating a couple of good chances. On 49 minutes David Pavelka had a shot blocked and then, two minutes later, Tomas Soucek had a great chance but headed Darida's free-kick wide of the England goal, when he might have done better. A minute later and Pavelka combined with Tomas Kalas to force Pickford into a good save to his right. On 53 minutes the goalkeeper then did well to react to Pavelka's close range header, blocking it on the line when slightly wrong-footed.Tomas SoucekTomas SoucekTomas Soucek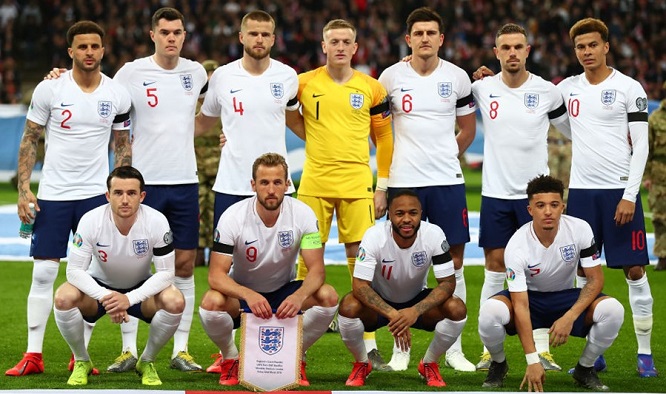 Although the Czech side had enjoyed their best spell since the break, England still held the upper hand, in every sense. Just after the hour mark, England settled the result with another excellent goal from Sterling. He received possession in the box but defenders fought to clear the ball. A lucky rebound then fell at Sterling's feet and he spun to hit a fine left-foot shot into the far corner for a terrific goal. Game over!





After that goal Southgate gave Declan Rice his England debut, replacing Alli, and the Czechs brought on Lukas Masopust for Darida. Within five minutes England increased their lead to 4-0. Another excellent burst by Barclay set up Sterling for a shot from about 20 yards. Remember, he was on a hat-trick, and the luck was on Sterling's side as the shot struck a defender on the back and completely wrong-footed the goalkeeper, who turned to see the ball cross the line, much to his disgust. Sterling celebrated with the crowd and was then substituted by Southgate who brought on another exciting talent, Callum Hudson-Odoi. (Wonder how long it will be before England's whole team have double-barrelled names?).





England dominated the remaining 20 minutes as Barclay headed wide, Henderson had a shot blocked, Barclay combined with Hudson-Odoi for the latter to have a shot, which was saved by Pavlenka, and then the goalkeeper did well to stop Kane adding to the goal tally.





With six minutes left England scored a fifth, and rather fortuitous goal. Hudson-Odoi positively went for goal and his shot was pushed out by the goalkeeper. Unluckily for Pavlenka, and even more unluckily for Kalas, the ball struck the defender's shins and rebounded, oh so slowly, into the net. They rounded off the Czech Republic's dismal night.





England had played well, and it was a very promising start to the new year, and to their Euro Championship challenge. Several players stood out, none more so that Raheem Sterling, who won the crowd over with a fine all-round display topped off by a hat-trick. You can't say fairer than that.