Current European Champions

Colours:
Made by Adidas - Red shadowed triangles v-necked jersey with yellow Adidas sidetrim and blue cuffs, royal blue shorts, navy socks.

Rank:

FIFA (5 November 2015) 6th
EFO ranking Group 4 to 3
ELO rating 5th to 4th
Capt:
Iker Casillas
Manager:
Vicente del Bosque González, 64, (23 December 1950), appointed 11 March 2008, effective 15 July 2008,
105th match, W 83 - D 8 - L 14 - F 239 - A 71.
Spain Lineup
1
Casillas

Fernández

, Iker
34
177 days
20 May 1981
G
FC Porto

, Portugal

165
0
mst apps
24
Perez Martinez, Mario G.
24
354 days
24 November 1990
RB
Villarreal CF
2
2
3
Piqué

Bernabéu

, Gerard
28
284 days
2 February 1987
CD
FC Barcelona
73
4
4
Bartra Aregall, Marc
24
302 days
15 January 1991
CD
FC Barcelona
7
0
5
Busquets

Burgos

, Sergio
27
120 days
16 July 1988
RM
FC Barcelona
82
2
6

Iniesta

Luján

, Andrés, off 46th min.
31
186 days
11 May 1984
LM
FC Barcelona
107
13
18
Alba

Ramos

, Jordi
26
237 days
21 March 1989
LB
FC Barcelona
39
6

9

Alcacer Garcia, Francisco, off 74th min.
22
75 days
30 August 1993
CF
Valencia CF
11
6
19
Costa da Silva, Diego, off 64th min.
27
37 days
7 October 1988
LF
Chelsea FC, England
10
1
10
Fàbregas

Soler

, Francesc
28
193 days
4 May 1987
RF
Chelsea FC, England
101
14
14
Alcantara do Nascimento, Thiago, injured off 27th min.
24
216 days
11 April 1991
in San Pietro Vernotico, Italy
CM
FC Bayern München, Germany
7
0
Spain Substitutes
20
Cazorla

González

, Santiago, on 27th min.

(26:22)

for Thiago
30
335 days
13 December 1984
M
Arsenal FC, England
77
14
21
Nolito, on 46th min. for Iniesta
29
29 days
15 October 1986
F
RC Celta de Vigo
5
0
13
Mata

García

, Juan M., on 64th min

(

63:05)

for Costa
27
199 days
28 April 1988
AM
Manchester United FC

, England

38
10
scoreline: Spain 1 England 0
11
Pedro, on 74th min.

(73:36)

for Alcacer
28
108 days
28 July 1987
F
Chelsea FC

, England

54
6
8
Koke, on 78th min.

(77:48)

for Busquets
23
309 days
8 January 1992
M
Atlético de Madrid CF
20
0
2
AzpIlićueta Tanco, Cesar, on 82nd min.

(81:48)

for Bartra
26
77 days
28 August 1989
RB
Chelsea FC, England
12
0
result: Spain 2 England 0
unused substitutes:
7-Alvaro Morata, 12-David de Gea, 15-Nacho, 16-Oscar de Marcos, 17-Mikel San José, 23-Sergio Rico.
4-3-3
Casillas -
Mario, Piqué, Bartra (AzpIlićueta), Alba -
Busquets (Koke), Thiago (Cazorla), Iniesta (Nolito) -
Fábregas, Alcacer (Pedro), Costa (Mata)

Averages

(Starting XI)

:

Age
27 years 133 days
Appearances/Goals
54.91
3.7

=most experienced opposing XI in 2015-16
Rank:

FIFA (5 November 2015) 9th
EFO ranking Group 3 to 4
ELO rating 7th to 8th
Colours:
The Nike 2014 home uniform

-

White v-necked jerseys with shadowed pinstripes and silvery white trim, white shor

ts with silvery white trim, white socks.
Capt:
Joe Hart
(only captaincy)
Wayne Rooney, 73rd min.
Manager:
Roy Hodgson, 68 (9 August 1947), appointed 1 May 2012,
46th match, W 27 - D 13 - L 6 - F 94 - A 34.
England Lineup
1

Hart,

C.

Joseph

J.

28
208 days
19 April 1987
G
Manchester City FC
56
39ᵍᵃ
84th min.affter complaining that the second Spanish goal was offside.
2
Walker, Kyle A.
26
169 days
28 May 1990
RB
Tottenham Hotspur FC
13
0
3
Bertrand, Ryan D.
26
100 days
5 August 1989
LB
Southampton FC
6
0
4
Carrick, Michael, injured off 90th

+1

min
34
108 days
28 July 1981
CM
Manchester United FC
34
0

final app

2001-15

5
Jones, Philip A.
23
265 days
21 February 1992
CD
Manchester United FC
19
0
6
Smalling, Christopher

L.

, off 84th min.
25
356 days
22 November 1989
CD
Manchester United FC
21
0
7
Lallana, Adam D., off 63rd min.
27
187 days
10 May 1988
CM
Liverpool FC
18
0
8
Delph, Fabian, off 63rd min.
25
357 days
21 November 1989
RM
Manchester City FC
9
0

first defeat

(W7 D1)

9
Barkley, Ross, off 73rd min.
21
343 days
5 December 1993
AM
Everton FC
18
2

10

Kane, Harry E.
22
108 days
28 July 1993
CF
Tottenham Hotspur FC
7
3

first defeat

(W5 D1)

11

Sterling, Raheem S.
20
340 days
8 December 1994
in Kingston, Jamaica
LM
Manchester City FC
19
2
England Substitutes
20
Alli, Bamidele J., on 63rd min

(62:32)

for Lallana
19
216 days
11 April 1996
M
Tottenham Hotspur FC
3
0
0
3
1212
15
Dier, Eric J.E., on 63rd min.

(62:33)

for Delph
21
302 days
15 January 1994
M
Tottenham Hotspur FC
1
0
the 75th Hotspur player to represent England
scoreline: Spain 1 England 0
19
Rooney, Wayne M., on 73rd min.

(

72:17)

for Barkley
30
20 days
24 October 1985
F
Manchester United FC
108
101

49

7

=

mst gls
scoreline: Spain 2 England 0
16
Cahill, Gary J., on 84th min. for Smalling
29
329 days
19 December 1985
CD
Chelsea FC
39
36
3
3
18
Shelvey, Jonjo, on 91st min.

(90:15)

for Carrick
23
259 days
27 February 1992
M
Swansea City AFC
5
3
0
2
result: Spain 2 England 0
unused substitutes:
12-Nathaniel Clyne, 13-Jack Butland, 14-John Stones, 17-Kieron Gibbs, 21-Tom Heaton.
Coach Roy Hodgson had managed Switzerland against Spain in the 1994 World Cup Finals (0-3). He also managed Finland against Spain in an October 2007 friendly (0-0).
4-4-1-1
Hart -
Walker, Jones, Smalling (Cahill), Bertrand -
Delph (Dier), Carrick (Shelvey), Lallana (Alli), Sterling -
Barkley (Rooney) -
Kane

Averages

(Starting XI)

:

Age
25 years 265 days
Appearances/Goals

20.0

0.6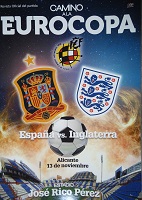 The friendly international was arranged so that England, who had had it fairly easy in their European Championship Group matches, could pit their wits against a better class of opposition in preparation for what lies ahead next summer. Unfortunately, several of England's brightest prospects seemed a little overawed on the night and the defeat that followed was perhaps inevitable.

It is always obviously clear how Spain play football and with them, possession is paramount. As a result that ball was pinging around the pitch, backwards, forwards, sideways, and back again, with England unsure as to whether to push forward and press or stay back and soak it up. As a result of all this cat and mouse, the first 20 minutes was devoid of any excitement, and in fact it was England, in the 7th minute, who created the first opportunity. Good work by Harry Kane shifted the ball to Raheem Sterling, who had a clear run at goal coming in from the left. But his final shot was high wide, and not so handsome, which was to be a 'feature' of England's finishing on the night. A minute after that miss a mistake by Andrea Iniesta let in Ross Barkley for another clear shot, but once again the attempt was weak and wide. For all their possession though, it is worth noting that Spain could have been 2-0 down in the first ten minutes!

The first semblance of a chance for Spain came after 16 minutes, and followed a mistake by Fabian Delph and Sterling. Pique gained possession and fired in a long range shot. The ball was deflected by a defender wide of Joe Hart's goal. So, after 25 minutes, despite lots of possession, Spain had not had a shot on target. They passed the ball around looking for a killer forward pass, but England's defence, with Phil Jones and Chris Smalling looking solid and Ryan Bertrand at left-back looking lively, both going forward and in his defending. Diego Costa won a corner for Spain before Sergio Busquets shot just wide with Spain's best chance so far. England, on the counter, then had a near miss when Kane just failed to reach Bertrand's excellent cross from the left.

Spain had obviously targeted Kyle Walker and most of their best attacks exposed the Tottenham defender. The first of several mistakes from the full-back gave Francisco Alcacer a chance, but again the shot went wide. At this point both sides were attacking on the break, Sterling's cross was blocked and then Costa curled a shot wide, but then on 33 minutes Barkley's superb turn and run had Spain back-peddling. Once again though, and it was becoming infuriating for England fans, the final shot was not worthy of the name. Two minutes later and Kane had another golden chance as Bertrand made another excellent run down the left. The ball was cleared from Adam Lallana but then dropped for Kane who completely mishit his effort on goal.

Spain were looking to drop the ball behind the England back line but their execution was poor and Smalling, especially, was in good form for England. With three minutes to go before the break, another Spanish mistake set up Delph for a clear shot, but yet again it was weak and easily saved. From a breakaway Smalling made a fine clearance as danger threatened at the other end. Just before half-time, good one-touch play for Sterling, Lallana and Bertrand set up Kane, but, as in all the other chances, the final shot was weak. As the half-time whistle then blew it was not unreasonable to suggest that England, had they been more positive with their shooting, could have been well clear of their hosts.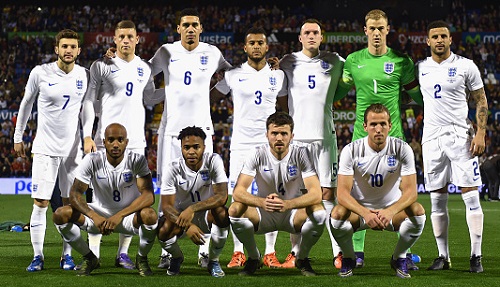 The second half was slow to burst into life as Spain dominated possession but lacked any sort of attacking threat. The pace did then quicken and Walker was again the target of the attacks from the home side. He was often caught out of position and his distribution was poor, although he did block one attack well. Just after the hour mark, Walker was beaten again and Hart had to punch clear from the cross. England's habit of losing possession when well positioned was infuriating at times, although credit Spain for the way they pressed the England players into errors. A raft of substitutions did not help the game as a spectacle although both Jordi Alba and Marc Bartra went close as England began to show signs of tiredness. Still the visitors created openings though and Kane fired in England's best effort on 67 minutes only to see the ball fly wide of the goal.

Within five minutes of Kane's effort, Spain went in front, with what was an absolutely brilliant goal. Annoyingly again, Sterling lost possession in a dangerous position, and the ball found its way to Cesc Fabregas. The Chelsea player, who can't buy a decent pass for his club side at the moment, chipped a clever ball over the back of the England defence to the defender known as Mario. As the ball came over his right shoulder he performed a superbly acrobatic scissors kick and struck the ball over Hart and into the far corner. He will probably never score a goal like that again in the rest of his career!

The goal visibly affected England, and lifted Spain. Hart made a fine save with his feet to stop a certain second goal, but then, on the counter, substitute Eric Dier found Kane, but the hard-working striker slipped as he shot and the chance went begging again. It was to prove costly. Hart saved again but on 84 minutes it was 2-0 to Spain when Santi Cozorla pounced on a loose ball to casually stroke home a delightful shot giving Hart no chance. At first I felt like Hart, as in the build up, it looked as though there was a blatant offside, but on later inspection of the goal on a replay, the lackadaisical Walker was slow moving out and put the attacker well onside. The full-back's booking topped his own match off nicely, and Hart's booking for protesting about the goal, was down to sheer frustration.

To be fair, Walker did get forward well towards the end and his good cross was volleyed into the ground by substitute Wayne Rooney, only for the ball to bounce high and clip the crossbar. That was the last of the action and England can look back on the game, rue their missed chances, and realise they have a lot to learn when they take on the big guns. The biggest lesson of all is that, when we do play these big sides, then all eleven players in the team, and the subs, must all be on top of their game at the same time! If we can achieve that then we can be a match for anyone. On this night, unfortunately, too many players were below par.