397 vs. West Germany
398
399 vs. Yugoslavia

Saturday, 2 April 1966
Home International Championship 1965-66 (71st) Match

Scotland 3 England 4 [1-2]


Match Summary
Scotland Squad
England Squad

Hampden Park, Kinghorn Drive, Mount Florida, Glasgow, Lanarkshire


Attendance: 123,052;

Kick-off: 3.00pm

BST


Live on BBC One (Scotland) -

Commentator: George Davidson, also live on ITV (Grampian and Scottish) - Commentator: Alex Cameron

England - Geoff Hurst (picked his spot from a Ball pass 18), Roger Hunt (left-footed cross-shot from a tight angle 26, another cross-shot following a Ball pass 47), Bobby Charlton (low left-footed 25-yard shot 73)
Scotland - Denis Law (headed in a Johnston corner 41), Jimmy Johnstone (acute shot that left Newtonand Banks stranded following a Law return pass 56, crashed home after Beaxter's free-kick hit the crossbar 80)
England - Nobby Stiles (47 & 57)
Results 1965-1970

? kicked-off. ? minutes (? & ?).
Match Summary
Scotland

Type

England

Referee (red) - Henri Faucheux
x (-).

Linesmen - J. Lamour (red flag) and J. Malleville (orange flag)

Goal Attempts
Attempts on Target
Hit Bar/Post
Corner Kicks Won
Offside Calls Against
Fouls Conceded
Possession

Scotland Team
Rank:

No official ranking system established;
ELO rating 12th to 16th
Colours:
Made by Umbro - Dark blue crew necked jerseys with white collars/cuffs, white shorts, blue socks with red tops.
Capt:
John Greig
Manager:
John Prentice, 39 (2 August 1926), appointed 24 March 1966, also manager of Clyde FC.
first match, W 0 - D 0 - L 1 - F 3 - 4.


Squad chosen by Selection Committee on Thursday, 24 March 1966, team chosen Thursday, 31 March.

Scotland Lineup
Ferguson, Robert
21
1 March 1945
G
Kilmarnock FC
2

5

GA

2
Greig, John
23
11 September 1942
RB
Rangers FC
15
3
3
Gemmell, Thomas
22
18 October 1943
LB
The Celtic FC
1
0
4
Murdoch, Robert

W.

21
17 August 1944
RHB
The Celtic FC
4
2
5
McKinnon, Ronald
25
20 August 1940
CHB
Rangers FC
4
0
6
Baxter, James C.
26
29 September 1939
LHB
Rangers FC
28
3
7
Johnstone, James

C.

21
30 September 1944
OR
The Celtic FC
3
2
8
Law, Denis
26
24 February 1940
IR
Manchester United FC

, England

35
25
9
Wallace, William

S.B.

25
23 June 1940
CF
Heart of Midlothian FC
2
0

10

Bremner, William

J.

23
9 December 1942
IL
Leeds United AFC, England
5
0
11
Johnston, William

M.

19
19 December 1946
OL
Rangers FC
3
0

reserves:

-
-
Ferguson -
Greig, Gemmell -
Murdoch, McKinnon, Baxter -
Johnstone, Law, Wallace, Bremner, Johnston.

Averages:

Age
23.0
Appearances/Goals
9.3
2.9

England Team
Rank:

No official ranking system established;
ELO rating 4th
Colours:
The 1965 Umbro home uniform - White crew necked jerseys, blue shorts, white socks.
Capt:
Bobby Moore, 21st captaincy
Manager:
Alfred Ernest Ramsey, 46 (22 January 1920), appointed 25 October 1962, effective part-time 31 December, full from May 1963.


33rd match, W 19 - D 8 - L 6 - F 81 - A 48

.
Team chosen on Tuesday, 22 March 1966.
England Lineup
Banks, Gordon
G

GA

2
Cohen, George

R.

RB
3
Newton, Keith

R.

LB
4
Stiles, Norbert P.
23
18 May 1942
RHB
Manchester United FC
11
1
Stiles cautioned in the 47th min. for Dissent. MacKinnon handled Bobby Charlton's cross

"Somehow McKinnon succeeded in keeping a poker face as he escaped detection: Sliles, however, protested to much and had his name taken"

. Cautioned in the 57th min. for Foul.

"Stiles, a sort of honorary hatchetman for England, again had his name taken for a crushing tackle on [Johnstone]"

.
5
Charlton, John
CHB
6
Moore, Robert F.C.
24
12 April 1941
LHB
West Ham United FC
38
1
7
Ball, Alan J.
OR
8
Hunt, Roger
IR
9
Charlton, Robert
CF

10

Hurst, Geoffrey

C.

IL
11
Connelly, John

M.

OL

reserve:

Norman Hunter (Leeds United AFC)

team notes:

Manager Alf Ramsey played against Scotland in four matches from 1950 until 1953.
Keith Newton replaced original left-back Ray Wilson.
4-3-3
Banks -
Cohen, J.Charlton, Moore, Newton -
Ball, R.Charlton, Stiles -
Hunt, Hurst, Connelly.

Averages:

Age
-
Appearances/Goals
-
-
Match Report by Mike Payne
Match Report by Norman Giller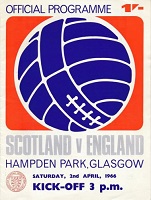 Geoff Hurst scored his first goal for England in the nineteenth minute to start a spree that excited the 133,000 crowd but made purists wince at the procession of defensive blunders by both teams. Hunt added a second goal for England before Denis Law threw himself forward in typical dare-devil style to head Scotland's first goal just before half-time. Hunt made it 3-1 early in the second-half, and then Celtic's jinking winger Jimmy Johnstone pulled it back to 3-2 before a thunderbolt shot from Bobby Charlton restored the two-goal lead. This was Charlton in imperious form as he reveled in his role as midfield orchestrator. Johnstone, turning the England defence inside out with his dribbling runs, scored the final goal six minutes from the end with a delicate curling shot that deceived goalkeeper Gordon Banks. A press reporter said to Alf Ramsey immediately after the match, 'A great game to watch, Alf.' The cold blue eyes became a burning glare on the journalist. 'For you maybe,' said Alf, 'but I thought there was some appalling football played. We must be much, much tighter.' Seven-goal thrillers did not belong in the Ramsey textbook. Once a perfectionist right-back, always a perfectionist right-back.

Source Notes
TheFA.com
LondonHearts.com
Original newspaper reports
Rothman's Yearbooks
Mike Payne's England: The Complete Post-War Record (Breedon Books Publishing Company, Derby, U.K., 1993)
Norman Giller, Football Author
____________________

CG