The England

World Cup Party-Pre USSR June

1958

Player
Birthdate
Age
Pos
Club
starts
subs
App
Capt
21. A'Court, Alan
30 September 1934
23
OL
Liverpool FC
1
0
1

1
0
3. Banks, Thomas
10 November 1929
28
LB
Bolton Wanderers FC
1
0
1
0
0
17. Brabrook, Peter
8 November 1937
20
OR
Chelsea FC
0
0
0
0
0
Brabrook was originally chosen as a provisional party member only, before joining the party
18. Broadbent, Peter F.
15 May 1933
25
IR
Wolverhampton Wanderers FC
0
0
0
0
0
20. Charlton, Robert
11 October 1937
20
IR
Manchester United FC
3
0
3
3
0
4. Clamp, H. Edward
14 September 1934
23
RHB
Wolverhampton Wanderers FC
1
0
1
0
0

15. Clayton, Ronald

5 August 1934

23

RHB

Blackburn Rovers FC
20
0
20
0
0
7. Douglas, Bryan
27 May 1934
24
OR
Blackburn Rovers FC
7
0
7
1
0
11. Finney, Thomas

5 April 1922

36
OL
Preston North End FC
73
0
73
28
0
10. Haynes, John N.

17 October 1934

23
IL
Fulham FC
20
0
20
8
0
13. Hodgkinson, Alan
16 August 1936
21
GK
Sheffield United FC
4
0
4
4ᵍᵃ
0
Hodgkinson was originally chosen as a provisional party member only, before becoming a stay-at-home reserve
12. Hopkinson, Edward
29 October 1935
22
GK
Bolton Wanderers FC
6
0
6
9ᵍᵃ
0
2. Howe, Donald
12 October 1935
22
FB
West Bromwich Albion FC
7
0
7
0
0
9. Kevan, Derek T.
6 March 1935
23
CF
West Bromwich Albion FC
7
0
7
4
0
1. McDonald, Colin A.
15 October 1930
27
GK
Burnley FC
1
0
1
1ᵍᵃ
0
16. Norman, Maurice
21 January 1933
2

5

CHB
Tottenham Hotspur FC
0
0
0
0
0
8. Robson, Robert W.
18 February 1933
25
IR
West Bromwich Albion FC
2
0
2
2
0
22. Setters, Maurice E.
16 December 1936
21
RHB
West Bromwich Albion FC
0
0
0
0
0
Setters was originally chosen as a provisional party member only, before becoming a stay-at-home reserve
14. Sillett, R. Peter T.
1 February 1933
25
RB
Chelsea FC
3
0
3
0
0
6. Slater, William J.
29 April 1927
31
LHB
Wolverhampton Wanderers FC
6
0
6
0
0
19. Smith, Robert A.
22 February 1933
25
CF
Tottenham Hotspur FC
0
0
0
0
0
Bobby Smith was originally chosen as a provisional party member only, before joining the party
5. Wright, William

A.

6 February 1924
34
CHB
Wolverhampton Wanderers FC
92
0
92
3
77
All information is complete to and including England's last match, the seventh of the 1957-58 season, against USSR on 18 May 1958.
Diary
Saturday, 8 February 1958 - The draw for the World Cup Finals in Sweden in the summer takes place in Stockholm. England drew the toughest group, meeting Austria Russia and Brazil. No other team could have a harder task. Scotland, by contrast, have a plum draw with France, Paraguay and Yugoslavia. With the arrogant Chairman of their Selection Committee, Willie Watters, stating that his country were in the quarter-finals already. The eight-strong committee bent their rules after a seven-hour conference. The rules state that 'the qualifying groups will be decided by a draw, except that countries of one continent will be separated', the committee succeeded in making three 'continents' of Europe. Much conference time was spent in wrangling over whether the committee had the power to do this.

Thursday, 6 March 1958 - The England party will arrive in Sweden three days before their opening Finals match against USSR, and stay in the Park Avenue Hotel, Gothenburg, instead of one of the special Soccer training camps. Walter Winterbottom denied that these preparations would put England at a disadvantage. "We'll arrive late in Sweden, but I know I can trust our players to keep fit. And it would do no good at all to try to isolate them in some special camp. It's the Englishman's nature to learn from playing in matches and to go home when he is not playing. That's the way it is is going to be for our international side—and its the best. There is no point in going over so early, the players will be happier at home. And even if we did want to stay at a camp in Sweden it just isn't practicable. The nearest one I could get is three and a half hours' journey from the centres where our matches will be played. It would make it too tiresome to be worthwhile."
Tuesday, 22 April 1958 - The International Selection Committee, headed by Joe Mears, and with involvement from Team Manager Walter Winterbottom, have named a forty-man strong party from whom 22 players will be chosen for their World Cup Finals party in Sweden. Twenty of the party also include those travelling behind the Iron Curtain for the East European tour in Belgrade and Moscow, and the fourteen man party for the friendly match with Portugal at Wembley at the beginning of May.
Of the forty mean, thirteen come from the Black Country. League Champions Wolverhampton Wanderers providing seven, four of them half-backs, and neighbours West Bromwich Albion with six players. The team which beat Scotland on Saturday are included, and along with nine other players, make up the core of the travelling party to Yugoslavia and USSR.
The big surprise in the forty is the inclusion of Manchester United's Dennis Viollet, who has never played for England, and was one of the last players released from hospital following the Munich Air Disaster. And since then, has played one first team match and one reserve match. The list of forty has to be cut to 22 by 31 May.
The selectors also have a chance of watching the players against each other in a World Cup trial match at Stamford Bridge on 2 May when a 'full' team will face an under-23 team.


Sunday, 18 May 1958, USSR 1 England 1 -
"Valentin the Villain monstrously cheated England out of a richly deserved prestige-precious victory in this first-ever clash with Russia t the magnificent Lenin Stadium. The villain, or to give him his correct name, Valentin Ivanov, the 23 Russian inside-right, was guilty of the most flagrant hands I have seen this season—just a split second before he fired in an UNJUST EQUALISER in the 78th minute. Immediately Ivanov committed his Soccer crime—palming the ball down with his right arm—I leapt off my stand seat along with five hundred other British supporters roaring: 'Hands!' But incredibly Austrian referee Friedrich Zeipelt never blew his whistle. Valentin the Villain went on to hook the ball past Colin McDonald into the empty net. The 110,000 crowd, momentarily hushed into silence, suddenly realised their Russian luck and exploded into a thankful roar. England skipper Billy Wright and his entire defence, backed up by those 500 solidly British fans in the stand, protested furiously to Herr Zeipelt. But this stubborn man in black scorned their pleas and shrugged his way back to the centre circle shaking his head furiously. England players stood around him amazed! It was a goal . . . but in name and in the record books only. But even if England are not rewarded with a record book win, this was a decisive and thoroughly earned victory MORAL VICTORY." - Peter Lorenzo, Daily Herald

Monday, 19 May 1958 - A heavy thunderstorm delayed the departure of the England party. They left two hours later than scheduled in a Russian jet airliner TU194 bound for Prague. Leading Soviet sports officials were at the airport, as was Russian ballerina Galina Ulanova, to wave farewell to the England party. They eventually touched down at London Airport shortly before nine o'clock tonight. The Beverley Sisters were at the airport to greet the team, in particular, captain Billy Wright.
The party will meet up again on 3 June.

Wednesday, 21 May 1958 - Walter Winterbottom said today that he may delay announcement of his 22-man World Cup party until the end of next week. The probables will gather in London next Tuesday for training until Friday, returning home for the weekend. Then the players reassemble in London and fly to Sweden on Thursday, 5 June.

Friday, 23 May 1958 - The BBC are making extensive plans to show in full many matches in the World Cup Finals in Sweden. A BBC camera team will form part of a Eurovision Broadcast Unit pool in Sweden throughout the Championships to bring special film reports to games which are not available on live television. On Sunday, 8 June, and the following Sunday, complete matches will be televised during the afternoon and evening. Provision is also been made for replays. Commentary will be provided by Kenneth Wolstenholme and Wally Barnes, and David Colman will be giving some of the film commentaries.
Brian Clough is likely to be passed over again when the Selection Committee meet next Tuesday to decide on the World Cup party. His greatest champion, Middlesbrough FC director Harry French, is unable to attend the meeting, and so will not be able to put forward Clough's case.

Tuesday, 28 May 1958 - As many England players turn up to Roehampton to practice, a party that includes Northern Ireland captain Danny Blanchflower, because the Irish have no training programme of their own, the England party is chosen. The Selection Committee have dropped Brian Clough, despite his goalscoring record this season, and despite taking him across Europe, without playing, and despite him being called into train in London. Instead, Bobby Smith gets the nod to be the second centre-forward to Derek Kevan. Nat Lofthouse has also been looked over. Jim Langley is the only player from the Yugoslavia defeat to not make the party, Peter Sillett being named as the only reserve full-back instead, as he can play on both flanks. The selectors have overwhelmed the party with forward options. Every attacking position has a reserve, and six of the ten are competent inside-forwards.
Alan Hodgkinson and Maurice Setters have been told to standby in case of injuries.
Walter Winterbottom has arranged for the England team to train at the Nya Ullevi ground in Gothenburg.

Wednesday, 29 May 1958 - Following a night in a hotel on Bayswater, with the exception of the five London-based players, who all went home, the England party train in Finchley.

Thursday, 30 May 1958 - At The Bank of England Sports Club Ground in Roehampton, England beat Wales in a friendly practice match, in front of forty children. It was expected that both sides would take things easily but both teams went at the ball with a will. Both Walter Winterbottom and Jimmy Murphy must have shuddered at the robustness of the tackling. Although England won, through a splendidly taken Derek Kevan goal, there was nothing between the two sides. Each man playing as if his World Cup place was at stake. At half-time, both sides fielded seven substitutes. According to World Cup regulations no two opposing competing sides can face each other within three weeks of the tournament, hence the match was dubbed as a practice, and the regulation time was not adhered too. England played in blue jerseys, whereas Wales played in white.
Former England left-back, Bill Nicholson currently the assistant-manager at Tottenham Hotspur, will be used in the same capacity in Sweden as Winterbottom's assistant.

Tuesday, 3 June 1958 - As many of the World Cup parties arrive in Sweden, most of England's party return to training in Roehampton, feeling a whole lot happier after being informed they will receive a daily allowance whilst on World Cup duty. Walter Winterbottom said: "We have decided that the daily allowance normally given to players on international tours will be paid for World Cup games."
Tom Finney, meanwhile, is having hospital treatment on a septic blister on his right-foot. Alan A'Court deputised for Finney in the 90-minute practice game. Peter Broadbent was also given a 'senior' status as inside-left as Johnny Haynes played for the reserve side. Although the team to face USSR will not be announced until Friday, the players will know by the end of today.
After long negotiations between the BBC and Swedish authorities to televise the tournament over the Eurovision link, ITV has moved in to take a share of the coverage of the England-Brazil match on 11 June. The whole commercial network will show the match, with introduction and summing up from 6.45 to 8.45. The BBC will run their programme from 6.45 until 8.55. ITV programmes for that night have been scrapped or delayed.
Many of the countries as they arrive and inspect their venues, begin to complain about the state of the pitches.

Wednesday, 4 June 1958 - The party, with the exception of Tom Finney, are training again in Roehampton. Billy Wright ended the morning's training session with a bruised thigh after colliding with Maurice Setter's knee. He had treatment in the afternoon and evening to try and overcome any damage.
FIFA announce that any player sent-off will be suspended for the next match, in any effort to dissuade the violent play that is creeping into the game.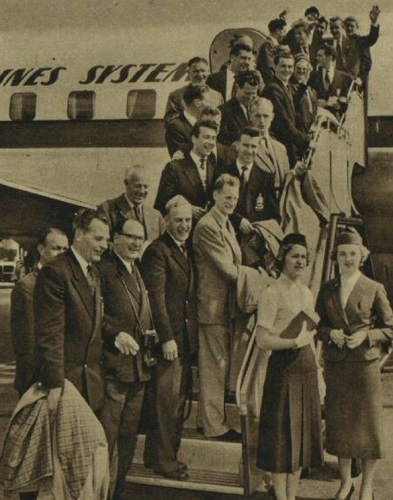 Thursday, 5 June 1958 - The party, again with the exception of Tom Finney, and without Billy Wright, are again training in Roehampton in the morning. Three hours later, just after midday, they leave London Airport for Gothenburg by plane, via Copenhagen. Finney, wearing a slipper, has a 'fifty-fifty chance' and Wright is likely to be fit for their opening match on Sunday. Half their luggage, however, lost in Copenhagen, is expected to arrive late.
England are the last country to arrive for the Tournament. Winterbottom justifies his decision: "The players prefer it. Several of the other teams here are complaining of being bored already. We have never trained more thoroughly or been happier."

Friday, 6 June 1958 - The England World Cup Finals Selection Committee, headed by Joe Mears, and includes Graham Doggart, Lt-Col. Gerry Mitchell, David Wiseman, and Team Manager Walter Winterbottom, announce the after the morning training session on the Nya Ullevi stadium pitch. It is the same side which drew against Russia in Moscow. The workout this morning, between 10.30 and 1.30 was a strenuous one, though both Billy Wright and Tom Finney took it more easily than the others, in fact, Finney was pulled off twenty minutes before the end. When the English party came off, the Russians took their turn on the pitch. Finney's chances of playing were still rated as 50/50. Winterbottom added: "Finney is still doubtful. If he cannot play, Charlton will move to the left-wing with Bobby Robson at inside-right. The other alternative is Alan A'Court comes in at left-wing."

Saturday, 7 June 1958 - The English Selectors will organise a special meeting to decide how much their players will receive should they win the World Cup, Paraguay are on £10 a man. The Argentinians £1000. The Hungarians have been promised a salary increase. The Brazilians are on £1500 and a new car. Joe Mears says his players prize will be generous, probably around £500. The prize and wage fund has caused a row between the four Home nations.
All four British teams are being paid £50 a man per match. But the problem arises with England then giving their players another £2 a day each spending money. The Scots, Irish and Welsh have to pay for their own pleasures out of their match fee. They phoned the Football Association asking them to stop paying the expenses. "We cannot afford it!" Joe Mears reaction: "Too bad. We can. So we'll go on." The three Associations today have asked their English counterparts to reconsider and have threatened to get tough before the next IFAB meeting. Says Mears: "We'll go on paying. They can do what they like. We've paid this allowance for years."
Several British pressmen were booked to stay at the same Park Avenue hotel in Gothenburg as the England party, but found their reservations switched on arrival. No explanations were offered but it was at the request of Sir Stanley Rous, the FA Secretary.
The England party in the meantime, spend an evening at the cinema before an evening pep-talk from Walter Winterbottom. "This is a match we must win. We demand a 100 per cent effort from you all. Nothing less will be considered good enough."
England Form: last six games
L W W W L D f 13:a 10 success: 67%
316
6 November 1957 -
England 2 Northern Ireland 3 [0-1]
Empire Stadium, Wembley (40,000)
A'Court, Edwards
Hopkinson OG, McCrory, Simpson
BC
HL
317
27 November 1957 - England 4 France 0 [3-0]
Empire Stadium, Wembley (64,349)
Taylor (2), Robson (2)
Fr
HW
318
19 April 1958 - Scotland 0 England 4 [0-2]
Hampden Park, Glasgow (127,857)
Douglas, Kevan (2), Charlton
BC
AW
319
7 May 1958 - England 2 Portugal 1 [1-0]
Empire Stadium, Wembley (72,000)
Charlton (2)
Duarte
Fr
HW
320
11 May 1958 - Yugoslavia 5 England 0 [1-0]
Stadion JNA, Beograd (55,000-60,000)
Milutinović, Petaković (3), Veselinović
tour
AL
321
18 May 1958 - USSR 1 England 1 [0-1]
Lenin Stadium, Moskva (102,000-110,000)
V.Ivanov
Kevan
AD