England Football Online
B Team Results
Page Last Updated 13 May 2022

Alba
'B' 20 vs. Switzerland

previous match

(63 days)




310 vs. Denmark




B

21




next match

(20 days)




'U23' 8 vs. Scotland


next senior match

(59 days)


302 vs. Scotland

'B' 22 vs. Bulgaria

Wednesday

,

6 February 1957




International 'B' Friendly Match





England 4 Scotland 1

[3-0]




The St. Andrew's Football Ground, Cattell Road, Bordesley, Birmingham, Warwickshire
Kick-off (GMT): 7.45pm,


Attendance: '39,376' (floodlit)
unknown kicked-off
[1-0] Brian Pilkington volley 1 0:30
'

smashed the ball in first time from the edge of the penalty area'

cross by Brian Clough
[2-0] Brian Clough 11


'

Alf Stokes chased the ball, caught it on the by-line and pulled it back to Clough's poised right foot'
[3-0] Tommy Thompson 22
Else's clearance found Don Howe , who set up Thompson on the halfway line, to dribble past Malloy and Kirk to slam the ball in.

7.15 The Grove Family 7.35 At Home
8.0 Burns and Allen Show 8.25 Weather
8.30 Sportsview: England B v Scotland B
9.30

Music For You 10.30 News



[4-1]Harry Hooper penalty 73
(Hooper fouled)
[3-1] Ian Gardiner header 72


'

Wardhaugh beat two men on the left, passed to Alex Scott, and from his neat centre Gardiner headed through'
second half only - Commentator: Kenneth Wolstenholme


"SCOTS SLAIN BY OUR B BOYS"
Daily Mirror
Officials

from

Wales

England
UK ruling on substitutes
Scotland

Referee


Clifford William Kingston


41 (8 April 1915), Newport, Monmouthshire

This is England's last official 'B'' match until 1978

red flag

Linesmen

yellow flag

W.J. Ingram
W.L. Jones

England B Team
Rank:

No official ranking system established;
Colours:
The 1954 Umbro home uniform - White v-necked short-sleeved continental jerseys, blue shorts, black socks with white tops.
Capt:
Tony Marchi


only. W 1 - D 0 - L 0 - F 4 - A 1.

¹

Manager

:
Walter Winterbottom, 43 (31 March 1913), appointed as FA national director of coaching/team manager on 8 July 1946;


fourteenth B match, W 9 - D 2 - L 0 - F 41 - A 10.

Team chosen by the Intermediate Selection Committee, headed by Frank Adams, on Monday, 28 January.
England Lineup

eleven changes

to the previous B match

league position

(28 January)

13
Else, Frederick
23
312 days
31 March 1933
G
Preston North End FC

(FL 5th)

1

1ᵍᵃ

126
only B app 1957
127
2

Howe, Donald
21
117 days
12 October 1935
RB
West Bromwich Albion FC

(FL 12th)

1
0
only B app 1957
128
3
Sillett, R. Peter T.
24
5 days
1 February 1933
LB
Chelsea FC

(FL 15th)

1
0
only B app 1957
129
4
Anderson, Stanley
22
345 days
27 February 1934
RHB
Sunderland AFC

(FL 20th)

1
0
5
Smith, Trevor
20
299 days
13 April 1936
CHB
Birmingham City FC

(FL 9th)

2
0
130
6

Marchi, Anthony
24
16 days
21 January 1933
LHB
Tottenham Hotspur FC

(FL 2nd)

1
0
only B app 1957
7

Hooper, Harry

23




237 days

14 June 1933
OR
Wolverhampton Wanderers FC

(FL 4th)

6
2
mst B apps

1954-57

final B app

1954-57

131
8

Thompson, Thomas
28
88 days
10 November 1928
IR
Preston North End FC

(FL 5th)

1
1
only B app 1957
132
9

Clough, Brian H.
21
322 days
21 March 1935
CF
Middlesbrough FC

(FL2 6th)

1
1
133
10

Stokes, Alfred F.
24
116 days
13 October 1932
IR
Tottenham Hotspur FC

(FL 2nd)

1
0
only B app 1957

11



Pilkington, Brian
23
360 days
12 February 1933
OL
Burnley FC

(FL 10th)

2
1
final B app 1954-57
reserves:
Jimmy Adamson (Burnley FC

(FL 10th)

)
team notes:
Alf Stokes replaced David Durie (Blackpool FC) on 4th February.
2-3-5
Else -
Howe, Sillett -
Anderson, Smith, Marchi -
Hooper, Thompson, Clough, Stokes, Pilkington.

Averages:

Age
23 years 200 days
Appearances/Goals
1.7
0.1

Scotland
B Team
Rank:
No official ranking system established;
Colours:
Made by Umbro - Dark blue continental jerseys with white v-neck collars/cuffs, white shorts, blue socks with red tops.
Capt:
Danny Malloy
Selector:
Scottish 2nd XI FA Selection Committee
team chosen on Monday, 28 January 1957
Scotland Lineup
Simpson, Ronald

Campbell

26
118 days
11 October 1930
G
Newcastle United FC, England
2
6ᵍᵃ
final B app 1953-57
2
Kirk, Robert
29
178 days
12 August 1927
RB
Heart of Midlothian FC
1
0
only B app 1957
3
Winton, Douglas
27
118 days
11 October 1929
LB
Burnley FC, England
1
0
only B app 1957
4
Aitken, Charles
24
202 days
19 July 1932
RHB
Motherwell FC
1
0
only B app 1957
5
Malloy, Daniel
26
92 days
6 November 1930
CHB
Cardiff City FC, Wales
2
0
final B app 1956-57
6
Cumming, John
26
326 days
17 March 1930
LHB
Heart of Midlothian FC
2
0
final B app 1954-57
7

Scott, Alexander

Silcock

19
76 days
22 November 1937
OR
Rangers FC
1
0
only B app 1957
8
Kelly, Bernard
24
108 days
21 October 1932
IR
Raith Rovers FC
1
0
only B app 1957
9

Gardiner,

James

Ian
28
141 days
18 September 1928
CF
Motherwell FC
2
1
final B app 1952-57

10

Wardhaugh, James

Alexander Douglas

27
322 days
21 March 1929
in Berwick-upon-Tweed
IL
Heart of Midlothian FC
1
0
only B app 1957
11
McCann, John
22
194 days
27 July 1934
OL
Barnsley FC, England
1
0
only B app 1957
reserves:
Price (Airdrieonians FC), Tommy Gemmell (St. Mirren FC)
team notes:
There were three changes to the original named starting XI before 4th February; Simpson replaced Dundee FC's Bill Brown in goal, Gardiner replaced Motherwell's Willie Bauld and McCann replaced Partick Thistle's Tommy Ewing
2-3-5
Simpson -
Kirk, Winton -
Aitken, Malloy, Cumming -
Scott, Kelly, Gardiner, Wardhaugh, McCann.

Averages:

Age
25 years 272 days
Appearances/Goals
1.3
0
Match Report
by Frank McGhee, Daily Mirror, Thursday, 7 February 1957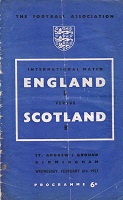 ENGLAND B rocked the Scots here tonight with an explosive burst of power football that brought them three goals in the first twenty-two minutes. Number one—a real sensation—came almost from kick-off.
It caught the Scots with their guard down and their defence spreadeagled.
Outside left Brian Pilkington, the wee man from Burnley, was the scorer. He smashed the ball in first time from the edge of the penalty area after centre forward Brian Clough and inside right Tommy Thompson had carved out the chance. Twenty-one-year-old Clough who had spent most of the day having ice pack treatment to reduce a swelling over his right eye, got the second.
What an impressive start to his first representative game.
England skipper, Tony Marchi. of Spurs, started it with a long ball up the left wing. Alf Stokes, his club colleague, at inside-left, chased it, caught it on the by-line and pulled it back to Clough's poised right foot. Scotland looked in danger of being overwhelmed completely. Their centre-forward Ian Gardiner was being snuffed out with contemptuous ease by Trevor Smith. Occasionally they staged breakaways—little islands of action in a sea of English superiority.
And ironically it was one of these breakaways that led directly to England's third goal.
Right half Charlie Aitken, following up an attack crashed in a tremendous shot to bring out an equally tremendous save from goalkeeper Fred Else. Else's clearance found his Preston club-mate, Thompson, alone on the halfway line.
This was the starting point for a hazy-mazy dribble that took him past centre half Danny Malloy and round right back Bob Kirk to slam the ball in.
It could easily have been a five-goal lead by half-time. Outside right Harry Hooper had a shot blocked; Brian Clough had one tipped over the bar; and Marchi had another well saved. The few efforts that Else had to save came from long range and gave him no trouble.
Scotland found some semblance of order in the second half, and they hit back with a goal from Gardiner after seventy-two minutes.
Wardhaugh beat two men on the left, passed to Scott, and from his neat centre Gardiner headed through. Just before this Simpson made one of the luckiest saves of his career when Stokes tried a first-time shot. Simpson went the wrong way but stuck out a foot to deflect the ball over the bar. A few minutes after Scotland's goal Hopper made it 4—1 for England from the penalty spot. And this was only justice for Hooper was flashing through on his own when he was brought down. Referee Kingston at first signalled a free-kick, but after examining skid marks awarded a penalty instead.

Match Report
as appears in the F.A. Yearbook 1957-58 page 33
A brilliant forward line scored a goal for England in the first minute of this 'B' International under the Birmingham floodlights and from that moment the Scottish defence went to pieces. In a sea of mud, Pilinkington volleyed home the first goal, Clough the second, and Thompson the third, all in the first 20 minutes of the game and all the result of outstanding team-work couple with brilliant finishing. After Scotland had made it 3-1 midway through the second half, Hooper converted a penalty for a foul on himself. On this display, England's reserves would seem to be extremely promising.

European Cup Quarter-Final Second Leg:


Manchester United 3
Athletic Club de Bilbao 0


6-5 on aggregate score




Maine Road, Manchester

(65,000)


Viollet, Taylor, Berry
Source Notes
OOfficial matchday programme
Fitbastats.com

Rothman's Yearbooks




Original newspaper reports
cg