354 vs. Northern Ireland
355
356 vs. Scotland

Wednesday, 4 April 1962
International Friendly Match

England 3 Austria 1 [2-0]


Match Summary
England Squad
Austria Squad

Empire Stadium, Wembley Park, Wembley, Middlesex
Attendance: 50,000;

Kick-off: 3.00pm

BST


Live on BBC (England & Ireland) -

Commentator: Kenneth Wolstenholme

England - Ray Crawford

(turned on the spot and shot 7)

, Ron Flowers (penalty after Connelly was brought down 37), Roger Hunt (header 67)
Austria - Buzek (header 76)
Results 1960-1965

? kicked-off. ? minutes (? & ?).
Match Summary
England

Type

Austria

Referee (-) - Pierre Schwinte
x (-).

Linesmen - A. Vuillemin (flame flag) and J. Herbert (orange flag).

Teams presented to The Guest of Honour The Rt. Hon. The Earl of Harewood.

Goal Attempts
Attempts on Target
Hit Bar/Post
Corner Kicks Won
Offside Calls Against
Fouls Conceded
Possession

England Team
Rank:

No official ranking system established;
ELO rating 9th to 7th
Colours:
The 1959 Bukta home uniform - White v-necked short-sleeved continental jerseys, blue shorts, red socks with white calf hoop.
Capt:
Johnny Haynes, fifteenth captaincy
Manager:
Walter Winterbottom, 49 (31 March 1913), appointed as FA national director of coaching/team manager on 8 July 1946;


129th match, W 73 - D 31 - L 25 - F 363 - A 185

, one abandoned,
Team chosen by Selection Committee on Wednesday, 28 March 1962.
England Lineup
Springett, Ronald

D.

26
22 July 1935
G
Sheffield Wednesday FC
18

27

GA

2
Armfield, James
RB
Blackpool FC
3
Wilson, Ramon
27
17 December 1934
LB
Huddersfield Town AFC
8
0
4
Anderson, Stanley
RHB
Sunderland AFC
5
Swan, Peter
25
8 October 1936
CHB
Sheffield Wednesday FC
17
0
6
Flowers, Ronald
27
28 July 1934
LHB
Wolverhampton Wanderers FC
29
5
7
Connelly, John
OR
Burnley FC
8
Hunt, Roger
IR
Liverpool FC
9
Crawford, Raymond
CF
Ipswich Town FC

10

Haynes, John N.
27
17 October 1934
IL
Fulham FC
49
18
11
Charlton, Robert
OL
Manchester United FC

reserves:

Alan Hodgkinson (Sheffield United), Ron Clayton (Blackburn Rovers) and James Melia (Liverpool FC)

team notes:

Middlesbrough FC's Alan Peacock was the orginal chosen centre-forward, his place going to Ray Crawford on 1 April. Peacock needed surgery on a fractured cheekbone and would miss the rest of the season.
2-3-5
Springett -
Armfield, Wilson -
Anderson, Swan, Flowers -
Connelly, Hunt, Crawford, Haynes, Charlton.

Averages:

Age
-
Appearances/Goals
-
-

Austria Team
Rank:

No official ranking system established;
ELO rating 14th to 12th
Colours:
Red jerseys, white shorts, red socks.
Capt:
Karl Koller
Manager:
Austria Lineup
Fraydl, G
G
FK Austria

GA

2
Trubrig, A
RB
Linz ASK
3
Hasenkopf, E
LB
Vienna Sportklub
4
Oslansky, R
RHB
Vienna Sportklub
5
Stotz, K
CHB
FK Austria
6
Koller, Karl
LHB
Vienna
7
Knoll, A
OR
Vienna Sportklub
8
Hof, E
IR
Vienna Sportklub
9
Busek, J
CF
Vienna

10

Fiala, E
IL
FK Austria
11
Rafreider, J
OL
Dornbirn
Austria Substitutes
1

unused substitutes:

-
-
-

Averages:

Age
-
Appearances/Goals
-
-
Match Report by Mike Payne
Match Report by Norman Giller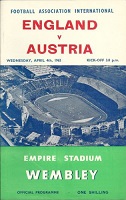 England avenged the defeat in Vienna of the previous year thanks mainly to the midfield domination of Johnny Haynes, who kept picking holes in the massed Austrian defence with low, angled passes. Five goal chances fell to the feet of Liverpool striker Roger Hunt, who was making his debut along with Sunderland's rugged Stan Anderson. Hunt was able to score from only one of the opportunities, and the London press started the Greaves v. Hunt debate that was to last throughout their careers. It is worth pointing out here that Jimmy and Roger have nothing but the highest respect for each other and that the 'bitter rivalry' between them was manufactured by the media.

Source Notes
"England's training session yesterday in preparation for the match against Austria at Wembley to-morrow was cancelled. Arsenal were to have provided the opposition for a full-scale practice at the White City, but with several knocks in hard matches on Saturday it was decided to give the party a free day." - Tuesday, 3 April 1962, Glasgow Herald.

TheFA.com
Original newspaper reports
Rothman's Yearbooks
Mike Payne's England: The Complete Post-War Record (Breedon Books Publishing Company, Derby, U.K., 1993)
Norman Giller, Football Author
____________________

CG