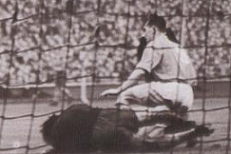 This was the very first red change shirt worn by England in a full international. Although red had been worn by the B team since the war, blue had been the change colour worn pre-war and in the previous year's World Cup, for the humiliating defeat to the USA. When facing Argentina for the first time, England found that both their blue, and white shirts clashed with Argentina's blue and white stripes.
It looks as if it was only the shirt that was introduced for the occasion, because the socks appear to be the usual black ones worn with the white shirts.
From this point onwards, with as few changes as possible being the intention, England had obviously decided that red was a better second choice than blue, though ironically, when they next played Argentina, in 1953, they remained in white shirts!