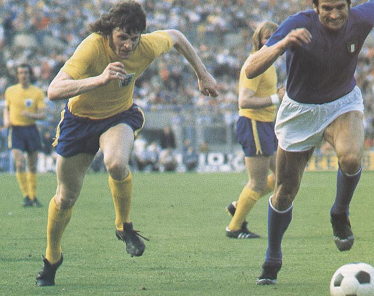 In a complete break from tradition, England embarked on their European tour of 1973 in a new lightweight aertex kit of yellow shirts, blue shorts and yellow socks.
Of the three opponents that they wore yellow against on the tour, only Poland presented a colour clash with England's normal white shirts. For the other game of the four-match tour, in Moscow, England wore the aertex white shirts last seen against Brazil in the Mexico World Cup of 1970.
Both the full and Under-23 teams were wearing aertex shirts during this period, but England have never worn yellow shirts since. It was not a successful tour, with the result in Poland proving to be particularly damaging to England's chances of qualifying for the following year's World Cup in Germany. Perhaps, yellow was a step too far for the traditionalists at the Football Association. Twelve months later, as Umbro were about to be replaced as England's kit suppliers, they had reverted back to a red aertex change shirt.
The number ten shirt above was worn by Allan Clarke against Italy and appears here by kind permission of Nino and Angelo Spampinato of www.maglieinrete.it.
Clarke was the only player to score for England in the yellow aertex shirt, having also been the only goal scorer in the 1970 blue aertex. Coincidentally, on both occasions, the opponents were Czechoslovakia.