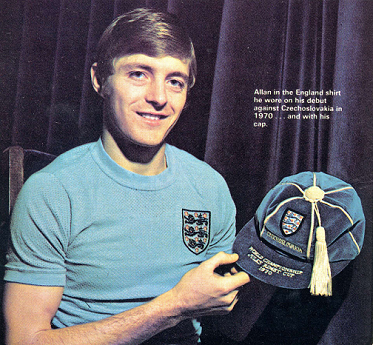 England designated this special lightweight all-blue strip as one of their alternate colours for the World Cup 1970 final tournament. They wore it once, in the 1-0 victory against Czechoslovakia.
"So, it's an unfamiliar looking England and in more ways than one. Because the Czechs also wear an all-white strip and won the toss for colours, it is England who must change. Now it's light blue for England, a sort of pastel-hued version of their usual outfit, with the same big red numbers on the back. Still England, but not quite the same." - Back Home, England and the 1970 World Cup: Jeff Dawson, p226.
Because England wore this kit against the Czechs, who wore all white, it was difficult in the bright sunshine to distinguish the two teams on black-and-white television, which is what most viewers had at the time. Consequently, England discarded the blue and switched to red for the quarter-final against West Germany. Ironically, as the Germans wore black shorts, it would have been easier to distinguish the teams than it was for the Czech game, had England again appeared in all blue.
The shirt in the photo top left, was worn by Jeff Astle on his last appearance for England. It appears here by kind permission of the National Football Shirt Collection (England Match Shirts), also part of the Neville Evans Collection (curator Simon Shakeshaft).
Second shirt along (plus the close-up of the emblem) was worn by Alan Ball. This is part of Richard Clarke's Morrell Collection.