England National Football Team Match No. 800
Liechtenstein 0 England 2 [0-1]
Saturday, 29 March 2003
Liechtenstein Pre-Match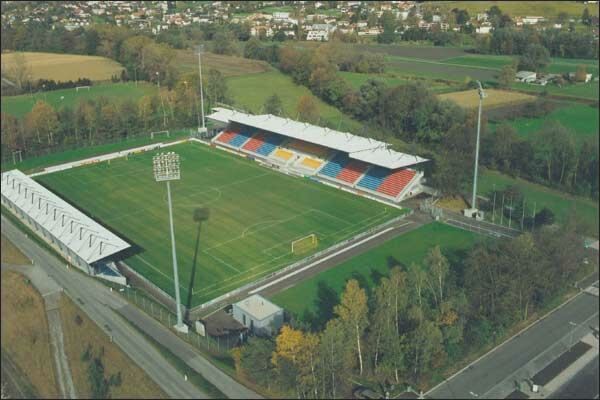 Liechtenstein's Rheinpark Stadion, capacity 3,548, located in the outskirts of the tiny nation's capital, Vaduz, against a picturesque mountain backdrop, hosted the biggest match in its history when England visited for the first match between the two countries, the European Championship 2004 qualifier on 29 March 2003. The ground had only two small stands, and the Lichtensteiner Fussballverband asked UEFA for permission to erect temporary stands for the game. Citing safety concerns, UEFA rejected the request, and only 900 tickets were allocated to the Football Association for England supporters. That ensured that many English fans would try to journey to Vaduz without tickets, and security forces were bolstered with help from neighbouring Switzerland and Austria to cope with potential troublemakers. The invasion of Iraq by armed forces from the U.S. and the U.K. some 10 days before the match prompted concerns the event would become the focus of anti-war protests and that even the increased security forces would prove inadequate. Eventually local authorities satisfied UEFA that proper security would be provided and the match went ahead without a hitch.
Liechtenstein Squad for the Matches Against England & Slovakia March & April 2003
Player
Birthdate
Age
Pos
Club
App
G

Beck, Matthias

05-Oct-1981
21
M
USV Eschen-Mauren
-
-

Beck, Thomas

21-Feb-1981
22
F
FC Vaduz
-
-
Büchel, Ronny
19-Mar-1982
20
M
FC Vaduz
-
-
Burgmeier, Franz
07-Apr-1982
20
M
FC Vaduz
-
-
D'Elia, Fabio
19-Jan-1983
20
D
Chur 97, Switzerland
-
-
Frick, Mario
07-Sep-1974
28
F
Ternano Calcio, Italy
-
-
Gerster, Andreas
24-Nov-1982
20
M
FC Vaduz
-
-
Gigon, Frédéric
13-Feb-1973
30
D
Stade Lausanne, Switzerland
-
-
Hasler, Daniel
18-May-1974
28
D
FC Wil 1900, Switzerland
-
-
Player
Birthdate
Age
Pos
Club
App
G
Heeb, Martin
05-Nov-1969
33
G
USV Eschen-Mauren
-
-
Jehle, Peter
22-Jan-1982
21
G
Grasshopper Club Zürich, Switzerland
-
-
Nigg, Thomas
28-Jun-1983
19
M
USV Eschen-Mauren
-
-
Ospelt, Jürgen
16-Jan-1974
29
D
Chur 97, Switzerland
-
-
Ritter, Christof
18-Jan-1981
22
D
FC Vaduz
-
-
Stocklasa, Martin
29-May-1979
23
M
FC Vaduz
-
-
Stocklasa, Michael
02-Dec-1980
22
D
FC Vaduz
-
-
Telser, Martin
16-Oct-1978
24
M
FC Vaduz
-
-
Zech, Harry
25-Feb-1969
34
D
USV Eschen-Mauren
-
-
England Football Online thanks Roland Ospelt, Chief Executive Officer of the Liechtensteiner Fussballverband (Liechtenstein Football Association) for kindly providing us with background information on the Liechtenstein squad.
Squad Background
All Liechtenstein clubs play in the various Swiss Football League divisions. Mario Frick of Tirnana Calcio in Italy's Serie B is the only Liechtenstein player from a club side outside the Swiss League. Only two squad members, Daniel Hasler and Peter Jehle, play for Swiss first division clubs; the rest are with clubs in the second, third and fourth divisions.

Only six squad members are full professionals: Ronny Büchel, Mario Frick, Daniel Hasler, Peter Jehle, Martin Stocklasa and Michael Stocklasa. Another five are semi-professional: Thomas Beck, bank clerk, Franz Burgmeier, bank clerk, Andreas Gerster, commercial employee, Christof Ritter, sales employee, and Martin Telser, sanitary worker. The remaining seven are amateurs: Matthias Beck, electronic engineer, Fabio D'Elia, student, Frédéric Gigon, teacher, Martin Heeb, groundskeeper, Thomas Nigg, groundskeeper, Jürgen Ospelt, surveyor, and Harry Zech, winegrower.

The world's fourth smallest nation, Liechtenstein has a population of 32,000.
Notes
Tuesday, 18 March 2003 - Luxembourg's German national team coach Ralf Loose named an 18-player squad for the European Championship 2004 qualifying matches against England at Rheinpark Stadion in Vaduz on 29 March 2003 and against Slovakia in Dubnic on 2 April 2003.

Loose made few changes from the squad which suffered a 5-0 defeat in the qualifier against Turkey in October. FC Vaduz defender Christof Ritter is expected by local media to return to the starting line-up at left-back after a lack of match fitness forced him on to the bench against Turkey. Young defender Remo Eberle, an unused substitute against Turkey, and Mario Wolfinger and Marco Nigg, both left out of the Istanbul match, were not selected.

Luxembourg drew at home with FYR Macedonia, 1-1, in the qualifying group opener in September. Since England only drew at home, 2-2, against the same opposition in October, Luxembourg are not entirely without hope, although Loose said he would consider a 3-1 or 4-1 loss a good result.
Liechtenstein Results
No.
Date
Opposition
Venue
Type
F
A
Result
H.T.
49
28-Feb-2001
Latvia
Rheinpark Stadion, Vaduz
F
0
2
HL
[0-0]
50
24-Mar-2001
Spain
Estadio José Rico Pérez, Alicante
WCP
0
5
AL
[0-2]
51
28-Mar-2001
Bosnia-Herzegovina
Rheinpark Stadion, Vaduz
WCP
0
3
HL
[0-1]
52
25-Apr-2001
Austria
Tivoli Stadion, Innsbruck
WCP
0
2
AL
[0-1]
53
02-Jun-2001
Israel
Rheinpark Stadion, Vaduz
WCP
0
3
HL
[0-3]
54
05-Sep-2001
Spain
Rheinpark Stadion, Vaduz
WCP
0
2
HL
[0-1]
55
07-Oct-2001
Bosnia-Herzegovina
Bilino Polje Stadion, Zenica
WCP
0
5
AL
[0-2]
56
13-Feb-2002
Faroe Islands

Peyia Municipality Stadium,

Paphos, Cyprus
F
0
1
NL
[0-1]
57
27-Mar-2002
Northern Ireland
Rheinpark Stadion, Vaduz
F
0
0
HD
[0-0]
58
17-Apr-2002
Luxembourg
Stadion Holleschbierg, Hesperange
F
3
3
AD
[3-1]
59
21-Aug-2002
Faroe Islands
Gundadalur Stadium, Torshavn
F
1
3
AL
[1-0]
60
08-Sep-2002
Macedonia FYR
Rheinpark Stadion, Vaduz
ECP
1
1
HD
[0-1]
61
16-Oct-2002
Turkey
Ali Sami Yen Stadyumu, İstanbul
ECP
0
5
AL
[0-3]
____________________

PY/CG