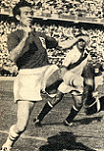 This royal blue shirt, made by Umbro, was worn on only one occasion by the full international team, in faraway Peru. It was accompanied by white shorts and socks.
The socks, with a red and a blue hoop around the middle, appeared again with the white shirt over the following two years, but the blue shirt, worn in a crushing 4-1 defeat to the Peruvians, was never used again in a full international. Indeed, the colour seemed jinxed as England had worn blue in the ill-fated 1950 World Cup match against the USA, also played in South America.
Only England's goalkeepers have been allowed to wear this shade of blue since. This shirt, with yellow numbers on the back, had been worn by the Under-23s in 1957 and the photograph above is more reflective of that shirt, for the one worn in Peru also included a small blue 'v', a crescent containing their opponents' name in blue capitals (PERU) and the year (1959) in red, all underneath the Three Lions with a white background, as part of the same embroidered emblem.
The shirt was also worn, without the emblem, with white shorts and red socks, by an F.A. XI against 'double' winners, Tottenham Hotspur in the 1961 F.A. Charity Shield at White Hart Lane.